Le Visiteur Spin City Radio – DJ Mix August 2022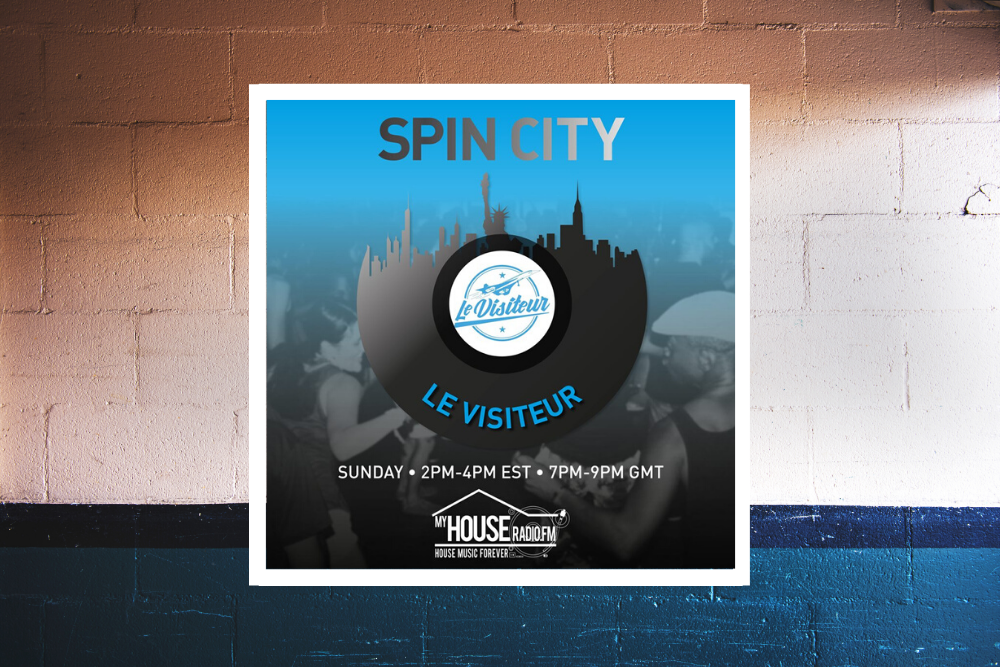 Sunday past saw our editor Le Visiteur back on the award winning Spin City radio show which airs on New York's number one House Music Station, www.myhouseradio.fm  with his quarterly radio show.
Pulling together some of the hottest tracks we have featured on Le Visiteur over the last three months alongside some personal club favourites and a handful of straight out of the studio gems, it's a straight fire two hours of essential club music.
With Le Visiteur just back from Ibiza this mix was also a real sun soaked affair featuring some real Balearic gems including Michael Gray's superb remix of classic Stop Bajon and Ruf Dugs sublime remix of Bianca's hidden gem Tabu which we premiered HERE.
Another track to look out for is Dr Packer's immense remix of DC LaRue's Let them dance which is incoming on the excellent Only Good Vibes label, there was loads of love for that one when the show went out live.
Another hot off the press track is Simon Hinter's Guess not on the mighty Moment Cinetique, it's another Le Visiteur premier which you can check below and check our review HERE.
Finishing big, to close the show Le Visiteur picked out Astro Belters User Friendly which has just landed via Ghetto Disco Records for a throbbing slice or Italo edged house music. Pumping basslines and laser synths abound here on what is a real showstopper of a track.
To quote Hot Chocolate, everyone's is a winner here so please give the mix a share over on Soundcloud and help us spread the love.
Spin City is every Sunday at 7pm GMT.
Le Visiteur – Spin City August 2022 – Tracklist
Monsieur Van Pratt – Melba's Love [See-Saw]
I-Robots Feat Kathy Brown & Harry Dennis – Respect (Extended version) [Opilec Music]
Cho & Random Impetus – Brother Sister (Ray Mang Remix) [Gouranga Music]
John Davis & The Monster Orchestra – Up Jumped The Devil (Moodena Remix) [Nervous]
Tullio De Piscopo – Stop bajon (Michael Gray remix) [High Fashion Music]
Steve Shelto – Don't You Give Your Love Away (The Patchouli Brothers Edit) [Nervous]
Bianca – Tabu (Ruf Dugs Extended Caribbean Dub) [NuNorthern Soul]
Scruscru – Fiesta 24-7 [Craft Music Records]
Nenor – How Can I Be Free ft. Jenny Penkin [Razor-N-Tape]
Brass Construction – Movin (Good Night Keaton EDIT) [White]
Mighty Mouse – The Get Down [Mighty Wonky Disco]
Sartorial – Sartorials Day Off [Tropical Disco Records]
Juan Laya, Jorge Montiel – Sexmachina (Rahaan Re-work) [Imagenes]
Byron Stingily – That's The Way Love Is (Ki Creighton Sunrise Mix) [Nervous]
Simon Hinter – Guess Not [Moment Cinetique]
DC LaRue – Let Them Dance (Dr Packer's Robotic Dub Mix) [Only Good Vibes Music]
Dirty Channels, Debbie Jacobs – Let Love In (Extended Vocal Mix) [Big Love]
Sammy Deuce – She's Killing Me [Midnight Riot]
Crackazat – Demucha [Heist Recordings]
Yuksek & Jupiter Okwess – Kwatamaja [Party Fine]
Nathalie Duchene – Praia (Yuksek Remix) [Toy Tonics]
Filth & Smell – Panama Sweet Spot (Original Mix) [CRMS Records]
Peppe Citarella, Davide Fiorese – Organ Ride [Union Records]
Shaun Escoffery – Nature's Call (Micky More & Andy Tee Special Club Mix) [Groove Culture]
Astro Belters – User Friendly [Ghetto Disco Records]
Check out more Le Visiteur Mixes here
Check out more Le Visiteur Spin City mixes here
Tags:
le visiteur
,
Spin City