LV Mixtape 161 – Dino Soccio [Razor-N-Tape]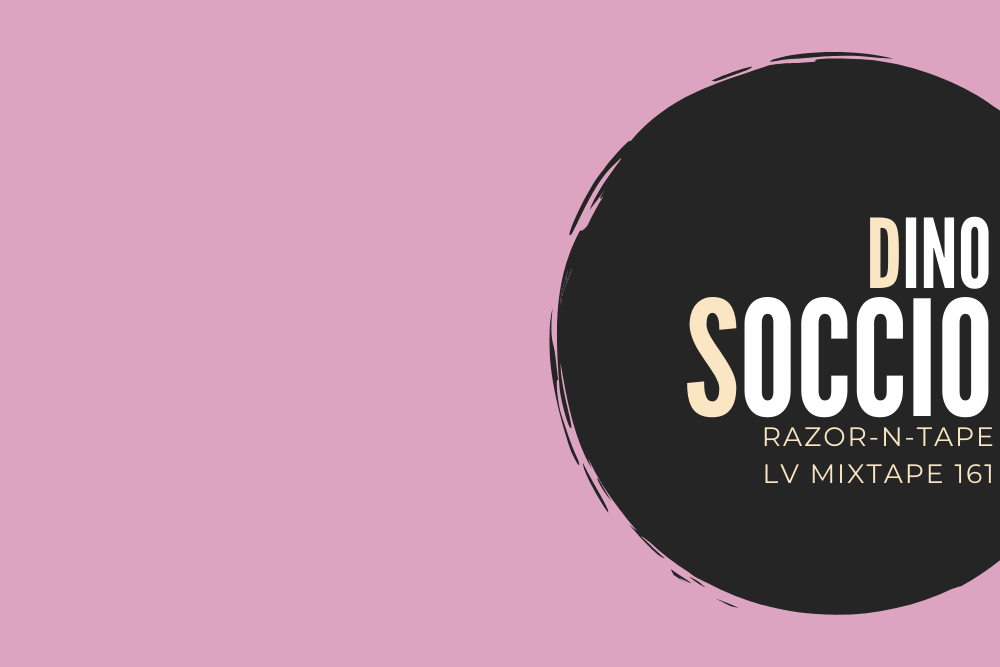 LV Mixtape 161 – Dino Soccio [Razor-N-Tape]
Dino Soccio is a hugely exciting talent. Currently residing in LA he has caught our ear numerous times over the last 12 months with a steady stream of excellent edits which are available over on his bandcamp (HERE) as well as an excellent track on The Patchouli Brothers recent Spare Change compilation.
He has also been behind some very tight DJ mixes from which it is obvious that he has a real passion for digging, packing his mixes with dusty, cosmic, Italo and leftfield disco and lost 80's brilliance. He has now landed an EP on the always superb Razor-N-Tape and we highly recommend jumping straight on it. You can grab it from Juno via: https://www.juno.co.uk/products/dino-soccio-edits/782433-01/
We asked Dino to put together a mix for us and he has delivered a truly superb 90 minutes of groove infused music scouring the very edges of the disco universe for a hugely diverse collection of sounds which he has combined with serious verve.
We have a full interview incoming with Dino in the next few days so make sure that you check back for that. Ahead of that we spoke to him about the mix that he put together for us.
What can you tell us about the theme of the mix you have done for us and what are some of the key tracks for you?
I imagined this as a cosmic, daytime-disco set with touches of New Beat and late 80s Goa psych. The lead track is from a forthcoming compilation by Naya Beat. They have a series of releases dedicated to uncovering hidden gems from the South Asian 80s music scene. My friends Raghav and Filip (Turbotito) run the label, be sure to keep an eye out for that. There's a sweet gothy-summer jam in here from myself and DJ Duckcomb that will be coming out on Mister T Records. There's a couple tracks from Sydney's Planet Trip records that I love. Also some unreleased material from Skyrager and Fundido.
How does the style of mix here compare to how you would approach a live DJ set?
Pretty similar I'd say although this is more 2 hrs of a live set trimmed to 1 in terms of building a vibe. Also, my sets in a club are a little more high energy, oscillating between house, disco, acid, and techno. I pretty much never plan a set and try to weave whatever I'm feeling into the night as it plays out. Almost every time I can think of where I've planned parts of my sets it's fallen flat. There's certainly times where I'll remember a few songs that work well together and string them together, other times where I'm spending 20-30 minutes trying to build to a moment and drop a song I'm really excited about.
Which other artists DJ mixes do you find yourself coming back to time and again and do you have a favourite that you gravitate towards?
I really enjoyed Ben UFO's set from Dekmantel last year and I've come back to that set many times (which is rare for me). It's just executed so well and I think the track selection is fantastic.
Ben UFO at Dekmantel 2019

I'm also enjoying Bill Spencer's mixes, he seems to have an endless supply of undiscovered gems in his collection-
Grab Dino Soccio's Razor-N-Tape EP from Juno via: https://www.juno.co.uk/products/dino-soccio-edits/782433-01/
For More Info Check:
Dino Soccio Facebook: https://www.facebook.com/dinosoccio1984/
Dino Soccio Soundcloud: https://soundcloud.com/dinosoccio
Razor-N-Tape Facebook: https://www.facebook.com/RazorNTape/
Razor-N-Tape Soundcloud: https://soundcloud.com/razor-n-tape
Tags:
Dino Soccio
,
disco
,
razor n tape