LV Premier – Drop Out Orchestra & Monsieur Van Pratt – Get Busy feat. Pink Flamingo Rhythm Revue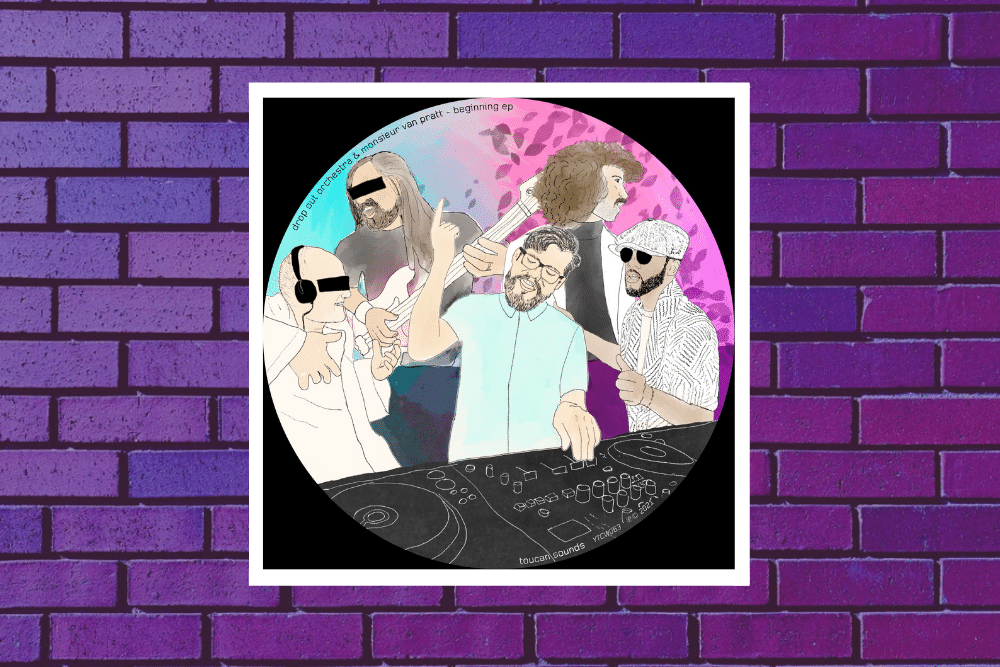 LV Premier – Drop Out Orchestra & Monsieur Van Pratt – Get Busy feat. Pink Flamingo Rhythm Revue
Like what you hear? To help support LV Online buy us a coffee via Ko-FI. Click HERE
This is a seriously tasty collaboration as Sweden's Nu Disco pioneers Drop Out Orchestra team up with Mexican disco heavyweight Monsieur Van Pratt along with the seriously talented Pink Flamingo Rhythm Revue. Together they have recorded the delectable Get busy which lands this week as part of the Beginning EP on one of the most exciting labels out there over the last 12 months Toucan Sounds.
This is an EP which keeps the organic front and centre with top class playing featuring throughout. With monster basslines, ass shaking percussion and superb vocal performances it's an EP which is just brimming with both fun and enthusiasm.
Leading the EP out is the funk heavy Glitter with it's loopy guitar licks and sax solos. Feel Great meanwhile has subtle afro overtones in it's vocal stylings from New York's Shareef
Keyes, again with sax licks featuring strongly and a bubbling bassline keeping the feet moving. Get Busy meanwhile is just packed with that summer Nu Disco soul, an absolute scorcher from start to finish. Closing the EP out is Organ Fett, another top of the class Nu Disco gem with funky guitar licks and spacey synth notes grabbing the attention.
Grab the EP from: https://dropoutorchestramonsieurvanpratt.bandcamp.com/album/feel-great-feat-shareef-keyes-secily-jimenez
For more info on  check:
Drop Out Orchestra Facebook: https://www.facebook.com/DropOutOrchestra/
Drop Out Orchestra Soundcloud: https://soundcloud.com/sick-835952562
Drop Out Orchestra Instagram: https://www.instagram.com/dropoutorchestra/
Drop Out Orchestra Twitter: https://twitter.com/dropoutorch
Monsieur Van Pratt Facebook: https://www.facebook.com/monsieurvanpratt/
Monsieur Van Pratt Soundcloud: https://soundcloud.com/monsieurvanpratt
Monsieur Van Pratt Instagram: https://www.instagram.com/monsieurvanpratt
Monsieur Van Pratt Twitter: https://twitter.com/VanPrattMusic
Pink Flamingo Rhythm Revue Facebook: https://www.facebook.com/pinkflamingorhythmrevue/
Pink Flamingo Rhythm Revue Soundcloud: https://soundcloud.com/pinkflamingorhythmrevue
Pink Flamingo Rhythm Revue Instagram: https://www.instagram.com/pfrrmusic
Pink Flamingo Rhythm Revue Twitter: https://twitter.com/PFRRmusic
Toucan Sounds Facebook: https://www.facebook.com/toucansoundsbk/
Toucan Sounds Soundcloud: https://soundcloud.com/toucansounds
Toucan Sounds Instagram: https://www.instagram.com/toucansounds
Toucan Sounds Twitter: https://twitter.com/toucansounds
Tags:
Drop Out Orchestra
,
Monsieur Van Pratt
,
nu disco
,
Pink Flamingo Rhythm Revue
,
Toucan Sounds