LV Premier – Joint4Nine – Get Down On It [Ondulé Recordings]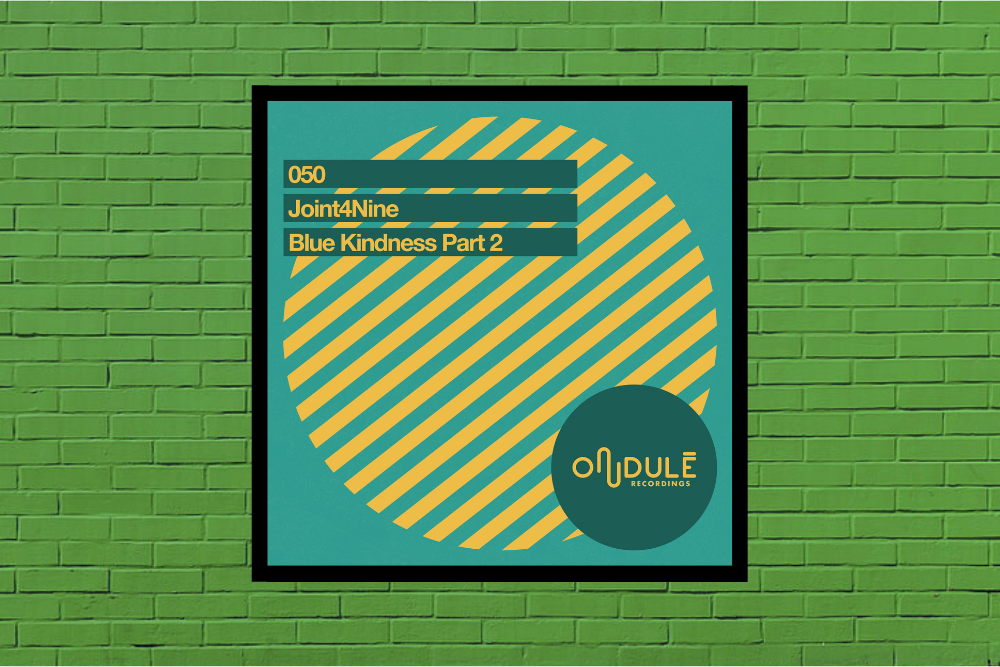 LV Premier – Joint4Nine – Get Down On It [Ondulé Recordings]
Following up his lauded Blue Kindness EP which landed on ace French label Ondulé last month, and which you can check below, Colombian producer Joint4Nine is back is super quick fashion with the riproaring follow up Blue Kindess Part 2 featuring four hot off the press and very tasty house cuts.
Well known as one half of the team behind the excellent Nómada Records, along with Felipe Gordon, Joint4nine is a ferociously talented produced and engineer and he has brought all of that skill to bear on this EP.
Blue Kindess Part 2 is packed with quality house music, touching on many different corners of the genre. It opens with the bass heavy groove of Ricky Dalton, it's disco edges give it plenty of club energy.
Our premier today is Get Down On It and it's a seriously cool track which has that 90's Strictly Rhythm vibe with cool as you like percussion and late 80's Coldcut-esque vocal stabs and drum breaks. Total quality throughout.
Making Moves takes things off into deeper territory. A surging bassline gives it a swirling hypnotic essence. A track for the small hours.
From The Hood closes out the EP and it harkens back to early 90's electro with it's joyous synth bassline and spacey sytnhs.
A superb EP from an artist we will be keeping a close eye on.
All the pre-save links are at the bottom. You can also check via: https://www.traxsource.com/artist/418665/joint4nine
For more info please check:
Joint4Nine Soundcloud: https://soundcloud.com/joint4nine
Joint4Nine Facebook: https://www.facebook.com/Joint4Nine/?ref=bookmarks
Joint4Nine Instagram: https://www.instagram.com/joint4nine/
Ondulé Recordings Soundcloud: https://soundcloud.com/ondulerecordings
Ondulé Recordings Facebook: https://www.facebook.com/ondulerecordings/
Ondulé Recordings Instagram: https://www.instagram.com/ondulerecordings/
Ondulé Recordings Twitter: https://twitter.com/OnduleRecs
Presave / Links live from Friday
Traxsource: https://www.traxsource.com/title/1451528/Blue-Kindness-Part-II?fbclid=IwAR25hlUbvi6XBVpG3Bz13pta–GKGVdL6qOUcutqeNSPNazmOBBjLNHBf7E
Spotify: http://open.spotify.com/album/0GNLXc7T1exVpuaUuzEMo5?fbclid=IwAR0X86XWFEU2WoFXnumcmsCzWLnNYh7IRMKCZ4fYUEsAtOb2_akWmAqdEUQ
Apple Music: https://music.apple.com/us/album/blue-kindness-part-ii-ep/1535505861?l=fr&ls=1&app=itunes&fbclid=IwAR3aES0POX-ZhbAcZ6Y8GQUq3QjdT41HFxQzqfCCqINTMqHWs0_Sl4Is8WI
Deezer: http://www.deezer.com/album/179107862?fbclid=IwAR3HwTHZC1VTQzHnOksSlIBzEh9qckTP9r6cXuvIkpIszMJ97dMnO7pkLjw
Tags:
house music
,
Joint4Nine
,
Ondulé Recordings