LV Premier – Satin Jackets – Think About It (Jack Tennis 80s Dub Remix) [Too Slow To Disco]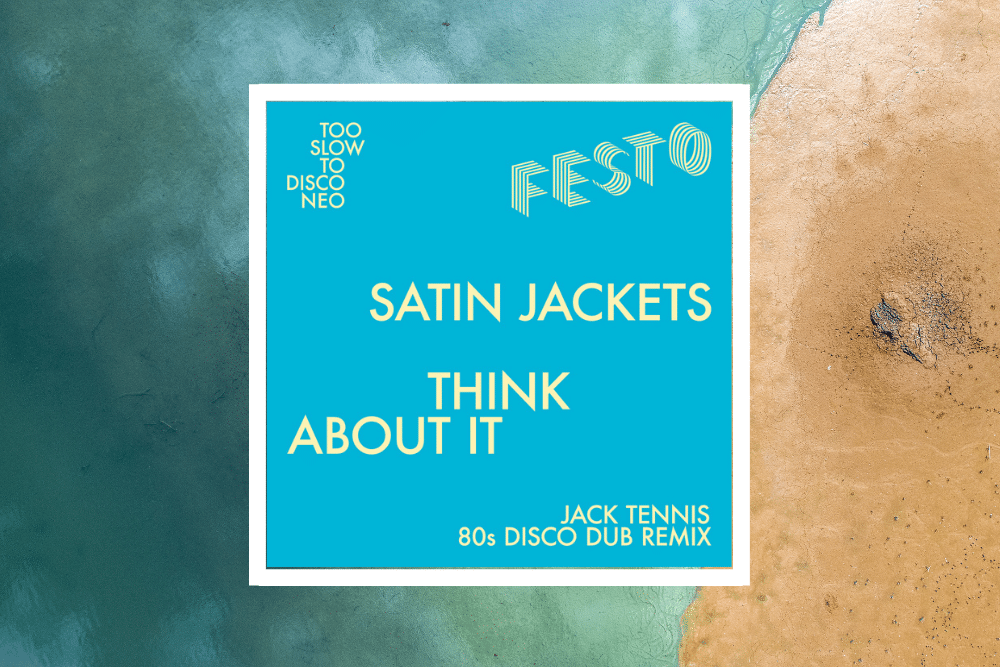 LV Premier – Satin Jackets – Think About It (Jack Tennis 80s Dub Remix) [Too Slow To Disco]
Like what you hear? To help support LV Online buy us a coffee via Ko-FI. Click HERE
Satin Jackets has been a bit of a regular on LV online over the last couple of years courtesy of his magnificent output via the Eskimo label which has led to him becoming the stand out star of the Nu Disco genre. His work is steeped in both atmosphere and drama, yet is always immediate, it's music for the summer, a sun soaked sound which exudes both cool and hope, something we all need in 2020.
His latest tracks see's another LV favourite Jack Tennis jump in on the dub of his track Think About It for Too Slow To Disco's upcoming The Sunset Manifesto album which lands in December. It's a sumptuous offering taken from another incredible release for a label who are making the downtempo genre their own right now with one quality release after another.
Combining reverb heavy drums with a heart yearning vocal, acidic licks and deft keys it's a track which will be firmly entrenched in summer playlists for many years to come.
The Sunset Manifesto looks like a sure fire entry into many a compilation of the year list despite landing right at the end of the year. A sneak peak at the full tracklist is below and we will be back in December with more on the album. You can also check the brilliant Kraak & Smaak track we premiered recently which also features on the album.
Grab it from: https://tooslowtodisconeo.lnk.to/KraakandSmaak
For more info check:
Satin Jackets Facebook: https://www.facebook.com/satinjackets/
Satin Jackets Soundcloud: https://soundcloud.com/satinjackets
Satin Jackets Instagram: https://www.instagram.com/satin.jackets/
Satin Jackets Twitter: https://twitter.com/satinjackets
Jack Tennis Facebook: https://www.facebook.com/Jack-Tennis-252672528083954
Jack Tennis Soundcloud: https://soundcloud.com/jacktennis
Too Slow To Disco Facebook: https://www.facebook.com/tooslowtodisco
Too Slow To Disco Soundcloud: https://soundcloud.com/tooslowtodisco
Too Slow To Disco Instagram: https://www.instagram.com/djsupermarkt_tooslowtodisco/
Too Slow To Disco Twitter: https://twitter.com/djsupermarkt
Too Slow To Disco – The Sunset Manifesto – Tracklist
KRAAK & SMAAK – Hotel Sorriso
YUKSEK – Do Beijo (Extended Version)
POOLSIDE – I Feel High (Vibes4YourSoul Remix)
MOODS – Vulf's Back Pocket Regroove
GLAMOUR HAMMER – Is It True (feat. Toni Sauna)
PREP – Love Breaks Down (Extended Dancefloor Edit)
TURBOTITO – Heart And Soul
DISKOBEISTET – Baner Vei (Extended Dub)
SATIN JACKETS – Think About It (Jack Tennis 80s Disco Dub Remix)
LUXXURY – … At Any Moment (DoctorSoul Need To Survive DUB Re-Therapy)
FINAL DJS – Mistakes
KIMCHII – Windsurf
ROOSEVELT – Take Me Back (Falcon Punch Remix)
KNIGHT ONE – Imagination
PRIVATE AGENDA – 4 Step
JAMES ALEXANDER BRIGHT – Under The Sun
Tags:
Jack Tennis
,
kraak smaak
,
nu disco
,
satin jackets
,
Too Slow To Disco