LV Premier – Tommy Vicari Jnr – U Move Me (Tiptoes Remix) [Moment Cinetique]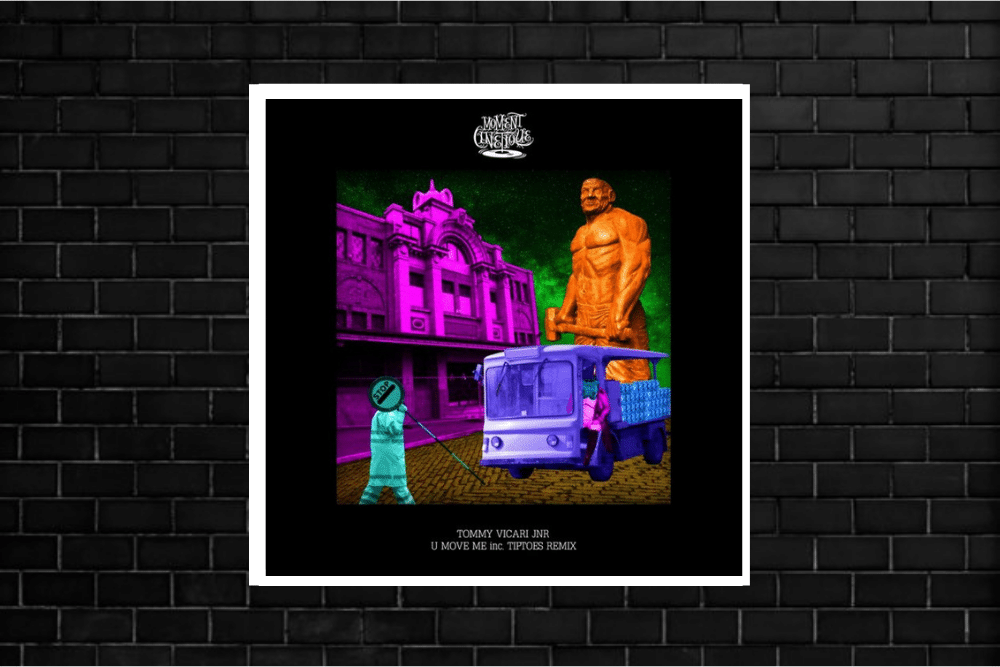 LV Premier – Tommy Vicari Jnr – U Move Me (Tiptoes Remix) [Moment Cinetique]
Like what you hear? To help support LV Online buy us a coffee via Ko-FI. Click HERE
Sheffields Moment Cinetique and Glasgow's Tiptoes have both very much found their way into the heart of Le Vistieur online in 2020. Both label and artist are on a spectacular run of releases. Tiptoes last outings Steamboats and Let's Go on his own Tiptoes Tapes label have been firm fixtures on the LV HQ decks whilst all five on Moment Cinetique's releases this year have been packed with class. Their previous release Sweet Fruity Brunch's Disco Spider is one of our tracks of the year for sure.
It's great to see them reunited here as Tiptoes turns in a spectacular remix of Tommy Vicari Jnr's U Move Me packed with classic house verve. Part of Tommy Vicari Jnr's U Move Me three track EP which lands this week it's a track packed with classic 90's house stylings but which is most definitely full of 2020 class. The production is A* from the get go from the thumping lead synths to the powerful ass shakin' drums. Add in the looped up vocal stabs and this is a peak time houser all day long which will be finding it's way into many a DJ set come the re-opeing of clubs in 2021.
Tommy's original of U Move Me and Stop are stand out too. The original of U Move Me is a little deeper and techier than the remix, dirtier it's a club bomb in it's own right.
Stop meanwhile is a swirling slice of deep piano heaven, looped up twisted beats, ear worm vocal stabs it's a track for those dark basements. A big yes from us.
Grab the EP from: https://www.traxsource.com/title/1471288/u-move-me
For more info please check
Tommy Vicari Jnr Facebook: https://www.facebook.com/tommyvicarijnr
Tommy Vicari Jnr Soundcloud: https://soundcloud.com/tommyvicarijnr
Tommy Vicari Jnr: https://www.instagram.com/vicarijnr/
Tiptoes Facebook: https://www.facebook.com/tiptoesmusic1/
Tiptoes Soundcloud: https://soundcloud.com/tiptoesmusic1
Tiptoes Instagram: https://www.instagram.com/tiptoesmusic/
Tiptoes Twitter: https://twitter.com/tiptoesmusic
Moment Cinetique Facebook: https://www.facebook.com/momentcinetique/
Moment Cinetique Soundcloud: https://soundcloud.com/momentcinetique
Moment Cinetique Instagram: https://www.instagram.com/momentcinetique/
Moment Cinetique Twitter: https://twitter.com/momentcinetique
Tags:
house music
,
Moment Cinetique
,
Tiptoes
,
Tommy Vicari Jnr