LV Vinyl Vaults – Daft Punk – Around The World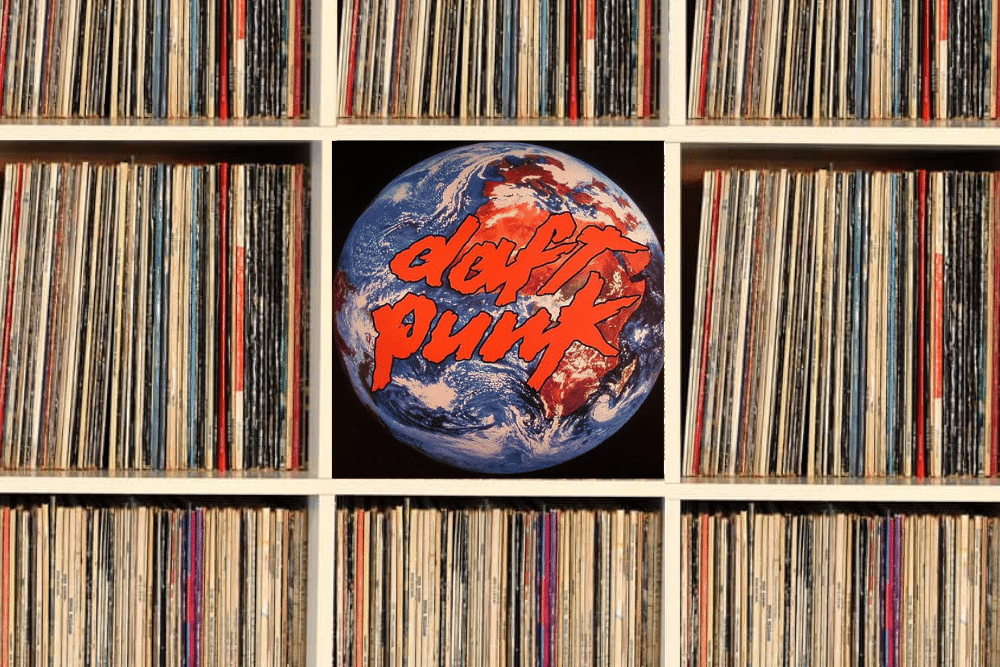 LV Vinyl Vaults – Daft Punk – Around The World
I spent a good part of the recent Covid lockdowns cataloging and preparing to sell off a good proportion of my record collection, mostly musical styles and artists which no longer fit with my current tastes or are ever likely to be spun in a DJ setting again. Record collecting is an ongoing process yesterday's gems can be tomorrows dusty back of the cupboard never to be played again mistakes. I'm looking forward to soon having space to continue to add to my collection as my tastes continue to evolve.
While I was doing that I also identified a few vinyl's which had been played so much over the years that they were no longer looking or sounding their sharpest but which I was most definitely going to play again. As part of this re-assessment of my collection I hit discogs and replaced my vinyl copies of Daft Punk's Around the world and Homework. They were a 12″ and an album which helped shape my musical tastes.
Like millions across the globe I was pretty devastated by this week's announcement that the robots were no more. It was always a hope that along with a new record they might embark on that one last world tour.
As I was starting out my musical career I was lucky enough to see them touring the Homework album in a small tent at a festival in Scotland. It was pre robots and masks, just two guys letting rip across a ton of equipment to a rapturous crowd in a tent with sweat dripping from the ceiling. It was clearly obvious that they were something really special. Sadly that was my only ever experience of them live but it left a lasting impression which would lead to me founding a live band at one point of my career. It was an wonderful period where I would tour all over and which lead to me playing two packed gigs at the same Scottish festival.
Daft Punk had that same effect on many across the globe, they more than any other electronic artists before or since have inspired generations and likely will continue do so for years to come. Even in their retirement their music and live videos will continue that process.
I've picked Around the world ahead of many of the Daft Punk vinyl that I have here for this Vinyl Vault edition as its a release which shows many of the sides of the musical outlook, ethos and creative flair that Daft Punk imbued.
It's a record I have played hundreds of times at festivals, in packed clubs, on radio shows, at student flat parties, in the car, in the gym, in band warm up sets in mashup sets and many more countless settings. I even put together a one-off Daft Punk tribute event at one point which was great fun.
As you can see from the list above it's a track which covers many bases. It was an underground hit which quickly became a worldwide phenomenon. At it's heart it's a pretty simple concept with a big bouncy bassline, some slick keys and a hooky vocal loop. Add, loop, subtract, break, add, loop and subtract again. It's a track which makes you believe that making music is simple and anyone can have a hit with little effort which as we all know isn't quite the case. What it does show is that the geniuses amongst us can make it look and sound simple whilst making tracks which transcend boundaries and genres and which sound right just about anywhere. Festival, check, cool club, check, radio, check, your grans birthday party, check!
Daft Punk gave a generation something to aspire to as well as something to dance to and their creativity didn't just stop at their music. The personas, the artwork and the videos, like the incredible video of Around the world by Michel Gondry, were all part an parcel of that process. Indeed they have left an indelible mark on music.
It was one hell of a ride and we can only hope that one day down the line we will hear more from Daft Punk, Thomas Bangalter and Guy-Manuel de Homem-Christo.
In the meantime, Daft Punk, enjoy your retirement
It's well earned x
For more info:
Daft Punk Facebook: https://www.facebook.com/daftpunk
Daft Punk Instagram: https://www.instagram.com/daftpunk
Daft Punk Youtube: https://www.youtube.com/channel/UC_kRDKYrUlrbtrSiyu5Tflg