LV Premier – Magnolia – Fantasies (Feat. Louisett) [The Disco Express]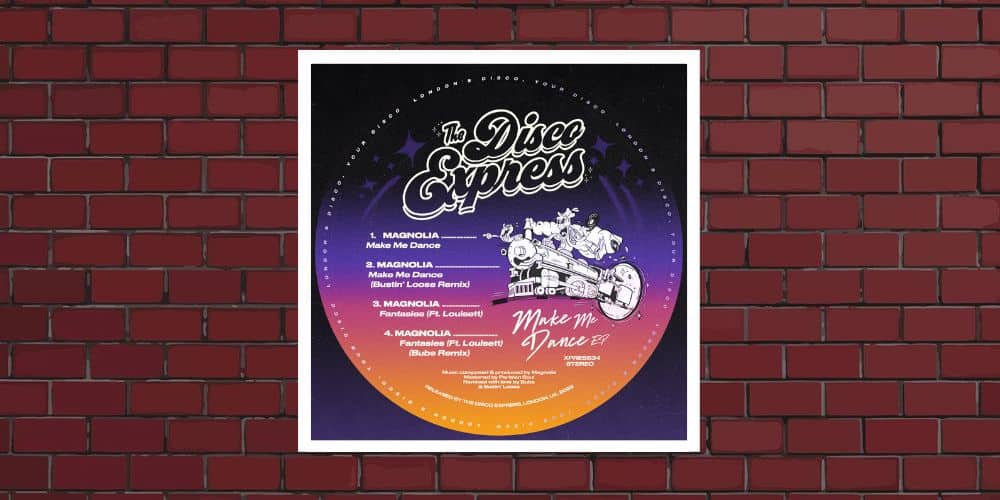 Make me dance, which is incoming this week on the Disco Express, was written by a mysterious French ghostwriter under the moniker of Magnolia. He's previously made a big name for himself writing pop tracks from some of France's best artists. The artist name definitely belies the sheer disco house power contained within as this EP which has already be championed by a host of name DJs including Purple Disco Machine, Fatboy Slim, Jamie Jones, Groove Armada, Bakermat, Bill Brewster, Kiddy Smile, Defected, Elliot Adamson, Oliver Heldens, Loeca, Guy Gerber, Bakermat, Kartell, Demuja, Theo Kottis, Menendez Brothers, Sophie Lloyd, Rayko, Yam Who? and more.
The EP which was written along with fellow musicians Robin Rivoal (guitar) and Fabien Forte (bass) features two original tracks Make me dance and Fantasies as well as remixes from Bustin' Loose and Bubs.
Our premier today is the original mix of Fantasies and it's packed full of summer feel-good disco vibes with French duo Louisett delivering a brilliant vocal which simply exudes joy, something we all need a fix of right now. Soul meets disco bliss.
Bubs gives Fantasies a slightly more clubbier feel toughening up the bass and drums and focusing in on the chorus. Nice solid work doing the business for the clubs.
Title track Make me dance combines an ear worm vocal with a monster bassline, this is a peak time blaster of a track through and through in both it's original and Bustin' Loose mixes. Combining 70's strings with smooth pads and deft key's it's a track which will cause rapturous scenes on dancefloors across the globe in the coming months.
Grab the EP via: https://thediscoexpress.bandcamp.com/album/make-me-dance-ep
For more info please check: 
Magnolia Instagram: https://www.instagram.com/magnolia_hotstuff/
The Disco Express Facebook: https://www.facebook.com/thediscoexpress/
The Disco Express Soundcloud: https://soundcloud.com/thediscoexpress
The Disco Express Instagram: https://www.instagram.com/thediscoexpress/
The Disco Express Bandcamp: https://thediscoexpress.bandcamp.com/
Love this? Check out more from The Disco Express HERE
Tags:
Magnolia
,
The Disco Express