Mambo Brothers – Le Visiteur Featured Artist and Mixtape 042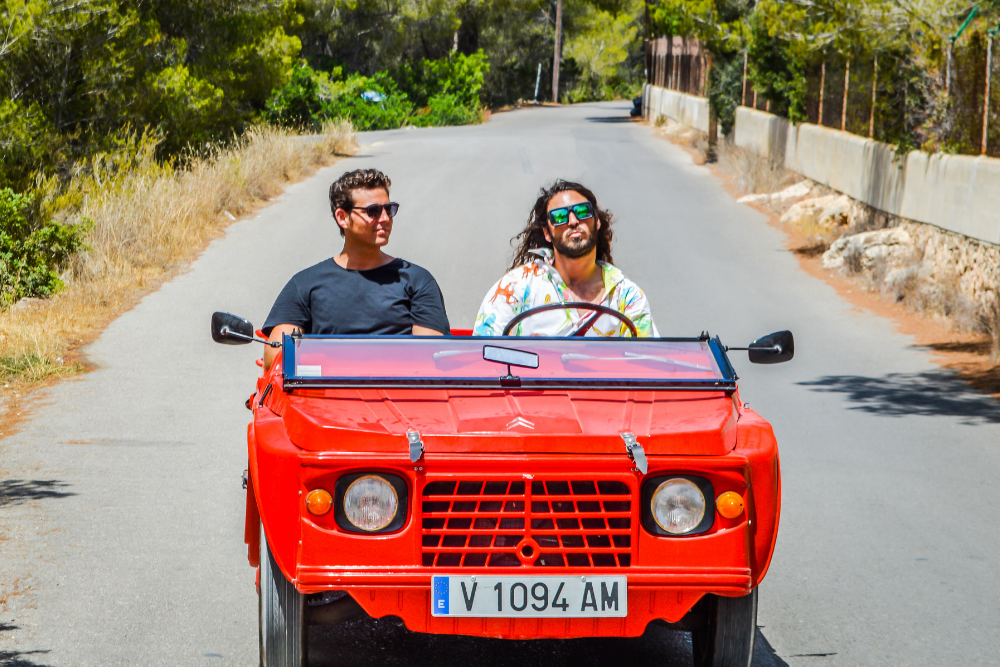 Mambo Brothers – Le Visiteur Featured Artist and Mixtape 042
Hailing from the golden island of Ibiza Mambo Brothers, Christian and Alan Anadon, grew up in the legendary surroundings of Café Mambo in San Antonio, a venue synonymous with Ibiza party lifestyle.
Growing up around some of the worlds most revered DJ's it was only a matter of time before they took their own steps down a musical path taking first to the decks before making the studio their own.
With brilliant releases on Armada Subjekt, Toolroom and Saved coupled with their energy packed DJ sets they have been building a huge reputation which has seen them in ever growing demand at all the finest parties across the globe.
Their latest single is a power house release channelling classic French filtered disco house vibes into what will undoubtedly be one of the feel good anthems of the summer. It's a track you can expect to hear everywhere across Ibiza this year. Grab it via Traxsource: https://www.traxsource.com/title/1136650/if-you-wanna
We spoke to Christian and Alan about their Ibizan upbringing, their releases to date, influences, the upcoming summer season and their tips for places to check out on the island. They also put together this brilliant mix for us.
Hi there Christian and Alan,
Thanks for speaking to us today.
In 10 words or less how would you describe the musical style of Mambo Brothers?
House music with many influences from 90's balearic good feeling vibes!
Please can you give us 3 of your own tracks which are quintessentially Mambo Brothers.
Mambo Brothers – Momento
This was the first track we released and our first ever track that got played on the radio. It was very special for us to see it working, it was scored for a film on Netflix, and also for a video game!
Mambo Brothers – Control
People go mad with this one when we play it!, Its amazing seeing people asking for it on their phones when we are playing out
Mambo Brothers – If You Wanna.
It has that summer / ibiza vibe to make the people on the dancefloor smile! We've been playing it since Jan and nothing but good feelings with this track!
How would you describe your latest release 'If You Wanna' which is out now on Armada Subjekt and please can you give us a bit of history about the release?
The story behing it is that we have always loved the french filtered disco house sound from late 90's. We always wanted to make a track like the producers from the Crydamoure label, which was owned by Guy Manuel, one half from Daft Punk. We loved their releases and producer like Dj Sneak, Paul Johnson, Le Knight Club,…  they were a big inspiration for "If you wanna"
So we started searching through our father's record collection to find a good sounding disco track we could sample, and there.. the process began!
Café Mambo is one of the key names that come to mind when you think about Ibiza. What was it like growing up there and what is you best memory of your childhood there?
Our childhood best memories are during the summer months, we were around 6 years old and we lived right by the beach. We just had to cross a road, it took us 20 seconds to get to it! On the beach, there a water ski school and during quiet hours the owner of the school would show me how to water ski… by the end of the summer I was a real pro, and really showing off Mono skiing!
Is there one moment that made you think, right that's it I want to be a DJ or was it a gradual evolution?
We've grown up in Mambo, watching and listening the best DJ's in the world, it was an easy decision!
What are you most looking forward to for this summer season in Ibiza?
Long days on our boat, hopefully learning how to fish squid!
What changes can we expect to see in San Antonio this coming summer?
Well San Antonio has the most beautiful bay in the island, the sunset strip, some key places to party as well. The local people are also investing again in the hotels and businesses so we expect it to be even better than last year!
With the success of Glitterbox in 2018 do you think that we can expect to see more events / venues with a disco soundtrack in Ibiza in 2019?
We love disco house! So we hope so,. We've seen a period of more serious music but now it seems to be changing to a happier sounds!
Hidden Ibiza: What tips do you have for people who may have been to Ibiza a few times previously for things that they would never have though about doing or places that are a little off the beaten track that they should definitely visit?
The beach! Visit a nice beach with a nice restaurant, order some fresh fish and a bottle of blush or Cava Sangria. We usually do "Cala gracioneta" beach which has an amazing chiringuito there!
What is the best beach for sundowners with a disco soundtrack?
Lol I'd love to be able to respond to this, but we've only done Café Mambo during sunset!
Which new club night on the island are you most looking forward to checking out this year?
Marco Carola in Pacha, Claptone, Pura Pacha, ABODE taking the night alone, BODYWORKS in Hi, Calvin in Ushuaia…seems we will be out all the summer!
Please can you give us 3 tracks which you would say have directly influenced your style of production
Armand Van Helden – Phunkphenomena
Pete Heller – Big Love
Freestyle Orchestra & Masters At Work – Odyssey
What upcoming gigs do you have that you are most looking forward to?
Looking really forward to many gigs, but Glastonbury in UK must be right up there!Also Tinderbox in Denmark, Defected Croatia. And wherever we have time to go for great food, every city has some restaurants which we must discover!
And finally, please can you give us 5 tips for a great day out in Ibiza. A place to buy records, a place to eat, a place to drink, A place to see the sunset and a place to dance.
MTM record store is great for the finest house!
Casa Maca is amazing for dinner with a great view of the Ibiza town castle, the evenings are magical and it has its own farm!
For drinks I do recomend the vintage airstream caravan in Casa Maca for a Mezcal Mule.
For sunset we can really say and highly recomend Hostal La Torre, the ultimate real ibiza expirience!
And for dancing Glitterbox, yes! Some serious dancing at Hi on Sunday's!
For more info on The Mambo Brothers check:
Facebook: https://www.facebook.com/MamboBrothersIbiza/
Soundcloud: https://soundcloud.com/mambo-bros-ibiza
Tags:
Armada SBJKT
,
Armada Subjekt
,
Cafe mambo
,
glitterbox
,
ibiza
,
Mambo Brothers