Michele Chiavarini – Le Visiteur Featured Artist & Mixtape 102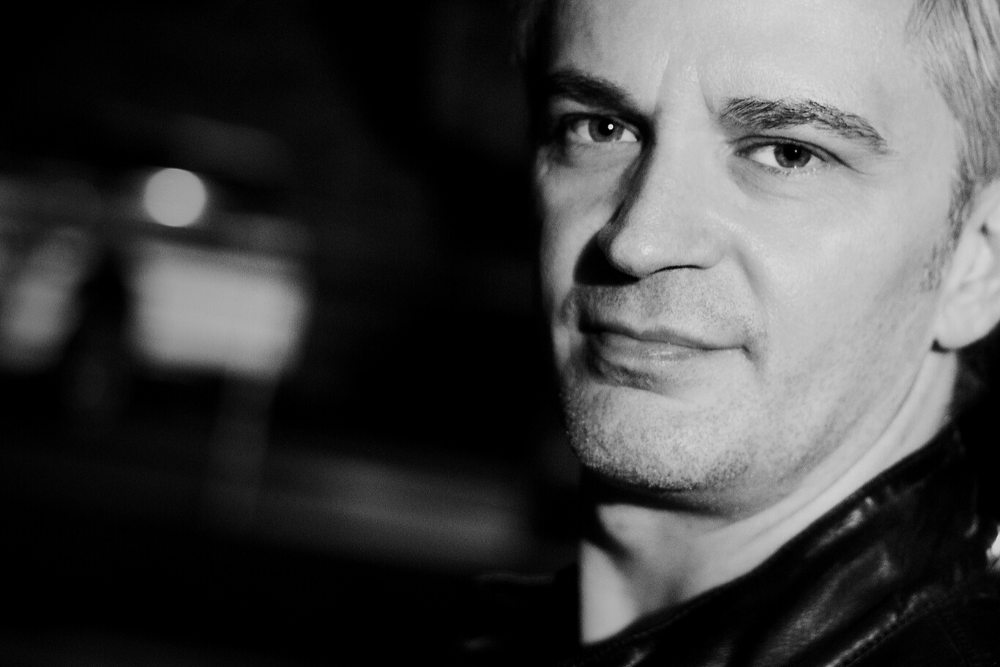 Michele Chiavarini – Le Visiteur Featured Artist & Mixtape 102
Where do you start with a talent as impressive as Michele Chiavarini? Classically trained in piano, guitar and composition Michele is also a very accomplished bassist, violinist, trumpet player and Vibraphone player.
Over the last twenty five years he has established himself as a songwriter, arranger, composer, producer, remixer and session musician of prodigious talent.
Michele regularly writes for film, TV and adverts. Indeed he started out by working with one of the masters of the genre Ennio Morricone on scores for The Mission, The Untouchables and Frantic. Since those days Michele has written extensively for the likes of the BBC, ITV, Discovery, CNN, Channel 4 and many more channels across the globe on some of their key shows.
During his career Michele has worked with the absolute cream of recording artists including Ray Charles, Gloria Gaynor, Diana Ross, Kylie Minogue, P Diddy, Jennifer Lopez, Moby and Soul II Soul.
When it comes to house and disco Michele is also very much at home. He has worked on multiple projects over the years with Joey Negro, Seamus Haji, Mark Knight, Robert Owens and many more key figures.
It's safe to say that Michele is one of the go to artists if you are looking to add a touch of class to your projects. You only need to watch the Spry Records intro video to see just what incredible regard Michele is held by his peers.
Recently Michele has released with DJ Spen's Quantize label clocking up multiple download Number 1's under both his own name and his Jazzcodes project.
Now Michele has launched his own label Spry Records with Fernanda Reis as a home for his own releases and those of like minded artists.
You can check out his latest release The Jazzcodes 'Take Care Of The Music on Traxsource:
https://www.traxsource.com/title/1246043/take-care-of-the-music
We spoke to Michele about his incredible career, his recent releases and his brand new label as well as his plans for the rest of 2020.
Michele also put together an outrageously brilliant mix, fusing jazzy and soulful house along with some live keys by Michele. This one is just another level. Please give it a share on Soundcloud and help spread the love.
Hi there Michele,
Many thanks for speaking to us today.
Entirely my pleasure! Thanks for having me.
For our readers who haven't come across your house and disco releases before how would you describe the musical style of Michele Chiavarini?
My style is quite musical and mostly song-based. Whether I am making soulful house, or Gospel, Jazz and Latin influenced house, there are likely to be live instruments and a rich orchestration. Having said that, I do love making all kinds of music, from the extremely electronic to the acoustic and orchestral.
Please can you give us three of your own tracks which you would say are quintessentially Michele Chiavarini.
To be honest my own catalogue is not so vast that I would call any of my releases quintessential. In any case, I would list the following three:
'Let Me See You Clap Your Hands'
'Staring At The Sun' Ft Pete Simpson
'Fort Green Jazzmatazz' – Brooklyn Soul Boys (by myself and DJ Disciple)
After winning several musical awards in Italy one of your key early career moments was working with Ennio Morricone on several film soundtracks. What are your memories of that period of your career?
My time with the maestro was amazing, albeit not overly long, mostly because I was approached earlier in my career to work on my own projects. I remember that time as having been excellent from a learning point of view, but also quite stressful, because of the pressure that comes with big and very expensive orchestral sessions.
The list of artists that you have worked with throughout the years is mind boggling covering pretty much every musical genre there is but most especially across soundtracks, pop, urban and electronic music. How easy is it to work in so many different styles?
I have always been musically very open-minded and I have always been curious to explore most genres. I find it rather easy to switch from one style to another. I just change musical hat, so to speak. I think about the language, the techniques, the sounds and the feel of a certain genre and have fun with it. Working with various artists and producers has helped me to adapt and accept eclecticism. This way I never get bored.
What would you say your stand out career highlights are to date and why?
Among others, arranging the orchestra for Gloria Gaynor's appearance at Italy's most famous song contest, the 'Festival di Sanremo'.
Setting up the label with my partner Fernanda Reis is also a very important step in my career, because of the creative freedom that it brings.
Scoring the Sky Arts video for the 50th Birthday of ENEL, one of the biggest energy companies in the world and the biggest in Italy.
Of course, chart success, as producer, composer and musician is also always a career's highlight.
You have worked with some truly incredible artists over the years. If there was one artist that you would have loved to work with who would it be and why?
There are so many!?! Randonly, I will go with Nat King Cole, with orchestra arranged by the great Brit Robert Farnon. That Stevie Wonder chap is not a bad one either!?!
Your most recent release was with your Jazzcodes project on your new label Spry. What can you tell us about the Jazzcodes and how does it differ musically from your own Michele Chiavarini releases?
The Jazzcodes is a musical vehicle to try to fuse house with some jazz elements. It also has more of a band feel, featuring some of the best musicians/friends I have met throughout my career. I normally play most instruments in my productions, but here, I love to add other ingredients to produce a different sound.
Please can you describe your own personal production set up for us and what is the one piece of equipment or plugin that you couldn't live without?
I am currently in Italy, so I am using a stripped down version of my studio in the UK.
My usual set up includes:
Logic X and Avid Pro Tools 9 HD
Mixing Desk Mackie DB8 mostly used to sub mix synths and synth modules
Master keyboard Yamaha SY99 and Viscount Physis Piano K4 EX
Mic Pre Focusrite ISA 430 Mark II
Focusrite Liquid Channel
Microphones AKG 414
AKG 451B (x2)
Audio Technica AT4081 (x2)
BLUE Mics (Blueberry & Dragonfly)
Coles 4040
Neumann M147 Tube
Rode Valve
Royer Labs R-122
Shure SM57 (x2)
Compressors
and Dynamics Avalon VT-747 SP
SSL G Series Stereo Buss Compressor
Summit Audio MPE-200 Element 78
– Lots of guitars, bass-guitars and misc, weird and wonderful string instruments.
– Lots of of synths and synth modules.
– Rhodes Mk 5
– Decatur Vibraphone
– Radial Studio Guitar Interface System
The piece of equipment I could not live without:
Apple Mac Pro.
The plugin I could not live without:
Native Instruments Kontakt, whichever version.
What tips can you give to artists who are starting out on how to create their sound and how to enjoy a long career?
Firstly, learn some music theory and above all, a polyphonic instrument. Ideally, the piano, because you can clearly see 'the music' on its keyboard! However, the guitar is also good, but maybe not as good to control sound libraries, etc.
Secondly, experiment with sounds and build your own library. This will make your sound unique. Also invest in good libraries, software instruments and if possible one or more analogue synth. They are going to be a big part of your 'bag of tricks'.
Thirdly, easier said than done, always surround yourself with good musicians, good technicians and fellow artists, who are also good human beings.
As we mentioned previously you have recently launched your own label Spry Recordings. What made you decide to launch the label and what can you tell us about the ethos of Spry?
I had wanted to set up a label for a long time, but I was always concerned that running it would take away too much time from making music. Together with Fernanda Reis, my partner in business and life, we decided that we would be sharing managerial duties and so we went for it.
Our goal is to make good music, trying to better our productions each time, experimenting and also looking for interesting talent to develop. All of the above, whilst trying to run a profitable business, which these days is a major challenge.
You have worked with Disco legend Joey Negro many times in the past on Jakatta, The Sunburst Band and many of his best known projects. How did you two team up originally, were you surprised at the worldwide success of Jakatta and what can we expect next from what is clearly a fruitful association?
After having released my early Nova Fronteira material (Latin House) through Victor Simonelli's label, I was recommended to Dave Lee, a.k.a. Joey Negro, who was looking for a keyboard player at the time. That's how it began.
As for Jakatta, it all started with Dave and I going to the cinema together, to watch 'American Beauty'. He had the brilliant idea of sampling Thomas Newman's iconic soundtrack and the rest is history.
No doubt this year, Dave's mind will jumpstart new and interesting projects, unleashing quality music, like very few others can.
What else can we expect from Michele Chiavarini in 2020?
Hopefully, a lot of good music from Spry, more remixes and interesting collaborations inside and outside house music. Also music for TV and video games.
And finally, please can you give us 4 tips for a great day out in London. A place to buy records, a place to eat, a place to drink and a place to dance.
Rough Trade East.
Zaika, Kensington High Street.
The Beaufort Bar at The Savoy, Covent Garden.
XOYO, Shoreditch.
For more info on Michele Chiavarini and Spry Records please check:
Michele Chiavarini Facebook: https://www.facebook.com/michele.chiavarini.1
Michele Chiavarini Soundcloud: https://soundcloud.com/michelechiavarini
Spry Records Facebook: https://soundcloud.com/spryrecords
Spry Records Soundcloud: https://www.facebook.com/Spry-Records-111463800285951/
Michele Chiavarini Tracklist
The Jazzcodes – Take Care Of The Music (Take Care Of The DUB)
Kyoto Jazz Massive – Crossbreed + Piano solo by M.Chiavarini
Art Of Tones – Prole-gome-nes (Original Mix)
The Sunburst Band, Angela Johnson – In The Thick Of It (Opolopo Boogie Bodyland Dub)
Deymare – 1990 (Crackazat Rework)
Brooklyn Soul Boys, Dj Disciple, Michele Chiavarini – Fort Greene Jazzmatazz (Original)
Quentin Kane – Simon Sheldon, Dana Weaver – It's Over (Kaidi Thatham Remix)
Brian Power, Marc Evans – Falling Back Into Love
Lars Bartkuhn – Dimensions
Karol XVII – MB Valence – Aqua (Jimpster Remix)
Metropolitan Jazz Affair – Chasing Places
Kyodai – Iyesa
Scott Diaz – 205 Days (Original Mix)
Tags:
Joey Negro
,
Michele Chiavarini
,
Spry records
,
The Jazzcodes