Mike Huckaby – 10 Tracks Which Massively Influenced My DJ Career (LV Legends)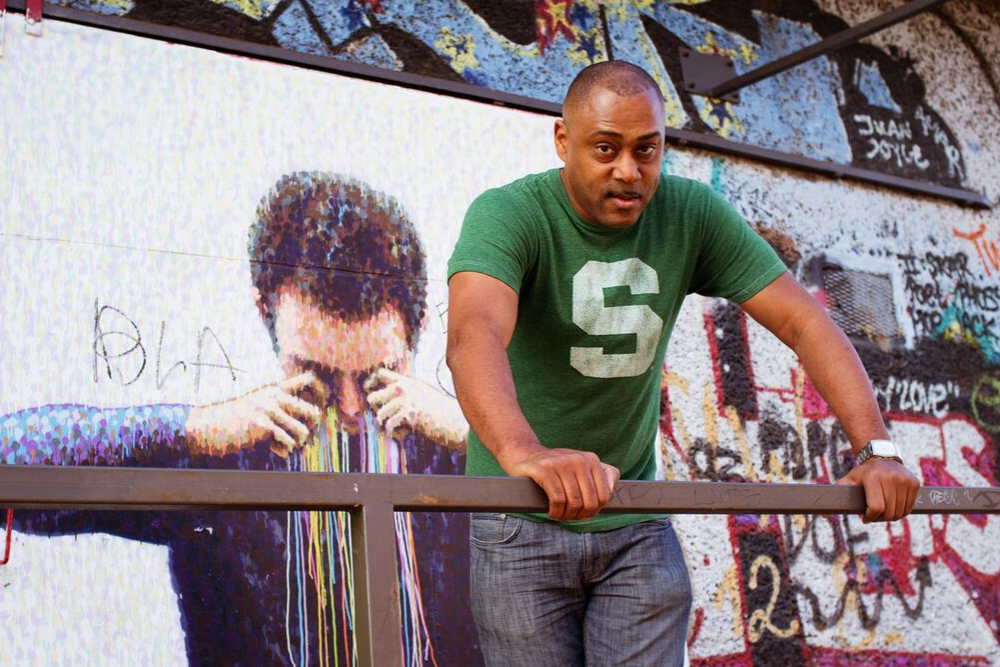 Mike Huckaby – 10 Tracks Which Massively Influenced My DJ Career (LV Legends)
This is our feature with Mike Huckaby from October 2019. Mike was a total gentleman when I was putting this together with him and I was very sad to hear of his untimely passing this week. I hope you enjoy the feature which gives a great insight into Mike as an artist and go and check out some more of his incredible work. RIP Mike you will be sadly missed.
——————————————–
Hailing from Detroit Mike Huckaby is a tastemaker, educator, sound designer and a DJ who has done much to continue the motor city's worldwide dominance of electronic music.
Over the last couple of decades Mike has become one of Detroit's stand out artists. As well as regularly releasing on his own labels Deep Transportation, and S Y N T  he is much sought after as remixer for some of the key artists on the scene including Deepchord, Juan Atkins, Vladislav Delay, Pole, Loco Dice, LoSoul, and Pacou.
Mike was the man behind the legendary Record Time store and during his time there he built up an encyclopedic knowledge of music and a huge understanding for the roots of the scene.
More recently Mike has been passing on his extensive knowledge via his involvement with the Youthville community project in Detroit and his partnership with with Native Instruments and Ableton software. Outwith that he has been touring, djing, and teaching music production again with Native Instruments and Ableton software all over the globe. Given his knowledge of the DAW it's unsurprising perhaps that the quality of his productions are incredible.
His latest release see's him jump on the remix of Cazz Ear & Ursula Rucker's 'Been Waiting' for Dean Zepherin's superb Tribe Records. You can check our premier of the track below and grab the EP from: https://www.juno.co.uk/products/shota-zepherin-saint-tribe-vibe-vol-01/741845-01/
We spoke to Mike about the records which have inspired him personally and influenced his career over the years. It's a truly fascinating list packed with truly landmark house and techno.
Mike Huckaby – 10 Tracks Which Massively Influenced My DJ Career (LV Legends)
1. Model 500 – No Ufos
There was something about this record that just made you buy doubles of it. When this record came out, it took over the city. Juan Atkins captured the energy and direction that the city was willing to go in. It became a staple for nearly every jock in the city. A massive stapel! This was often your go to record that got the party going. A good mix to blend this record with is Adonis – No way back on trax records, or John Roccas's I want it to be real on Streetwise records.
2. Disco Elements vol 1 – Azuli
I would call this the pivotal influence on my house production. It's a multi track EP full of solidly produced house cuts. I used to work at a record store, and I sold many of these. Nearly everybody playing house at this time was playing this. You could run dam near any of the tracks off this EP so it's too hard to pick a favorite. This is a mike Huckaby classic for sure.
3. Joey Negro – Above and beyond EP
This is another EP hailing from the U.K that had an influence on me. The track on here in particular was Niteflyte. Most progressive DJs were playing this in Detroit. You would hear Ken Collier playing this tune, and a host of other DJs. What I wanted to do was shaping up right before my eyes.
4. City People -Its all in the groove – Rainy city
Another solid EP from the UK. I was in fat cat records in London and I heard it blasting out of the office. I asked what was that playing in the background? They "said its the new Rainy City promo" a new label out of Manchester. To make a long story short he saw how much I wanted it, so he gave it to me. I made friends with the label and made a solid connection with them. I sold many of these in Record time, as well as several other Rainy City releases. I was hell bent on pushing this music.
5. Kerri Chandler – Atmosphere EP
A classic Kerri Chandler release and production
As soon as I heard it, I knew this was a classic. Kerri's formula was simple Drums chords and keys. He would repeat that formula very often on Madhouse.
6 . Peven Everett – Simmer
This is one of the sickest basslines I have ever heard. A body and soul favorite, as well as with Timmy Regisford. Once that bassline kicks in its all over. It destroys the dance floor every-time. There isn't even a copy listed on Discogs. Its that rare. Everybody is keeping this one! The other side, which features the track Special also works very well on the dance floor too. This was a classic in NYC circles as well as most house music circles too. Now that bassline is stuck in my head, which is a good thing!
7. Mr Fingers – Another Side LP – Jack Trax
Now if there was ever a definitive LP, this would be it from start to end. IT's simply a classic featuring many Mr. Fingers tracks that would become cornerstones of the genre. You would hear this at the music institute, on the radio in Detroit, and in most cars on the weekend. This record had a HUGE impact on me. I would listen to it till the end and flip it over many times. Who wasn't playing this ?
8. Mr. Fingers – Slam Dance – Alleviated Music
Now this EP was the one which hit home on my productions very hard. After you listen to waterfall, a smooth deep house cut on the other side, you find slam dance, a hard energetic rhythm track on the other side. That left me trying to answer the question, just how talented to you have to be to make records? Derrick May was killing this at the music institute in Detroit. House music from Chicago at its finest. Many records were well reciprocated and being played that were produced from Detroit in Chicago too. This record influenced the entire city.
9. Blakk Society – (Mr. Fingers) – Just another lonely day
Mr. Fingers is the greatest of all times to do it in house music without a doubt. This wasn't a club track by any means but you just enjoyed owning a copy of it and playing it. You would hear this on the radio in Detroit. You weren't too sure if Larry Heard's productions would hit you like this, but you would be pleasantly surprised when they did. Now the killer part of this track comes with a key / chord change in this track. Mr. Fingers lays down one mean chord change in this track that leaves you mesmerized. Like I say Chicago tracks were well received in Detroit
10. Master C and – Face it – State street Recs
Now this is a record I still play to this very day and cant get enough of. The Simplicity of a bass line , drums and vocals running over a keyboard sound. Sounds like Kerri's formula right? They nailed this. With the vocals too. it Just catches you. You can hear this sounding smooth in the mix on my RA podcast as well as many other classics I'm talking about:
Make sure you check out Mike's now legendary Resident advisor podcast below that he discusses above.
For more info check:
Mike Huckaby Instagram: https://www.instagram.com/mikehuckaby313/
Mike Huckaby Soundcloud: https://soundcloud.com/mikehuckaby
Tribe Records Facebook: https://www.facebook.com/TribeRecords/
Tribe Records Soundcloud: https://soundcloud.com/triberecords
Tags:
Dean Zepherin
,
detroit
,
Joey Negro
,
juan atkins
,
kerri chandler
,
larry heard
,
Mike Huckaby
,
mr fingers
,
Peven Everet
,
tribe records