Pablo Valentino – Le Visiteur Featured Artist and LV Mixtape 081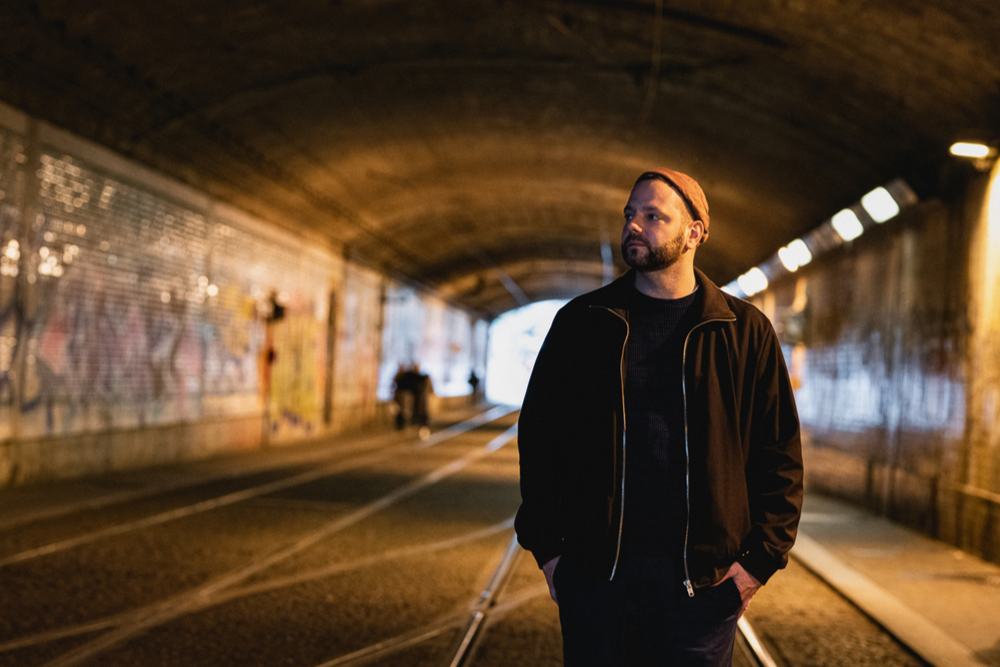 Pablo Valentino – Le Visiteur Featured Artist and LV Mixtape 081
Photo Credit: Tony Noel
Based in France, Pablo Valentino is an artist who is steeped in the very fabric of electronic music. As well as being a very well respected producer in his own right he is behind the MCDE label which he runs with his friend Motor City Drum Ensemble and also the superb Faces imprint. Behind it all is a drive to put out a steady stream of truly quality music which will reverberate for years to come.
His latest EP 'Space Tribe' sees him working with Tokyo's Eureka! Label. Eureka is a project from one of the most influential club nights in a city which is renowned for it's superb DJ's lineups and world class sound systems. It's a brilliant match as it's own ethos for quality above everything closely matches Pablo's with past releases from the likes of Atjazz, Detroit Swindle, Kyodai, Jamie 3:26, Lay-Far & Mad Mats some of electronic music's most lauded producers.
We caught up with Pablo to discuss the release in more depth and chat about his labels, his own productions and electronic music. He also put together this spellbinding mix for us, please make sure that you give it a share on soundcloud and help share the love.
Hi there Pablo,
Hi Le Visiteur!
Thanks for speaking to us today.
My pleasure 😉
For our readers who haven't come across your releases before how would you describe the musical style of Pablo Valentino?
It's very hard to describe your own sound to be honest and I'm too humble to start finding adjectives to describe my sound. I think it's up to people to do it… 😉
Please can you give us 3 of your own tracks which are quintessentially Pablo Valentino.
Like it was '99
This was a big favourite with Danilo's (Motor City Drum Ensemble). He played if often in his gigs and on Tim Sweeney's Beats In Space radio show. It's also my first track released on MCDE Recordings.
Old New Swing
This is a track I did for a friend who was going thru a tough situation. I still like this track and it was released on my friends Jonna & the City Fly guys label from Leicester.
My Son's Smile
This one is a personal favorite because I used a sampled of my son's first laughs. 😉
Please can you tell us the story behind your latest release 'Space Tribe EP' which is out now on Tokyo based label Eureka!
Space Tribe is actually an old track I did a few years ago when I was still living in Strasbourg (East France) It was sleeping in my hard drive…like so many other tracks.
My friend Simbad really liked it, I know Raoul K was also playing it…
In May I was on tour in Asia and I met Midori (Eureka Records) We went for a beer in Nakameguro (Tokyo). We talked about a possible release for his label and I sent him some stuff. He quickly replied and picked different tracks for a full EP (including the collab I did with Kez YM and a hip hop beat).
In this age of fast technology, I think we're missing human connection so much. It's important for me to meet the person, the human before starting working with someone.
On 'Space Tribe EP' you worked with the incredibly talented Simbad and Kez Ym. What did they bring to project?
Simbad and Kez YM are both old friends, we have known each other for more then 15 years. Like I said I had this track "Space Tribe" finished. It's pretty raw & tribal and I thought it would be nice to have something more "musical" on it so I send it to Simbad who added some keys & a bassline. On the EP you can clearly hear the 2 different versions. The original (which is more instrumental & tribal) and the version with Simbad.
For "Bananas" it was a more natural process. Kez YM was at home and we simply did the track together in my studio in a few hours. We did some other collabs together in the past. Like for example that track called "Nuff Thangs" on my EP "Friends Say So" on FACES Records.
The clubs in Tokyo are renowned for their world class set ups, how would you say the ethos and technology of the scene in Tokyo has impacted on the electronic scene worldwide over the last few years?
I think Japan in "general" and not only Tokyo's clubs scene.
I've been going to Japan for Djing for almost 15 years and what I've always loved with the Japanese culture is their respect and research for everything.
If they like something, they will go deep into it. I also love the fact that there's always pretty much "no light" in the club, they would rather focus on a nice sound system and proper equipment.
Unfortunately I think Tokyo club scene has been affected lately by the lack of crowd and interest from the youth for the underground culture.
Which DJ's and artists have you come across recently who have really stood out for you that you would recommend checking out?
Kez YM has always been one of my favorite DJs. It's a shame he's so underrated. This guy should be playing out every weekend all over the planet.
Red Greg is also amazing. He never disappoints. Same for Motor City Drum Ensemble & San Soda.
There are plenty more but those are the names that come to mind.
You are also behind the Faces and MCDE labels. What was your musical journey to setting up those the labels and what is the ethos of those labels which makes them stand out in such a crowded market place?
I guess quality over quantity. We don't release too many records.
I started FACES Records 17 years ago because a lot of my friends around me were doing what I thought was dope music and it needed to be released. My contract at the record store where I was working was over and I started playing as a DJ more and more in Europe. I had a lot of demos from other DJ's/friends like Simbad, Danilo (back then he was called Inverse Cinematics), French producer L'Aroye, Red Nose Distrikt, the Soul Sociedad crew so naturally I created a label.
MCDE Recordings came after around 2008 when Danilo played me Raw Cuts 1 & 2. It was dope but different from the stuff I used to released on FACES, so I told him why don't we create another label and use the initials of your new moniker. MCDE Recordings was born.
Which 3 tracks that you have worked on at the labels that you are proudest off and why?
It's tough to describe the labels in 3 tracks. I'm proud of every release…
L'Aroye – South Visita (FACES Records 1201)
This was the first record on the Faces label and I think it's still sounds as dope now as it did 17 years ago.
L'Aroye is an amazing producer.
Motor City Drum Ensemble – Raw Cuts #1 (MCDE 1201)
Again this one is sentimental because it's the first release and the beginning of MCDE Recordings.
Kez YM – Cross Section LP (FACES Records)
The last release on FACES Records. A full house album and the first album of Kez YM. It also has some nice little downtempo interludes… If you haven't checked it yet,
play it loud!
You run the much lauded Children of the Drum monthly residencies in Lyon and Paris. What can you tell us about the club nights and where and when can we find them?
I'm very happy about the residency both in Lyon and Paris. It's my little baby.
In March 2020 we will celebrate the 5th years of the Lyon's residency at Le Sucre.
It's amazing to be able to curate a monthly line up for an 800 capacity club and to be able to succeed without compromising the quality of the music and my vision as a DJ. I'm very grateful to the crowd and that the club's staff who trust me.
In Paris, the next edition at Rex Club will be 9 November with I-F (Disco set), Mad Rey & Seiji Ono.
In Lyon, the next editions will be:
26 October with the legendary Sun Ra Arkestra LIVE (a dream coming true!!)
23 November with Motor City Drum Ensemble
21 December with Antal
What else can we expect from Pablo Valentino in 2019?
Apart from the EP on Eureka Records Japan, I have another EP coming out on SAFT Records Spain.
Oh and I just finished a remix for Ivan Conti Mamão (from Azymuth) that should come out on Far Out Records.
For more info on Pablo Valentino please check:
Facebook: https://www.facebook.com/pablovalentino/
Faces Soundcloud: https://soundcloud.com/faces-records
Tags:
Eureka!
,
Faces Records
,
Kez ym
,
MCDE
,
Motor City Drum Ensemble
,
Pablo Valentino