LV Premiers – Prime Time Band – Fall In Love In Outer Space (Those Guys From Athens & Turbotito Reworks) [Too Slow To Disco]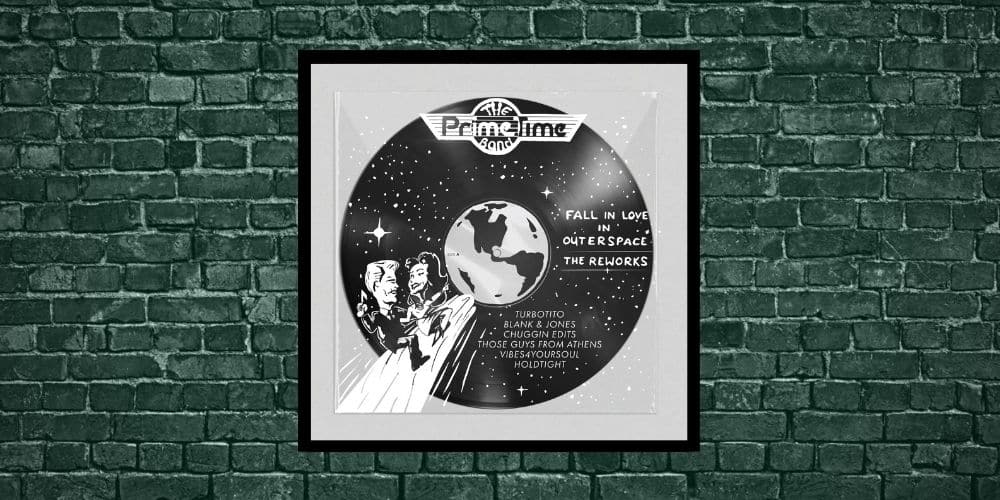 This release has been a long time in the coming thanks to a tenacious bit of digging and sleuthing from Too Slow To Disco's DJ Supermarkt. Coming across a rare private press 7″ a few years back which "hits that sweet spot between 80s funk-pop and the disco era's love of anything galaxy-tinged" he set about tracking down the artists behind the release 'Prime Time Band' so as to bring this delightful track to a wider audience.
Managing to get in touch bandleader Jeff Wollman after years of hunting, they agreed to release the track as part of TSTD 4. Thankfully for all of us they have now taken it one step further and arranged for some of their favourite smooth space approved producers of today to give us their take on the track. The result is a classy mini album of remixes which is now landing on both digital and vinyl featuring mixes from Turbotito, Blank & Jones, Chuggin Edits, Those Guys From Athens, Vibes4YourSoul & HOLDTight
It's a real must have release for lovers of laidback euphoric space edged Disco.
You can grab the release via: https://tooslowtodisco.bandcamp.com/album/tstd-reworks-01-prime-time-band-fall-in-love-in-outer-space
For more on Those Guys From Athens, Turbotito and Too Slow To Disco check:
Those Guys From Athens Facebook: https://www.facebook.com/thoseguysfromathens
Those Guys From Athens Soundcloud: https://soundcloud.com/thoseguysfromathens
Those Guys From Athens instagram; https://www.instagram.com/thoseguysfromathens/
Turbotito Facebook: https://www.facebook.com/Turbotito
Turbotito Instagram: https://www.instagram.com/turbotito/
Turbotito Soundcloud: https://soundcloud.com/turbotito
Turbotito Twitter: https://twitter.com/FilipNikolic
Too Slow To Disco Facebook: https://www.facebook.com/tooslowtodisco
Too Slow To Disco Soundcloud: https://soundcloud.com/tooslowtodisco
Too Slow To Disco Instagram: https://www.instagram.com/djsupermarkt_tooslowtodisco/
Too Slow To Disco Twitter: https://twitter.com/djsupermarkt
Love This? Check out more from Too Slow To Disco HERE
Tags:
Those Guys From Athens
,
Too Slow To Disco
,
Turbotito