Don Carlos lists his top 10 greatest Paradise House records of all time, and he should know..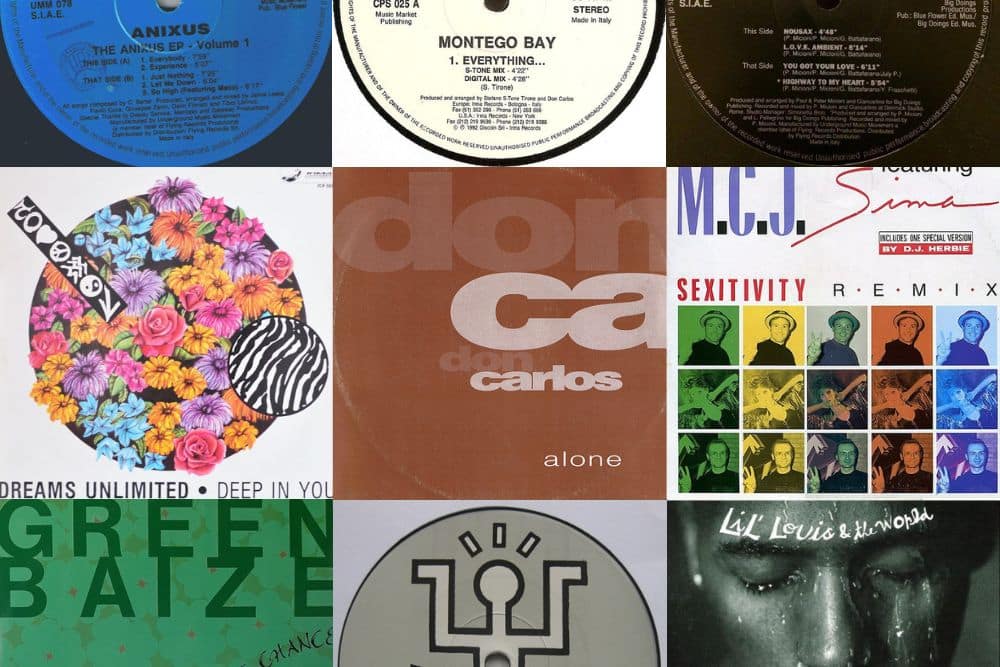 Don Carlos is one of the innovators of the Paradise / Dream House scene which flourished in Italy in the early 90's and spread out across the globe from there. After a lengthy break from music he came back to the scene a few years ago and hasn't looked back since. His signature track Alone, it's safe to say, never went away resonating across the decades inspiring legions of new fans.
Now firmly back and both delivering incredible productions and DJing across the globe he has lit up the scene once again.
His latest EP sees' him land on Razor-N-Tape as Montego Bay, a duo he formed in the 90's with S-Tone Inc, indeed these tracks were dusted off from session tapes from that era and have been reworked into something that truly spans the decades. Combining Don Carlos House grace with disco flourishes.
It's a fabulous EP and a must buy. Make sure you grab it quick from: https://razor-n-tape.fanlink.to/MontegoBay
To celebrate the release of the EP Don Carlos put together a rather fabulous DJ mix for us which you can check below. Please give it a share over on Soundcloud if you love it as much as we do. We also asked him to compile his list of his ten favourite Paradise House tracks and as expected he's put together a masterful selection. Check them all out below.
Don Carlos lists his top 10 greatest Paradise House records of all time, and he should know..
Don Carlos – Alone (Paradise)
This song fills my heart with happiness every time I hear it. 30 years after its release, it still excites me.
Lil' Louis – Do U Love Me
This track has only one defect, its too short. Therefore, I need to have two more of it to make it a masterpiece.
The New Age Orchestra – Let's Dream Together
Many years have passed since this track was released. I still like to play it these days to new generations to show its beauty.
Dreams Unlimited- Deep in You
Once again Ricky and Flavio created a song which mastered the sound of Paradise Music. Truly masterful.
EDN – Don't Make Me Wait (dream version)
Sometimes a few ingredients are enough, a beautiful harmony and knowing how to put just enough in, and here is the miracle result.
G.M. – L.O.V.E. (ambient)
Another unforgettable masterpiece. I regularly start my sets with these beautiful tracks.
Green Baize – Tramp Heart Game of Chance
I've put this track as a reference but I love the whole album. I love it as much today as I did back then.
The Anixus – Experience
Another track on UMM. If I think how good it sounded back in that time, I can recreate that in this moment.
M.C.J – Sexitivity (Deep Mix)
Produced by the master Massimo Lippoli (Sueno Latino). Today a tear of happiness still falls when I listen to it for its beauty.
Montego Bay – Magic (Don Carlos jazzy mix)
This is my version of the Montego Bay project. Produced and created by me and S-tone Inc, who wanted to go beyond the realms of house creating a fine blend of the present and the past.
For more info on Don Carlos and Razor-N-Tape please check: 
Don Carlos Facebook: https://www.facebook.com/doncarlosalone/
Don Carlos Instagram: https://www.instagram.com/doncarlos_official/
Razor-N-Tape Facebook: https://www.facebook.com/RazorNTape/
Razor-N-Tape Soundcloud: https://soundcloud.com/razor-n-tape
Razor-N-Tape Instagram: https://www.instagram.com/razorntape/
Razor-N-Tape Twitter: https://twitter.com/RazorNTape
Love this? Check out more on Don Carlos HERE
Like what you hear? To help support LV Online buy us a coffee via Ko-FI. Click HERE
Tags:
Don Carlos
,
Dream House
,
Paradise House
,
razor n tape