Sol Power All-Stars – Le Visiteur Featured Artist and Mixtape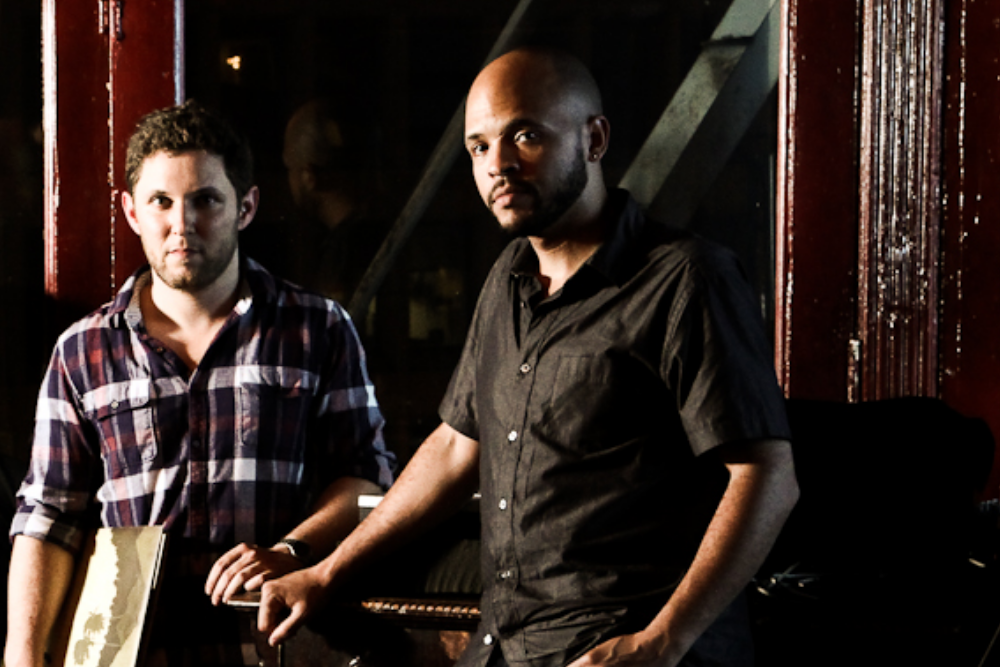 Sol Power All-Stars – Le Visiteur Featured Artist and Mixtape
Hailing from Washington, DC the Sol Power All Stars describe themselves as a sweaty and exhilarating party experience connecting Cuban roots with the discos of Lagos and the warehouses of Chicago and Detroit. It's a musical combination which has seen them build a loyal and voracious fanbase. Marc Meistro and DJ Stylus – two obsessive crate diggers, djs and producers – make up the core of the crew and have a long standing history in the Washington music scene covering everything from Hip Hop to Reggae to underground dance music. After meeting many times on the Washington circuit they came together as Sol Power (along with extended Sol Power family members Deep Sang and master percussionist Hermon Farahi) through a shared love of African rhythms building a modern electronic sound around the effervescent styles of samba, salsa, afrobeat & cumbia. It's a powerful and dynamic sound which lights up the dancefloor.
Their latest EP 'We Push On' has just dropped on Soul Clap Records and it's as dynamic as you would expect from this brilliant crew but with added political bite. We spoke to them about the EP, their message, line up and plans for the year ahead. Check it out below along with a brilliant mixtape that they put together for us. The full tracklist is at the bottom of this feature.
You can check the release in full and buy it from: https://solpowerallstars.bandcamp.com/album/we-push-on
Hi there Sol Power
Thanks for speaking to us today
For our readers who haven't come across your releases before how would you describe the musical style of Sol Power?
Our productions are percussive, soulful, and inspired by textures and sounds from around the globe. I think a lot of folks may describe us as primarily as playing and producing African styles. We certainly do a lot of that, but it is only one part of the equation. We try to hit that sweet spot where disco, funk, dub, African, Latin, and of course contemporary electronic sounds intersect. Which is really a reflection of our DJ sets and what we love to listen to on our own.
How would you describe your latest EP "We Push On" which is out now on Soul Clap Records and can you give us a bit of history about the EP?
Put simply, it's really a giant "Fuck You" to our sorry excuse for a president, the lies and hatred that he and his cronies spew, and the gross corruption that surrounds him. We are against everything that he stands for and, as the EP came together, it sort of evolved into that thematically. The B-side track, 'It Ain't Right' was the first production — Marc Meistro cooked up the beat, sent it to Lenny Kurlou (a local DC reggae legend who had a couple of dancehall hits in Jamaica in the 90s) with some thematic ideas and a week or two later, he sent back his parts. This is the first dance record he's done and he really hit it out of the park. Besu Tadesse's sax and clarinet were the final cherry on top.
"Take Heed" was a longer journey—  finding the right vocalist was quite an ordeal. Eventually, after two out of town vocalists fell through, we found Denise Henderson right under our noses here in DC. The few records she has been on are really impressive and she has the exact vocal qualities we were looking for. The process with Denise was more collaborative — by the time we got with her, we knew we wanted this to be more on the nose thematically and over two very productive days, we co-wrote (although it was mostly Denise) and recorded the lyrics. Stylus also added some vocal parts at the end, and our go-to keyboard maestro, Daniel Meinecke from New Orleans contributed a jaw-dropping organ solo that brought the track together perfectly.
Throughout the process we were sending demos to Eli from Soul Clap and he was really into everything so once it was finally done, we had a package that we were all really proud of and excited about.
Both vocal tracks have a powerful political message calling out the greed and hypocrisy of the current political classes. How important was it for you to create such a hard hitting political message?
As we alluded to above, we initially didn't set out to make a politically-charged EP. We made 'It Ain't Right' without any release plan or full EP idea. But by the time we got to 'Take Heed' and our government was ripping families apart at our southern border and locking children in cages (and lying about it), the theme of the EP came into focus. And Michal Rafaj's brilliant cover design encapsulates the vibe perfectly.
During the late 60's and early 70's when the political landscape was as challenging as it is just now there was a huge musical political movement. I'm thinking songs like 'A Change Is Gonna Come' by Sam Cooke and 'Say It Loud: I'm Black & I'm Proud' by James Brown. Especially given the current US administration's attacks on the creative industries why do you think there hasn't been a similar outpouring of musical emotion over the last few years?
At least in popular music, a lot of artists, at least publically, are mostly  apolitical— possibly out of fear that the public will turn on them and they will lose it all. During the early 2000s, the Dixie Chicks (a pop-country group) spoke out against the Iraq war and criticized then-president George Bush while on stage. After that, radio stations dropped them, many of their fans turned against them, and they didn't tour for about 10 years. We'd like to think that that would not happen again in the same way, but most artists are very careful about what they say. Then there are artists who get so rich and famous that they think that they're immune from the problems the rest of us face. Also, pop music is generally way more superficial today than it was in the 1960s so it is not too surprising that the artists with the greatest influence are not making politically themed music. It's unfortunately hard to imagine a political song getting much play in 2019 among a mainstream audience. Childish Gambino's "This Is America" pretty much stands alone in recent years and even that got run through the meme machine, which also speaks to where we are now.
How do you think the music industry can help influence the current political turmoil that is going on not only in the USA but also across Europe at the moment?
The music industry is very powerful but unfortunately, at least in the United States, if we are talking majors, makes all of their decisions based on money. It's safe to assume that just about anything that might jeopardize the money isn't going to happen. The fact is that 40ish percent of America still supports the president. If the industry alienates that 40ish percent, that's less money for them. We of course don't think that's how they SHOULD be looking at it, but it is a sad reality. Of course they should, just like every citizen of the world should, stand up for what is right.
Independent labels and artists don't have the same popular influence but are hopefully more principled. We'd love to hear more socially conscience records, particularly in dance music. We can all party and be thoughtful! Also, folks probably hit the summer festivals to, at least in part, escape all the bullshit they deal with at home, including whatever terrible political situation is happening where they live. But those gatherings also seem like a good opportunities to organize and educate about progressive movements and causes.
What would you say to other artists who are thinking about using their music to try to bring political influence?
Just do it. In the dance music world, there is a long tradition of politically-themed music. The state of the world today should be pretty inspiring to keep that tradition going.
Please can you give us your 3 favourite tracks with a political message which have influenced you as artists?
Hard to pick 3 but here goes:
Philadelphia International All-Stars – 'Let's Clean Up the Ghetto'
This is just a perfect dancefloor Philly groove with a powerful message of social justice. This is how you do socially conscience dance music.
Carl Bean – 'I Was Born This Way (Better Days Mix)'
One of the most impassioned vocal performances in dance music history. Carl puts it all out there with no ambiguity. This will cook a late night dance floor.
Junkyard Band – "The Word"
This is the theme music of growing up Black in Washington DC in the '80s, with a president whose policies particularly affect your condition.
What is your live set up, and what can we expect when we come to see you perform
Live set up is simple — two turntables, mixer, 2 or 3 CDJs. We hit all the bases: disco bangers, African, Latin, and Brazilian obscurities, and other deep and soulful dance floor heat.
On We Push On you worked with the super talented vocalists Denise Henderson and Lenny Kurlou, if you could organise a collaboration with anyone in music who would it be and why?
Oh man…DC is such a melting pot of excellent musicians from around the globe. We recently worked with a guitarist — Frank Martins— who plays in a local African band that was one of the premier players in the Nigerian psych-rock scene in the 70s. There are so many musicians like that in DC, young and old, and our list of who we want to work with is long.
If we are talking more aspirationally, Omar, Orlando Julius, and Georgia Anne Muldrow tops our list
One of House music's most exciting artists Kaytronik jumped on the remix of Take Heed, what do you think he brought to the track?
He flipped it into a peak time, urgent, slapper like only he can do. He's one of the all-time greats and we love it. We feel very fortunate that he is a part of the release.
What else can we expect from Sol Power All Stars in 2019?
We actually have two more EPs coming out this year on our label Sol Power Sound — one is more of a soulful house affair with a big remix from DJ Spinna and the other is another collaboration with Elikeh, the DC based Afrobeat / Afrofunk band we worked with on our Djidjo Vide EP back in 2016. We also have a remixes coming out on Cultures of Soul, Africa Seven, and one on Wonderwheel just dropped last week.
And finally, please can you give us 4 tips for a day out in Washington. A place to buy records, a place to eat, a place to drink and a place to dance.
To buy records: Som, Joint Custody, or HR Records (all have their strengths)
To eat: Thip Khao for amazing Laotian food
To drink: Gaslight Tavern for cocktails
To dance: Sunday night at Eightenth Street Lounge with Sam "the man" Burns. He's house music royalty and the best dancers in the city turn it out. He's been the backbone of house music in DC since forever.
For more info on Sol Power Allstars  please check:
Facebook: https://www.facebook.com/solpowerdc/
Soundcloud: https://soundcloud.com/solpowerdc
Sol Power Allstars Mix Tracklist
Uptown Funk Empire – You Got to Have Freedom (Patchworks Remix)
Jay Williams – Sweat (Sol Power quick edit)
Bosq feat. Kaleta – Take Over
Osunlade – Got2FindaWay Pt I
Dj Technics – Burnt Up
Sol Power All-Stars feat. Lenny Kurlou – It Ain't Right (Dubbed in DC Mix)
Sol Power All-Stars feat. Lenny Kurlou – It Ain't Right
Laroye – The Trickster
Nickodemus – Invisible Cities (Sol Power All-Stars Remix)
Curtis Mayfield – (Don't Worry) If There's A Hell Below We're All Going To Go
Gregory Porter – 1960 What? (Opolopo Kick & Bass Rerub)
Sterling Ensemble feat. Mario Inchausti – Truth (Vibe Conductor Obama edit)
Dennis Ferrer – Change The World (Main Mix)
Sol Power All-Stars – Take Heed feat. Denise Henderson
Chicago Afrobeat Project feat. Tony Allen – Cut The Infection (Sol Power All-Stars Remix)
Tags:
sol power
,
Sol Power All stars
,
soul clap