Somethin' Sanctified – Le Visiteur Featured Artist and Selectors Mix 10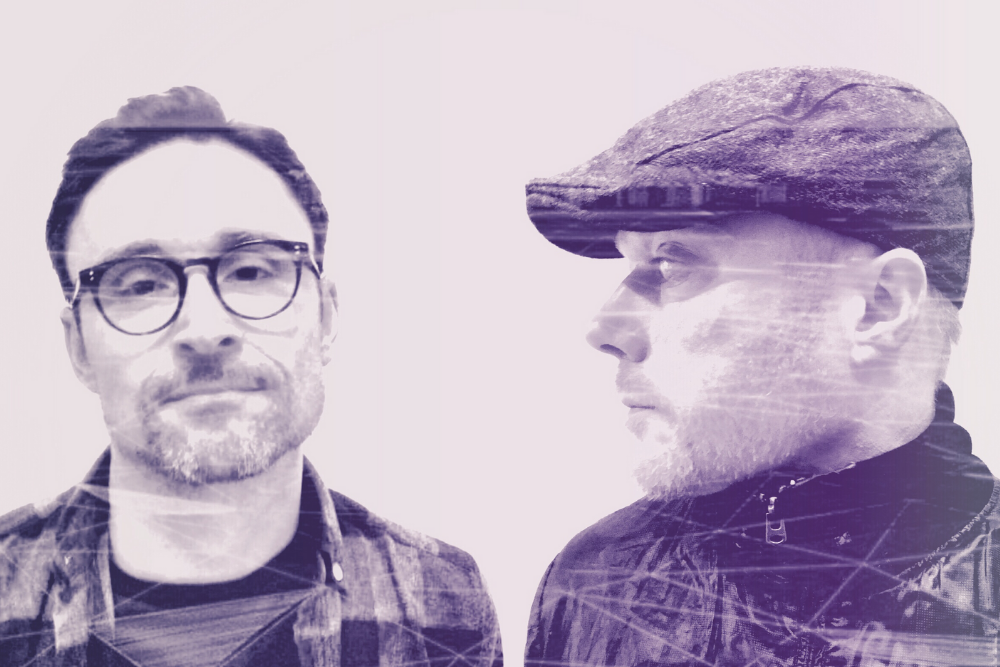 Somethin' Sanctified – Le Visiteur Featured Artist and Selectors Mix 10
With an impressive musical pedigree between them Somethin' Sanctified sees the collaboration of Simon Mills, who is one half of key UK electronic act Bent, and Joel Hood who has released on an impressive array of labels as a solo artist.
Their first meeting came when Mills was asked to produce an EP of Joel's for International Feel. A year on while working on sessions for Simon's album Harmonic Jigsaws Vol. 1 the pair clicked over their love of atmospheric hardware based house and disco and Somethin' Sanctified was born.
Drawing on a lifetime of DJ experience and a studio packed with vintage hardware along with a huge sample library the pair went to work.
Their debut EP Arrival Part 1 on Citizens of Vice was a huge critical success receiving a coveted 10/10 from DJ magazine. Arrivals Part 2 was just as successful drawing huge DJ support from across the globe.
2020 looks like being a busy year for the duo with a brand new EP along with a remix EP on the horizon.
We were seriously impressed with Somethin' Sanctified so we asked them in for a chat about their plans and they also put together a fantastic mixtape for us. Check it out on Soundcloud and please give it a share and help spread the love. The full tracklist for the mix is at the bottom of this feature.
Hi there Simon and Joel,
Thanks for speaking to us today.
Our pleasure, Simon here!
For our readers who haven't come across your releases before how would you describe the musical style of Somethin' Sanctified?
It's a cross section of vintage sounding house with tinges of disco and Balearic elements, often with other-worldly vocals or samples. We often use the phrase "atmospheric yet chunky"! We try to inject as much magic or soul into our music as possible, if that makes sense.
Please can you give us three of your tracks which are quintessentially Somethin' Sanctified.
CYA
Here's an example of our "chunky, dusty and old school House". I think it's got that soulful feel we often go for.
Soul Glo
This one's all about the Balearic vocal, and has mid-tempo but solid drums but it's too bpm heavy. It was inspired by times when we had played at Pikes individually, before Sanctified was formed.
Nobody
This is more laid back but with a heavy swing, and again it's about having that nostalgic sound, but this time with more delicate elements in it. It has a dreaminess often found our other work outside of Sanctified, too.
Simon you are a well know lover of analogue equipment, please can you describe your production set up for us and what are the key pieces of equipment which have gone into creating the Somethin' Sanctified sound?
It's a cross section of my fave gear from the early 70s like the Minimoog D, Roland SH09 and Paraphonic 505, thru to the 80s with the Sequential 6 Trak, DX7, D50, 303, 101, ending up with more modern pieces like the DSI Tempest and beyond. All these pieces have played a big part. I'd also say that I'm a sample freak and have been building my archive since 1990. We've such a huge palette to choose from, really.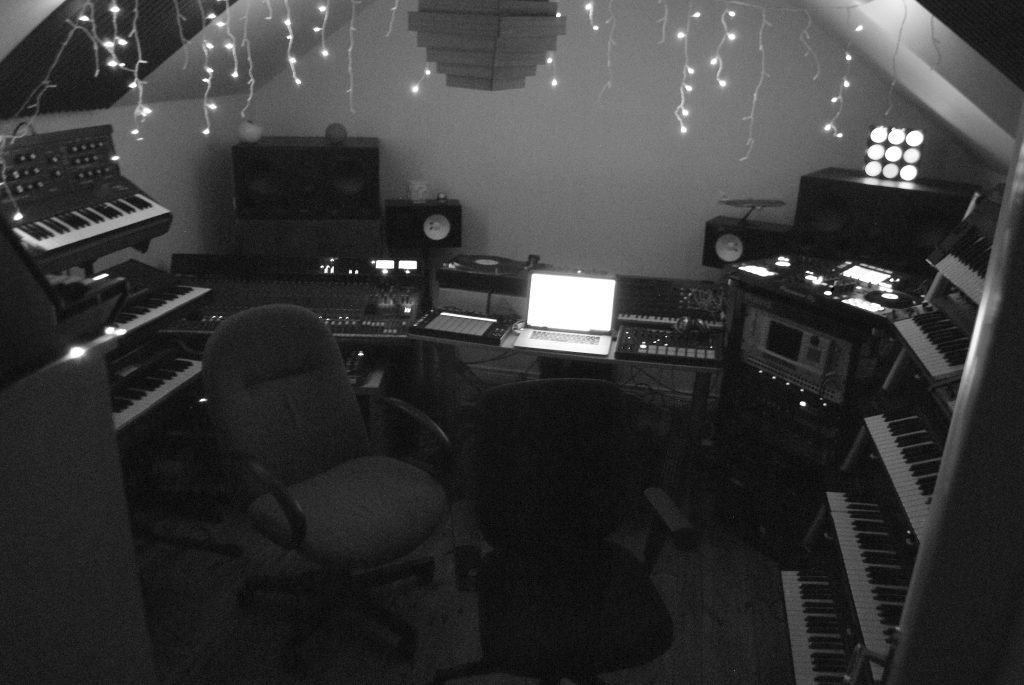 Simon what one production tip do you have that every new producer needs to know right now.
I'd say try and build an array of kit that is unique to yourself, and try and find samples in the strangest of places. It's all about making your own palette, so mix your gear up and don't just go out and buy what's popular. Don't be afraid to use toys or daft things either.
How would you say that your sound has developed since you started working together as Somethin' Sanctified?
I guess it came from a more mellow sound, possibly more downtempo and Balearic, and it's become tougher in places. Playing out inspired us to ramp up the bpm a bit. The newer stuff is still atmospheric but it's becoming less about sunset gigs and more about making a crowd dance and not just float off.
What attributes would you say each other has that you both bring to the project which have helped you gel so quickly and to create some truly fantastic music?
Joel's great at writing melodies, is a drummer, guitarist, and a vocalist. I'm a synth/sample/technical nerd, who's obsessed with chords and drum production. We both bounce off each other's ideas so freely and quickly, and musically we just fit each other's gaps. Last weekend we wrote 5 tracks, and I think that's testament to our workflow and mutual love of the same things, musically.
Your next release is due in early 2020, what can you tell us about the EP and when can we expect it to drop?
Well, it should be out early this year, and we're just signing a deal with Need Want / Future Disco, we're very excited about it! It's a continuation from our Arrivals Part 2, and is again a blend of house, through to disco.
You have also been busy as remixers, what are your favourite remixes that you have done to date and how does your creative process differ for those to making your own tracks?
My fave mixes so far actually aren't out yet, one is of Crazy P, and the other is of The Revenge, (which is in our mix for you). But I really like our mix of Yarni – "It Takes Time", as it's got a very dirty analogue feel to it. Another I liked was one we did for Joyce Muniz, it's tougher but with dreamy pianos/analogue synths. Quite cosmic I guess!
The difference for me is you have elements to work with, which give you a basis to work, but you want to reflect your sound and their sound, or reinvent it in a way which is sympathetic to the original (most of the time!). I adore remixing. God knows how many mixes I've done since the early days of Bent, but I never tire of it.
You have been working with Citizens of Vice on the Somethin' Sanctified project since it's inception. What would you say are the attributes of the label which have helped you develop as a duo and which have seen you come back for a third EP with them.
Warren who runs it has a really wide taste in music, and is very passionate about all the labels he runs, and the music on it, so it's very easy for us to be diverse, but keep our sound in a framework. He's also very good at keeping us organised, especially at the mo since I'm currently writing a new Bent album, and my own solo album as well. It's just great working closely on a "passion project" As Warren calls it!
Are there any plans for a Somethin' Sanctified live show to support the upcoming releases?
I'm getting ready to take it live right now, so we'll hopefully be out there this year.
Please can you give us 4 tracks, 2 each which you would say have directly influenced your style as Somethin' Sanctified?
Chaos In The CBD – 78 To Stanley Bay
We both adore this track. It's dusty, wrecked, jazzy and soulful as hell. We don't go this heavy with the distortion, but their feel has ben a big influence.
Diamond Jackson – Streets
Here's a perfect example of magical yet hazy downtempo disco. So much texture to it. It has a yearning and soulful vocal that we fell in love with instantly
Metro Area – Atmosphrique
We're both huge fans of Metro Area. It was a definite meeting point when we first started talking about our fave disco. I don't think many people have topped this, for it's consistency. It's so well informed and produced; simple, and super-melodic, with a lot of lush gear involved.
Jacy – Resounding Seashell
This sums up our love of early Balearic house, it's just drenched in atmosphere.. We're both suckers for chords, and it's instrumentation is that l lovely balance of digital and analogue hardware.
What else can we expect from Something Sanctified in 2020?
Well, our next EP will be out on Need Want / Future Disco soon, we've got remixes of Crazy P and The Revenge out. We're just mixing another EP for after that, and we're getting the gear ready to get on the road. We're excited.
For more info on Somethin' Santified and Citizens of Vice please check:
Somethin' Santified Facebook: https://www.facebook.com/somethinsanctified
Somethin' Santified Soundcloud: https://soundcloud.com/somethinsanctified
Citizens Of Vice Facebook: https://www.facebook.com/Citizensofvice/
Citizens of Vice Soundcloud: https://soundcloud.com/citizensofvice
LV Mixtape 104 – Somethin' Sanctified Trackslist
1 Lanowa – Gorgeous People
2 The Revenge – Distant Signal (Somethin' Sanctified Remix)
3 Hotmood – Dis-Cocktail
4 Joss Moog – Lili's Theme (Pt. 2)
5 Manuel Darquart – Birds of Paradiso
6 Carlo – Perfect Plan
7 Yellow Sox – Flim Flam
8 Tony Lionni – Found A Place
9 Somethin' Sanctified – Soul Glo
10 Cyclades feat Modern House Quintet – Gramvousa
11 Filta Freqz – Heaven knows
12 Kristy Harper – Uncle Jungle
13 Horsemen – Early Morning Goodbye
Tags:
Citizens of vice
,
Somethin Sanctified