Spare Change Edits Vol. 2 by The Patchouli Brothers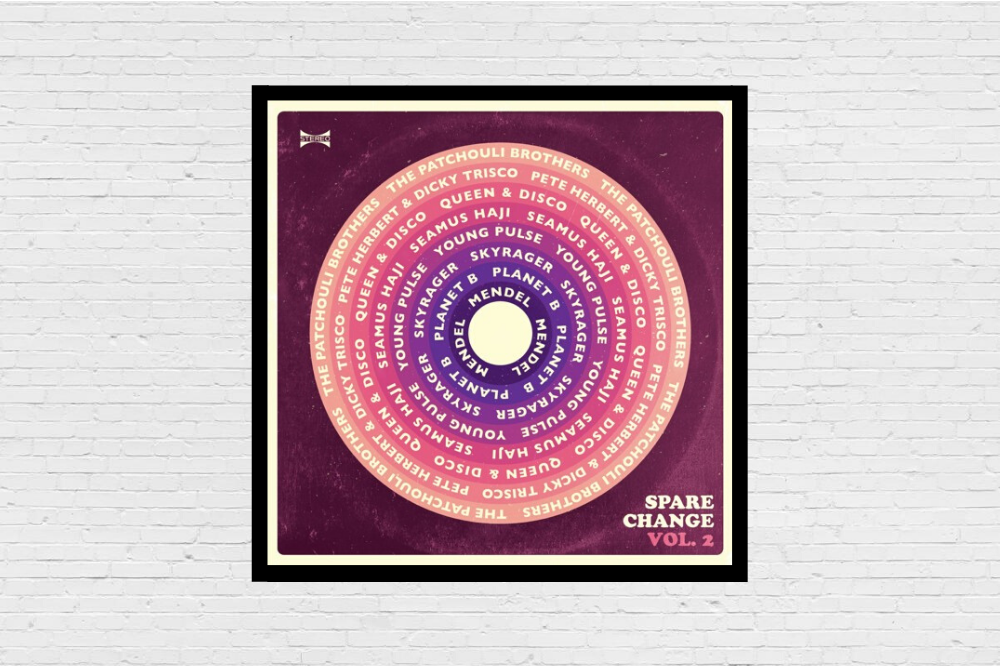 Spare Change Edits Vol. 2 by The Patchouli Brothers
The Patchouli Brothers are easily one of our favourite production duos out there right now. From small beginnings throwing parties in an Albanian dive bar in Toronto they have taken their parties across the globe from Amsterdam to California playing alongside the cream of the disco world as they go. The secret of their success is quite simply their sublime taste in music. Theirs is a wonderfully expressive and unrestrained take on disco. Feel good and energetic their sets are right up there with the best on the scene.
They have also taken this well trained ear into their own production career releasing on some incredible labels including Basic Fingers, Gamm and Whiskey Disco. Their edits have been a regular feature on Le Visiteur Online and in Le Visiteur DJ sets over the last couple of years.
The Patchouli Brothers have also brought this search for quality disco into their compilations with the brilliant Spare Change Edits landing last year in support of https://www.evas.ca/ an initiative for homeless youth.
Now they are back with the second edition and it's another sparkling selection of disco gems featuring some of the stand-out performers from across the scene.
Expect tight contributions from some of our favourite producers including Mendel, Seamus Haji, Planet B, Queen & Disco, Skyrager (Danny from Psychemagik), Young Pulse & of course The Patchouli Brothers. There is also a previously unreleased Belle and Sebastian remix from Dicky Trisco/Pete Herbert which has full permission from the band and is worth the admission price alone.
Up first Dicky Trisco & Pete Herbert Belle & Sebastian rework is masterful, warm and subtly funky. The bassline is impossible to sit still to it will appeal to fans of the band and DJ's alike.
Mendel's Rainbow, is a string laden groove. Full of feel good passion it's a real peak-time hands in the air moment.
Laser's 'N' Stuff's Planet B is a high octane space jam, it's shuffling bassline will have you donning your finest Barbarella outfit before hopping around the current digital dancefloor.
Scene legend Seamus Haji is on fine form with Take This Love, a proper percussive jam. Those keys though, sooooo much energy.
Young Pulse is in deep and exciting form here with We Just Wanna Dance, a smooth 70's boogie cut. Another feel-good track which will cause some scenes.
Irish production team Queen & Disco's On Your Side takes the BPM right back up again playing two great vocals off against each other it's subtle strings grab the ear immediately. Nice funk-fuelled work.
Skyranger's 1000 Ohms takes us off towards a more electronic disco sphere. It's packed with a bustling 80's futuristic energy.
Closing the EP out are the hosts with the ever so soulful Sunshine Banquet, a disco version of James Brown's incredible track Sunny. As album finales go they don't get much finer than this.
Grab the comp now from: http://thepatchoulibrothers.bandcamp.com/
As per Volume 1 all proceeds go to Eva's, a youth homelessness initiative in Toronto. The Artwork was donated by Harley Haskett.
Check out the playlist below and make sure you pick up a copy. Incredible music for a very worthy cause!
Please give this one a share and spread the word!
For more info please check:
The Patchouli Brothers Facebook: https://www.facebook.com/thepatchoulibrothers/
The Patchouli Brothers Soundcloud: https://soundcloud.com/thepatchoulibrothers
Tags:
disco
,
Mendel
,
Planet B
,
Queen & Disco
,
Seamus Haji
,
Skyrager
,
The Patchouli Brothers
,
Young Pulse