The Quick 6: An intro To Wilki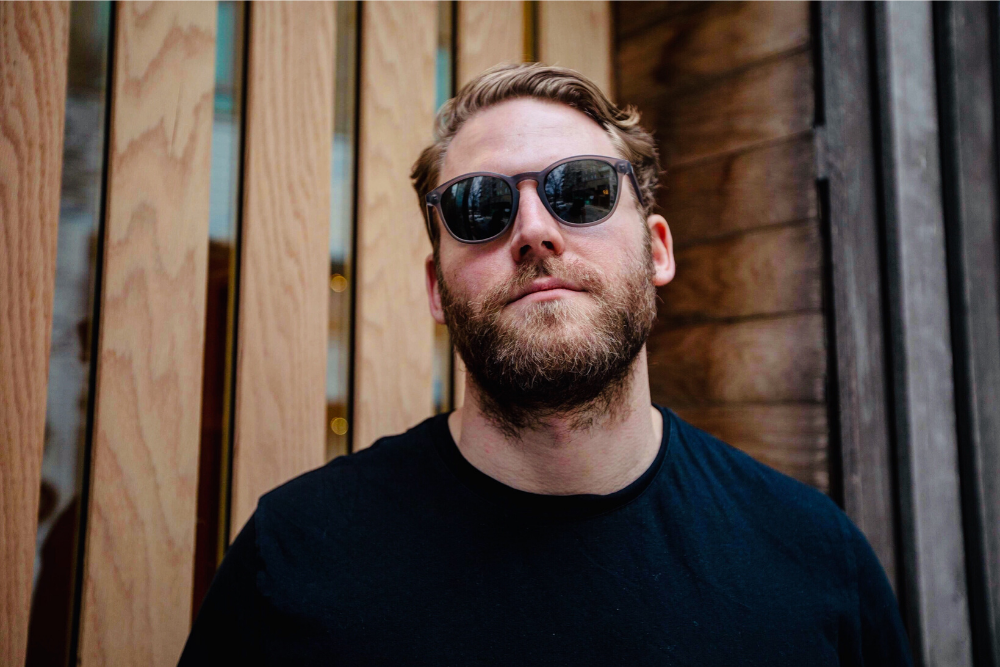 The Quick 6: An intro To Wilki
I originally discovered NYC's Wilki via his incredible WNDRMNTS mix series a year or so ago and was blown away by both the super high standard of his mixing and his brilliant track selections. I asked him a while back if he could bring his magic to Le Visiteur Online and due to some Lockdown enforced downtime he has been able to put together a set for us.
Safe to say that it's been well worth the wait. Wilki has put together a quite brilliant mix of us packed with incredible dancefloor jams touching on the many different corners of the disco pantheon. This is a DJ with some serious skills. Make sure you turn this one up loud, open the windows wide and please make sure you share it far and wide. We also spoke to him about his career and the current music scene in NYC. It's a cracking interview. Enjoy x
Q1: Who is Wilki?
At my core, I've always had a interest in and appreciation for music. In my youth, music was an escape, something very personal. I was drawn to a variety of genres, from funk and Motown, to hip hop, indie rock, and beyond. It was not until I was a entering college that I discovered electronic music, and I dove in head first. There was so much to take in, and I found myself fascinated by artists who seemed to combine all sorts of influences into their music to create a unique sound.
When I started doing club gigs in New York City, I was playing really eclectic sets, but always trending back to disco and house. As I was still learning much of the technical aspects of being a good DJ, I definitely tried to stay in my comfort zone. I found the vibe and rhythms from both of those genres to be pretty much undeniable. The same way a hit pop songs get stuck in your head, disco and house tracks seem to capture people, including myself, in a profound way, but not just mentally, but physically and even spiritually. In my mind, dance music in general doesn't discriminate, it just asks you participate.
Disco specifically creates such positive energy. I think that's why it has became my main influence. Whether its a nice groover to set the tone for the night, a high-energy vocal anthem at peak time, or something deeper and more obscure, disco always feels right to me. Nowadays, I would still describe my sets as diverse but definitely more dynamic, moving across what I see as a wide spectrum of disco. That means tapping into more world music influences like afro, latin, italo and also tracks combining elements of techno and electronic music to create deeper, darker, more exotic disco. I certainly spend way more time digging for those special tracks ("the gems" as some would say) than I did when I was starting out, and I do believe that has been a significant contributor to the development of my sound and my sets. More than anything I think, I've always striven to create unique sets that make people dance more and think less. When you come see me play, you're likely not going to know most of the music, and that's intentional; however, I'm confident you will hear familiar or nostalgic sounds, instruments, and rhythms that will get you in the mood to move and groove.
Q2: What are your first memories of the electronic music scene, what was it that drew you to the scene and what was the first record that you bought?
Going to Miami Music Conference for the first time with some friends while in college was my first full immersion into the electronic music community. It was eye-opening to see the passion people had for the music, which truly defined the vibe on the dancefloors and the culture among artists, fans, industry folks, etc. I came into the week excited and curious, and I left with a passion.
One of the first dance records that I downloaded and instantly went on repeat was this Fred Falke remix. So many fond memories attached to this one.
Q3: Who are your greatest influences as a producer and DJ?
Daft Punk. Innovators, dance music royalty. Discovering electronic music when I did, it was impossible not to be influenced by their music, the way they performed live, so seamlessly transitioning from track to track. It was eyeopening.
Todd Terje's music is truly unique and always a fun combination of disco and other creative electronic elements. I love rediscovering tracks like this one below in the middle of set and allowing it to influence a portion of the evening.
Eric Prydz is the master. He will always be a producer and DJ that I look up to and forever hold in high regard. This is a deeper cut of his, originally released in 2008, and definitely one of my favorites of his. Love it when he get's funky.
Q4: Please tell us about the electronic scene where you are based. Which artist's do you love past and present that have inspired and encouraged you and which parties that you have loved going to over the years have helped your musical evolution.
The electronic music scene in NYC, and even more so Brooklyn specifically, has definitely molded me into the DJ I am today. It is a unique scene for so many reasons, diversity for one, and competition being another. Of course, the city itself is extremely diverse culturally, but when you look at the dance music scene specifically, there are so many different clubs and venues, each with different formats, vibes, followings, etc. There's pretty much something for everyone, whether you're into techno or disco, house or more experimental stuff.
When I initially moved to the city, Output was just opening in Brooklyn. It really changed the game, especially for underground music. It was a music first nightclub experience. A ticketed venue with a no photo/video policy, loads of international talent, and one that really pushed the boundaries musically. My experiences there 100% affected my mentality as a young DJ, it drove me to be better, push my own boundaries, experiment more. The handful of times I was able to perform there before it closed were so special. I definitely think Output was a huge catalyst for the growth in the Brooklyn scene and a big reason why NYC is one of the most revered cities in the world for underground dance music.
Today, large venues like Avant Gardner, Elsewhere, House of Yes, and others are helping define the Brooklyn scene alongside more intimate spots like Good Room and Black Flamingo – probably my favorite place to dance to disco. There are always newcomers making an impact as well, namely Nowadays and Public Records, both of which are known to bring in artists falling into the "less mainstream, highly intriguing, cutting edge and top notch in quality" category and attract the vinyl-enthusiasts and most intrepid electronic music listeners. In Manhattan, you have a much different dynamic. If you're searching for music-forward clubs, you may find them few and far between. Outside of some large scale mainstream venues, the scene is really defined by the smaller, more intimate clubs. Le Bain stands out from the rest for me. The club truly puts the music first, and it shines through in the quality of their programming and the incredible atmosphere on the dancefloor. For me, as a DJ and an event producer, creative control is paramount, especially when it comes to the music. The venues I partner with tend to fall into this music-forward category and typically share the same fondness for disco and underground music. Another boutique venue I frequent, both as a DJ and patron, is Amaya, which is a Mezcal Social Club boasting a custom sound system, diverse guest list, and a rotating list of local talent and special international DJ guests playing a nice spectrum of underground music.
Some NYC-based DJs and artists that have shaped the scene for me are ones like Eli Escobar, Juan MacLean, and The Knocks. And if I had single out just a couple NYC-based parties, of which there are countless, that have had a significant influence on me, I would choose Tiki Disco and Mister Sunday. Both are run by some of the best selectors of music in the city, always promote an inclusive, positive vibe, and of course, always have incredible music.
Q5: What can you tell us about the theme of the mix you have done for us and what are some of the key tracks for you?
In describing this mix, I would first say it was recorded in high spirits. With the current global pandemic looming over all of our lives, the majority of the world, including myself, is isolated, quarantined at home, practicing social distancing, it's easy to slip into negative thoughts and emotions. Music is a great way we all can escape our daily routines and bring a bit of positive energy into our lives. I packed this mix full of all the elements from my club sets: funky percussion, playful basslines, and vibrant melodies. It's a dish best served hot to those with diverse flavor palates, heavy on the disco and sprinkled with exotic spices. The tracklist features selections from the likes of Daniel T. & DJ Duckcomb, JKriv, Michael Sahagun, Ray Mang, The Funk District, and Yuksek, some special vinyl crate diggers, and of course, a couple disco classics at the end to send you off into the sunset.
Q6: What else can we expect from Wilki in the next 12 months?
In the comings months, I have a several guest mixes scheduled to be released by some of my favorite venues and online editorial outlets, so I'm excited for everyone to hear those. I will also be taking advantage of the downtime during the quarantine to reignite my WNDRMNTS mix series, do some live streaming, work on some exciting creative projects, and hopefully get back in the clubs this summer!
For more info please check:
Artist Soundcloud: https://soundcloud.com/wilkimusic
Artist Instagram: https://instagram.com/wilkiofficial
Artist Facebook: https://facebook.com/wilkiofficial
Artist Twitch: https://www.twitch.tv/wilkiofficial
LV Mixtape 134 – Wilki Tracklist
Weasel Disco – Ride On [NDYD]
The Funk District – Stuck On The Line [Furious Mandrill]
Prince – Just As Long As We're Together (Romain FX Edit) [Fantastic Voyage]
CSN – Carry On (Flying Mojito Bros Refrito)
Daniel T. & DJ Duckcomb – Caja Negra (DT & DC's Version Acido) [Pleasure of Love]
Donald's House – Piano Parfait [Touch From A Distance]
Michael Sahagun – Closest Star [Freerange Records]
Patawawa – All The Time (Yuksek Remix) [Splinter]
Azymuth – Jazz Carnival (Da Lukas Re-Disco)
Freeform Five, Carolyn Harding – Strength (JKriv Extended Remix) [Glitterbox]
Phenomenal Handclap Band – Remain Silent (Ray Mang Extended Mix) [Toy Tonics]
Cole Medina, Adam Wickens – Tropical Funk (Admin Remix) [Fly By Night]
Rex Gyamfi – Obiara Beyu (REES Dancing Drum Edit)
The Patchouli Brothers – Made In France (Edit) [Pleasure of Love]
Bongo Barns – O La Soca (Instrumental Edit)
Marlena Shaw – Touch Me In The Morning (Edit)
Voyage – Souvenirs (Edit)
Tags:
new york
,
NYC
,
Wilki