Vhyce Talks About Belgium, Creating Music and Collaborations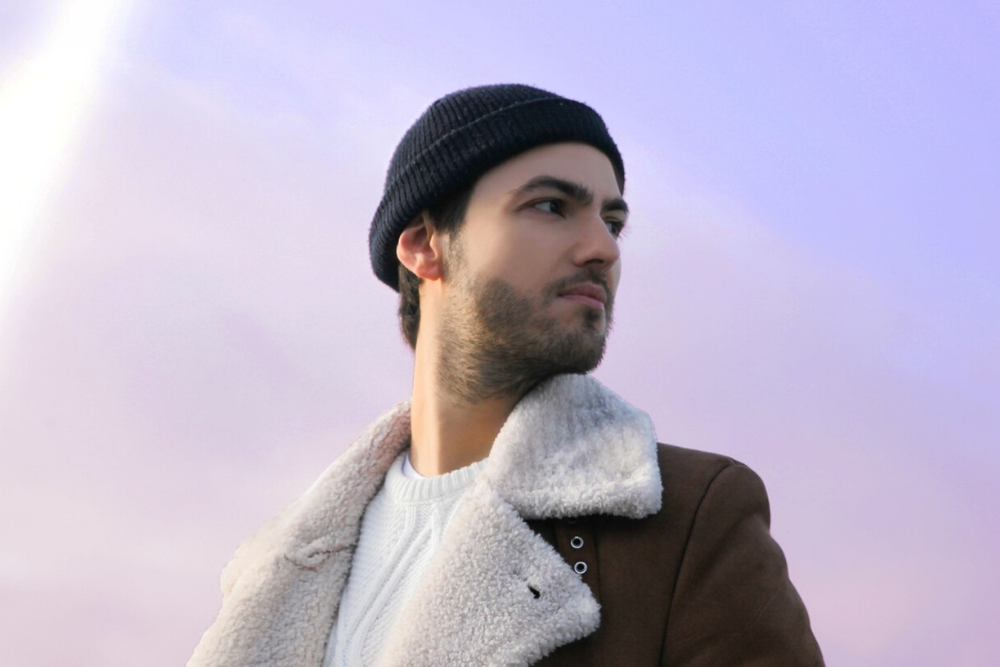 Vhyce talks about Belgium, Creating Music and Collaborations
Hailing from the post industrial city of La Louviere in Belgium Vhyce is an artist who popped up on our radar very recently with his very classy Ravanelli Disco club EP Edits from the crypt. It was an entrancing EP fusing subtle disco licks with frenetic rolling basslines, well crafted drums and a choice selection of tasty samples.
Since then he has popped up in our mail box regularly with releases on Future Disco, Demi Riquisimo and he launched a brand new collaboration with David Harks under the name Rosa Ama. Their debut single was signed straight to Kitsuné and has enough energetic Nu Disco chic to power the most excitable of dancefloors.
We spoke to the man behind Vhyce aka Vicente Milioto Da Palma about how his time in La Louviere has inspired his career, his musical influences, his current raft of releases and his plans for the rest of 2020.
Vhyce also put together this extremely fine mix for LV online showcasing all his different club styles. Please check it on Soundcloud and give it a share and help us spread the love.
Hi there Vicente,
Thanks for speaking to us today.
For our readers who haven't come across your releases before how would you describe the musical style of Vhyce?
I make music to dance to, or at least I try to. A mix of electronic sounds and organic ones. Trying to find a balance between rigidity and groove. Sometimes it's more club, sometimes it's more pop and sometimes it's in between. You might want to listen to some of the music I make on a dance floor and some in your living room. But I tend not to make music for bathrooms. Yet.
Please can you give us three tracks from your discography which you would say are quintessentially Vhyce.
I would say Duran Duran , Say We Will and Amour Cru as they represent different faces of what I like.
Say We Will
After releasing my first EP on Future Disco Wim from Kraak & Smaak contacted me saying he liked the EP and asked if I had any demos for their label 'Boogie Angst'. I sent a few and the first one they picked was this one. We were looking for a vocalist and they found and enlisted Wolfgang Valbrun from Ephemeral who fitted perfectly with what I had in mind.
Duran Duran
This is one of the first songs we did with Yves Paquet. It's a track that came very naturally. Yves was coming to my house in the afternoon to work on some demos I had and as while I was waiting for him I came up with the idea for Duran Duran. After recording on a few songs he still had some time left and I showed him what I've been working on that morning and it resulted in this track. This idea was to fuse together elements of classic soul music with more modern sounds while still sounding a bit rough and not perfect.
Amour Cru
My latest release on Future Disco records. It's one for the clubs. The idea for this was that after working a lot with vocalists and on song structures where I had to fine tune elements for months I wanted to make something simple and quick. I had been diving into 8O's synth music just before that and I took a bit of that influence into this EP I think. Sometimes what's interesting on a track are the small details and I think that's the case for this one. The music itself is very simple and there's aren't too many core elements but there are a lot of little noises, arps and textures. Everything is always moving a bit
Your bio is quite different to most electronic artists in that it focuses in on your home town La Louviere in Belgium and how its post industrial desolation has inspired your own musical career. What can you tell us about the city and why has living there led you towards a career in music?
I feel like everything influences your music from the city that you live in to what you've eaten in the afternoon. The thing about Belgium is that's a small country so we can be anywhere and still be half a hour from a bigger city. But there's something about living in a small city because there isn't much to do and the weather is usually bad so you tend to stay at home making or listening to music with friends.
Everyone I know from La Louviere is either musician, a DJ or passionate about music in some way. My music would definitely be different if I lived somewhere else I think. Not saying it would be worse or better just different. Even though we're now all connected there's still something about the place you live in. What you see when you go out of your house.
What can you tell us about the mix that your created for us?
For the mix I wanted to showcase the different kinds of club music that I'm into at the moment as well as my recent releases. I like to have a theme in my head when I'm doing recorded mixes. I wanted to make one that you could listen at home but that you can also enjoy in a club. I think I always like stuff which is in between.
What were your own personal musical influences who have impacted on how you create music?
Kraftwerk – The Model
I had to meet with a friend at festival but to cut a long story short my friend got a little messy and lost his phone so I couldn't reach him. So I ended up on my own, under the rain with Kraftwerk. The experience was intense they were there standing in front of computers, not moving and people were going crazy under the rain. That made me understand the power of dance music and how it makes people resonate. That was the first time that I experienced that as I had never been to a club at that point. I think this one song especially embodies what I like in music: bittersweet feelings, electronic meeting pop. Cold but with a groove.
Young Marble Giant – Searching For Mister Right
Maybe the influence might not seem that clear but I think it's one of if not my favorite album. I like the fact that it sounds like teenagers in an attic messing around with electronic stuff. They – like Kraftrwerk – were making their own drum machines and it sounds like everything is made in the same room. It sounds a bit naive and lo fi. And it also has this mix of electronic elements with live instrumentation.
Brian Jonestown Massacre – Servo
A big influence not only on the music itself but also on how you make the music. How's he's doing everything on this own. The DIY attitude and the commitment. Not only the music is musically inspiring but it makes you want to create something for yourself. The fact he has a thousand different projects and his own evolution in sound. And the melodies are great and the one from Servo is definitely one my favorites ever. I've been listening to it so much that it can't not be an influence.
Daft Punk – Da Funk
The thing is that for almost everyone from my generation Daft Punk was a first step into electronic music. It was played on MTV and on the radio. What's beautiful when you're a child is that you don't think about any concept around the music you just like or don't like the music. I also remember seeing some night shows on MTV when I could on special occasions like New Years Eve and they were playing a lot of dance music and I remember a special feeling about it. The videos – like the one for Da Funk – felt strange and mysterious .
Your recent Vhyce releases are quite varied in style what can you tell us about your most recent releases on Ravanelli Disco Club, Future Disco and your upcoming Boogie Angst release and how they all fit together under the Vhyce musical ethos?
The Ravanelli Disco Club one was the Edits From The Crypt EP. Those tracks are all around 2 years old now. They were made for fun and not especially meant to be released. They relyed a lot on samples and the tracks allowed me to train my process. I did backing vocals myself, recorded live drums and percussion, overdubbing with hardware synths and effects.
As I said I wasn't sure about releasing them but the label were really interested. Seeing the great reviews and outlets like delicious music supporting it makes me think that wasn't a bad idea
The Future Disco one « Rainbow Overdrive EP ». These are more recent tracks. The forthcoming Boogie Angst one was made before but will be released after. I wanted to make something simple very quickly without too much thought.
I think the three tracks were made the same week.
It's a bit of the result of what I started with the Edits From The Crypt EP, fusing the synthesizers and the live drums and me doing some simple backing vocals.
The upcoming Boogie Angst release. This one is more of a song. It's more downtempo from what I usually do. It will be the third release I have had together with Belgian singer songwriter Yves Paquet. He's very easy to work with. I think we recorded 3 demos the same afternoon which resulted in Let You Go, Duran Duran and now Lose Our Minds. We had a totally different track with these vocals but I wasn't satisfied so I re-wrote the music around it twice. Only keeping the vocals and a few key elements.
The end product is very different from what we started with. It's coming with a great remix too but that's still a secret.
About the Vhyce musical ethos : I don't really think about this. I would say you should not think too much when you are making music. At least until the basic demo is done. Sometimes I feel like I don't really choose what kind of music I do. It just comes.
I like a lot of different things and I don't want to feel forced to make something. But at the same time I feel like everything somehow belongs in same place. I record and write everything in the same room using the same gear with the same ears so I guess that's what ties everything together in a way.
You have also recently started working with David Harks on the Rosa Ama project and saw your debut single released via Kitsuné. How did you two meet, what can you tell us about the musical DNA of Rosa Ama and how does that differ from your output as Vhyce?
I was looking for new collaborators to sing on tracks I had and we were introduced. David sent me a track idea of what would become Oku (day version) which was our debut single on Kitsuné.
I really liked it so I tried develop his idea and also made another track around the same vocals which will become the night version and that is coming later this year
He seemed to be happy with the result and we decided to make more.
The DNA of Rosa Ama differs from my output as Vhyce as everything is 5O% David Harks and 5O% me
Rosa Ama is really a collaborative project so everything is written, discussed and decided together.
It's great to have someone else's input on a project. Especially when you're used to only working on your own and especially with someone who's a great song writer like David.
It kind of takes you out of your comfort zone too as you don't just do it for yourself and have to embrace someone else ideas. You have someone to rely on when in doubt. Or at least you can doubt together.
What is the club scene like in Belgium? Are there any parties which you regularly attend which are really exciting and helping inspire you as an artist?
I guess it's pretty good for a small country like Belgium. Lots of Artists, DJs, parties, clubs, festivals and media.
At some point with my friends we used to go out at Fuse almost every week but we're not going out as much now.
Also I'm really into La Cabanne in Bruxelles programming as they added something new on the map
You have had great success signing your tracks to some really fantastic labels. What tips do you have for artists starting out on how best to approach getting their music to labels to have a good chance of getting them listened to?
First be sure that your sending the music to the right label. It's not just about getting signed you have to see if your music fits their universe. You also have to feel that you'd want to work with them and the other way around.
Some labels may be harder to contact if you don't have some connection with someone working there but in the case of Boogie Angst and Future Disco for example you can easily find a demo email address
Sometimes they might reach out to you because they liked one of your releases.
Then when sending your songs being nice is always a good idea (and in life in general too). Maybe add a little bit of introduction.
Choose the ones that you think are right for them. Maybe not too many or their attention span will be diluted
And if they don't respond or turn the track down don't take it personally. They are just not interested in those particular tracks
Even if they like the tracks they might think they doesn't fit the label
And sometimes I have even had people that I had send the demos to come back to me after the release on another label saying they liked the track and they would have signed it.
When you are Djing what is you 'If all else Fails Tune'?
Well it depends a lot on the scenario but I'd say Todd Terje's edit of « Chic – I want Your Love » is a safe bet. Everyone knows the original and it kind of resets the mood if it's needed. It might not be what you need if people want a 'play harder' thing but sometimes it's nice to just break it and build again. Also it's a great closer.
What else can we expect from Vhyce and Rosa Ama in 2020?
As Vhyce I just released my Rainbow Overdrive EP in February on Future Disco. In March I have a track called With The Feelings for Demi Riquisimo's Semi Delicious first VA comp
In May I have a new EP on Boogie Angst with Yves Paquet
And for my project with David Harks – Rosa Ama – we have our next singles lined up with a first release in April and collabs with PYN and Denitia
And finally, please can you give us 4 tips for a great day out in La Louviere. A place to buy records, a place to eat, a place to drink and a place to dance.
Unfortunately there's not place to buy records in La Louviere
To eat I'd recommend Cema Passion for a proper meal and Aqua E Farina for a pizza , Pitta Keko for a pitta and Yani for fries with spies.
To drink I'd go for a tour des bars at la place communale , maybe drink a Japanese whisky or super des fagnes at La Taverne Du Theatre then go to 33 tours for a dance and a beer.
For more info on Vhyce please check:
Facebook: https://www.facebook.com/VhyceDJ/
Soundcloud: https://soundcloud.com/vhyce
LV Mixtape 125 – Vhyce [Future Disco] Tracklist
Eddie Logix – Que Locos
Alma Negra – Tsavo
Demi Riquisimo – Wuya A Samu
Joe Corti – Bloodline
Vhyce – Amour Cru
Madlaks – Jikovonunu (Young Marco Rework)
Company B – Fascination (Jordan edit)
Vhyce – LOW
Animotion – Obsession
Vhyce – With The Feelings
Pat Thomas, Kwashibu Area Band – Yamona (Detroit Swindle Remix)
Tags:
Boogie Angst
,
David Harks
,
Future Disco
,
kitsune
,
Vhyce