Denon DJ Prime SC5000 Multimedia Player Review – 10/10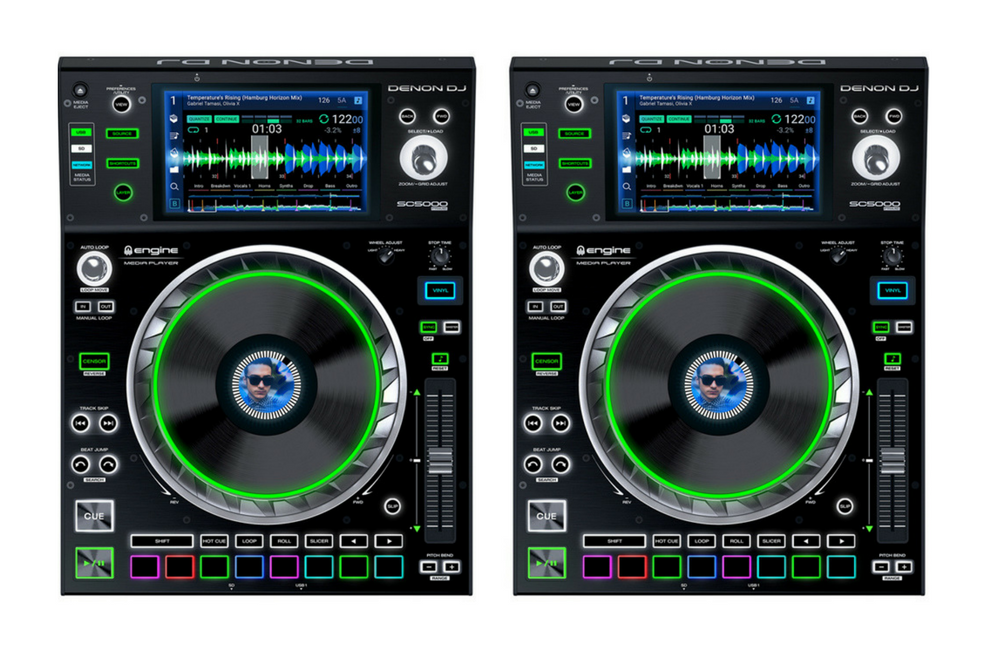 Denon DJ Prime SC5000 Multimedia Player Review – 10/10.
It's safe to say that Pioneer has been the industry go-to brand since they launched the CDJ1000 back in 2001, perfectly maintaining and regularly adding to the range across the next 16 years. Barring the odd Allan & Heath mixer popping up here and there in clubs to date there have been no real contenders to their crown.
That looks like it is about to change with the release of the SC5000 multimedia player. We had a chance to get hands on with 2 of these and the associated x1800 mixer and they were a complete revelation. Denon have taken everything that you would expect on a CDJ and added in a ridiculous amount of performance functionality, much of which you would expect to find on high end DJ controllers.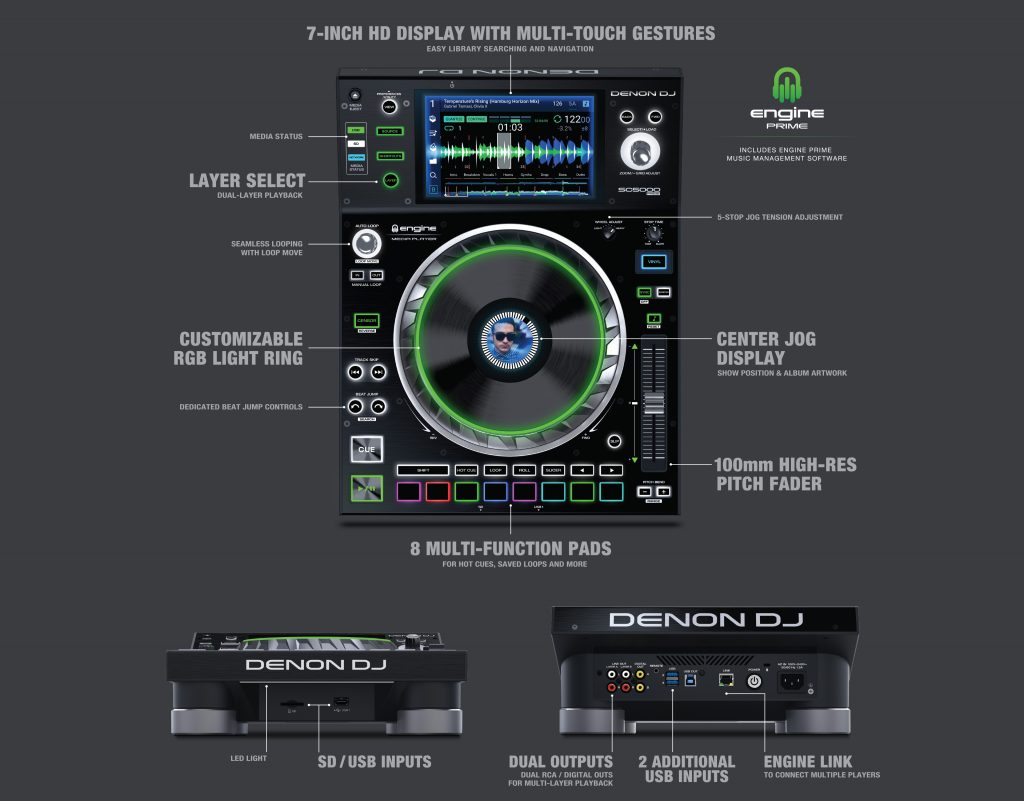 Along with the players and mixer they have also released 'Engine Prime' their own librarian software and equivalent to Rekordbox. Unlike Reckordbox though this can analyze files on the fly within the player building a track waveform there and then. This is a first for any media player and a very handy function, it has always been a major failing of Rekordbox.
The SC5000 is a dual deck multimedia player powered by a quad core processor so it is the equivalent of 2 CDJ's in one. It has 2 separate outputs which run into 2 channels on your mixer and up to 4 of these players can be LAN networked. 8 decks anyone?
It has 3 USB's and 1 SD input and the media sources can be accessed via the 7″ HD touch screen. Once plugged into the unit it can recall performance set-ups and previously used cue points and loops even if they were set during a performance.
Other very useful additions include the track artwork showing in the middle of the 8″ jog wheel so you can quickly see what you are playing and the pinch-able waveform on the screen so that you can zoom in and out of the track to check where you are and on upcoming break-downs etc. You can also customise the light around the jog wheel to denote which player it is.
Along the bottom the SC5000 has 8 trigger pads which work in a very similar fashion to controllers giving you cues, loops, slices and rolls. A very handy addition to CDJ's which controller DJ's will love and be able to utilise immediately.
The track navigation and loading is also very intuitive, we loved the right to load and left to prepare movement. The sound quality with the x1800 was also excellent.
All in Denon have though of just about everything you could want as a performance DJ. The player handles and looks great and is reassuringly heavy, it won't get knocked around the booth easily.
Although they won't over-throw Pioneer over night I would expect to see these players popping up alongside existing club set-ups for the dual deck functionality alone. However, this is a player with a whole bag of tricks adding in pretty much everything you could possibly want as a DJ.
It will be very interesting to see what Pioneer come back with as Denon have absolutely nailed it with this player. This is a straight up 10/10 bit of DJ tech.
Check out Denon's video tutorial below.
Superb work Denon.
Tags:
denon
,
dj equipment
,
pioneer
,
sc5000