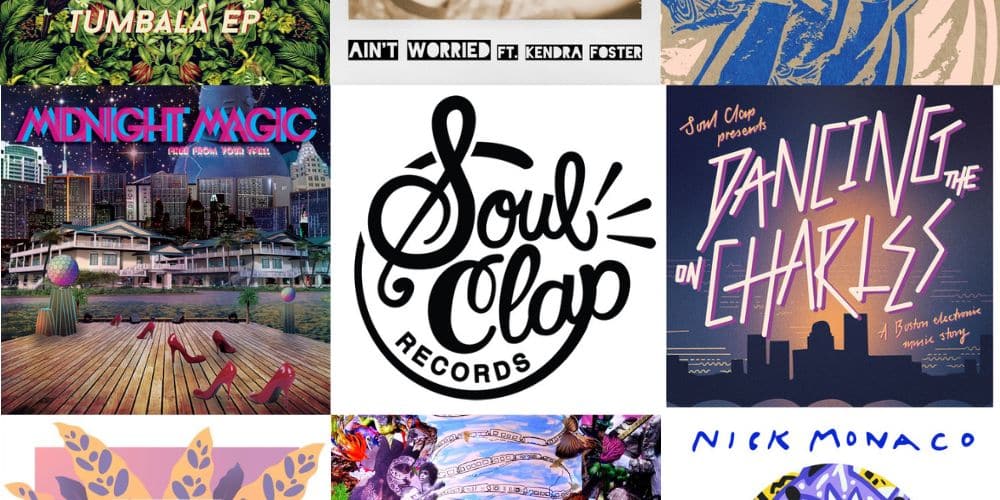 As I'm sure our regular readers are aware, we are big fans of the Soul Clap Records. Each release very much has it's own energy but still has that Soul Clap ethos of quality and intrigue behind it. They are currently celebrating their 11th Birthday and to celebrate have a brilliant remix compilation incoming featuring many of the Soul Clap family including Funkadelic, Underground System, Nona Hendryx, Michael the Lion and both members of Soul Clap. Its a scintillating compilation and very worthy of their birthday. You can check out our premier of FSQ's 11am as remixed by the very talented Colleen 'Cosmo' Murphy below.
You can grab the compilation from https://soulclaprecords.lnk.to/11YrCOMP
To further celebrate the release we asked Soul Clap to shine a light on 11 of their label tracks that perhaps went under the radar that should have received a little more love.
Bon Johnson – From The Heart
We got the of this demo from New England rave legend Bons years before we even launched the label. When we decided to start the Dancing On The Charles Boston comp this was a no brainer and must! Such a jam with that 80s electro funk vibe.
No Couture – FSQ Perfect Ten Remix
Ozgood & The Hourchild post humous collaborative release to celebrate our fallen brother Sa'D. This remix is by Sa'D longtime best friend and FSQ bandmate who turned out an emotive dance floor filling perfect ten remix.
Benoit & Sergio – Dancing Shoes
Benoit & Sergio are true masters of emotive dance music, this record is so full of feeling it still give us goose bumps.
Midnight Magic – Black Cherry
First time hearing Black Cherry we were just stumped, like how in the world did Midnight Magic pull THIS one off! Halfway thru when the clarinet comes in, might as well call it a wrap cuz this energy is just PERFECT.
John Camp – Mistral – ft. Greg Paulus
Might be one of the best tracks that every came out on the label. A slow burning deep house masterpiece that never got the love that it deserved. The jazz changes here are incredible thanks to a long standing musical relationship between Camp and trumpet mastermind Greg Paulus.
Lonely C – Ain't Worried ft Kendra Foster – Aka Charlie Soul Clap,
His 2018 solo LP had some really epic moments that seemed to have slipped thru the cracks, like this one co-produced by Morgan Wiley and Greg Paulus ft grammy award winning Singer/Songwriter Kendra Foster. Also, check out Tom Trago's excellent remix that came out later.
Underground System – Just A Place (Greg & Che Wilson Remix)
The funkiest remix from the Underground System remix package. It was such an honor to get a contribution from Greg Wilson on the label and this collaboration with son Che is very special and often overlooked!
Bosq Ft Daniele Moore – Because You
Bosq teaming up with Crazy P lead vocalist Danielle Moore? That's right, you might have missed this gem, but wake up because it's something truly awesome.
Nick Monaco – Boy Meets World
What a perfect song and get in line Lizzo cuz Nick referenced Malcom Mclaren FIRST! We love you Nick.
Nona Hendryx – Keep Funkin'
What a honor to work with the Queen of culture herself Nona Hendryx. Her contribution to the modern zeitgeist is unparalleled but beyond all of her powerful music, amazing work ethic and delivery, she's just an incredibly awesome and humble human. This one is one of our favorites. We gotta shout out Morgan Wiley who co-produced this with us in his Greenpoint studios in BK.
Fitness & Pony – Golden Butterflies
Such a smooth one from our brothers from the North of course! These two turn out music like it ain't no thang. This cut embodies dance music with a nod to that 90's sampling aesthetic, so dope!
For more info on Soul Clap Records check:
Soul Clap Records Facebook: https://www.facebook.com/soulclaprecs/
Soul Clap Records Soundcloud: https://soundcloud.com/soulclaprecs
Soul Clap Records Instagram: https://www.instagram.com/soulclaprecords_/
Soul Clap Records Twitter: https://twitter.com/soulclaprecs
Love this? check out more from Soul Clap here.
Like what you hear? To help support LV Online buy us a coffee via Ko-FI. Click HERE
Tags:
soul clap
,
Soul Clap records