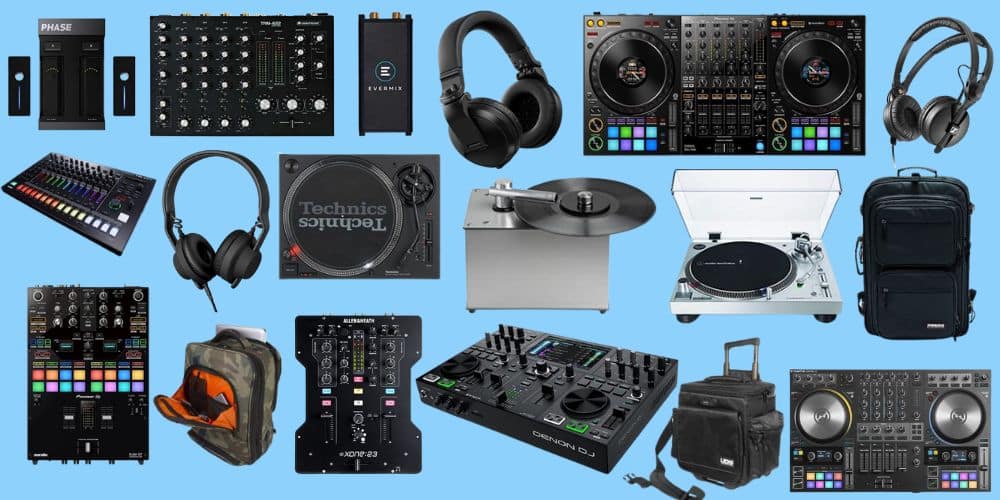 Are you wondering what the best DJ gifts are for that DJ or producer in your life? Something that really says I love you?
Here Le Visiteur talks you though some of the must haves and most wished for bits of kit that your other half would love to receive! We've given a few options from relative budget to all out break-the-bank.
Where we could find them there are links to grab all of these in the UK and the USA.
All prices were correct at time of going to press in December 2022 but may vary slightly over time.
If you are looking for something on a budget check out our DJ & Producer Gifts for under £100 HERE
Please note that we're reader-supported. When you buy through links on our site, we may earn an affiliate commission at absolutely no extra at no cost to you so a huge thank you for supporting the site.
---
DJ HEADPHONES
Arguably the most important piece of kit in a gigging DJ's arsenal. It's is essential to get a good pair of headphones and our tip is to get the best pair of headphones you can possibly afford as the better the sound quality the quieter you can have the volume and still be able to mix easily. If you are planning on DJing for many years this is our pro tip to look after your hearing.
All three of these recommended pairs have been tested here at LV HQ and tick every box.
---
DJ BAGS
Keep your kit safe and secure with these quality DJ bags.
---
DJ CONTROLLERS
The easiest way to start your DJ journey. Plug into your laptop and play, simple as! With a worldwide chip shortage many of the most popular controllers are impossible to source. These are our picks for ones which are still readily available. These mixers run a range of software including Serato, Traktor Pro 3, Rekordbox and there are also 2 stand alone controllers which run via USB and SD card but also make it easy to download tracks from all of the above music programmes.
---
VINYL TURNTABLES
Looking to buy a gift for a vinyl DJ, check out these great record decks.
---
DJ KIT
Some great bits of kit right here to make your DJ life much easier and lots more fun.
---
---
DJ MIXERS – ROTARY
Taking it all back to where it began, the feel of a rotary mixer is truly a gamechanger.
---
DJ MIXERS – UP FADERS
There are some truly fantastic mixers on the market right now. Here are a few personal favoruites.
---
STANDALONE CD / MEDIA PLAYERS
Looking to get set up for nightclub style practice grab a mixer and two CDJs / players. Like the Controller market these units have been badly hit by the worldwide chip shortage but all of these units are in stock at time of publication.
---
DJ TABLES
Get your practice area organised with these DJ tables, from basic to futuristic.
---
Enjoy your gift hunting, Le Visiteur x
Best dj gifts for the DJs and producers Christmas 2022
You can also check out our bargain best DJ gift list HERE
Tags:
Amazon
,
dj equipment
,
dj gifts
,
dj presents
,
Producer Equipment
,
Producer Tech