Best gift ideas for DJs and producers on a budget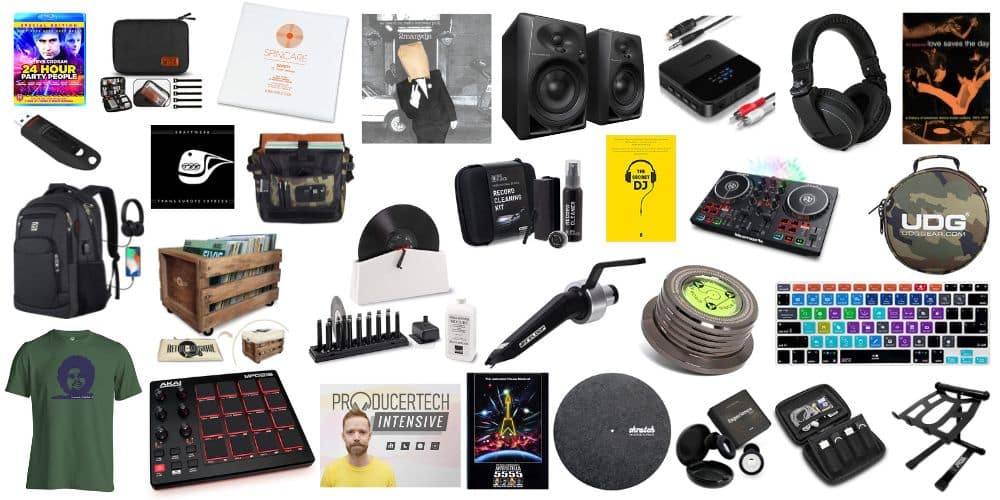 If you are looking for the best gift ideas for the DJs, producers and music lovers in your life then we have a huge list of ideas for you. Many of these have been tried and tested here by the good people at LV online so you can rest assured that this list is packed with must-have gifts and DJ gadgets that anyone would LOVE to receive.
While we would all love a DDJ 1000, CDJ 3000's or a DJM-900NXS2 that's not always possible so we have kept the prices on this list down under £100 (approx $120) with loads of gifts at £25 and below. It's a huge list featuring essential DJ and production equipment, T-shirts, vinyl, books, DVD's and accessories galore. From stocking fillers to main presents. So if you were wondering what is a good gift for a dj or what do you get a music lover, then every one of these is an excellent gift.
There are links to grab all of these in the UK and USA.
All prices were correct at time of going to press in December 2022 but may vary slightly over time.
If you are looking for something a bit more WOW, you can check out guide to gifts over £100 HERE
Please note that we're reader-supported. When you buy through links on our site, we may earn an affiliate commission at absolutely no extra at no cost to you so a huge thank you for supporting the site.
---
ESSENTIAL DJ GIFTS
Chosen by our team of DJ's, these are the gifts which every DJ or wannabe DJ in your life will love.
---
HEADPHONES
The most essential piece of kit in every DJ's arsenal. Pro tip – make sure that you grab the best pair that you can afford for the best possible sound so that you can keep the volume low to protect your hearing.
---
DJ BAGS, BOXES AND CASES
Make sure that your vinyl and equipment is always well protected when on the road.
---
LAPTOP STANDS
Another essential tool especially for digital DJ's. These come in all shapes and sizes so we have gone for three quite different designs which tick all of the boxes for both DJ's and producers,
---
MUST HAVE STUDIO & PRODUCTION TOOLS
If your other half is deep into their production career or even just starting out on their journey these handy tools will be very well appreciated.
---
MUST HAVE VINYL CLASSICS
From disco to soul, house to electronic, French giants to US legends and UK upstarts these are some of the finest albums ever made. Every single one of these is a must have for any self respecting music lover.
---
MUST HAVE BOOKS
There are a ton of books our there about electronic music and the club scene, these are a few personal favourites that I can recommend.
You also check out our run down of the the 11 Best Disco Books available today HERE
---
CLOTHING
Every dj loves a new foil fresh t-shirt to wear out to gigs. A winner every time. Here are a few classics!
---
DVD & BLU-RAY DOCUMENTARIES AND MOVIES
Films and documentaries set in the electronic and disco worlds. Please note that some of these are 15's & 18's so beware!
---
MUGS
Well who doesn't love a mug. Cheap and cheerful and very useful gift.
---
Enjoy your gift hunting, Le Visiteur x
Want to do you own Amazon DJ and producer gift hunting? Check out all of the deals across the whole store HERE.
Want to do you own Thomann DJ and producer gift hunting? Check out all of the deals across the whole store HERE.
Best gift ideas for DJs and producers on a budget for Christmas 2022
Tags:
Amazon
,
dj equipment
,
Producer Equipment
,
Producer Tech