10 Hot Jalapeno's' from Jalapeno Records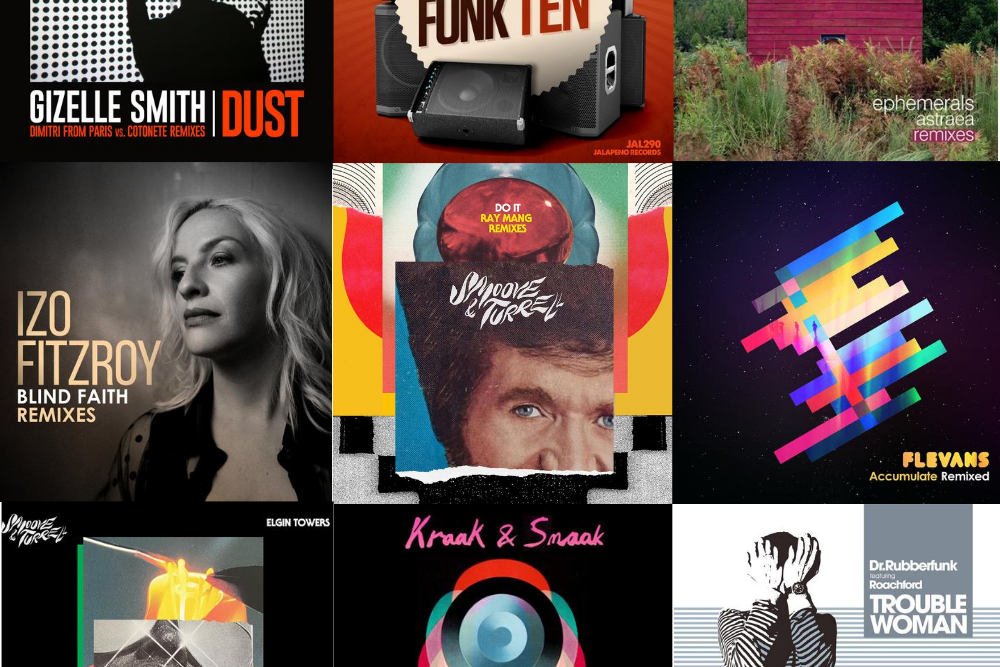 10 Hot Jalapeno's' from Jalapeno Records
Jalapeno Records has become a real favourite label here at LV HQ over the last few years. They are one of the stand out UK labels and have built a huge reputation as purveyors of some of the funkiest music around covering everything from disco and house to party breaks, soul, funk and everything in between.
Over the last couple of months alone they have dropped incredible music from Flevans and Smoove & Turrell with incredible albums from each which we have covered on the blog. You can check our reviews along with DJ mixes from each artist HERE
They are currently promoting Smoove & Turrell's wonderful album Stratos Bleu for which they have released some of the hottest remixes that we have heard all year. If we had to pick a dream wish list of artists for a remix series it would be pretty much exactly the same list as they have put together for the Stratos Bleu remixes. It's also safe to say that everyone of those artists has hit the ball square out of the park.
To celebrate the release of another sublime remix this time coming from the inimitable Ray Mang we asked the label to put together a list of 10 of their favourite tracks to give you a real flavour of what this brilliant label is all about.
For this list they decided to concentrate on some of their favourite remixes.
You can check out Ray Mang's brand new remix of Smoove & Turrell's Do It via:  https://SmooveTurrell.lnk.to/DoItRayMangRemix
10 Hot Jalapeno's' from Jalapeno Records
1/ Smoove & Turrell – Do It – Ray Mang Remix
Ray Mang is one of the most consistent and uplifting producers we know and we all jumped at the chance for him to remix Do It. Understated yet brilliant.
2/ Izo FitzRoy – Blind Faith – Art Of Tones Remix
AOT has got some serious production style and when he sent back this remix of Izo FitzRoy we all got very hot under the collar.
3/ Flevans – Speculate – Saison Remix
Really hard to pick a favourite from the recent Flevans remixes. We had some great ones from Lonely Boy, Supermini, Re-Tide and Flevans himself but this Saison mix does something special here.
4/ Kraak & Smaak – Lets Go Back (feat. Romanthony) (Solomun Remix)
Bit of a blast from the past but this is timeless music with one of the most iconic house vocalists of all time. Solomun was really hitting his stride when he remixed this for us and he opened many of his sets with it.
5/ Ephemerals – Astraea (Laolu Remix)
Laolu is an incredible house producer and we loved his re rub of Dele Sosimi Orchestra. The original of this track is quite out there and he has kept all of that but made it a club weapon.
6/ Gizelle Smith – Dust (Dimitri From Paris vs Cotonete Discomix)
More a new production than a remix – Dimitri pulled together one of Paris's finest bands Cotonete to re-record all the parts for this amazing song before throwing down his production magic on the mix. He since went on to produce an Izo FitzRoy track for us..
7/ Smoove & Turrell – Elgin Towers (Hot Toddy Dub)
Chris has a history of weaving magic with John Turrell's voice – he did an amazing remix of a Kraak & Smaak track featuring JT, and Crazy P remixed one of Smoove & Turrell's breakthrough records – Beggarman. He totally smashed it again on this remix.
8/ Kraak & Smaak – Sommeron (feat Imugi) (Satin Jackets Remix)
Kraak & Smaak released all their early albums on Jalapeno and are now going from strength to strength on their own label Boogie Angst. This Satin Jackets mix of Sommeron from their new album is killer.
9/ Dr Rubberfunk – Trouble Woman (feat. Roachford) (Steinski Remix)
This is just a case of us making one of our artists very happy. Asked to pick his dream remixer , Dr Rubberfunk decided on "Lessons" legend Steinski. 3 months later it was done.
10/ The Allergies – Run It Back feat Andy Cooper – Smoove Remix.
Smoove is an absolute monster on the remix – we have released 2 albums worth of his remixes (First Class and Recorded Delivery) and they fly out the door whenever we re-press. The Allergies had a big breakthrough at national radio this year but don't normally let anyone remix their songs so this was a big deal for us.
You can check out Ray Mang's brand new remix of Smoove & Turrell's Do It from:  https://SmooveTurrell.lnk.to/DoItRayMangRemix
For more info on Jalapeno Records please check:
Jalapeno Records Facebook: https://www.facebook.com/jalapenorecords
Jalapeno Records Soundcloud: https://soundcloud.com/jalapeno-records
Jalapeno Records Bandcamp: https://jalapenorecords.bandcamp.com/
Tags:
art of tones
,
Cotonete
,
Dimitri From Paris
,
Dr Rubberfunk
,
Ephemerals
,
Flevans
,
Gizelle Smith
,
Hot Toddy
,
Izo FitzRoy
,
Jalpeno Records
,
kraak smaak
,
Laolu
,
ray mang
,
Roachford Steinski
,
Saison
,
satin jackets
,
Smoove & turrell
,
Solomun
,
The Allergies