80's Child's Top 10 – 80's Album Tracks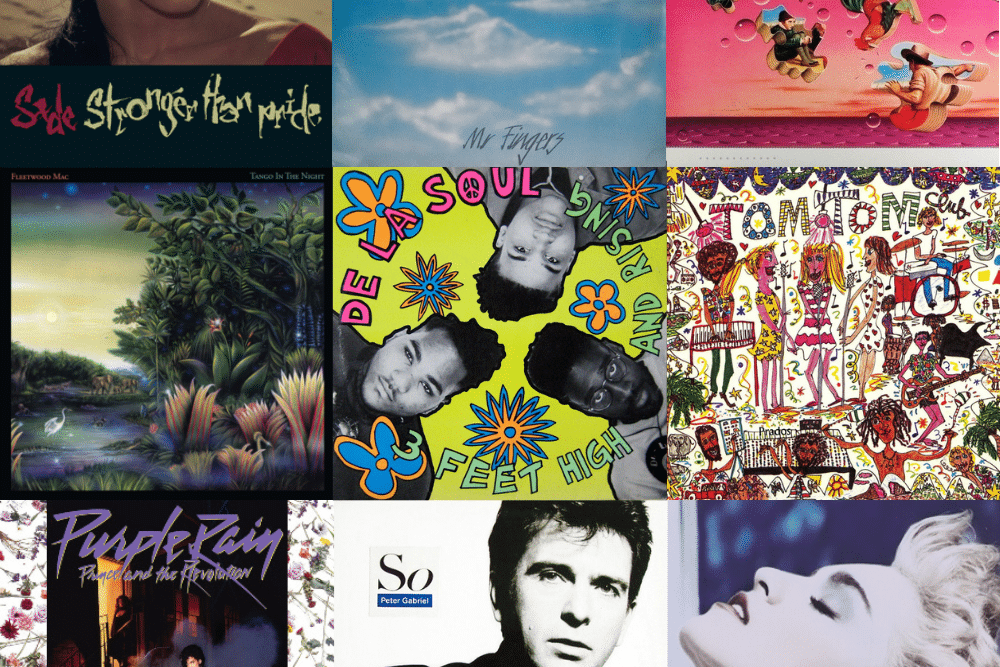 80's Child's Top 10 – 80's Album Tracks
Like what you hear? To help support LV Online buy us a coffee via Ko-FI. Click HERE
It's been a while since 80's Child dropped a new EP on us. Over the last couple of years he has been busy turning his brilliant label Masterworks into one of the go to labels on the disco scene as well as launching the extremely classy Deep Cutz label which concentrates on the deeper edges of House music.
Thankfully he is now back with an absolute scorcher of a release in the shape of the Come on let's rock EP. We love it and did a full review which you can check out HERE. You can also check out the tracks below and grab the EP from: https://www.junodownload.com/products/80s-child-come-on-lets-rock/5241068-02/
We are big lovers of all things 80s here at LVO so we thought who better than 80's Child to pick out some of the greatest ever 80's album tracks for us. Check it out below.
80's Child's Top 10 80's Album Tracks
Album: Prince – Purple Rain
Track: Baby I'm A Star
This is one of mine and my girlfriends go to songs when we are having a house party for 2, starting with a propulsive drumbeat, Prince layered exuberant synthesizers to simulate a horn section, along with a funky guitar and driving bass to create a deliriously electrifying groove that aims for the hips and sends us straight to the dance floor. I think it's one of the hottest dance tunes from the 80s.
Album: Fleetwood Mac – Tango In The Night
Track: Isn't It Midnight
This is a song that needs no introduction, a severe '80s guitar rock song that gets consumed by a greater, more unnerving force by its chorus, it is absolutely mesmerizing and another one that gets many plays in the house party for 2.
Album: Madonna – True Blue
Track: Open Your Heart
Open Your Heart" is a truly masterful pop song, a glittering example of what you can do with keyboards and congas and funky little guitar-ripples.
Originally written with Cyndi Lauper in mind I'm glad it was picked up by the Queen of pop!
I had a massive crush on Madonna and wish she'd retired years ago if I'm honest. I certainly wasn't struck on that Madame X bull shit, I'm guessing the fans with her head tattooed on their ball sacks would though right?
Album: Sade – Stronger Than Pride
Track: I Never Thought I'd See The Day
This is a break up tale sung with pure deep emotion, a song with unbelievable lyrics, Late Nite Tuff guy did a great version of this as well.
This track is best listened to on your own using a good set of headphones.
Album: Mr Fingers – Amnesia
Track: Can You Feel It
A track I actually didn't get round to listening to until I was at least 16 / 17, around this time, producers worked with limited resources, newly formed skills, and raw emotion. Among those beat scientists was Larry Heard
Starkly beautiful, "Can You Feel It" is an iconic piece of 20th-century dance music. Mr. Fingers created it solely on the JUNO-60 and TR-909.
Album: Talk Talk – It's My Life
Track: It's My Life
The title track of the bands second album, this is a solid gold 80s pop nugget! the verse, bridge and chorus are irresistibly hooky however No Doubts version was utter dog dirt so steer clear of that unless you want your ears poisoned.
Album: Peter Gabriel – So
Track: Sledgehammer
The biggest song of Gabriel's career and one of the standout music videos of the 80s, some tracks are simply timeless, and this is most certainly one of them!
I always remember watching this music video as a kid and thinking it was really cool because I'd never seen anything done like that before.
Album: De La Soul – 3 Feet High And Rising
Track: Eye Know
Hip Hops happiest song! This is a great track with an awesome beat, I didn't really listen to that much hip hop as a kid but this took me to another level and I remember the album artwork really standing out, a really good memory from growing up!
Album: Tom Tom Club – Tom Tom Club
Track: Wordy Rapping Hood
This record is so modern that it fits into any of today's sets of house & electro. When I first heard this at my mates house when I was about 16 I was completely blown away and when I realised the year it was made I couldn't believe it.
You see ….. that's the one thing I've always loved about the 80's, to this day I'm still finding tracks from the decade that taste forgot.
Album: Tears For Fears – Songs From The Big Chair
Track: Everybody Wants To Rule The World
A song about the human hunger for power!
This is an impressive piece of craftsmanship. The track has a lot going on, all these sharp little riffs and hooks that disappear and reappear.
As soon as that guitar riff starts at the beginning you just know what's coming.
At a certain point in the '80s, every big pop record began to sound like every other big pop record, but there was something different about this one.
Grab the EP now as a Juno exclusive: https://www.junodownload.com/products/80s-child-come-on-lets-rock/5241068-02/
For More info on 80's Child and Masterworks Check:
80's Child Facebook: https://www.facebook.com/80schildedits/
80's Child Soundcloud: https://soundcloud.com/80s-child-edits
80's Child Twitter: https://twitter.com/80schildedits
Masterworks Music Facebook: https://www.facebook.com/masterworksmusic/
Masterworks Music Soundcloud: https://soundcloud.com/masterworksmusic
Masterworks Music Instagram: https://www.instagram.com/masterworks_music/
Masterworks Music Twitter: https://twitter.com/masterworksmus2
Tags:
80's Child
,
De La Soul
,
Madonna
,
mr fingers
,
Peter Gabriel
,
prince
,
Talk Talk