Across The Tracks with Mark Knight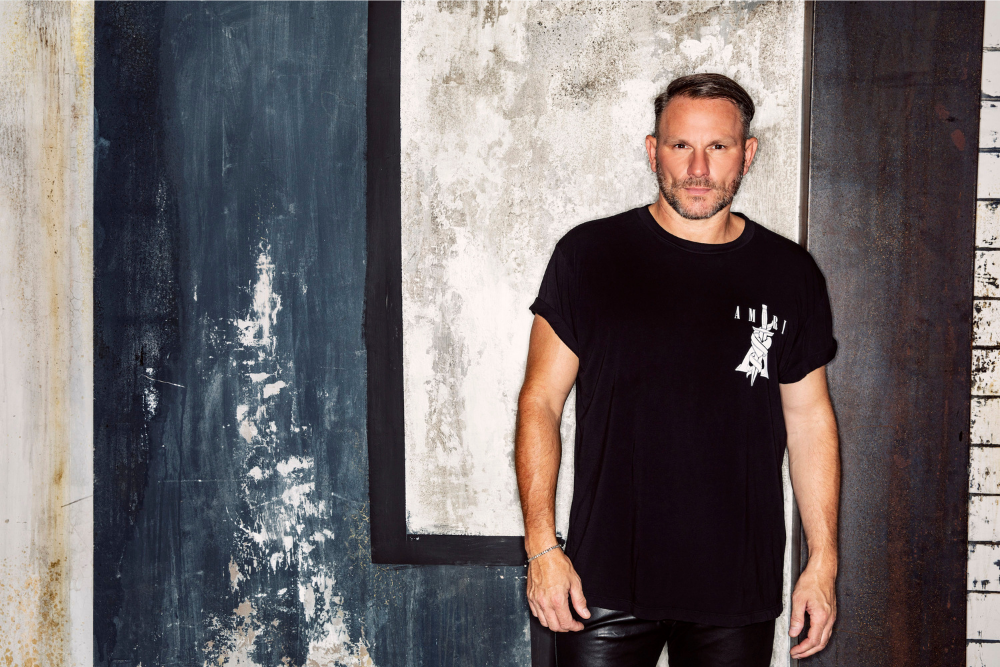 Like what you hear? To buy us a coffee and help support LV Online via Ko-FI click HERE
Across The Tracks with Mark Knight
Toolroom Records boss Mark Knight is one of the most celebrated electronic artists of his generation with an impressive 120 Million + global streams to his name. His career has spanned close to two decades, with releases on a diverse range of world-leading labels such as Sony, Warner & Ministry of Sound, through to cool independents such as Cooking Vinyl, BBE, Elrow and of course, Toolroom. As he continues to explore his soulful house roots with his new release, 'All 4 Love' , with Rene Amesz and Tasty Lopez blowing up on the airwaves, we invited Mark to go Across The Tracks..
Mark Knight & Rene Amesz (feat. Tasty Lopez) -'All 4 Love' is out now on Toolroom Records.
https://www.traxsource.com/title/1409076/all-4-love-feat-tasty-lopez
Your first track release
Sensitivo – This Is Why – Z Records
Your current track release
Mark Knight & Rene Amesz (feat. Tasty Lopez) – All 4 Love
The first track you released on Toolroom
Mark Knight – Filthy House EP
A track that reminds you of your childhood
Alexander O'Neil – What's Missing
The track that turned you on to house music
Ten City – Right Back To You
Your favourite own track
Mark Knight & D Ramirez – Downpipe
A favourite track you remixed
Jasper St Co. Ft Byron Stingily & Norman Jean – Paradise – (Mark Knight & Michael Gray Remix)
The last track you bought
Danny Kane feat Princess Freesia – Wonderland (Inc Art Of Tones Remix)
A track which never leaves your box
Mark Knight & Funkagenda – Man with the Red Face – I would get shot at most gigs if I didn't play it!
Your favourite classic soulful house track
Blaze – Live A Happy Life
A track which makes you lose it on the dance floor
The Fatback Band – I Found Loving
A track you wish you'd made
Cloud 9 – Do You Want Me Baby
Your guilty pleasure track
Micheal Buble – Have Yourself A Merry Little Christmas – Christmas wouldn't be Christmas without Micheal Buble right 😉
A track that gets on your nerves
Eiffel 65 – Blue
A track you like to chill to
Sade – Pearls
Mark Knight & Rene Amesz (feat. Tasty Lopez) -'All 4 Love' is out now on Toolroom Records.
https://www.traxsource.com/title/1409076/all-4-love-feat-tasty-lopez
For more info please check:
Mark Knight Facebook: https://www.facebook.com/djmarkknight/
Mark Knight Soundcloud: https://soundcloud.com/markknight
Toolroom Facebook: https://www.facebook.com/toolroomrecords/
Toolroom Soundcloud: https://soundcloud.com/toolroomrecords
Tags:
Alexander O'Neil
,
art of tones
,
Blaze
,
Cloud 9
,
D Ramirez
,
Funkagenda
,
Jasper St Co
,
mark knight
,
michael Gray
,
Rene Amesz
,
Sade
,
Tasty Lopez
,
ten city
,
The Fatback Band
,
toolroom records
,
Victor Simonelli