Artwork and Jon Solo talk about their collaboration More Amour, their new label Hi Quality Records Inc and their incredible careers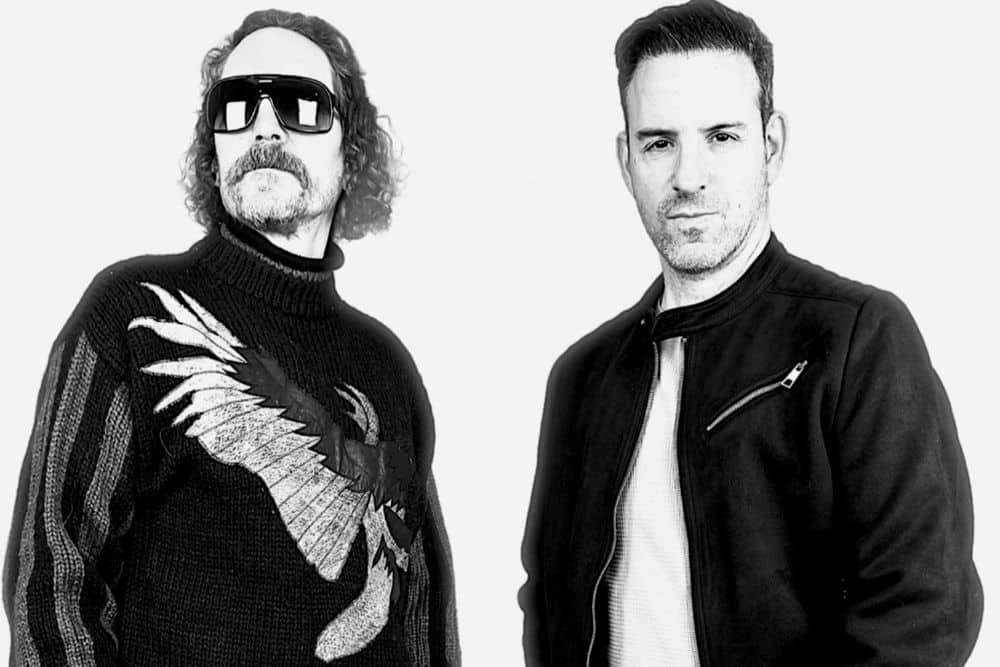 An interview with the Insider for Le Visiteur
Quite possibly one of the most exciting collaborations of the year sees Artwork team up with longtime friend Jon Solo as More Amour. They have also launched a brand new label to showcase their releases Hi Quality Records Inc.
Their debut release Nightshift / Don't Look Down arrives this week, having seen strong support from DJ Harvey at Pikes and it's everything that you would expect from this incredibly talented pair. You can check our full review HERE.
To celebrate the release the Insider spoke to Artwork and Jon Solo about More Amour, Hi Quality Records Inc and their incredible careers. Check it all out below.
Grab the EP from: https://www.juno.co.uk/products/more-amour-nightshift/907510-01/
Great to talk to you today Jon & Arthur. Thank you for taking the time.
Thank you!
How far do you two go back then?
Over twenty years!
I know Art comes from South London. Were you also Southside Jon?
Jon: Yes! I was living in Brixton when we met and used to go over to Art's studio above Big Apple in Croydon.
When and where did you meet exactly? Can you remember the moment?
We were at the top of the Eiffel Tower and Arthur offered to share his umbrella as it started raining. That led to a croissant and here we are now.
Arthur has been in around the scene for a long time. Big Apple Records in Croydon was that your first job in music Art. Do you have fond memories of those days?
Art: It's never been a job to me. Big Apple was my first studio where I was actually recording music that was getting released, and there are many fond memories as it was above a fruit market with a lot of potential for mischief.
Not a lot of people will know, but Jon you have had a long and illustrious career, playing keys with some pretty high-profile artists, right?
Jon: I've been lucky to record or play with some really amazing people over the years and even get to do this with some of my heroes like Nile Rogers, Imagination and Jeff Beck.
Where are you both based these days? Do manage to get to the pub together much?
Art's in New York and Jon is in London. We looked on Google Maps for a pub exactly halfway between but are yet to find one.
More Amour is your joint venture. Has this been a project in the making for years or did you just decide to do it off the cuff over gin and tonics one night?
We've worked together on loads of different music over the years (when we lived close to each other) but it took a global pandemic and living on separate continents with lots of time on our hands to make More Amour happen.
The production on this release feels pretty slick. How do you manage this polished process when you are both in different cities?
We have a really good system set up where our studios are connected over the internet and it's like we're in the same room.
What are the different parts you both play in your ideas and how does this play out in your productions?
It varies. Generally, we start the tracks together and then we hand them back and forth while we each add our parts. We have a total honesty policy. It's like a superpower as we save so much time. If either one of us comes up with something the other is not sure about we don't waste time trying to finesse the point. We just 'that's shit' and we drop it and find a better idea.
Who has the most impressive studio out of you both? I can imagine both set ups are pretty intense.
Jon: Art wins. He's been collecting vintage synths and drums machines for 25 years and has loads of amazing vintage gear in his studio. But nobody can ever come close to Devon Analogue Studio. That's why we go there to finish all of our tracks and love writing there too.
What was Nile Rodgers like Jon?
Nile is probably the coolest human alive in the world today.
What tracks did you work on with Imagination or was it a tour Jon?
I toured with them in the 90s. It was amazing to get to play those tracks which I had grown up with such as Just an illusion and Music and Lights.
I guess a lot of people know of Art's involvement in Magnetic Man as they were so huge. You seemed a lot more serious than Art.
I don't know where this outrageous rumour of seriousness comes from! When I was nine, I once knocked on my neighbour's door and then ran away. (I obviously owned up later.)
Arthur, you have been involved in a lot of productions over the years can you drop a couple of massively impressive names/ projects here?
There are loads but I'm not the kind to kiss and tell.
Have your stayed in touch all the while your careers have taken off on different paths?
Yes, Jon calls me at least once a week as I still owe him sixty-five quid from twenty years ago.
Hi Quality Records Inc, tell us about this new label creation and what was the catalyst for its beginning?
We were talking about the music we were making. When you walk into a record shop you have an idea in your mind of what you hope to find, and when the person asks you what you're after, you try to explain it. That's the type of record we wanted to make, and we set up the label to only ever put out music of the highest quality.
What came first Nightshift or Don't Look Down?
Don't Look Down was actually the first More Amour track we did. Nightshift came much later and had the working title Happy Birthday Jon as we did it on Jon's birthday.
What was the process of production – was the starting point a melody or did you start off with the idea that you wanted to create a couple of stonking disco track?
The groove comes first. We can work on a groove for a couple of hours and if we're not both jumping around the studio, it gets binned. Once you nail the groove, the rest almost writes itself.
Feels like a double A side with both cuts as strong as the other. Do you feel the same?
Absolutely. We want all of our records to be like that.
I hear Harvey's been spanking it already at Pikes. Were you there when he played it? How did it go down?
Yeah! They went down really well. Art has also been playing a lot of More Amore tracks there this Summer. They always go down well as a lot of them were written for that room and sound amazing in there. It is the most incredible dance floor.
Arthur is morphing into Harvey these days a bit. Are you secretly planning a takeover of his body?
No. We both use the same barber.
Hi Quality Records has a lot of releases in the wings. What's coming next on your fledgling label?
We have another five More Amour releases lined up. That should keep the label busy!
What is the plan for More Amour? Are we likely to see you stepping out on other labels? Maybe a remix or two?
At the moment we're just focusing on High Quality but obviously if something came along for More Amour that was a good fit to remix. you never know!
I hear there's a party night coming. What can you tell us about that?
Art plays a DJ set and Jon plays live on top. On the More Amour tracks we have versions without the solos etc so they can be played live. But this also works on non-More Amour tracks as Art can loop up sections for Jon to play over. Like a live edit.
We've done it at Printworks, Glastonbury, and Art's House and if we do say so ourselves it's pretty fucking good.
More More Amour please!!! Thank you for your valuable time.
Thank you!
For more info on Artwork, More Amour and Hi Quality Recordings Inc check:
Artwork Facebook: https://www.facebook.com/artworkmagnetic
Artwork Instagram: https://www.instagram.com/artwork_is_up_to_something/
Artwork Twitter: https://twitter.com/artworkmagnetic
Hi Quality Recordings Inc Soundcloud: https://soundcloud.com/highquality-records
More Amour www: https://www.more-amour.com/
Tags:
artwork
,
Hi Quality Records Inc
,
Jon Solo
,
More Amour