Nightset discuss new classy release Diamond Eyes, Dean Zepherin, Nu Jazz, live music in Australia and lots more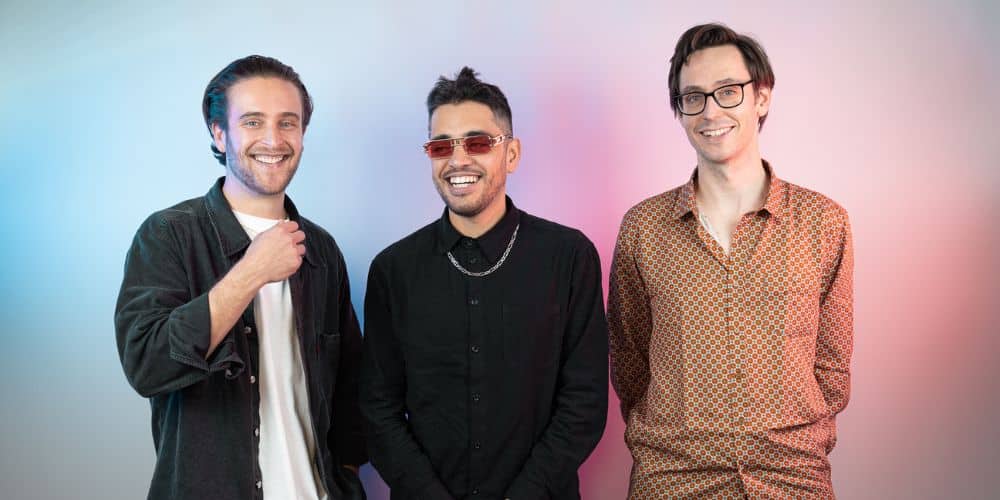 We last featured super talented Sydney jazz house duo Nightset on LV when they released their classy single Entry last year which you can check here.
Nightset is the collaborative project of Sonny Grin and Kats, their trademark sound blending elements of nu jazz, house, and electronica with wild live improvisation. Quickly marking their ground as one of Australia's most exciting emerging acts, both working session musicians and are proven staples in the current Sydney live music scene. Shortly to release Diamond Eyes which also features the soulful vocal of Chilean vocalist Josué, it's a soul-house future classic in the making.
The release comes with a buttery smooth soulful original version, a brilliant live version, which shows the incredible talent of the band to the full, and a dub version which takes things off into a warm deep soulful house direction. It's another glimpse into the incredible talent of a duo who we highly recommend that you keep a close eye on in 2023 and well beyond.
You can check out our premier of the dub below along with a full interview about all things Nightset.
Thank you for taking the time to talk. Where are you today and what are you doing?
Hello! Thanks for having us. Currently one of us is driving out of Sydney for a gig and the other is having a chill day at home, working on new music.
Who are the members of Nightset? What parts do they play in the group?
We are a duo based in Sydney, Australia – Alec Brinsmead (aka Sonny Grin) and Casper Tromp (aka Kats). Casper is the keyboard and synth specialist while Alec plays the drums and bit of guitar and bass. Casper also mixes all our tunes.
How is the music scene in Sydney at the moment?
That's a big question! The Sydney scene has certainly had a rough decade or so since we had lockout laws enforced as a measure to try and reduce violence levels in the city/night life areas. This meant that we had set curfews and venues were forced to shut around midnight in most cases. These laws were repealed a few years ago as they proved ineffective in preventing violence – but not before they had decimated our night-time economy and the live music scene.
Then COVID hit, like every city around the world, venues and artists really took a punch to the guts over the lockdowns. Sydney is a funny place to be an artist, we have some amazing music being made here and so many pockets of diverse communities who are determined to express their art. However, there seems to be something missing in terms of the Sydney culture and appreciating and supporting the value of live music – both on a government and community level. Many venues that are back up and running are already receiving noise complaints from residents, which is affecting their ability to put on shows.
While the venues and industry side of things in Sydney is still really struggling, there is still a lot of positivity and pro-activeness amongst artists to get out there, release music and play shows. I think in the past few months, this positivity has resulted in a tangible shift in the city's nightlife, something that hopefully can snowball into a healthier Sydney scene for artists and music lovers.
You are both working session musicians. What are you both involved in right now?
Combined, we play for almost 2 dozen original acts – Casper as a session keys player, Alec as a drummer. We actually met playing for Sydney based, Spanish singer ANGE, we love working with her and get to perform at some amazing shows as part of her band. We have the pleasure of playing for lots of emerging artists in their live shows, as well as producing and recording for them in the studio.
What artists have you worked with in you time as session musicians?
Some career highlights for Casper would be playing piano for the iconic Petula Clark, as well as Australian singer Jarryd James. While Alec has played drums for rock legend Andrew Farris of INXS fame. Other artists we have worked with are Mike Champion, Oly Sherman, Chelsea Warner, Tate Sherdian, AnnaLina, Ellen Mara, Kirrah Amosa, Lady King and a bunch more!
Looking from the UK, the live music scene seems to be really strong in Australia. Why do you think that is so?
We definitely get to see some strong moments within the Australian scene and there are certainly people fighting tooth and nail to help live music recover from a terrible few years. There are incredible performers and musical innovators here in Australia, people like Genesis Owusu for example. 'Strong' doesn't seem like a particularly fitting word in our view though, at least for the moment.
We've had dozens of festivals cancelled from fires and flooding recently and viability for independent touring artists feels like it's at an all-time low. However there is, and hopefully always will be a passion for live music, big shows and festivals here in Australia.
There is something engrained in the people here, where we yearn for a sunny day, a big stage and some incredible live acts. Australian crowds typically give a lot back to performers, especially big touring names as we're just so excited when people make the big trip to come play here. I think the energy and excitement Aussie crowds bring to live music, is something that sets us apart from other countries.
So many great acts, and artists coming out of Australia these days. Feels like there's been a bit of nu jazz explosion?
Yes! Something we are definitely emersed in. It's really encouraging and inspiring to hear such innovative, improvisation-based music coming from home grown acts – a movement that has influenced our own compositions a lot. We both have a shared love for jazz and it's been really liberating not to have to supress any of that influence, just because you're worried about the viability of the song, or limited audience reach. We saw UK jazz artist Kamaal Williams, play in Sydney a few weeks ago to a sold out Factory Theatre. Seeing a big, engaged crowd show up like that is another great sign that the nu jazz scene is flourishing and was super inspiring to witness.
The neo- soul movement is big in Melbourne. Have you explored this scene at all?
It is massive, and you can thank home-town heroes Hiatus Kaiyote for that! I don't think that there is a music student in the country who is studying jazz or contemporary music that won't be influenced by them at some stage. We've both played a bit in Melbourne and spent a bit of time there – it's definitely a city which seems to radiate creativity and producing so many incredible, innovative artists. Just because it's a 10-hour drive or so from Sydney, we don't get down there as much as we'd like, but the shows we've seen recently have certainly featured artists who are exploring that neo-soul sound.
Are you both classically trained musicians?
Casper has the more qualified formal training, having studied at the Conservatorium in Amsterdam, while I did my jazz performance degree at the Australian National University in Canberra.
How do you both source your new music inspiration? Do you use Bandcamp for example?
We have a collaborative Spotify playlist which we both add songs to for writing inspiration! We find that it works really well for inspiration and also sound references for mixing etc. In terms of discovering the music we put in there – those songs come from a range of sources. Whether it's music our friends have released, something we've heard on the radio or in a DJ set, if it's interesting and fits under the 'Nightset' musical umbrella of genres, it goes in the inspiration playlist!
What artists from the past inspire the music that you make today?
A mixture of jazz icons like Miles Davis, Jaco Pastorius and Bill Evans, to house and electronic music pioneers Frankie Knuckles, Marshall Jeferson, more modern acts like Daft Punk, as well as soul, funk and RnB artists like James Brown, Donny Hathaway and D'Angelo.
You are about to release 'Diamond Eyes' on your own label. Did you try to take the track to other labels? What's the story?
Funnily enough, we first took the track to LV friend Dean Zepherin aka Zepherin Saint of Tribe record label after an introduction was made by you guys! Dean is now based in Melbourne and we learned a lot from him creatively and strategically. He has a label called Inner Sauce here in Australia, which we were initially going to release the record through, but after some COVID delays and we ended up putting it out ourselves. Dean was the one who suggested releasing the live version as part of the package, something that gave us some great confidence to use even more live instrumentation in our writing/production process.
How did the track begin? Did the melody come first?
We actually wrote the instrumental together at the first session when we invited Josué to come over for a jam. It felt so natural playing together, the structure, groove and chords came very easily for us – the melody and lyrics were a different story!
How long did the track take to write? What was the production process?
After we'd fleshed out the structure and instrumental parts, it was around 6 months before we had a melody and lyrics that we liked. One of the positives of COVID lockdown was that we didn't feel as though we needed to rush. When we were allowed to all be in the same room again, we met up at Josue's and wrote the main hook, bridge and he recorded all the vocal parts in the same night!
How did you hook up with Josue?
Josué is a good friend of Casper's and they have played together for years. After our few instrumental collaborative singles as Sonny Grin and Kats, we knew when we launched the Nightset project we wanted to work with some vocalists. Josué was someone who was always at the top of the list!
What can you tell us about Josue? What has he done before?
Josué is a Chilean Australian soul singer and guitarist who is an absolute staple of the Sydney music scene. From jam sessions to weddings, headline shows to recording studios – Josué is everywhere! The man just lives and breathes music and is releasing his new EP in the next few months.
Did you give Josue a free reign with the lyrics?
There was a little bit of workshopping in our sessions, but predominately Josué was the chief wordsmith for Diamond Eyes.
What's the story on the lyrics?
Lyrically, 'Diamond Eyes' explores the theme of falling in love on a night out, not resisting temptation and there's possibly little reference for Beatles fans in there as well.
Are there other artists that you have your eyes on to collaborate with?
There are so many amazing Australian vocalists, rappers and instrumentalists we'd love to work with! As instrumentalists who have spent many years playing as part of bands, we thrive in a collaborative environment and will be looking to work with a bunch of local artists next year. Some of our favourites at the moment are Agung Mango, Chelsea Warner, ANGE, Wallace, Nardean, KP Hydes, Maina Doe and Ruby Jackson.
You recorded the Live version at Bodega's in Sydney. What can you tell us about that studio?
Bodega Studios is a creative hub and all-inclusive recording, performance and artistic space run by our mates Korky Buchek. Korky Buchek is a production and DJ duo who built the studio themselves a few years ago. Now dozens of artists have come through there and its become a hotspot for emerging talent in the Sydney scene.
The Dub really works on a house dancefloor. Do you plan incorporate this vibe on future releases?
Glad you think so! It was a very enjoyable experiment, re-working the song to be more club friendly. As massive fans of house music, it's very likely there will continue to be some more dancefloor inspired releases on the horizon.
What other projects are you working on right now?
We both have our respective solo artist projects that we've been releasing through this year. As Sonny Grin (Alec) and Kats (Casper), we can explore our own personal musical directions – then come together for the Nightset stuff, where we can collaborate on a shared vision.
This year in terms of releasing and touring, there has been more of a focus on our individual projects, with the Nightset music cooking away behind the scenes. The first Sonny Grin EP came out this year, supported by an Australian tour, while the Kats catalogue has been growing a loyal fan base. Casper is also a member of Australian house outfit Colour Castle, who have had several ARIA club chart number 1 singles and who are prepping for a massive 2023.
What are your next ambitions as Nightset?
The main goal is to get some more songs in the vault so we can begin a steady stream of releases, building momentum into our first Nightset live shows. We know our music and style of composition and production resonates with people, so it would be amazing to lean more into the live instrumentation side of things in a writing sense and then recreate that on stage!
For more info on Nightset please check:
Nightset Facebook: https://www.facebook.com/nightsetband
Nightset Instagram: https://www.instagram.com/nightset_
Nightset Soundcloud: https://soundcloud.com/nightsetband
Nightset Twitter: https://twitter.com/Nightset5
Nightset Spotify: https://open.spotify.com/artist/2AvouUm0928YUlEoR2hB2r
Sonny Grin Facebook: https://www.facebook.com/sonnygrin/
Sonny Grin Soundcloud: https://soundcloud.com/sonnygrin
Sonny Grin Instagram: https://www.instagram.com/sonnygrin/
Kats Instagram: https://www.instagram.com/kats_keys/
Kats Soundcloud: https://soundcloud.com/kats-keys
Love this? Check out more from Nightset HERE.
Tags:
Kats
,
Nightset
,
Sonny Grin