Brian Kage's Twenty Motor City Movers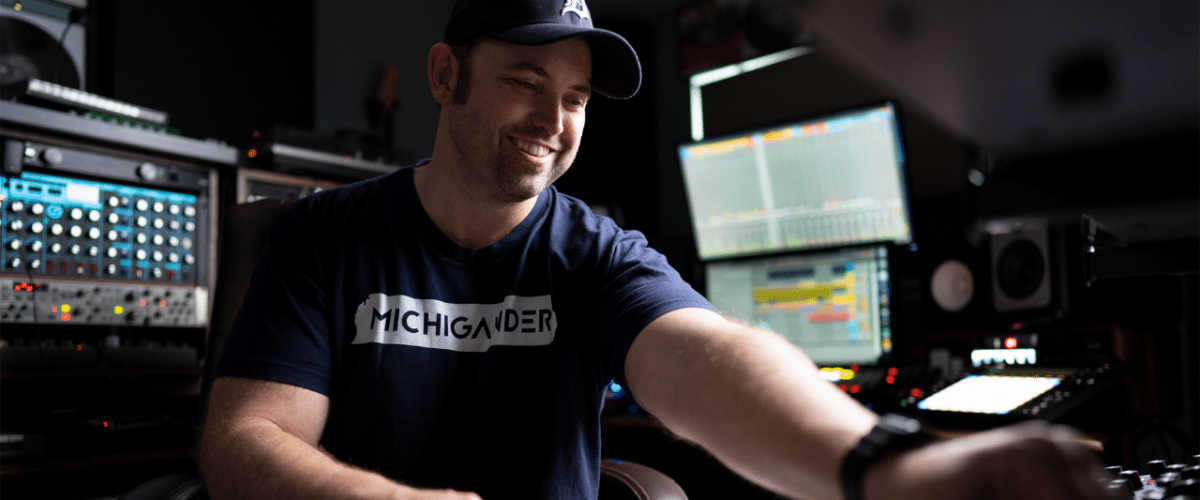 Brian Kage's Twenty Motor City Movers
Like what you hear? To help support LV Online buy us a coffee via Ko-FI. Click HERE
Following up the awesome Detroit EP with Taho which landed back in May, and is a must have for lovers of the Detroit sound, Brian Kage is straight back with another absolute must have 12″. This time round he is collaborating with Motor City legend Delano Smith. The Keep Em Moving EP shows an incredible depth of musical understanding that you would expect from two artists who are so heavily steeped in the music of Detroit. It's deep, yet eminently soulful and ridiculously graceful and refined. You can check D Spirit from the EP below.
To celebrate the release we asked Brian to give us his top 10 favourite Motor City movers, this was his reply: "I struggled to pick only ten Detroit cuts that have come out of the city. There are just so many great records from here! So here's twenty!.."
That's just fine by us 😉
Grab the EP from: https://snd.click/fbdi
Looking for more? You can also check this recent brilliant mix that Brian put together for us.
Brian Kage Twenty Motor City Movers
Andrés – New For U
An absolute new classic. First time I heard it, wow. Blew me out of my chair and made me want to quit making music, cause it's that good.

Butterbandz – Hellraiser (BDB)
Just came out and is such a sleeper hit! Big Strick's son, Omar S' nephew ! Keep a look out for this young and upcoming producer!

Norm Talley – Cosmic Waves (Delano Smith Remix)
A stomper! Big time groover! Norm Talley & Delano Smith on this classic.
Omar S – Thank U 4 Letting Me Be Myself
My favorite cut from my homie, Omar S. Deep and powerful! Thanks Alex!

Delano Smith – Moon Dance
Wow, another huge track from my bro, Delano. A future classic!

ADMN & Oliver $ Featuring Mr. V – Sancturary
ADMN from Detroit teams up with super producer Oliver $. Featuring legend Mr. V on vocals. Not to be missed.
Reference – Best Day in Detroit
This one was released on Carl Craig's Planet E label. Produced by myself and Luke Hess. This was a dream to release on Carl's label!
Los Hermanos – Another Day
Wow, just wow. Again.. Huge track coming from Gerald, straight from the D.
Norm Talley & Moodymann (D'Julz Mashup) – Jus Hangin
Recently released on Norm Talley's Upstairs Asylum, I had the pleasure to master this one. Great mashup by D'Julz. What a track!
Jon Dixon – Times of Change
Jon Dixon of UR/Submerge fame is such a great producer coming from the city.
This record is exceptional!
Eddie Fowlkes – 1-2-3
Such a groover from the legend, and Detroit Techno/House innovator Eddie Fowlkes. It's great to see him still putting out the hits on his own label!
Carl Craig – At Les
This is most likely my favorite Detroit Techno song of all time. It embodies the spirit of Detroit to the max.
Perception – Abandon Building in Mono
Heard this the very first when I was in Chicago on a local radio station. Just an absolute beauty that captures the melancholy spirit of our city.
Aril Brikha – Groove La Chord
Released on Derrick May's Transmat. Maybe my 2nd favorite Detroit techno track. Still gets the crowd going to this day! 45RPM for the booty/ghettotech version!
Walt J – Reborn
This is still one of my favorite groovers. Iconic. "I'm next to you."

Cybotron – Clear
Juan Atkin's all time best record in my opinion. This one of the records that started it all for Detroit Techno, although many consider it to fall into the genre of electro. Released in the 80's, it still sounds fresh today.

DJ Rolando – Knights of the Jaguar
What else can I say? An absolute classic. Mad Mike Banks signature all over this one. Possibly the GOAT.

Echospace – Ghost Theory
Rod Modell & Stephen Mitchell are incredible producers and amazing people. This is just one of many amazing songs they've done, but I do love a good Ghost Theory.

Model 500 – Starlight
Another Juan Atkin classic. Deep, dubby goodness. Maybe the creation of dub techno? Debatable I'm sure. Beatiful nonetheless.

Omar S – Heard Chew Single (feat John FM)
This is such a great cut featuring the ultra talented John FM. I had the pleasure to work together with Omar & John in the studio on this one. A BELTER!

For more info please check: 
Brian Kage Facebook: https://www.facebook.com/briankage
Brian kage Soundcloud: https://soundcloud.com/kage
Brian Kage Instagram: https://www.instagram.com/briankage/
Brian Kage Twitter: https://twitter.com/briankage
Michigander Facebook: https://www.facebook.com/michiganderdetroit
Michigander Soundcloud: https://soundcloud.com/michigandermusic
Love this? Check out some lots more from Detroit here
Tags:
ADMN
,
Andres
,
Brian Kage
,
Butterbandz
,
carl craig
,
Delano Smith
,
detroit
,
Detroit House
,
Detroit Techno
,
Dj Rolando
,
eddie fowlkes
,
Jon Dixon
,
juan atkins
,
Los Hermanos
,
Moodymann
,
Norm Talley
,
Omar S
,
Walt J