Caffe Corretto's Bplan and Fab_o give us the lowdown on the label and their brand new EP 'Edits 004'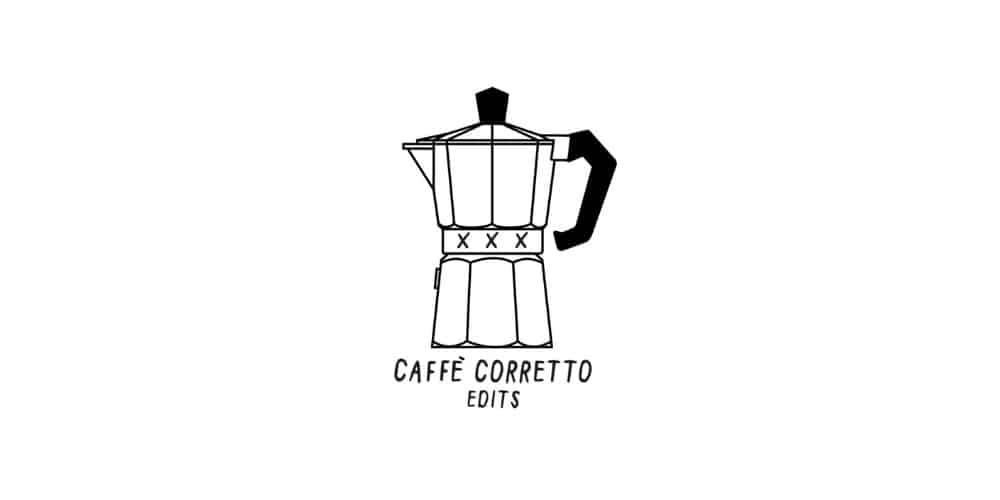 Now on their fourth outing Caffe Corretto have unleashed a monster of an EP in the shape of Edits 004. Featuring label heads BPlan & Fab_o on production duties the EP draws on disco from all corners of the Disco Universe but with one thing in common that the original tracks are properly a*s shakin' funky. BPlan & Fab_o have have given the tracks their subtle yet inimitable touch and delivered four sure fire dancefloor rockers.
Check out the premier of Discoffee above and grab the EP via: https://caffecorrettoedits.bandcamp.com/album/caffe-corretto-edits-004
This one will fly out the door.
The Insider had a quick chat with Fabio and Giuseppe the men behind the whole project.
Please introduce yourself to our readers, you guys?
First of all, thank you for having us here! We are Fabio and Giuseppe, DJ producer and label owners from Ischia. We are very happy to talk about our musical project to you guys!
Tell us where you are from and where you're based?
Both of us were born and raised in Ischia, a little island in the gulf of Napoli, but currently our headquarters are based here on the island and in Milano.
Where are you today and what are you up to?
After years of studying and working abroad today we live in ischia (Fabio) and Milano (Giuseppe) where we carry out our work. In the time we have at our disposal we do a lot of digging, organizing events, but most of all we are always looking for new gems to edit for our label. Currently we are planning our next event, the first of which is our release party in Milano at Fred Records on the 24th of September.
Do you actually have a coffee shop?
Unfortunately not, although perhaps it is a blessing, otherwise we will drink too many coffees a day. But who knows, maybe one day we will open up a cafè/record shop!
Tell us about your obsession with coffee?
C'mon, we're Italians! Here coffee is a ritual, almost a religion I'd say. Also, it's a way to go out and socialize with other people. it is a habit here when you meet a friend on the street, saying: "let's grab a cup of coffee together!" just to be able to spend a little time together and have a chat. It is a bit of an obsession… first thing in the morning: caffè! required to wake up and start the day with a little more sprint! Just be careful: regular coffee and not corretto! =)
How long have you both been working in music?
Let's say 15 years! We used to play around the disco we had at the time in Ischia since we were teenagers.
When did you first start to DJ? Where were the first gigs that you played together?
We started DJing when we were just teenagers, freshman years of high school. The first gig where we played together was here in Ischia in a club called Jane, about 10 years ago.
What is the most recent gig that you've played at and how was it?
The most recent gig we played together as Caffe Corretto crew was at a beach party here in Ischia. The party is called "Soundset" and is repeated every Sunday in the summer. On that evening we played alongside the "eternal love", another Italian duo we really appreciate. A few days earlier we also did a Caffè Corretto showcase near Venezia. Both parties were epic, what a crazy week!
What kind of vibe should we expect in a BPlan & Fab_o Set?
Happiness is what we seek when we play. So we're always trying to spread good vibes with our funky housey stuff when we are behind the booth.
Can you tell us one of your all-time favourite records?
That's a tough one, we have so many records in our favorite list. But if we have to pick one, let's say talking heads – Speaking In Tongues from 1983.
Who are the artists who inspire the music that you make?
There are so many artists we appreciate and who inspire us. If we have to make a quick list, let's say: DJ Harvey, Daniele Baldelli, Marco Trani, Jacques Renault, Antal, LTJ Experience, Red Greg, Sadar Bahar, Rahaan, MAW..
If you had to define the sound of you guys, what words would you use to describe it?
Answering questions like that is always tricky to us. We don't actually have a defined genre. In our sets we love to go from funk rarities from back in the day to house anthems or even acid or more punchy stuff if the situation requires it.
How do you go about searching for the records that form the basis for your edits. Is there a special place that you like to go dig for treasures?
There is no recipe to our edits: sometimes we find new records to edit while we're digging in a record shop or a flea market. Other times we go straight for a special record we already own in our collection. Only a thing is certain: we always spend too much time choosing the right record to edit among all our favourites we put aside.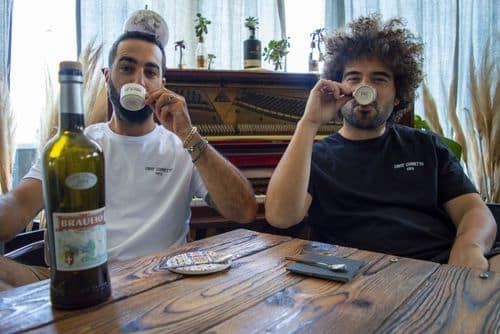 BPlan & Fab_o
'Afro Disco' is a firm favourite on the release. When did you first discover this record? What is it you love about it?
The first time we heard that record a few years ago, our ears were blown off. We loved every part of that track, and because of that we knew that it would have been a challenge to improve an already perfect record. At the beginning it was just an edit for our sets, it wasn't even in our minds for the label "Caffè Corretto Edits". But here we go today, out in a few days on vinyl. Hope you are gonna love the whole set of tracks, just as we do!
What did you do on your rework? How did you enhance the original?
In every edit we do we always try to respect the original without overdoing it. For this specific track we pumped just a bit the drums, the bassline and rearranged the drafting to turn the track into a dancefloor killer.
Where should we listen to your new Edits EP and what should we be drinking?
You can listen to it wherever you want, on the beach or in the club as long as you are amongst good people. We could recommend pairing it with an excellent Biancolella, a typical wine of the island of Ischia, or a coffee based drink like the espresso martini.
How many coffee's should one drink in a day? Who makes the best coffee in your opinion?
We've been told that the correct amount of coffee is 3 cups per day. Anyway, as we are from the South, we drink 3 cups of coffee before noon! We may be biased, but you can find the best coffee here in Napoli! Moreover, at our grampas house you can taste the real moka coffee. If one day you find yourself passing by, we are waiting for you to taste it!
What else have you got coming up in 2022?
We are working on many other tracks and collaborations, we are scouting for talents for the next releases and soon we will start with our party. Anyway, coming up next we have a new various "Coffee shots Vol. II" that will be out in the next few months.
For more info on Caffe Corretto check:
Bplan Facebook: https://www.facebook.com/bplan.italy
Bplan Soundcloud: https://soundcloud.com/bplan_music
Bplan Instagram: https://www.instagram.com/bplan__music/
Fab_o Soundcloud: https://soundcloud.com/iaconofabiok
Fab_o Instagram: https://www.facebook.com/Fab1Music
Caffe Corretto Soundcloud: https://soundcloud.com/caffecorrettoedits
Caffe Corretto Instagram: https://www.instagram.com/caffecorrettoedits/
Love this Check out more on Caffe Corretto Edits here
Tags:
BPlan
,
Caffe Corretto
,
Fab_o