Philippa's Top 11 Synth blasters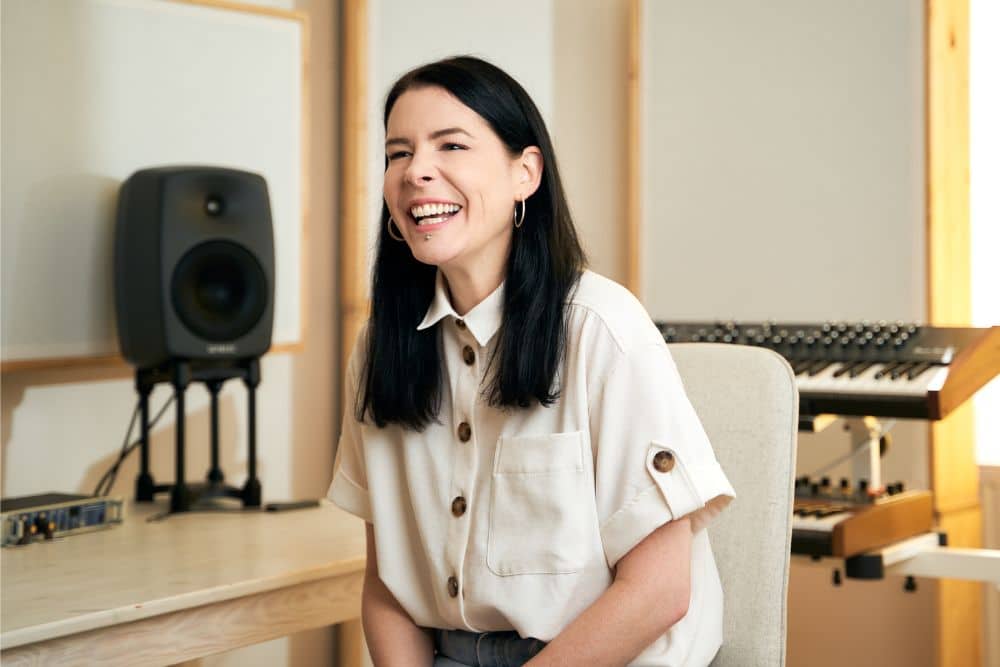 Philippa is a serious talent with a wonderful ear for quality music as anyone who has listened to any of her radio shows or checked out her guest mixes or live DJ sets can attest.
Her latest release sees her land on the hallowed ground of Freerange Records with what could well be one of their EP's of the year There's a ghost in my synthesizer. Featuring four beautifully crafted house tracks it's heavy on the throbbing synth lines and bubbling with a discernible French disco undercurrent. It's a definite must have.
Grab There's a ghost in my synthesizer via: https://philippa.bandcamp.com/album/there-s-a-ghost-in-my-synthesizer
To celebrate the release of the EP we asked Philippa to pick 11 of her favourite ever synth tracks which have inspired her over the years. It's a super list featuring many LV favourites including Waajeed, Soulphiction, Jimpster, Crazy P, Hot Toddy, Lea Lisa, Eli Escobar, Mike Dehnert, Wipe the Needle, Stefan Ringer, Massiande and Steffi.
Phillipa's Top 11 Electronic Synth blasters
Waajeed – Lift Me Up
Monster of a tune – has been providing peak moments in sets for a while now.. Waajeed, Detroit based artist, is a buy on sight artist for me. Killer producer – both in the realms of hip hop and house. Can't wait for his album coming out on Tresor later in the year.
Jimpster – Burning Up
Massive tune, certainly a house blazer. I love how Jimpster so easily straddles the worlds of acoustic / traditional instrumentation, and gloriously classic synthesizers. Super nice, compelling, dancefloor focused tune.
Crazy P – Love Is With You (Hot Toddy Remix)
Ok ok, when you say house synth blazers this is probably not the first track that comes to mind – due to the fact Crazy P are a band and there's a lot of acoustic / traditional instrumentation up in amongst what they do. But holy crap this track is a gorgeous deep house monster. It literally melts me.
Obviously what's cool about Crazy P (similar to what's cool about Jimpster) is that there's a perfect mix of the aforementioned acoustic instrumentation with synths. Hot Toddy's remix is impeccable. I'll be playing this for years, no doubt.
Mike Dehnert – Md 100
It's fairly impossible to live in Berlin (where I've now been for 9 years) and not develop an appreciation for techno. There's a huge place in my heart for raw jacking techno such as this… Absolutely love Dehnert. Have played this tune for quite a few years in more intense dancefloor focused moments. Brutal and perfect.
Wipe The Needle – It's My World Ya Heard
Wonky beats, awkward overstated swing and classic synths combine in a fluent jazz-based, house workout, complete with samples. Right up my alley. Have been jamming this a lot over summer.
Stefan Ringer – Sexual Obsession
Vibes for miles. A beautiful track – super nice sense of space, deep and playful. This has classic written all over it – certainly a tune that will be played for years.
Lea Lisa – Love to the end (Manchester Club Mix)
Big fan of Lea Lisa – saw her DJ in Berlin recently which was a massive pleasure, fantastic dj. This is a gorgeous record: timeless and elevated in vibe.
Eli Escobar – Just Work
Another tune that has been massive for me this summer. I'm a sucker for blues based house music such as this, and write a lot of music in the blues scales myself. This is another track which probably doesn't automatically come to mind when you're thinking synth blazers, but it has this giant knocky synth that rips up through the center of it as it gets towards the middle – such a satisfying sound. Minor obsession with this track – I'm probably playing it a lot faster than the original tempo. It jacks.
Steffi feat. Virginia – Yours
A classic from the vaults of Berlin's deep artistry. Steffi and Virginia are obviously very famous Berlin producers and DJs; and this track – simple, synthy and beautiful – came out in 2011.
Massiande – Through The Walls
Those strings! Moody and utterly gorgeous, I've also been playing this record a lot this summer. The second record on this list to have been released on London's Phonica records, Massiande is a Chilean producer and really one to watch imho.
Soulphiction – When Radio was Boss (PAMPA019)
SoulPhiction – Sky So High (H&T01)
Ok finishing up with some classics from the sadly passed Soulphiction – what a loss to the international house community. I've been playing his records for what feels like forever. What's nice about "When Radio Was Boss", is it's released on another 'super geil' German producer's label, Koze's Pampa – I'm a giant fan of both of these producers. Back to Soulphiction and his taste …. which was so so so good. He was massive on sample based house – which is a big tick in my books. This track (WRWB) has a nice big bass synth. But honestly it was hard to pick a fav – I've been playing "Sky So High" a lot this summer, so it's a draw between the tracks. Please indulge me LV! Xxx
For more info on Philippa and Freerange Records please chek:
Dj Philippa Facebook: https://www.facebook.com/djphilippa
Dj Philippa Soundcloud: https://soundcloud.com/djphilippa
Dj Philippa Instagram: https://www.instagram.com/djphilippa/
Freerange Facebook: https://www.facebook.com/FreerangeRecords/
Freerange Soundcloud: https://soundcloud.com/freerangerecords
Freerange Instagram: https://www.instagram.com/freerangerecords
Freerange Twitter: https://twitter.com/freerangerec
Love this? Check out more from Freerange Records HERE
Like what you hear? To help support LV Online buy us a coffee via Ko-FI. Click HERE
Tags:
Crazy P
,
eli escobar
,
freerange records
,
Hot Toddy
,
Jimpster
,
Lea Lisa
,
Massiande
,
Phillipa
,
soulphiction
,
Waajeed