Danielle From Crazy P talks Wild Wood Disco Festival and all things Crazy P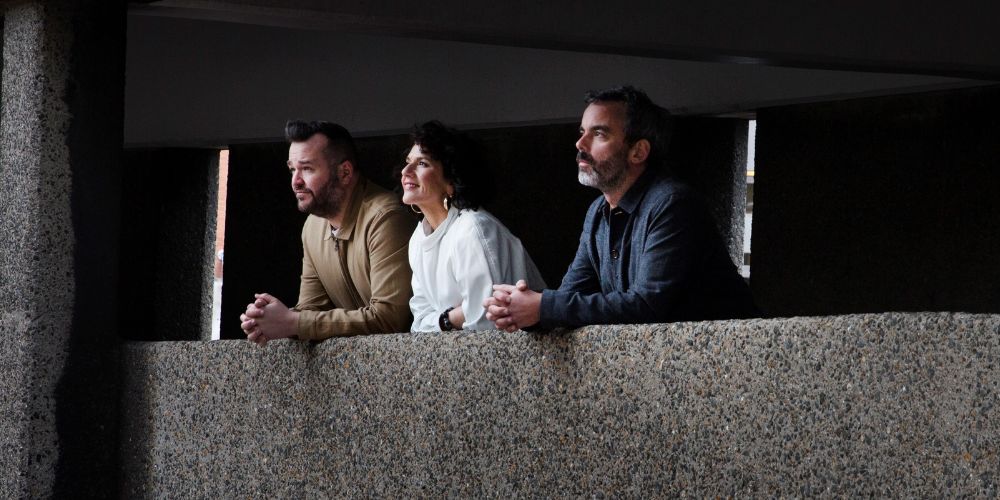 An interview with the Insider for Le Visiteur.
We've made it through the depths of winter and are seeing the green shoots of Spring and that can mean only one thing, yessss, it's nearly festival time again. We are getting ready as a nation to head back into fields, parks and country estates across the UK and completely lose the place over a long week-end as we party those blues away.
One of the first festivals up on our radar is the ace Wild Wood Disco festival, 16th-18th June at
The Woodland Glade, Horesheath Racecourse in Linton, Cambs.
The line-up is looking absolutely mint with a whole host of LV favs appearing including Dam Swindle, Optimo (Espacio), HiFi Sean and Sophie Lloyd as well as the legendary Crazy P Sound System.
To celebrate this rather splendid upcoming weekend we dispatched our intrepid interviewer The Insider to talk to none-other than Danielle Moore from Crazy P about all things Crazy P and the upcoming Soundsystem appearance at Wild Wood.
For more infomation about the festival and to grab tickets check: https://www.thewildwooddisco.com/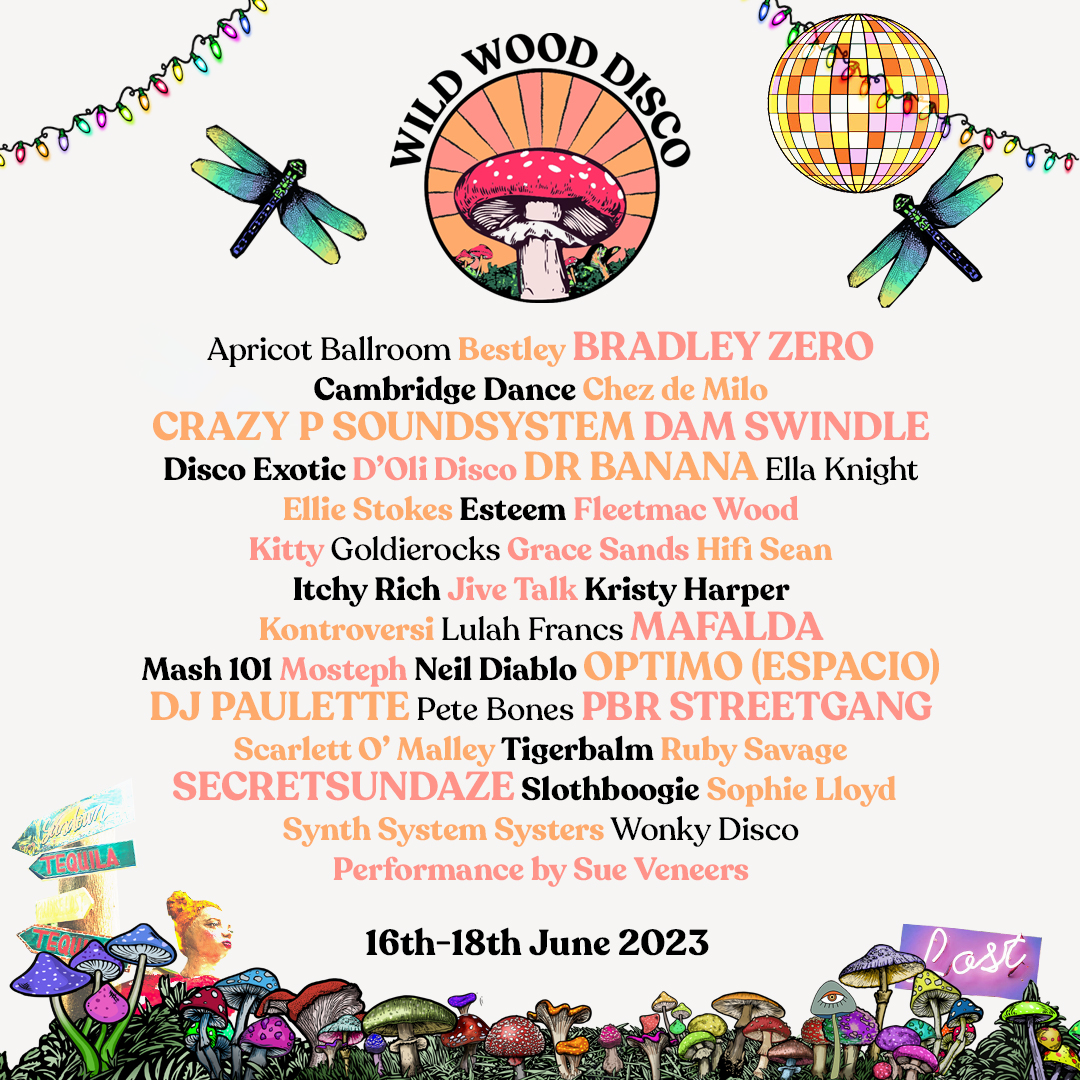 Danielle From Crazy P talks Wild Wood Disco Festival and all things Crazy P
Thanks for talking to us Daniele. How are you doing and what are you up to today?
Well, I have been prepping for a Masterclass Session with Daniel Berman (aka Red Rack'Em), working on lyrics and melodies for the new crazy P album, listening through some new music and catching up with household tidying.
You're from the magnificent city of Manchester. Do you get back much? What is it you love about your hometown?
I am indeed! I get back to see my friends and family. I actually live just north of Manchester in the wonderful town of Todmorden and split my time in Birmingham which is where my husband is from. I'm mainly up north and Chris from the band recently moved up here too …there seems to be a growing musical collective.
Manchester has sprouted so many new bars and restaurants and of course the night life is as thriving as ever. It's a great place for young people. As is the underground scene which is what I really love. It's the fact that no matter what's going on in the mainstream, there's always a gritty and well supported, enthusiastic and passionate alternative. That's a key joy about the city. The people will always create an alternative. There's a sarcasm, a wit, and general joyous work ethic too. I'm definitely biased. I love Manchester for its warts and all. It continues to punch well above its weight with so much energy.
You have all spent time living in the middle of England. Was that a strategic decision for all the band?
Jim and Chris met at Nottingham Uni and stayed on in Nottingham (mainly) as the studio was based there and it was council run so offered a great space as a reasonable rate. In all honesty it was a strong reason BUT also in the late 90s early noughties Nottingham was a bed of great talent and musical inspiration so being there was perfect. With places like The Bomb, I personally have based myself wherever I've laid my hat (in the words of Paul Young) and actually enjoyed the nomadic lifestyle. So, in a round about way no 🙂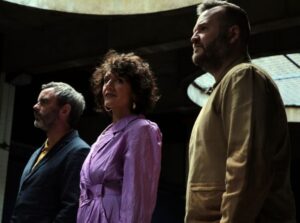 Crazy P
You seem to be forever on the move, be it in the UK or other far-flung places. Are you still in love with the craziness?
Whilst it definitely has much more of an effect on your physical and mental tiredness, I will never take for granted the travel and opportunity to connect with like- minded folk all around the world. I could never have imagined this positive craziness when I was a schoolgirl and so it still feels so incredibly brilliant and I feel so very fortunate.
I've had experiences which have been life changing and given me the confidence to talk about some of the beautiful connections I've made with all kinds of people. I don't believe I'd have ever had those opportunities had I carried on working in the corporate world.
I guess you must be pretty disciplined people to keep on top of it all. How do you keep all your levels topped up?
HA! Well, disciplined to a degree. Yes, actually an amount of self-control and regular routines are very important. It's so important to get sleep and exercise where possible. Balance is something we all strive for and when we get it right things flow better. It's not always possible as sometimes the hours impact sleep and eating so you just have to do your best whilst enjoying life! It's a constant challenge.
Crazy P have been going forever. You and the guys must be pretty good friends to put up with each other so much! What do you think has been the secret of your work relationship together and your friendship?
I think we all have our vulnerabilities and in the main communicate very well. Even when we have our low moments, we are all proud to have each other as friends and look out for each other when times aren't great.
We've seen each other through good and bad times and have always kept egos in check. But I really do think we make each other laugh and when you like similar music and find each other funny, genuine honest relationships can last a lifetime. That said, we do get on each other's tits too. Of course we do! But listening, being able to digest positive criticism, and not take yourselves too serious are main ingredients.
You will have seen a lot of change in the 20 years you've been at it. Do you think what it takes to be it has a successful artist has changed a lot or do the fundamentals remain the same?
I think there's an incredible amount of talent about. I think there's a broader scope of people being appreciated in the music world and rightly so. Some incredible music about …but I do think there is a lot of pressure to be able to sell on social media and create an image which is more than about the quality of the music. That said I think longevity in the music industry is down to quality of music.
In what ways have Crazy P evolved musically since the beginning? What parts remain the same?
Individually and collectively, we have all evolved as we've grown in confidence not only with ourselves but with each other. That means we all individually have a stronger and more articulate opinion about the sound of music we make.
Its enabled me to experiment more and be more spontaneous and comment on production and the direction. We all have similar music tastes but not the same. This means there are moving parts within the style of music we make. I think when we first got together, we were still learning our craft as a team and now we feel more flexible and relaxed. We still realise each other's strengths and weaknesses and that's really important.
What do you wish you knew before you started this journey? What would you tell a young Dani now?
Hmmmm…I don't know that I would change anything…maybe get to bed a bit earlier on the odd occasion when I know I've pushed it! I think that's the area of the journey that could've been more balanced. I think I'd be looking and feeling a little healthier if I had. But I've had such fun at the same time. I've had some horrendous wardrobe moments that I'd be keen to revisit. But in general, I am still on a journey with the music, and I don't see myself giving up in the near future. I'm not sure I could anyway, but I just feel I want to get better at my craft as I think I've still a lot of work to do and have nowhere near reached my best. That's a fantastic thing to feel.
When I think of Crazy P, aside from your music, your inimitable audience interaction on stage comes to mind. How much do you prepare for that, or does it all just happen in the moment?
All in the moment. It of course depends on your emotions on the day, how good you feel, where your heads at…but usually once you step on the stage you engage a character. I like it to be fierce yet empathetic, warm yet powerful. That's when the 2-way energy flows from stage to audience and back again. You can put the warmup in. I usually have a bath, breathe in some nice essential oils, and do a few press ups, but the feelings and connections are in the moment. I just hope it all comes together just right!
Your stage relationship with your audience is pretty amazing. You can feel the love in room. I can imagine that makes you feel pretty pumped up. What does that do for you personally?
It makes me feel like every problem in this world is sortable. It makes me feel empowered and that human love is stronger than anything. Collectively it's a true force. Personally, it feels like the biggest most beautiful natural high.
There's a huge amount of humour in the band. Are you laughing a lot of the time you are together? Who's got the best jokes?
Ha! That'd be nice wouldn't it. We do have a lot of laughs yes, but I'm shit at jokes. I don't like jokes. If someone says to me "hey this is funny" I just switch off. It's a bit more spontaneous than that but we are fucking hilarious. I think if I was to choose the biggest comedian and storyteller it'd be Jim. He's like a magazine of knowledge and fun.
What's it like touring with a load blokes? Have they all become like brothers?
Yes, they are all my brothers. Like my family! At various points we've had to step in and be that big sister/brother whether that's been in a loving way or pulling each other in line. I feel incredibly lucky to know all of them and I'd like to think they didn't think I was too much of a dick either!
Crazy P is literally a modern dance music phenomenon with a massive voice. You have mentioned before that your lyrics reflect the times we live in. How important is it to you to carry messages within your songs?
Well, yes it's really important but the mood has to take me. I get pretty animated on a daily basis with regards inequality, politics, and the state of the world. Whether I can translate that into accessible lyrics…well that's what keeps me going I suppose. That's my aim. To create a connection.
Your 7th album The Age of the Ego contains some strong emotions and political dialogue. If you were in charge of this country, what three things would you do to make an impact?
I would ask people to stop worshipping or expecting to be inspired by high profile politicians, celebrities, and the like.
I would ask people to pour their energy into community work at grass root level.
I would invest in the public sector and tax the fuck out of billionaires and people who have ravaged this country.
Humanity, love, and expression is present in all that you write. What is the process with Crazy P when writing a new song. Do the lyrics come first?
It's a collective and that's how we write. There is a beautiful organic process but it's not a given. We usually get together and jam an idea whether it starts from a programmed beat or chord structure-we get the basic idea then take it away and work individually. And so the process continues. There may be songs where one of us takes the helm but usually it's a shared process.
Daniele Moore the DJ. How much do you love digging for records and playing a DJ set? Do you stress about it or does it come easy to you?
I love listening to new music. I really wish I had more time to really indulge in the seeking and searching. There's so much great music constantly coming through but there's also amazing old music that you can't possibly hear. That's the brilliance of it. I've made a conscious decision to get out more and book some weekends off to get to hear some of the DJs I love to dance to. After all that's the whole reason I started. Because I was inspired by the dancefloor. I always get nervous. It's part of the process for me. But I LOVE IT!!!
Do you have somewhere you go to dig for records?
I used to and I really miss it. It was primarily Piccadilly Records in Manchester -I loved that place. It was a social gathering where I would ask one of the staff to sort me out records. It was Philippa Jarman, Neil Scott, and Danny Webb, then it went on to be Matt Ward. All 3 are record afficionados. But now it's more online as I'm in the hills. That said Hebden has got a couple of really good shops. One along the canal and another in the centre. I really miss the social side of it.
The festival season is nearly here. I think I just counted ten festivals in succession for you on RA!!! Are you putting in some training before hand?
Absolutely.
The first of the summer is the brilliant Wild Wood Disco Festival. Have you played this one before?
Yes, several times. It's incredible and feel very honoured to have been asked back after missing last year's event.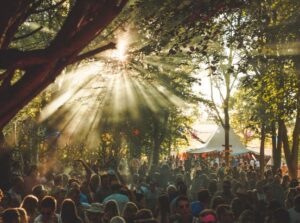 Wild Wood Festival
What can you tell us about the event?
Its beautifully positioned in the Cambridgeshire countryside, nestled in the trees at the back of a private racecourse. There are several stages which are cuddled by the tress, and it's highlighted by superb décor that transforms as the sun goes down. It's the perfect size to be intimate but not boring. It feels specially curated as everyone who plays brings their best as do the crowd. It's one of those you really must get to before you pop your clogs as they say up north.
Have you had a look at the line up? Who will you be trying to catch?
ALL OF IT! But 4 stand outs and that's not discrediting anyone it's just time will be limited Optimo, Bradley Zero, Grace Sands and Tigerbalm …such a fabulous lone up!
Please tell me you're going to perform 'Never Gonna Reach Me'?
Oh my goodness…we have some new music to perform so not sure that'll fit in. You'll just have to get down the front and pray!
Daniele Moore, thank you for your valuable time.
For more info on Crazy P and Wild Wood Disco Festival Please check:
Crazy P Facebook: https://www.facebook.com/crazypmusic
Crazy P Soundcloud: https://soundcloud.com/crazyp
Crazy P Instagram: https://www.instagram.com/crazypmusic/
Crazy P Twitter: https://twitter.com/crazypmusic
Wild Wood Disco Festival Web: https://www.thewildwooddisco.com/
Love this Check out more about Crazy P here
Like what you hear? To help support LV Online buy us a coffee via Ko-FI. Click HERE
Tags:
Crazy P
,
Wild Wood Festival