Dicky Trisco Talks Sentimental Animals, JKriv, Nicki B, Hamilton Bohannon, Mareh Festival & Razor-N-tape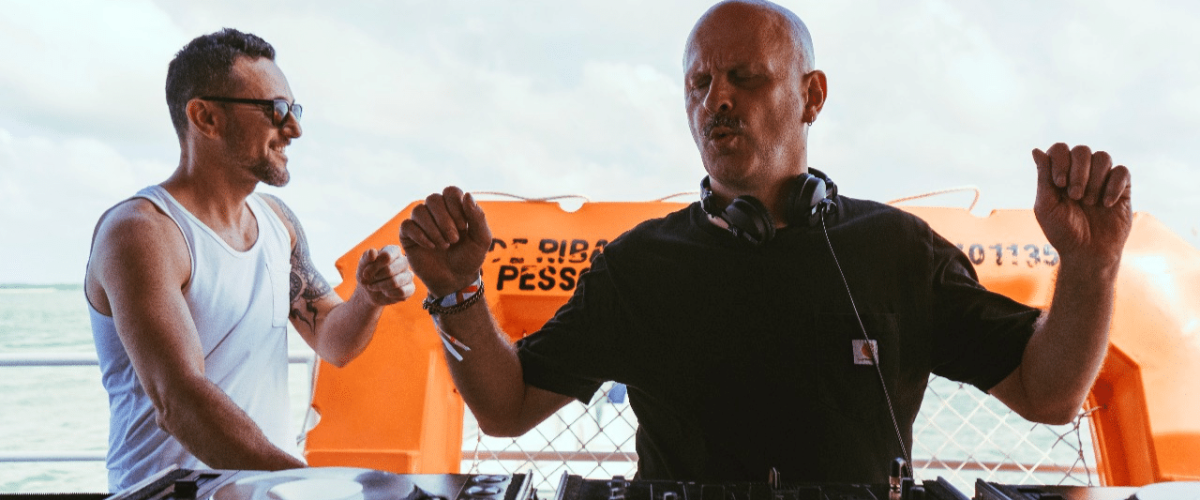 Dicky Trisco Talks Sentimental Animals, JKriv, Nicki B, Hamilton Bohannon, Mareh Festival & Razor-N-Tape
Like what you hear? To help support LV Online buy us a coffee via Ko-FI. Click HERE
An interview by the Insider for Le Visiteur
Dicky Trisco is something of a disco and house legend. Djing since the 90's Dicky broke through in the Disco and Nu Disco scene of the early 00's producing with Pete Herbert on Disco Deviance and Maxi Discs. His career has since taken him all over the globe playing some of the finest venues and festivals the planet has to offer including Glastonbury, Mareh, Love International, Festival No 6 and many more.
Along the way he also ran the label Home Taping Is Killing Music and helped break many artists who would go onto become scene stalwarts including The Black Madonna, The Revenge & Medlar.
As a producer he has released with some of the best labels out there including Razor-N-Tape, File Under Disco, and has remixed Bryan Ferry, Belle & Sebastian, Edwyn Collins (Orange Juice), Danielle Baldelli, Faze Action and Tensnake.
Dicky is a DJ who simply loves to perform, making that immediate connection with people where-ever he has gone. The pandemic didn't stop him either, switching to live streaming Dicky quickly built up a following there too with his infectious sets and his penchant for dressing up.
His latest project see's him team up with Razor-N-Tape's JKriv as Sentimental Animals and they have a brilliant EP just about to land Love Vibration on both 12″ and 7″. As you would expect it's rather brilliant and features remixes from Yuksek and Art of Tones.
It's a must have release, you can grab it from here: https://sentimentalanimals.bandcamp.com/merch/rntr038-sentimental-animals-love-vibration-ep
To celebrate Dicky put together a rather outstanding mix for us, he also chatted about the mix HERE and he spoke to the Insider at length about his career.
Love what you hear? Please give the mix and this interview a share and helps us spread the love!
It's a real pleasure to talk to you Dicky Trisco! How you keeping?
Hey, nice to meet you too. I'm not too bad at all thanks.
How has such a social creature as you kept smiling without the buzz of your far-flung gigs this last year?
It's been a weird and wonderful year. I learnt many things about myself and people around me. Sure, that has been the same for most people out there. I just hope we all come back appreciating the stuff that makes us who we really are. You don't know what you got until you lose it right?
Are bookings beginning to happen? Is there talk of gigs this summer?
I have some things penciled in for this summer. Especially festivals like Campo Sancho which are more likely to actually happen. But really who knows?! Some people think the next summer of love is about to happen. Others say we will still be sitting in circles in parks drinking bad rose wine for a wee while longer. I am no expert. Thank fuck. But can't wait to see people dance again. It will be so special when it does happen!
Your 2020 kicked off in fine form playing some pretty cool events before world stopped spinning right?
Yeah, seems a long time ago now. But I started the year in Brazil at my fave festival Mareh. Then played in Rio and Sao Paulo in warehouses and on the streets. Then came back for some European stuff then back for my first time at Carnaval in Rio followed by NYC and finally a wicked festival in Florida called Okochobee for my Gouranga brothers. Then everything stopped like suddenly. Overnight the world of music went on pause. And in my country Scotland they actually banned music in public! Strange days.
You've been playing at the Mareh festival in Brazil for a few years. How electric is the vibe there? What do you love about the festival?
Yes, it is pretty electric. The thing they have is passion. They work hard on the remote and beautiful location. They make everything look and sound beautiful. And then there is the crowd. Many have been going for many many years. They know each other like a family. Some people on my boat parties have been to everyone one I have done. They are always there each year. Sometimes even in the same place on the dance floor. That creates special bonds. It's a love thing. I have nothing but respect for that. Guga the guy who makes the party has made a truly magical thing.
You were the first release on the Mareh label, right? Have you got a booking there for life?
Let's hope so. I give it everything I can from the bottom of my heart.
What was the first release you ever put out Dicky?
I didn't want to become a DJ or a producer. It all happened by chance. Like all the best things in life. First release was a record on our first label Deep Freeze under the name Clyde Built Project with a lovely guy called Matthew Drummond. I made the tea mainly.
Were you listening to disco from a young age? Who were the DJ's you were listening to ask you grew up?
Yes. I spent many years on the holiday isle of Mallorca in the 1980s and heard so much disco music. And I thought that the people who worked in clubs and knew everyone were so cool. I used to take big bundles of flyers and pretend I worked in the clubs just to talk to people. It was in my blood. Once I started to go to clubs in Glasgow it was Fresh and other stuff run by Colin Barr and then The Sub Club that influenced me the most. Harri was probably one of the biggest influences on me as a DJ.
His blend of reggae, disco, house was perfect for my tastes, and he always took you on a journey. Then later I went a lot to Pure in Edinburgh where Keith from Optimo learnt his trade. After that it was the Reading Rooms in Dundee and their eclectic and open style of music that let me do what I really wanted to do and become a DJ. A legendary club for sure. They were dreamers.
Is there a record that you heard growing up that has stuck with you?
The first record I ever bought was Hit Me with Your Rhythm stick by Ian Dury and The Blockheads. It still sounds pretty cool to me. Could You Be Loved, which was Bob Marley's Disco record really had a big impact on me. And once I was in clubs, I can safely say that Hamilton Bohannon Let's Start the Dance changed everything for me!!!
Where and when did you first start to DJ? Where and when was your first big gig?
I started to DJ at university because someone had to do it. We did secret parties that used to sell out in the basement of a hotel. And parties in flats with mattresses against the windows to dull the sound.
Who were some other DJs coming up at the same time as you?
In Scotland people like The Revenge and Ali OOFT. Wider afield JKriv, Pete Herbert, Eddie C, Eric Duncan, Ray Mang, and many others who became amigos.
What was your first overseas gig? Do you recall how you felt travelling there?
I played in Poland in Warsaw. A great place called Prekarnia. Half open air. Friends of mine Ben and Magda put it on. We played it every month for a while. I was so excited. The vodka was strong. And at that time Poland had the feel of a place really entering a new phase.
I remember meeting you in the days of Electric Elephant. I often called you Tricky Disco in my head. Is your name anything to do with Warp release?
Yes, that record had a big impact on me and took me from Disco and other stuff into Acid House and electronic music. By the time I brought Dicky Trisco to life I wanted to go back to that early feel of Disco, Funk and Electro. So, DT became my imaginary vehicle for that.
You've been an inspiration in lockdown with your streams, sharing the love, keeping up the spirits of the masses. What kept 'your' spirits up?
Whisky and tequila mainly. But personally, I felt the loss of people and human energy and contact really badly. So, I just tried to express that need to make contact and touch people.
How much fun did you have in the basement dressing up? Did the neighbours ever complain?
I have no idea where the dressing up thing came from. Brazil probably as they love that. I just did it on the first night spontaneously and it seemed fun. I like to laugh with people. Life is too short to be serious and a wanker all the time.
Would you say you have a serious side? How might that manifest?
Nah.
Is the nut gathering disco collective – Secret Squirrel still going strong? Or do you take the fifth on that? Can we please get a repress of #2 as I missed it?
Squirrels has been a beautiful life changing thing. Born of a drunken day and chat in Istanbul many years ago with my friend and mentor Chris Duck. DM me baby for a copy x
You've spent a ton of time in Asia. What is your favourite spot and what is it about Asia that draws you?
I love Asia because it is so different. And I get a buzz from difference. I like many places there for different reasons. But Seoul is a city that stole my heart and I have many wonderful friends there.
Brazil seems to be in your bones too. Why do you think you connect so much with the audience there?
I adore Brazil. I think Scottish and Brazilian people share an upfront, directness. But maybe that's bullshit. It has been very kind to me, and I have a lot of friends and memories there. It makes me be someone I like to be. Eu amooo tantooo.
You've had a long relationship with your Brooklyn brothers Razor-N-Tape. How far back do you go? When did you meet?
I have known Jason for a while now. He is such a talented and lovely guy. He deserves only the best stuff. We have played together in NYC and in Brazil and both like to enjoy life. We are sentimental animals. Aaron talks as much as me and is good at shots.
Big Razor-N-Tape fans here! You've featured on a fair few RNT releases. Can you highlight a few for our readers?
I did a nice remix for them on this baby!
Teaming up with RNT label head and fellow Nu Disco don JKriv on this new project, what's the story on Sentimental Animals? What is your mission?
It all comes from an annual boat party we do in Brazil at Mareh. 6/7 of the best hours of our lives each year. I tend to cry at the end of it because it is so perfect. So that is what started our journey. Trying to capture that energy and passion.
You guys are releasing on the RNT Reserve. Is Sentimental Animals all original beats?
Yes, that will be the focus for sure.
You've just dropped the first outing as Sentimental Animals. Tell us a little about that?
It's just a bunch of records we caught travelling around the globe which we liked really.
You're up in Scotland and JKriv is across the pond, how does it work in the studio? How do you catch the vibe?
So, the release on RNT I started in Scotland. Then Jason added some great stuff and recorded the vocal in NYC with Nicki. Then I went to NYC, and we worked on it together. Any kind of flow is a good flow if the passion is there.
Do you both have different roles in the production process?
Jason is an amazing producer and musician. I was a drummer originally and after years of DJing have a feel for moments, vibes and dance floors. So, we put it all together really.
Would you say you and JKriv share the same ideas or are you both opposites that compliment?
I feel a musical affinity with Jason that I don't really have with anyone else. I also think we would order the same drinks. We are so lucky to have that despite living on different sides of the ocean.
After a year of lockdown albums and slowed down beats, we are gagging for the disco. Is there a disco tidal wave brewing? Is that what you were thinking with this golden disco nugget?
I definitely think there are good times ahead. But we didn't plan this track around that. We had no idea what was going to happen. However, we hope it strikes a note in people's hearts and on the dance floor.
Escort's Nicki B's vocal is hot. Why were you drawn to her for this track?
First time I met Nicki was like a gentle hurricane and I know she would bring positive shit into my life. She picked us not the other way around. She is an amazing singer and a wonderful human being.
Did you let her do her own thing or did you give her the lyric? How much input does a vocalist have on a track?
I had some hooks in my head from the main riff on the keyboards played by my friend Robin from Faze Action. Then Nicki and Jason took those on and pushed them all the way in the studio.
Who would you wanna see playing it? Where would the ideal setting be to dance to it.
I think the message of feeling positive love vibrations works on many levels. Especially after what we have all been through. For me I want to play it on that boat in Brazil where it came from in the first place. That will be a moment.
You've travelled the globe playing records. Have you ever considered living elsewhere or will Scotland always be home?
I have lived other places like Spain and India in my time. But Scotland has been very kind to me. I like the way people treat each other here.
What do you think you'd be doing if you weren't working in music?
I would be thinking of or playing music.
Do you have more than one disco ball in your house Dicky?
I have just the one in my studio.
Can you Samba?
Let's hope so!
Do you think you will ever hang up your headphones?
Music whether playing it, collecting it, or listening to it will always be a big part of my life. What else are you gonna do???
Are you still the world champion for drinking the most gin & tonics in one sitting?
I've moved into whisky and tequila. But Toni from Shanghai who gave me that name really made laugh when he said that. Love you Toni x.
What's coming next for Sentimental Animals?
Good stuff and good times hopefully.
Thank you for your valuable time!
Thank you for all the lovely questions xx
Grab the EP from: https://sentimentalanimals.bandcamp.com/merch/rntr038-sentimental-animals-love-vibration-ep
For more info check:
Dicky Trisco Facebook: https://www.facebook.com/profile.php?id=100063574778776
Dicky Trisco Soundcloud: https://soundcloud.com/dicky-trisco
Dicky Trisco Instagram: https://www.instagram.com/dickytrisco/
Dicky Trisco Twitter: https://twitter.com/dicky_trisco
Razor-N-Tape Facebook: https://www.facebook.com/RazorNTape/
Razor-N-Tape Soundcloud: https://soundcloud.com/razor-n-tape
Razor-N-Tape Instagram: https://www.instagram.com/razorntape/
Razor-N-Tape Twitter: https://twitter.com/RazorNTape
Razor-N-Tape Twitch: https://www.twitch.tv/razorntape
Razor-N-Tape Bandcamp: http://www.razor-n-tape.bandcamp.com
Razor-N-Tape Spotify: https://open.spotify.com/user/m25h7a3w9wp0nuhqgi6td3q3j?si=9ca5d4f2dc564d12
Tags:
dicky Trisco
,
disco
,
Jkriv
,
razor n tape