LV Disco Selectors 24 – Dicky Trisco For Sentimental Animals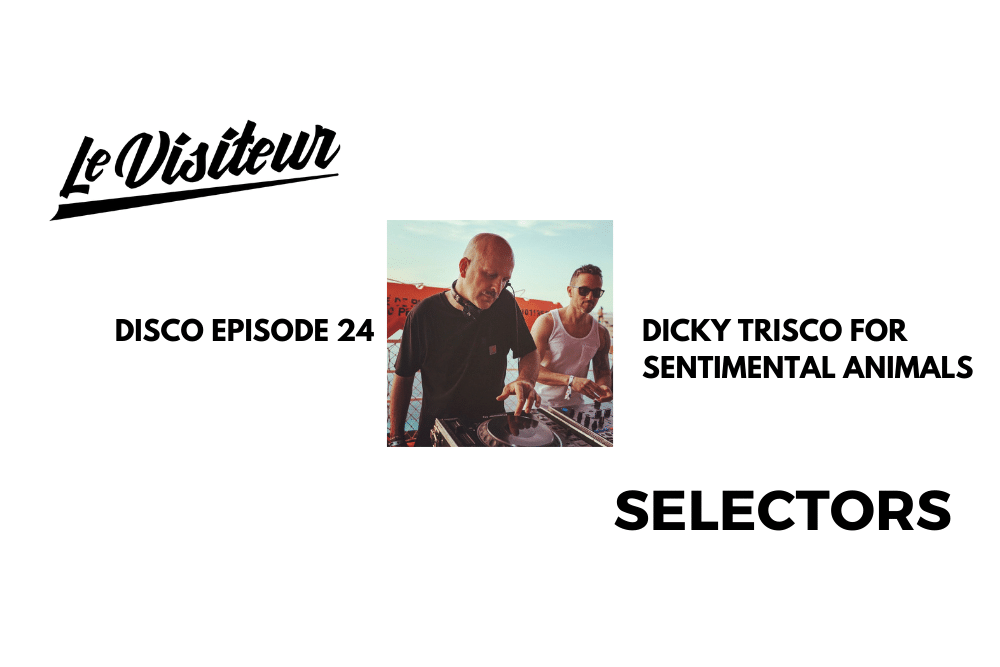 LV Disco Selectors 24 – Dicky Trisco For Sentimental Animals
Like what you hear? To help support LV Online buy us a coffee via Ko-FI. Click HERE
Sentimental Animals is the brand new collaboration between two of disco's most loved artists Jkriv and Dicky Trisco. Following on from the release of their now sold out first EP on their own Sentimental Animals label they are now back in quick smart fashion with a brilliant release the Love Vibrations EP which lands this week on both 12″ and 7″ on Razor-N-Tape which features mixes from Yuksek and Art of Tones.
It's a must have release, you can grab it from here: https://sentimentalanimals.bandcamp.com/merch/rntr038-sentimental-animals-love-vibration-ep
We have a full interview with Dicky Trisco incoming later in the week and he also put together a rather special mix for us. Please give it a share over on Soundcloud and help us spread the love! We also asked Dicky Trisco a few questions about the mix which you can check below.
TELL US ABOUT THIS MIX …. SENTIMENTAL ANIMALS
What's the theme of this mix?
The inspiration for this mix was the good times and love vibrations which are hopefully ahead for more of us this summer and beyond. I closed my eyes and dreamt of rooftop parties, basement jams and all-day long boat parties.
What should we drink while we're listening to it?
Drink what makes you feel good always! But if you want my suggestion…then perhaps a Caipirinha with Maracuja like they serve in the kiosks in Rio. Or a Margarita. But there are no rules to the life of pleasure. We make them up as we stay up all night long.
Where was the mix recorded?
It was recorded in my basement studio where I have spent far too much of the last year or so.
What would be the ideal setting to listen to it?
With friends and strangers. A nice view is always good. Cold drinks. Then let's start to dance together!
What's more important, the track you start on or the track you end on?
Every track is important. They come together and create an emotional path. A mix should be a journey through different moments. I like to play tracks by friends also. Then it's like a photo album of people I love also. We have to help each other always. That's what makes the world a better place to be through everything we do together.
What you're favourite track in this mix?
I love them all that's why I played them. So just enjoy the whole thing!
What were the first and last records you bought?
First record I ever bought was Hit Me with Your Rhythm Stick by Ian Dury and the Blockheads. It still rocks! Last record I bought was for my son an LP of instrumentals by Madlib.
If you could go back2back with anyone in time, who would it be?
With JKriv on the boat party we do each year in Brazil at Mareh festival. Six of the best hours of your life every year 100% guaranteed in the most amazing and remote locations. Two tracks each all day long. Vamooo!
Have you got a favourite mix you always go to?
Pete Herbert did a wonderful mix years ago after days and days of non-stop partying at London Carnival. He caught that vibe of pure lingering joy and satisfaction and a total refusal to go to bed even though everyone left the party already. Ha ha. Love Pedro. Don't think it's online though.
What's coming up next in the world of Sentimental Animals?
More original music. More playing to people dancing hopefully!!! A certain amount of whisky drinking.
Anything else you would like to tell us?
The world is round and blue like an orange.
Thanks for asking me to do the mix x.
Grab the EP from: https://sentimentalanimals.bandcamp.com/merch/rntr038-sentimental-animals-love-vibration-ep
For more info check:
Dicky Trisco Facebook: https://www.facebook.com/profile.php?id=100063574778776
Dicky Trisco Soundcloud: https://soundcloud.com/dicky-trisco
Dicky Trisco Instagram: https://www.instagram.com/dickytrisco/
Dicky Trisco Twitter: https://twitter.com/dicky_trisco
Jkriv Facebook: https://www.facebook.com/jkrivmusic
Jkriv Soundcloud: https://soundcloud.com/jkriv
Jkriv Instagram: https://www.instagram.com/jkriv
Jkriv Twitter: https://twitter.com/jkriv
Razor-N-Tape Facebook: https://www.facebook.com/RazorNTape/
Razor-N-Tape Soundcloud: https://soundcloud.com/razor-n-tape
Razor-N-Tape Instagram: https://www.instagram.com/razorntape/
Razor-N-Tape Twitter: https://twitter.com/RazorNTape
Razor-N-Tape Twitch: https://www.twitch.tv/razorntape
Razor-N-Tape Bandcamp: http://www.razor-n-tape.bandcamp.com
Razor-N-Tape Spotify: https://open.spotify.com/user/m25h7a3w9wp0nuhqgi6td3q3j?si=9ca5d4f2dc564d12
Tags:
dicky Trisco
,
disco
,
Jkriv
,
razor n tape
,
Sentimental Animals