DISCO JUICE – YAM WHO? – OCTOBER 2023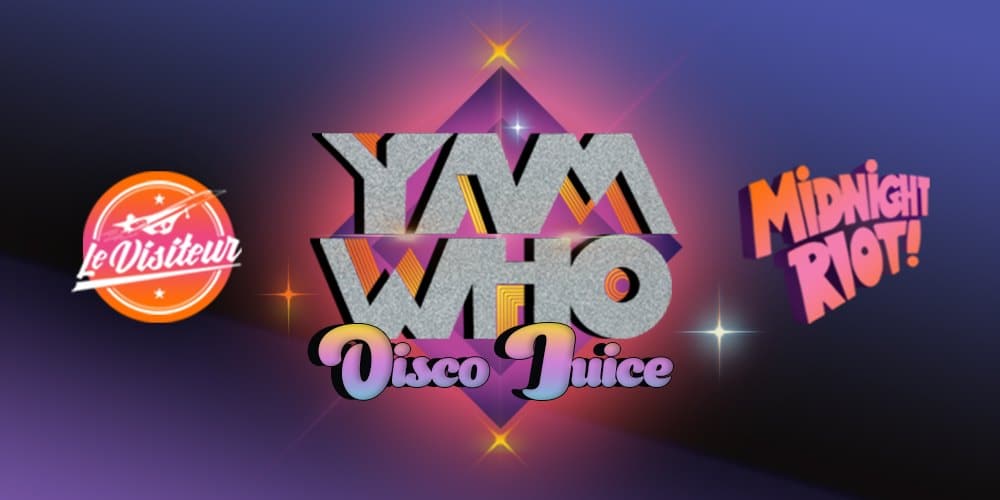 Foreword by Le Visiteur
October is a huge month in the electronic calendar as the final Ibiza nights wrap up for another summer and the focus moves firmly onto ADE. And after a strong run of Ibizan gigs Midnight Riot are preparing for one of their biggest ever events at the Victoria Hotel in Amsterdam featuring UK house legend Michael Gray, Natasha Kitty Katt, the unstoppable 'Funky French League' and Mr Doris among a packed line-up which you can check in full below.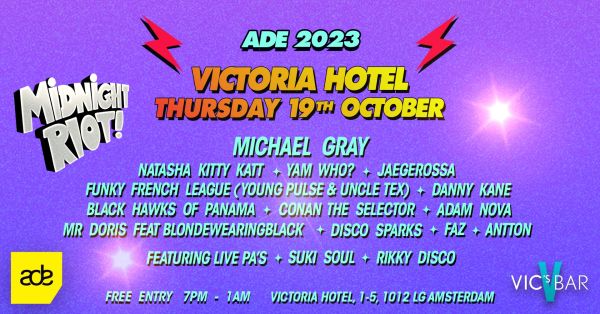 There is also a date to save for the Riot Scottish fans as Yam Who? and Jaegerossa head up to play at Afroboogie on the 28th October. More info on that one HERE. And even further down the line November see's the team head to Plymouth's Treasury on the 11th.
Midnight Riot are also delivering a packed October release calendar including the seventh edition of the brilliant Disco Made Me Do compilation series alongside releases from Natasha Kitty Katt, FAM Disco, Da Lukas & Suki Soul, Groovemasta, Zavowho & Carmen and Yam Who? and Rikky Disco. Check that heat out HERE
This month's Midnight Riot Podcast also ties up that Ibiza season nicely with a guest appearance by Antton
Now it's time for Midnight Riot's Yam Who? to deliver the 9 essential disco releases for October x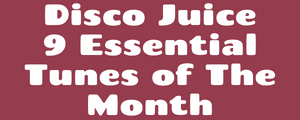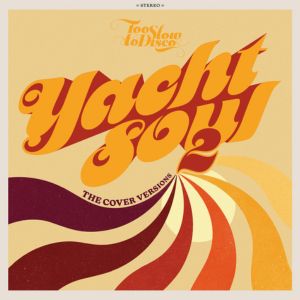 Various Artists – Yacht Soul 2 (The Cover Versions)
Welcome back to the never-ending Yacht Soul cruise, where we explore 15 incredible cover versions, featuring talented artists like Chaka Khan, Keni Burke, Richie Havens, The Isley Brothers, Dionne Warwick, and Roy Ayers all on tracks originally performed by Fleetwood Mac, Hall & Oates, Carole King, America, Bobby Caldwell, The Doobie Brothers, Todd Rundgren, and more.
The concept here revolves around R&B and soul artists delving into the songbooks of their white contemporaries. These cover versions not only aim to potentially gain crossover radio airplay but also introduce fantastic songs to a wider audience who might have missed them otherwise.
Regardless of the reason, each cover offers a fresh perspective on already amazing songs. In this volume, TSTD continue to explore this intriguing concept, unveiling unexpected connections and musical intersections.
Understanding the stories behind these covers and collaborations is as fascinating as enjoying the music itself.
Grab it HERE
For more info please check:
Too Slow To Disco Facebook
Too Slow To Disco Instagram
Too Slow To Disco Twitter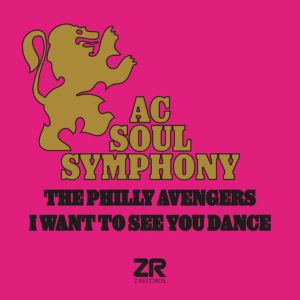 AC Soul Symphony – Philly Avengers – I Want To See You Dance
[Z Records]
"I Want To See You Dance" hails from AC Soul Symphony's inaugural album, "Metamorphosis." This spirited jazz-funk track is tailor-made for the dancefloor, exuding a vibrant energy akin to the electrifying collaborations of Heatwave and MFSB, backed by a majestic 20-piece orchestra.
Flipping the record, fans of the late 70s British TV sensation, "The New Avengers" (which introduced us to Joanna Lumley), will revel in Dave Lee's funky reinterpretation of the iconic theme song. It's a groove-infused blend of clavinet, Wurlitzer, infectious drum patterns, and the essential symphony of strings, transporting you nostalgically to the heyday of TV themes and symphonic disco. If MFSB had ever tackled "The New Avengers" theme, this rendition might just be what it would sound like.
Grab it HERE
For more info please check:
Dave Lee Facebook
Dave Lee Instagram
Dave Lee Twitter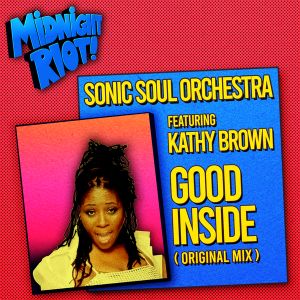 Sonic Soul Orchestra feat Kathy Brown – Good Inside (Original Mix)
[Midnight Riot]
2023 holds the promise of an exhilarating year for Sonic Soul Orchestra (SSO). Recently garnering significant attention within the soulful house music scene, thanks to remarkable releases such as 'You're The One For Me' featuring Colonel Abrams, 'Touch Me' featuring Kathy Brown, and 'Happy People' featuring Phillip Ramirez. SSO, also known as JP Firmin, an English DJ and producer who divides his time between London and Los Angeles, is making his debut with Yam Who?s, Midnight Riot with a new production, again featuring the extraordinary vocals of Kathy Brown.
'Good Inside,' is armed with a captivating sample crafted with affection for a new generation of music enthusiasts. In this rendition, Kathy's commanding vocals effortlessly glide over a soulful and vibrant rhythm, elevating the dance floor experience and spreading an aura of positivity all around.
Also look out for forthcoming remixes from Risk Assessment & Angelo Ferreri too!
Grab it HERE
For more info please check:
Sonic Soul Orchestra Instagram
Kathy Brown Facebook
Kathy Brown Instagram
Midnight Riot Facebook
Midnight Riot Instagram
Midnight Riot Twitter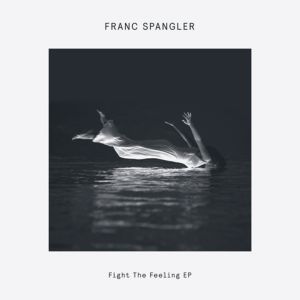 Franc Spangler – Fight The Feeling EP
[Delusions Of Grandeur]
Jimpster, in his Franc Spangler persona, continues to deliver infectious and dance-worthy tunes that will surely captivate music lovers and keep the party going. Kicking things off is the track 'Fight The Feeling,' where Spangler crafts a lively rhythm infused with dubby percussion, horn solos, and soaring lead synth melodies—a perfect tune to kick off any party. Next up is 'Powerslide,' a track that takes a nostalgic trip back to the retro era with its clavinet and guitar chops, Hammond organ slides, and an irresistibly funky bassline.
This one's designed to bring a burst of high-energy excitement to the dance floor, setting the mood for a fantastic night out. Bringing the release to a close is 'Dance The Funk,' a deeper and more laid-back offering that features Prelude-inspired synth stabs, a weighty Moog bassline, and crisp house-inspired drums. It's a track that invites you to groove and get lost in its mesmerising rhythm.
Grab it HERE
For more info please check:
Delusions of Grandeur Facebook
Delusions of Grandeur Instagram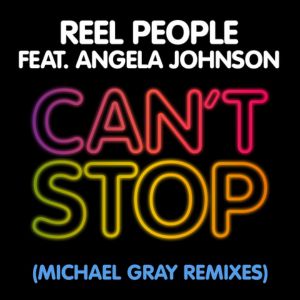 Reel People feat Angela Johnson – Can't Stop (Michael Gray Remixes)
[Papa Records]
"Reel People's journey continues to dazzle in 2023, especially with the electrifying remix of 'Can't Stop,' featuring the extraordinary talents of Angela Johnson, meticulously remixed by the legendary House music maestro, Michael Gray.
This year has proven to be a milestone for Reel People, as they unveiled their remarkable heart and soul story with the release of 'LOVE2' in March. This original album, a decade in the making, was masterfully produced by the core collective of Oli Lazarus, Mike Patto, and Toni Economides. 'LOVE2' showcases a fresh vocal lineup, including the likes of Raheem DeVaughn, Muhsinah, Chantae Cann, Michael Champion, Paula, Jill Rock Jones, Eric Roberson, and Arrested Development's Speech.
This 10-track masterpiece represents an awe-inspiring evolution of the signature Reel People sound. 'LOVE2' stands as a monumental addition to the Reel People discography, building upon the success of their acclaimed albums such as 'Second Guess,' 'Seven Ways to Wonder,' and 'Retroflection.'"
Grab it HERE
For more info please check:
Reel People Facebook
Reel People Instagram
Reel People Twitter
Michael Gray Facebook
Michael Gray Instagram
Michael Gray Twitter
Papa Records Facebook
Papa Records Instagram
Papa Records Twitter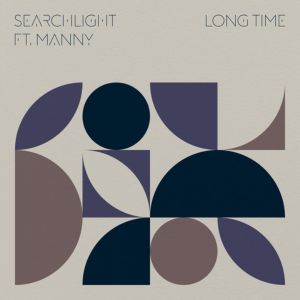 Searchlight feat Manny – Long Time
[Fallen Tree 1Hundred]
After their successful debut self-titled album, "Searchlight," Irish producers Cian McCann and Dom Purcell, known as Zero T & Beta 2, are making a return to Goldie's Fallen Tree 1Hundred label with an exciting new track featuring a talented vocalist. Manny, a vocalist hailing from Milton Keynes, initially collaborated with Zero T and jazz-pianist Onj in 2022 on their drum and bass single, "Lifetime." It was during these recording sessions in London that the idea for "Long Time" was born, marking a new chapter in Searchlight's journey as they expand their lineup.
"Long Time" starts with Onj's captivating piano theme and gradually incorporates the epic horns of the versatile multi-instrumentalist Sam Mahoney, also known as Ishfaq, into Searchlight's percussion-driven groove. Manny's soulful vocals provide the finishing touch to this nearly four-minute track, delivering a dose of pure, soul-infused fire.
Grab it HERE
For more info please check:
Searchlight Facebook
FallenTree100 Facebook
FallenTree100 Instagram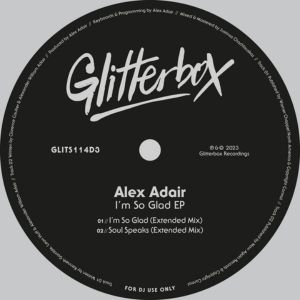 Alex Adair – I'm So Glad EP
[Glitterbox Recordings]
Renowned producer Alex Adair steps into the Glitterbox spotlight with his debut EP, a dynamic two-track release led by the vibrant 'I'm So Glad'. Hailing from London, Adair gained rapid recognition through his euphoric, sample-infused creations, showcasing his flair for innovation and experimentation. His unique blend of expert techniques and contemporary sensibilities has amassed an impressive 200 million streams globally.
Following his successful remixes for notable artists like Jessie Ware, Adair brings 'I'm So Glad' to Glitterbox, a love-infused narrative adorned with timeless disco elements and playful vocal snippets, all set against a lively, funky bassline. The EP also features 'Soul Speaks', a track that underscores Adair's mastery of sample-driven music, exuding a subtle, instrumental charm.
Grab it HERE
For more info please check:
Alex Adair Facebook
Alex Adair Instagram
Alex Adair Twitter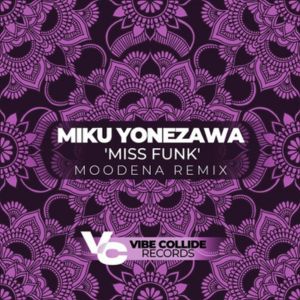 Miku Yonezawa – Miss Funk (Moodena Remix)
[Vibe Collide Records]
Japanese born Miku Yonezawa embarked on her musical journey by picking up the tenor saxophone at the tender age of 8. By the time she turned 11, she was already showcasing her talent in a big band. Her official debut came in 2016 and additionally, Miku is a vital member of the immensely popular band, The Jazz Avengers.
Enlisting the mighty Moodena on remix duty, his meteoric rise over the past couple of years is extraordinary. His releases have become a treasure trove for DJs and music enthusiasts alike, who eagerly anticipate each new track with renowned labels such as Z Records, Midnight Riot, and Groove Culture have enlisted his talent. 'Miss Funk' is deep in the sax groove, packed with peak time drops, backed by another heavy Moodena production, ready to kill any dancefloor!
Grab it HERE
For more info please check:
Miku Yonezawa Facebook
Miku Yonezawa Instagram
Moodena Facebook
Moodena Instagram
Vibe Collide Facebook
Vibe Collide Instagram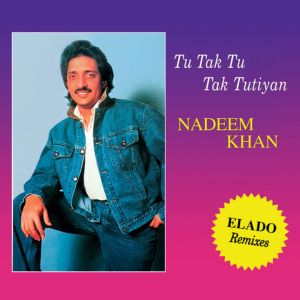 Nadeem Khan – Tu Tak Tu Tak Tutiyan
[Razor-N-Tape]
Elado's initial edit of this beloved Bollywood classic has been spreading boundless happiness on dance floors across the globe over the last two years. RNT is now showing even more love with the release of this official 7-inch remix package.
On the A side, you'll find the familiar Gulab Jamun rework, while on the flip side, we've got Elado's fresh and dubby acidic take with the 4 A.M. mix. Paying tribute to the artist Nadim Khan, the original CD artwork has been repurposed to create a stylish custom jacket. "Tu Tak Tu Tak Tutiyan"… Razor N Tape extends its love to you!
Grab it HERE
For more info please check:
Razor-N-Tape Facebook
Razor-N-Tape Instagram
Razor-N-Tape Twitter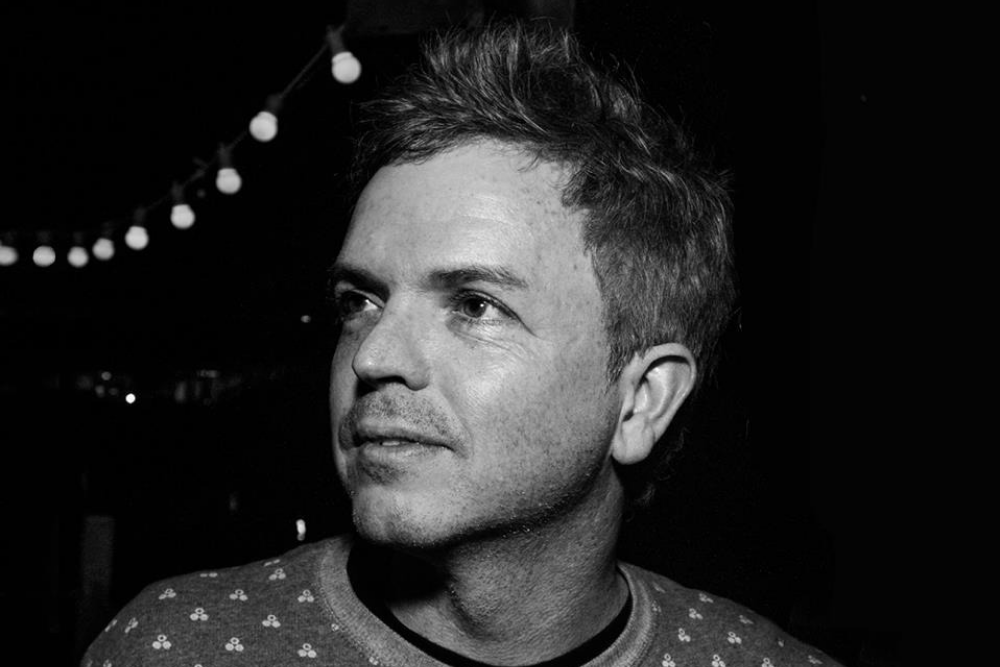 Yam Who?
Yam Who is a DJ, producer, label boss at Midnight Riot and ISM Records and one half of Glitterbox signed Qwestlife.
For more info please check:
Yam Who Facebook: https://www.facebook.com/YamWhoPage/
Yam Who Soundcloud: https://soundcloud.com/yam-who
Yam Who Instagram: https://www.instagram.com/yamwho/
Yam Who Twitter: https://twitter.com/yamwho
Love this check out more Disco Juice HERE
Like what you hear? To help support LV Online and help us keep the lights on in 2023 click HERE
Tags:
Alex Adair
,
Dave Lee
,
Delusions of Grandeur
,
Elado
,
glitterbox
,
Jimpster
,
kathy brown
,
michael Gray
,
Midnight Riot
,
Miku Yonezawa
,
Moodena
,
Razor-N-Tape
,
Reel People Angela Johnson
,
Searchlight
,
Sonic Soul Orchestra
,
Too Slow To Disco
,
Vibe Collide
,
Z Records