Discussing the Art of the Remix and Remixing Smoove & Turrell with Ashley Beedle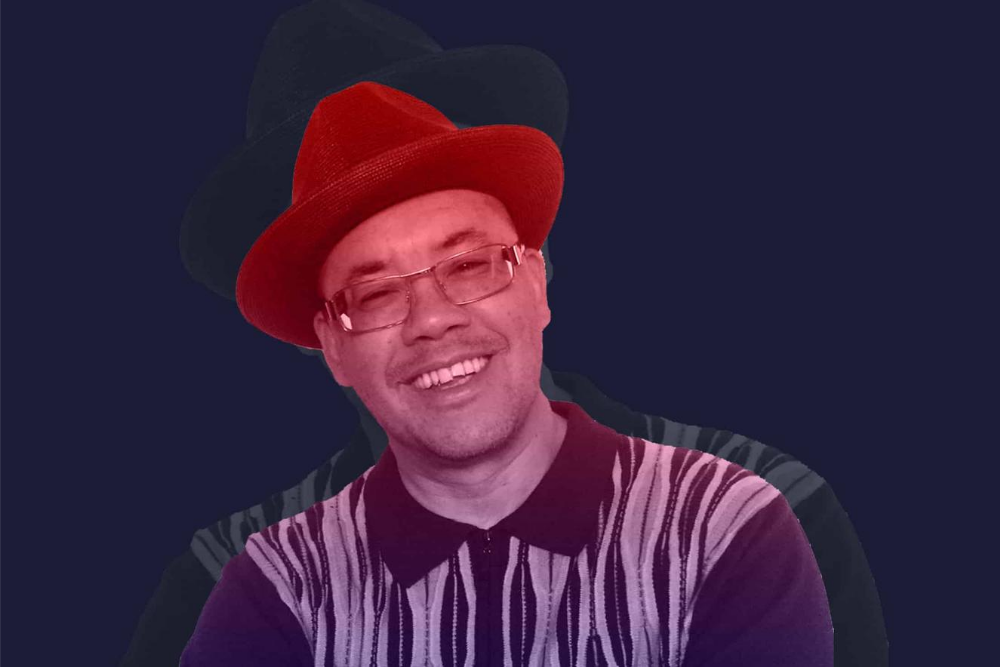 Discussing the Art of the Remix and Remixing Smoove & Turrell with Ashley Beedle
Ashley Beedle is one of the true legends of the UK electronic scene. His discography is longer than most DJ's record collections, indeed if you search on Discogs for Ashley Beedle it brings up 2412 releases and that doesn't take into account digital only releases. Ashley has been at the forefront of the house scene in the UK since the very start where he was the first to bring house music to the Notting Hill carnival along with the Shock Soundsystem.
Ashley was one of the heads behind Black Science Orchestra whose work still sounds as fresh and essential today as it did in the early 90's. He would soon be travelling the globe as part of Xpress 2 who would have multiple hit albums and a worldwide smash with Lazy featuring Talking Heads frontman David Byrne.
The projects have kept on coming and include Delta House Of Funk, Disco Evangelists with protégé David Holmes, Roots Revolution, Jamayka Boys, Black Jazz Chronicles, Afro Art, the Ballistic Brothers and London Heavy Disco Review.
These are just a handful incarnations in the incredible musical tapestry that has been Ashley Beedle's sensational career.
Over the years Ashley has been in huge demand as a remixer and has lent his hand to an incredible range of tracks from hip-hop to soul, disco to techno and pretty much everything in between. He has remixed everyone from Gil Scot Heron to Bob Marley, The Police and The Rolling Stones to Armand Van Helden and The 10th Planet. Ashley's name on a remix project is a serious badge of quality.
His latest remix see's him go to work on Smoove & Turrell's 'It Ain't Working' for Jalapeno Records. Here he has crafted a wonderfully soulful mix which perfectly harnesses John Turrell's incredible voice.
To celebrate this brilliant release we spoke to Ashley about his career and the art of the remix.
Hi there Ashley,
Many thanks for speaking to us today.
Please can you tell us a little bit about your musical upbringing which led to you being so comfortable with being involved in producing so many different musical projects and genres over the years?
It was down to my mum and dad – great musical DNA and they always involved me in any music that they bought and danced to. It was always an occasion – radiogram on, needle on the record and it would be an instant party in the front room. My dad continued this practice of including me in the music by taking me on record buying trips. This could be digging for anything from folk to rock to reggae to soul – so, it was a pretty diverse immersion in the music for me from my youngest memories.
You have been a permanent fixture on the UK electronic scene since its nascent days in the late 80's and early 90's. How did you first come to get involved in the club scene and what are your first memories of house music specifically that led you choosing a career as a producer?
I was going to clubs from 1977 with my mates and as the years progressed, I became a box boy for Stateside Sound System moving their speakers (boxes) around for them. When I joined Dean and Stan Zepherin's 'Shock Sound System', I was part of a team – there was Paul Denton, Cecil Peters, Ricardo da Force, brothers Dean and Stan. I became one of the DJs and we were the first sound system at Notting Hill Carnival to play house music. I had been influenced by Kid Batchelor when I used to go and see him DJ at the London club called Confusion. Shock Sound System also DJ'd at R.I.P at Clink Street which is considered one of the seminal early house clubs. Other DJs there were Eddie Richards, Mr C, Kid Batchelor – they were in the main room and Shock were in the back room. It got very hot and very sweaty in there!! These experiences made me want to go further with creating music.
Throughout your career you have been in huge demand as a remixer. If you had to pick 3 remixes of yours which have bookmarked your career and which you are especially proud what would they be and why? 
Bent – Always – Ashley Beedle's Mahavishnu Remix
There was magic in the air when I made this mix. This is the remix that everyone quotes me on or says how much it made an impact on their lives. It's a beautiful legacy to have….and who knows what's going to happen in the future!
Shawn Lee – Happiness – Ashley Beedle's West Coast Mix
Shawn Lee is an awesome talent and working on this remix with him was an absolute pleasure. It evokes so many memories of hot summers + festivals – good times!
The Streets – Weak Become Heroes – Ashley Beedle's Love Bug Vocal Remix
The lyrics for this are so brilliant that when I was offered the remix, I said 'yes' immediately!! It was one of those remixes that I knew straight away what I had to do musically.
How would you describe your latest remix of Smoove & Turell's 'It Ain't Working' which is out on Jalapeno Records and what was it that drew you to that track from Stratos Bleu in particular?
Electronics and soul falling into line with Smoove & Turrell's vision for the 'Stratos Bleu' LP. Myself + my wife, Jo Wallace were listening to the album in bed and Jo said 'This track (pointing wildly at the screen) is it – this is it' – she explained that it reminded her of classic Average White Band, Ace, Jamiroquai….strong male vocals with fabulous melodies. So that was our reason for choosing it.
How would you approach a remix project such as It Ain't Working? Do you have a specific method or process that you follow?
I listen to the track five or six times and then find a point of reference within the track that I can use as the hook for the track. This could be different from the hook that the artist identifies in their music. Darren Morris, my musical partner, has a listen and then we start work by uploading the stems from the original track and taking away what we're not going to use….and the rest is magic!
As well as you own remix Smoove & Turrell and Jalapeno have commissioned some incredible mixes from Stratos Bleu including a whole range of different vibes from Hot Toddy, Ray Mang, Steve Cobby and Sorley. What do you personally think makes a truly great remix?
A truly great remix is when the remixer listens to the original and whatever they add or subtract from the track compliments the final result. It's no good taking away the complete personality of the track or the artist….that's defeating the object of the remix exercise.
Your tracks always have a wonderfully full and warm sound which stands head and shoulders in quality above a huge amount of music that is released today. Please can you describe your production set up for us and is there one piece of equipment or a particular plugin that you couldn't live without to create the Ashley Beedle Sound?
The production set up stays secret but the one constant on all my remixes with North Street + North Street West in particular is Darren Morris. It's his ears and musicianship that underpin the mastering process and the studio is supported by a company called Brainworx who generously allow us to beta test their plug-ins in return for some amazing software. Our overall sound is BIG, WARM + SPACIOUS.
Please can you give our readers three studio tips which will make their lives infinitely easier when if comes to crafting the perfect remix?
1. Listen, listen, listen to the original track and get the stems!
2. Preparation – make sure you have notes, discuss with your engineer, sound tech etc what you plan to do during the session.
3. Apply yourself and focus – don't include drinks and drugs in the process. This will distort your vision and hearing. It's not big and it's not clever.
Which other artists do you think are standing out in the remix game at the moment and are there any remixes which have really resonated with you recently?
Onra + Pomrad – collectively known as OXP
Blazers
Dave + Sam
Dark Art – Eye Desire (KaySoul Remix)
Tooli – E 14th St & Avenue B (Mark Hand Rework)
And finally what else can we expect from Ashley Beedle in 2020?
Black Science Orchestra – reformed
Dr Rey – dub album on Ramrock Red
Ashley Beedle solo EP – House of Ashley – F*CLR
A ton of remixes for Ramrock Red + F*CLR
Remixes for Groove Armada + Bent + Lady Blackbird
For more info please check:
Ashley Beedle Facebook: https://www.facebook.com/ashleybeedle/
Ashley Beedle Twitter: https://twitter.com/TheAshleyBeedle
Ashley Beedle Bandcamp: https://ashleybeedle.bandcamp.com/
Smoove & Turrell Facebook: https://www.facebook.com/smooveandturrell/
Smoove & Turrell Soundcloud: https://soundcloud.com/smoove-and-turrell
Jalapeno Records Facebook: https://www.facebook.com/jalapenorecords
Jalapeno Records Soundcloud: https://soundcloud.com/jalapeno-records
Tags:
ashley beedle
,
Jalapeno Records
,
Smoove & turrell