Hotmood Talks Mexican Disco, Sample Digging and Discoweey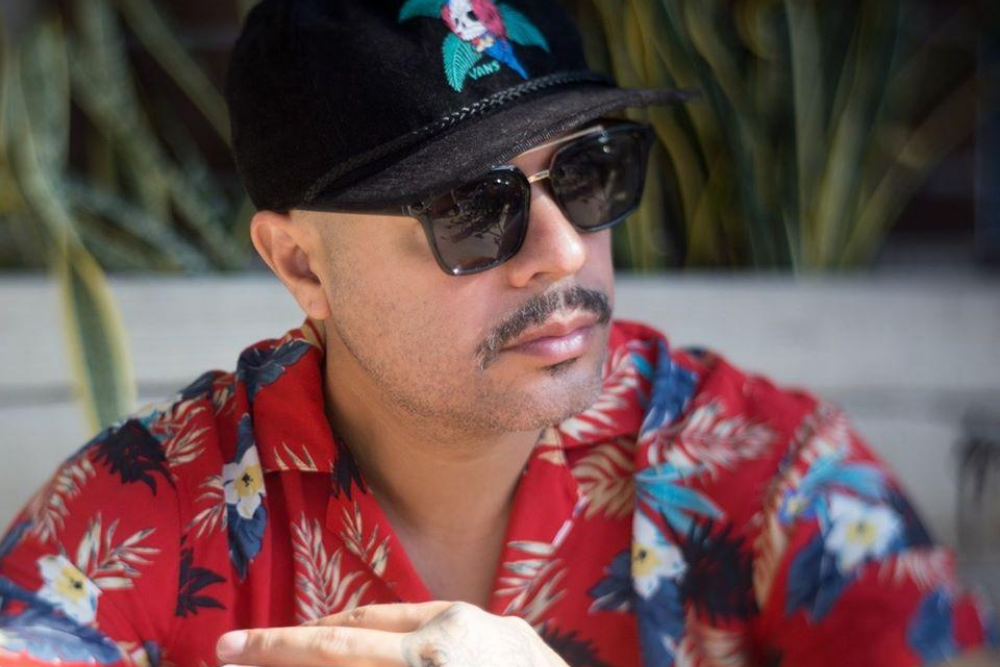 Hotmood is one of the driving forces behind the hugely exciting Mexican disco scene. Having spent several years learning his DJ craft all over the globe including appearances in Las Vegas, Los Angeles, Tijuana, Guadalajara, Tokyo, Bangkok, Singapore and Colombia his reputation as a selector of note is now recognised all over the globe.
As a producer Hotmood has also crafted impressive credentials. Regularly finishing high up in Traxsource's revered end of year bestselling artists charts he has released with some of the leading disco labels including Tropical Disco Records, TheBasement Disco's, Chopshop, Poetry in Motion, Masterworks and Nomada. Strong DJ support has also been incoming from artists as diverse as Mark Farina, Session Victim, Art Of Tones, Black Loops, Homero Espinoza and Coeo.
2020 has seen Hotmood take advantage of the worldwide lockdowns to venture into the studio to create a whole new series of releases and also to focus on his label Discoweey so we can expect a whole lot of new disco heat coming out of his Mexican base over the coming months
Hotmood has just dropped a great track with Casablanca Sunset in the shape of the feel good Brazilian party jam Te Voy A Encontrar. To celebrate we spoke to him about his career and the bubbling Mexican scene. he also recorded this absolutely brilliant Worship mix for us where he dug deep into his collection of lost 70's Latin disco for one of the best mixes that we have hosted here on LV online. Please give this one a share over on Soundcloud and help spread the love.
Hotmood Talks Mexican Disco, Sample Digging and Discoweey
Hi there Hotmood,
Thanks for speaking to us today.
Musical Background
Firstly please can you give us a little bit of info on your musical background and what was your journey to becoming a disco producer specifically?
I was born in 1978 so I grew up listening to break dance and hip hop. As I grew up I always listened to the samples that my favorite artists used, most of them were samples from the 70's from funk and soul jazz albums.
When I started digging and finding the samples it was like finding a treasure and that's why I started producing. It was always something really impressive for me to find my favorite samples and find a way to transform them and make them sound different but never losing that unique sound from the 70s. I always knew that everything I liked had come from Disco, Funk, Soul and Jazz.
The Sound of Hotmood
How would you describe the musical style of Hotmood as it is in 2020?
I think my style has always been the same. It's Disco Groove with touches of many genres that I like such as Soul, Funk, Jazz. Afro.
3 Essential Hotmood Tracks
Please can you give us three tracks from your discography which you would say are quintessentially Hotmood?
Hotmood – Superstar
This track is for me the most special because it was the first to be printed on vinyl
Hotmood – Move Into The Night
I love the groove of this track
Hotmood – Por Que Me Dejaste
The Latin flavor must never be missing
Casablanca Sunset
How would you describe your latest release 'Te Voy A Encontrar' which is out now on Casablanca Sunset and please can you give us a bit of history about the release?
I am a true fan of Brazilian music from the 70s. For me it is the country with the best funk and disco in Latin America. Casablanca Sunset contacted me and I thought that was the perfect track for them. It has had very positive results.
The Mexican Scene
You are based in Mexico which has a hugely exciting disco scene at the moment. What do you think is behind the current flourishing of Disco coming out of the country and who are some of the key producers for you who are driving it on?
I think that Disco in Mexico is not so exciting for many people. Most electronic and dance music lovers here are Techno fans. I think that there are only a handful here working in the disco movement. However, the few that there are really want to expose our work to all the world. My friends that I respect and love their work are: The Funk District, Sould Out, Monsieur Van Pratt, Rafael Fernandez, Levantine, Selva & Clean Is Good. There are also some new talents who are doing amazing things inclduing Polux, The Velvet Stripes, Moonroy, Disco Lust and The Move who I am very happy to have feature soon on my Label Discoweey.
Your Studio
Please can you tell us about your studio. What is your production set up? What is your indispensible piece of equipment or plugin that you use for the Hotmood sound and what is next on your studio shopping?
My studio is very basic but at the same time it is a dream come true. All my life I wanted to have my own space with a beautiful view, my own sanctuary. Right there I do yoga and I can spend the whole day. I am very happy.
Currently I am working with my Mac and FL Studio. I have a Novation controller and my little turntable to scratch when I'm stressed. I also have a Brazilian Zurdo. I am very comfortable with that.
I would love an AKAI MPC and some YAMAHA HS8 monitors. I hope to get them soon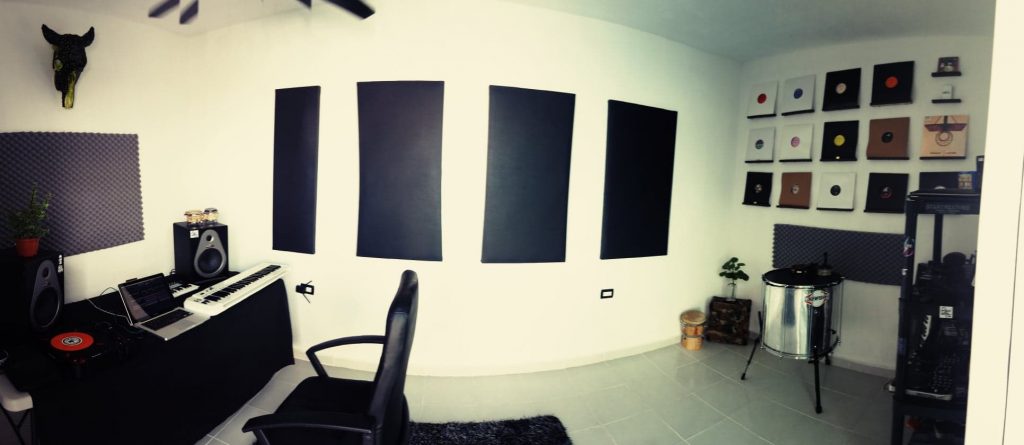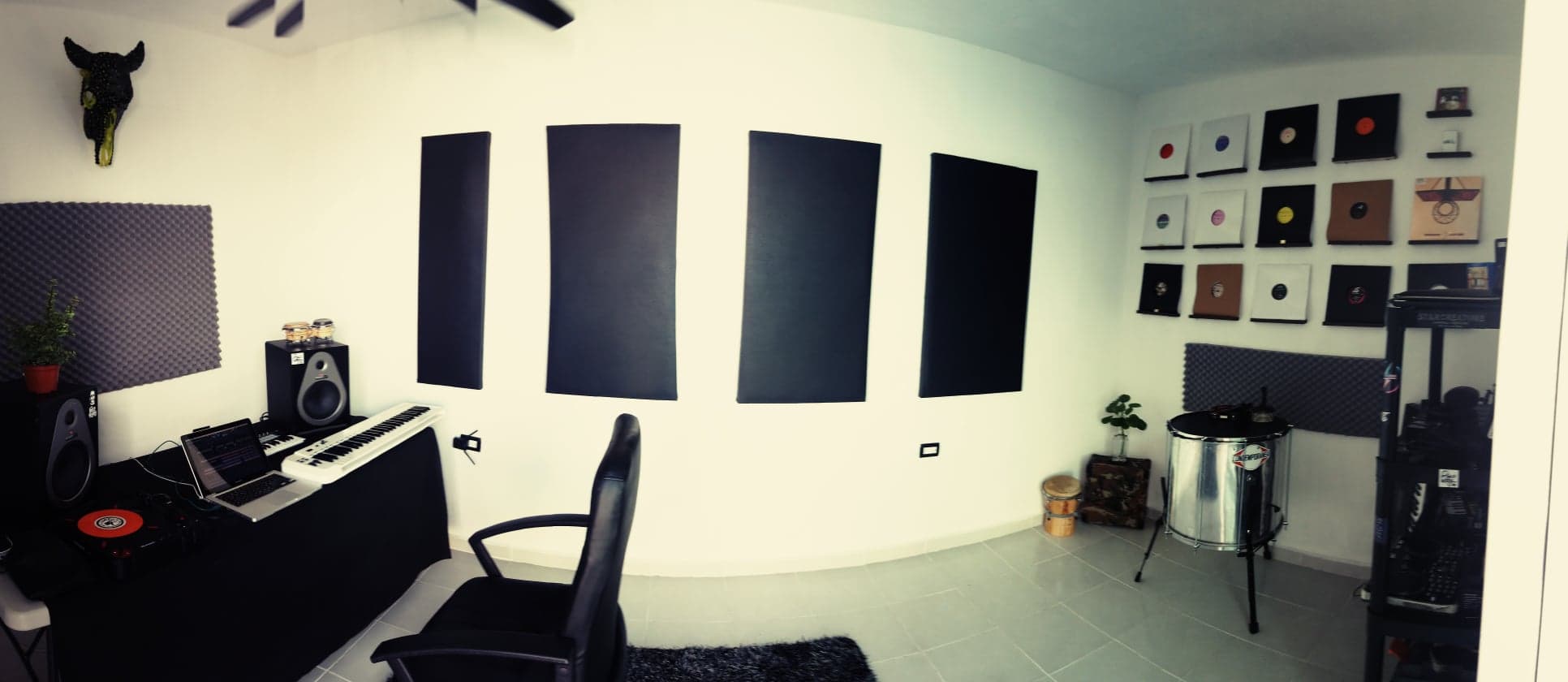 Influences
Please can you give us 3 producers who you would say have directly influenced your style of production?
Dj Quik
He was a talented 90's rapper. His music and beats inspired me a lot. I also spend a lot of time each summer cruisin with his music.
Moodymann
I love his musical style
Opolopo.
A legend!
Favourite career moments
What would you say are your favourite Hotmood career moments to date?
I had a great time when I went to play in Singapore, they treated me amazingly well. In addition to the fact it is an incredible country it was my first time on the Asian continent. Also in Colombia I had an incredible experience with Dicky Trisco. I really appreciate being able to travel to different parts of the world thanks to my music. I'm totally grateful.
Discoweey
You are also behind the excellent record label Discoweey. Please can you tell as little about your journey to setting up the label and what is the ethos behind Discoweey?
I always wanted to have a Label, I thought there is definitely too much talent that has still to be heard so I decided to open my own label called Discoweey.
It is focused on getting quality music, not quantity. I am very grateful for the excellent artists who want to be part of Discoweey, The first ever vinyl release will also soon be out on Discoweey, DWV01 featuring Hotmood. I am very excited about that. Stay tuned!
What else can we expect from Hotmood in 2020?
I can't stop making music so expect a lot of music this 2020 with more release on vinyl. I'm throwing out good vibes so that this damn pandemic ends soon and I can continue with future plans to be able to travel to Europe, the US and ASIA. Also In 1 month my son Iktan (Hotmood Jr.) is born so I am more than blessed and excited.
For more info on Hotmood please check:
Hotmood Facebook: https://www.facebook.com/discoweey/
Hotmood Soundcloud: https://soundcloud.com/hotmood
Discoweey Facebook: https://www.facebook.com/discoweey/
Discoweey Soundcloud: https://soundcloud.com/discoweey
Love this? Check out more from Hotmood HERE
Like what you hear? To help support LV Online buy us a coffee via Ko-FI. Click HERE
Tags:
Discoweey
,
Hotmood
,
Mexican disco
,
Mexico