Felipe Gordon Talks about Highly Conductive Rhythms on Heist Recordings, Nómada Records, Colombian musical heritage and lots more!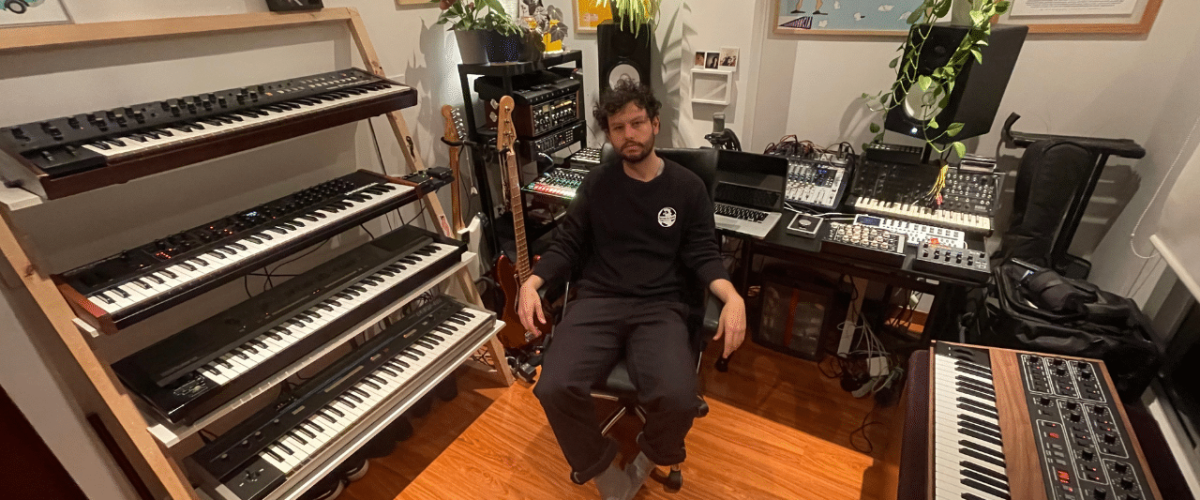 Felipe Gordon Talks about Highly Conductive Rhythms on Heist Recordings, Nómada Records, Colombian musical heritage and lots more!
Like what you hear? To help support LV Online buy us a coffee via Ko-FI. Click HERE
An Interview with the Insider for Le Visiteur
Our regular readers will know that we are huge fans of Colombian producer Felipe Gordon. His album 'A Landscape Onomatopeya' on Shall Not Fade is right up there as one of our albums of the year. Now Felipe is back with an EP on the brilliant Heist Recordings label. Highly Conductive Rhythms see's Felipe create a musical tapestry showcasing his musical diversity across the four tracks touching on acid house, Chicago house, deep afro edged house and of course jazz infused house, a sub genre that Felipe has quickly become one of the stand out proponents.
It's another wonderful release on one of our favourite labels which sees Felipe continue his ever impressive journey through electronic music, building an impressive and vocal following wherever he go's.
The insider took the chance to speak to Felipe about the EP, his label Nomada, Heist Recordings, his home country of Colombia and so much more. It's fascinating interview. Check it all out below!
Grab Felipe Gordon's 'Highly Conductive Rhythms EP' on Heist Recordings from 8th October: https://heistrecordings.com/album/highly-conductive-rhythms-ep
Thanks for taking the time to talk today, Felipe. We are huge fans over here at Le Visiteur.
Hey guys, thanks for having me again, appreciate all the support!
How is the mood in Colombia right now? Are clubs open? Have festivals happened this summer?
So, basically everything is starting to open but not at 100 percent capacity. We've started to have small concerts again and people are definitely going out, but we still need to wait some time to get to the point where things are back to "normal" you know?
Colombia is drenched in Latin influence and culture, with land borders with five countries, and many regional cultures within its own borders, I guess this mix and blend of so many different influences results in so much heat and flavour in the music that comes out of Colombia?
Yes totally, we are a lucky country because of all the musical influences we have all around the territory, especially Afro Colombian and indigenous roots are a BIG and super important part of our heritage, I come from a more cold and less tropical scene but I feel that I've been heavily influenced by all these different genres through my whole life.
I heard about the Cali district and that there's a buzzing scene there to visit for Salsa, is that right?
Yes, Cali is one of the biggest cities in Colombia. Musically they have their own thing going on, lots of salsa, buyerengue, son, salsa choque, a lot of stuff is happening there, they have an amazing festival called "Festival de Música del Pacífico Petronio Álvarez" and it's one of the most unique and special festivals out there, it blends all the afro Colombian musical heritage, If you got the time, please visit the city. It's an amazing mix of cultures and lovely people all around!
Is there a dedicated House scene anywhere in the city of Bogota? Where is the place to go if you went to Bogota and wanted to listen to house?
Yes, there's a lot of people making things happen nowadays. I feel it's getting bigger, and people are getting more aware about the niche of house and all it's different branches.
At the moment there's 2 clubs playing some house on their line ups, Videoclub and Kaputt, both are really nice and big clubs with superb sound systems and cool people working behind them. Definitely check them out!
You seem to us to have come out of the blue the last two years, with your releases on labels like Shall Not Fade, Toy Tonics and Razor N Tape. But clearly, you've been working at this for some time. When did your DJ journey begin? Where were you playing in your early days?
Actually, I haven't been involved in "the game" for that much time. I started making house music 6 years ago, it's been a quite fast ride. I feel I've been all about jazzy and sort of melancholic or musical styles my whole life. Also, I don't consider myself that much as a DJ rather than a composer or a musician you know? So, for me it's more about my first tracks rather than my first Dj sets.
Here's one of my first tracks:
When did the international career begin? What was the starting point of this?
It all started happening probably 3 years ago when I got the chance to start touring in a more serious fashion, I guess. But mainly I would say the releases on bigger labels started to make my music available to so many more people and it's been quite a lovely and steady journey since then.
At which moment did you begin to make music or was this before you began to play out as a DJ?
It was a long time ago, something like 12 years or so. I used to have a punk dance band and some other projects, but my first thing was drumming back in high school. After that, I just decided to do a music degree. The DJ thing was more on my mid 20's when I discovered bands which were combining electronic instruments with a more heavy and "rockish" sound, that was what got me into the electronic music scene to be honest.
I guess your ear for music, your interest and passion must have come a long way back, as not only are you a competent DJ and producer, but you're also a multi musician. What are the instruments that you play? Did you have formal training for this?
Well, I wouldn't consider myself as a super talented or virtuoso multi player, I just love experimenting with instruments. I started with drums when I was 17, then I studied singing for 4 years in college and then synthesizers came along; for some months now, the bass has been my recent instrument affair, and I've played guitar and piano almost my whole life. Again, not in a superb way but it helps me develop my melodic and harmonic idea in a much more free way.
Your style of production has its roots in Latin of course but it's clear to hear your love of jazzy beats. What was the root of your jazz love?
There's something about the cool jazz era that just resonates so much with me and the way I feel about life. Something about the inherent melancholic feeling, the freedom, the way they played their instruments in a subtle yet powerful way, the solemnity of the message they were delivering it's just amazing. You have these icons with their special way of translating a huge message into music and that for me is more important than anything else.
Who were the artist you were into growing up? 
Bob Dylan, Late of The Pier, LCD Soundsystem, Nina Simone, Dilla, Bill Evans, Miles Davis, Howlin' Wolf, The Doors, lots, and lots of different stuff.
What was the first release you put out as Felipe Gordon? 
Was a hip house bootleg remix of dead prez on Nómada called "No Days Off"?
Your debut album ' A Landscape Onomatopeya' on Shall Not Fade arrived and promptly sold out on vinyl in May. Did you enjoy the album making process? Is this something you will tackle again soon?
It was something super natural and organic in the whole process, which was really special and important for me. I'm going to give myself plenty of time to come up with something different from the first LP, but I actually have a deal already with my Razor-N-Tape family to make it work.
At which point in your career did Nómada come? Is this something that you do alone?
Actually, Nómada was the first thing I attempted in the electronic world with my Colombian friends, Ivan Lozano (Joint4nine), Nicolás Saavedra (Kabinett) and Andrés Tarquino (Tarvino). We've been doing this for 5 years now and we are getting better at it. Still too much stuff to do and lots of releases coming 🙂
The SofaTalk and Last Nubian release was really impressive. Tell us a little about the 'split series.
Well, when we started planning our first vinyl releases, we wanted to include all of our tracks because for some of us, this was our first vinyl release ever. So we came with the concept of the "Nómada white" releases which basically were compilations, but on the second one we wanted to do a split between 2 artists we really liked. Again, just to make the best out of every release and still have an interesting story to tell on each release.
With SofaTalk and Last Nubian we wanted to make this broken beat/deep house release; we've been fans of Piero's music for some time now, hi's sound is absolutely massive and he is an amazing musician, so after some attempts, we finally made it happen. Last Nubian is someone I personally feel is musically evolving towards a deeper old school sound which at the moment I'm trying to achieve too so it was a match made in heaven!
I know that Bogota is a mecca for street artists and the graffiti is incredible. I love the artwork and style that you're using on Nómada. Is there a particular artist you are using on that?
That's lovely yes. Bogotá has this amazing cultural scene and graffiti and art is a huge part of it.  Personally, I like to manage a bit of the artwork part of the label because I feel we've found some amazing Colombian artists to work with.  At the moment we are working with this really amazing and really well-known Colombian artist/illustrator called Enka. He was creating murals and paintings all over Bogotá and it was a personal achievement to convince him to work with us. He's been doing an amazing work for us and we are proud of the last releases!
You can check all his work here: https://www.instagram.com/enkailustracion/?hl=en
How did the connection begin with Heist? Have you been a fan of the label?
Well, that was a matter of time, I guess. I've been a fan of the label for some years now, and it was a personal milestone to release with them. I admire their curatorial expertise and they are just 2 of the nicest people you can find in the scene these days.
I started sending demos to them like a year ago and finally the 4 tracks of the EP caught their ears and here we are now 🙂
Great label for you to continue your release plan on. I hear you've been a fan for some time. In an ever-increasing sea of labels, why do you think Heist is such a strong and consistent force?
I feel they are just really good at 'who's' releasing on the label and the image of the label is simply so cool, so everything is set for it to be great. Everyone loves them and respects their musical endeavours so it's a nice window for some younger and less known guys like me I guess 🙂
The 'Highly Conductive Rhythms EP' is infectious! You can hear so clear the 'renaissance' in the opening track. The high hats, the Cuban Horn, such a double vintage feel. All the tracks are so diverse. Talk us through the different styles you have on this release.
Thank you for the lovely words on the EP man, appreciate it!
Well, yes, this EP is something I built as a concept based on some of the styles I enjoy making. It has acid house, old school Chicago house, jazzy house, and some afro deep house. I was making a ton of tracks for the Swindles and tried not to stay in a single place you know?
I was trying to showcase my musical influences. I guess, I feel it's an EP which tells a broad story and people can relate to any of the tracks on it.
Have you got some nice gigs lined up in the coming months?
Yes definitely! At the moment I'm living in Ghent, Belgium, and going through this 3-week tour through Europe, then I'll be in the States for 2 weeks and then back to Colombia to play some shows. I haven't played there for 2 years now, so it's going to be great 🙂
Can we look forward to welcoming you in UK at some point?
March 2022, I have a confirmed gig in London, so we'll finally meet there!
What other releases are you working on at the moment?
Everything is signed for next year. I already have 11 releases for 2022 (including Shall Not Fade, Toy Tonics, Razor N' Tape, Royal Oak, Phonica, Delicieuse Musique, NDATL) and some other sweet labels so I'm going to take some time to tour, play and enjoy life 🙂
It's a pleasure to learn more about you Felipe. Wishing you much success with this new EP. Thanks so much for your time.
Thanks again for the cool questions and I hope you are safe and happy my friend, Adiós!
Grab Felipe Gordon's 'Highly Conductive Rhythms EP' on Heist Recordings from 8th October: https://heistrecordings.com/album/highly-conductive-rhythms-ep
For more info check:
Felipe Gordon Facebook: https://www.facebook.com/felipegordonmusic/
Felipe Gordon Soundcloud: https://soundcloud.com/felipe-gordon
Felipe Gordon Instagram: https://www.instagram.com/felipegordon/
Heist Recordings Facebook: https://www.facebook.com/HeistRecordings/
Heist Recordings Soundcloud: https://soundcloud.com/heistrecordings
Heist Recordings Instagram: https://www.instagram.com/heistrecordings
Heist Recordings Twitter: https://twitter.com/HeistRecordings
Tags:
acid house
,
afro house
,
Deep House
,
felipe gordon
,
Heist Recordings
,
Jazz House