Flevans Talks About His Career, Crafting Albums And His New Album Accumulate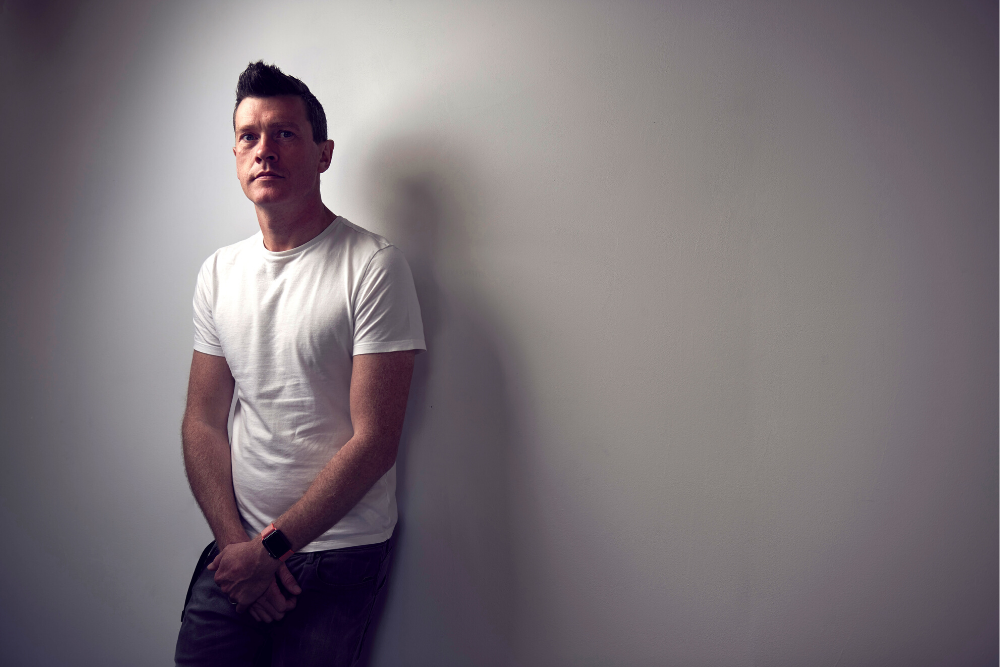 Flevans Talks About His Career, Crafting Albums And His New Album Accumulate
Flevans has been a real shining light on the funk and soul scene since the early 00's. Releasing his first 12" via the legendary Tru Thoughts label his partnership with them would spawn multiple EP's and 2 albums. During the same period Flevans would also play many high profile gigs with Steve Lamacq championed band Backini. Those years would leave and indelible mark on his career. His musical journey has seen Flevans evolve from the feel good sample heavy funk of his original EP's into a full songwriter championing live instruments and the inclusion of many talented vocalists within his work. His music has been in huge demand not only from an ever growing legion of fans but also on screen where it has been featured by Nokia, BSkyB, DFS and ESPN.
Fast forward to 2018 and Flevans has built a whole new label relationship this time with the hugely rated Jalapeno Records. It's a partnership which has seen him in incredible form. The release of his 'Part-Time Millionaire' album in 2019 would see him gravitate to an ever more song based structure in his music with Elliott Cole, Laura Vane, Sarah Scott, and Izo FitzRoy all contributing. It was a watershed moment of sorts for Flevans and one which led in quick succession to the release of another album this year. 'Accumulate' see's Flevans combine the multiple genres that that he has absorbed over his musical journey including funk, soul, disco, pop and electronica into an album which is both immediately familiar yet uniquely Flevans. It also see's him cement his move to full vocal based tracks. With a string of critically acclaimed singles already out and strong DJ and radio support for the album we thought that it was the perfect time to talk to Flevans in depth about his hugely impressive career and the new record. He also put together this brilliant mix for us. So please give it some lover over on Soundcloud.
Grab Accumulate from: https://flevansofficial.bandcamp.com/album/accumulate
Hi there Flevans,
Thanks for speaking to us today.
You have already had a hugely exciting career. Going back to the start what are your first memories of getting involved in music and what was the journey which led you to signing your first EP with Tru Thoughts?
Thanks for speaking to me! Well I've played music all my life really, starting off learning double bass and piano and moving through playing in jazz bands and ropey cover bands….until I got to university where, obsessed with the new discovery of sampling and old funk breaks, I spent pretty much the entire 3 years locked away sampling obscure sounds and funk breaks using a basic sampler and 4 track recorder. These would form the demos that eventually got me signed to Tru Thoughts when I moved to the south coast in the early 2000s.
What was it that drew you specifically towards the funk sound initially and were there any key records or club nights which you would say really focused your attention on that genre in particular?
My exploration of funk and soul was really driven by my discovery of producers using samples from those genres – the first album that blew my mind was Executive Suite by the Wiseguys, then at university I was obsessed by early Ninja Tune and Mo' Wax releases, especially DJ Shadow's Entroducing which remains one of my favourite LPs to this date. I then worked a bit in reverse hunting out tracks which had been sampled, initially ripping through Blue Note and Blaxploitation stuff before getting lost in I guess what you'd call classic funk and soul, Stevie, Bill Withers, Marvin Gaye etc.
At the time we were going to a lot of the Ninja Tune club nights in Old Street and when I moved to Brighton, Tru Thoughts 'Phonic Hoop' was a big night and ticked all the boxes for me musically. That said, I can't really remember much about any of those nights…..probably enjoyed partying a bit too much for my own good at that time!
Your music has changed subtly but consistently over the years from the sample based releases of the 00's to the song based arrangements that you create now. What for you have been the 4 key Flevans tracks which best show this musical evolution?
Flevans – Small Room Syndrome
This was the song that defined my Tru Thoughts days and my early career – it was used on a couple of adverts and made me just about enough money to set up a studio and try and take music seriously. I used to love quirky / cheesy samples. My whole debut album revolved around them!
Flevans – 12 Apostles
Taken from my second album, Unfabulous, – this was the first of my tracks that was noticed in the funk and soul scene, and is more of a mix of samples and my (rather shonky) live playing!
Flevans – A Distant View
My most streamed song on Spotify – I'd taken best part of a decade to write a new Flevans LP, and eventually released one on Lack of Afros label in 2016. This is the title track and one of my faves
Flevans – Realisation
A track from the new LP that I think defines where I am musically now – featuring Laura Vane who I've worked with a lot – a hypnotic top line and club leaning drop in the second half. Proud of this one
How would you describe the musical ethos of Flevans as it is now in 2020?
I think my music can always be described as 'feel good' and I'd like to think that everything I release is honest – I've never taken what I do too seriously and always allowed myself to write and release whatever I'm feeling at the time. This has been a bit of a curse at times as I've found it hard to stick to one style from album to album!
Your latest album is Accumulate. How would you describe the album and what are some of the key tracks from the album for you?
Well, Accumulate is very diverse and really takes in all of the styles that I love – from classic instrumental Flevans ('Power Rocks You') to more 'house / disco' driven tracks ('Realisation' / 'Speculate') to as close to 'pop' music as I'm likely to write ('Oh Bernice'). I'm proud of it, but I also recognise that it doesn't fit in any one genre comfortably.
How has working with Jalapeno Records influenced you as an artist and in particular how did it alter your creation process when making Accumulate?
They're a great label – It's been a privilege to be on the label with some really successful and growing acts. They're always good at offering direction but really encourage their artists to do what's right for them. I'm not sure it altered my creation process for the new album, but gave me the platform to at least attempt to build on my previous album and expand my sound…
Given the current situation with the Corona pandemic how has the promotional run for the album changed from how you would usually push a Flevans album? Are there any notable new ways that you have come up with to help get it out there with the absence of the traditional tour?
Ah, well, it's been a real struggle if I'm honest – I mean, I've felt very fortunate to be able to work from home – but juggling new album promo with being locked at home with 2 young kids has been really difficult. We weren't able to push on with the live band for this release and probably now have missed the boat on that one. I respect all the DJs and producers doing live sets and finding unique ways to promote themselves online during the pandemic, but I've not really found something that works for me! What little spare time I've had I've spent writing and trying to enjoy the process of writing again.
At a time when the LP is almost becoming an after-thought for many artists you continue to craft some fantastic song collections. What recommendations would you give to artists who are thinking about recording their first LP?
Ah, that's a tough one to answer right now but I'll try and be as honest as I can!! During the last few months I've really started to think about how I want to move forward with my music career and whether the constant focus on an album is, for me, a worthwhile one. I love the concept of an album, a journey for the listener…but increasingly I recognise that so few people stop and listen to an album from start to finish. It's always odd tracks that people notice. As an artist, you put EVERYTHING into making an album as strong as it can be and, if it doesn't get the traction, or the radio support etc, it can be really tough – you work on something for a year, for two years, and then put it out to be judged as a piece of work. I guess if that works then it's great, but it can be very tough when it doesn't. But, if that's the path you take, then think about the listeners journey, keep all the songs consistent sonically and don't take toooooo long to finish it – an album can be a labour of love and people lose years and years trying to get it right!
You have now developed a real sound which is immediately recognisable as Flevans. How do you see this sound developing over the next few years?
Right now, my love lies in the disco / nu-disco / house scene which is pretty much all I listen to. I think that, as I mentioned in the last question, I want to release odd tracks and EP's but much more consistently – the next few releases will be instrumental and will definitely be more disco / house leaning!
How difficult has it been to adjust to the down time without being able to get out and gig during the corona lockdowns and what musical projects have you been working on while housebound?
Yeah, it's been tough – we had a launch gig booked for the new album and then were looking to tour this summer, so none of that has happened. That said, the hardest thing has been adjusting to being locked in the house with 2 young kids! As I mentioned I've already got a few new instrumental tunes written for (hopefully) the next Flevans release – I've also started work on producing some of Scooby Jones' solo tracks (he appeared on a couple of tracks on my new LP). They are sonically very different, so that should be interesting as it develops.
Please can you give us 3 artists who you would say have directly influenced your own musical journey?
DJ Shadow – Midnight In A Perfect World
The album that opened me up to the world of production, sampling and beats. Beautiful tune.
Bill Withers – Lean On Me (Live At Carnegie Hall)
The best live soul album of all time. Beautiful musicianship and effortless vocals. Have listened to this album more times than is healthy.
Basement Jaxx – Red Alert
I love Basement Jaxx. So ahead of their time. And no one like them since. The perfect blend of underground styles and pop music. Also they've played some of the best gigs I've EVER seen.
And finally what else can we expect from Flevans in 2020?
Hopefully a string of killer disco tracks and EP's and venturing into some new musically territory! Watch this space…..
Grab Accumulate from: https://flevansofficial.bandcamp.com/album/accumulate
Love this? Check out our Nu Disco playlist HERE
For more info check:
Flevans Facebook: https://www.facebook.com/flevansuk
Flevans Soundcloud: https://soundcloud.com/flevans
Jalapeno Records Facebook: https://www.facebook.com/jalapenorecords
Jalapeno Records Soundcloud: https://soundcloud.com/jalapeno-records
LV Mixtape 152 – Flevans – Tracklist
Izo Fitzroy – Blind Faith (Art Of Tones Remix)
Sunner Soul – Really Don't Need
Hotmood – My Bright Red Juicy Lips
Flevans – Realisation (Lonely Boy Remix)
Flevans – Realisation (Re-Tide Remix)
Sartorial / Simon Kennedy – Strange Feeling
Arthur Reynolds – Something Strange (Nicolass Disco Mix)
Disco Dandies – Inside Your Love
Re-Tide – We Got The Funk
Hotmood – We Got The Power
Jarred Gallo – Put Up Or Shut Up
Fantastic Man – Look This Way
Discoslap – The Beginning
Sebb Junior feat. Eider – Come Back (Art Of Tones Remix)
Cody Currie / Thumpasaurus – A Train
Wayne Soul Avengerz – Someone Like You (Trois Garcon Mix)
Saison – Moody Blues
Delfonic & Kapote – Maison Rejam
HP Vince – You Groove
Sebb Junior – I Can't Take It
Crush Club ft Nicki B – My Man (Supermini Remix)
Tags:
DJ Shadow
,
Flevans
,
FUNK
,
Jalapeno Records
,
soul