The Wonderful World of 'Fresco Edits' and LV Disco Selectors 45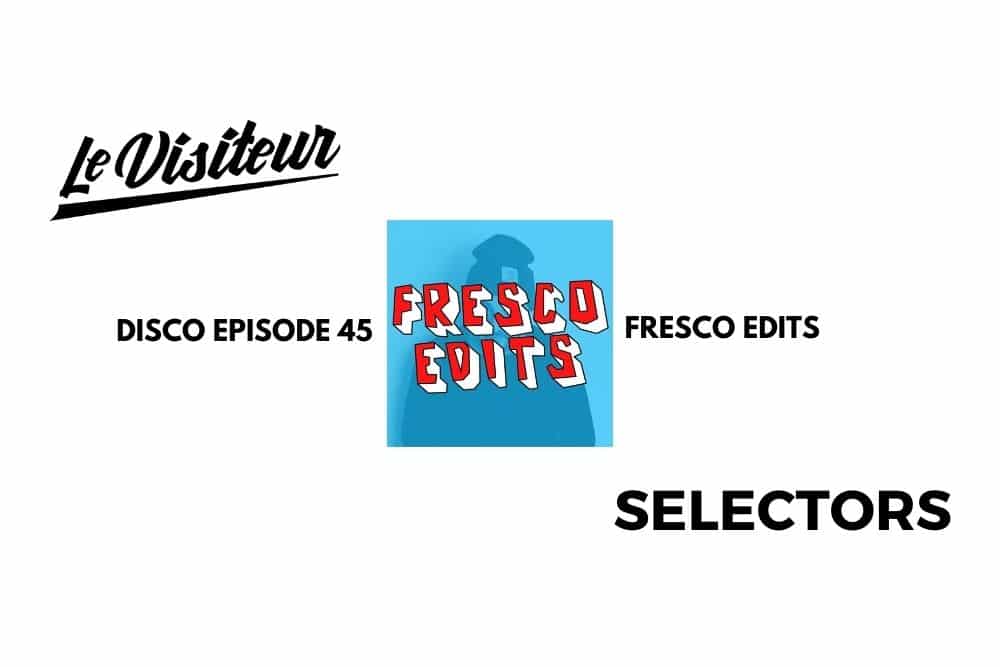 The mysterious Fresco Edits has become a real go-to label over the last three years. Now on it's seventh edition, from which we premiered Dr Dwarf's Go And Cry a few days ago HERE, it's a disco edits label which keeps things firmly on the funky and underground edge of the spectrum. Never one to rehash well worn classics the producers behind the label definitely put the work in digging deep continually coming up with real gems.
Ahead of the release of Vol 7 I spoke to Fresco Edits about the label and he also put together a rather tasty live mix for us recorded at the beach in his home town.
Please can you tell us a little about your journey to setting up Fresco Edits and what was it that led you to launch the label?
I started this label in 2019, coming from 15 years traveling the world with my NiCe7 project. I was very tired about the music market and his crazy rules, so I started to collect all my edits and all the music I did just for fun, most of the time to escape from the market rules. I've been A&R of a good digital label, worked with good artists and cool "dancefloor stuff", but there wasn't my soul anymore doin' that music as a job. So FrescoEdits for me was something like to go back to those times when I started to work with music as a hobby, during my university time.
I decided to make this white label "only for djs".  We press 200 copies, I wanted to keep it as much as I could the same of the old "white labels" I used to buy in late '90s and 2000. Nothing about money, just something about feelin' the dj-community as we made in the past.
What I need is to have no rules, to do what I feel with no filters. No marketing strategies, no stress, pure pleasure.
How would you describe the musical style and ethos of Fresco Edits right now?
Fresco is a journey from disco to more housey stuff. All about re-editing and smart sampling ideas. I've been a big fan of "the art of sampling" for my whole life, I spent years studying how the biggest hits of nineties came from '70 samples.  🙂
Who are your greatest label influences?
TUFF CUT
I started to collect LNTG edits in 2014, they're just AMAZING!
RAZOR'N TAPE is absolutely the most inspirational label for me, my idea about FrescoEdits started when I start to collect all volumes by RNT. This one is my fav of 2021!
Todd Terje – Ragysh (RUNNING BACK)
Todd Terje is my fav artist, he's a master of re-edits but I really love his original productions too.
I love "Raggsh" and I like a lot the RUNNING BACK's eclectic attitude and approach.
What 3 tips do you have for budding label owners out there?
1) Follow your ears
2) Follow your earth
3) Follow your ears and your earth
What would you each say is your proudest label moment to date?
It's right now, the only and only DJ HARVEY is supporting and playing FRESCO-07.
It means a lot for me, it's exactly the direction I would love to give to the label.
I'm so proud about how the label is getting respect and credibility release after release.
What can you tell us about your most recent release Fresco Edits 07?
This is the 7th volume of the saga, and this is the first one not produced by myself.
The previous six volumes are 24 edits done by myself, but I started getting demos from many artists almost from the beginning, so I decided to make the label start this journey with other artists too.
I put together in FRESCO-07 an established and very well known artist, on the A-SIDE, which is under the secret name of LRS, and a totally unknown young producer from my hometown (it's his first release ever), DR.DWARF, on the b-side.
That's exactly the kind of mood of the label…not about hype, just about music.
What can you tell us about the theme of the mix you have done for us, what are some of the key tracks for you and how does the style of mix here compare to how you would approach a live DJ set?
I recorded this set live, so you can hear the vibe of what I'm doin', surrounded by friends and music lovers. I started a residency on the beach in my hometown, doin' my own FrescoEdits label party every Sunday, in the centre of Italy, in Abruzzo.
Daytime, on the beach: this project couldn't start in a different place 🙂
What are your plans for the label over the next 12 Months?
FRESCO-08 is ready to go, this time another chapter with edits just by myself, and they'll be all Italian music edits.
FRESCO-09 is ready too, they need to go for mastering, and there will be 2 edits by LV (my good friend from around 20 years, an Italian dj and producer) and 2 by myself.
Then, we'll have a chat next time to speak about FRESCO-10…maybe you could wait for some original tunes too?!?! 😛
Grab Fresco Edits 07 from: https://www.juno.co.uk/products/frescoedits-07/869215-01/
For more info please check:
FrescoEdits Facebook: https://www.facebook.com/frescoedits/
FrescoEdits Instagram: https://www.instagram.com/frescoedits
FrescoEdits Soundcloud: https://soundcloud.com/frescoedits
Like what you hear? To help support LV Online buy us a coffee via Ko-FI. Click HERE
Like this? Check out more from Fresco Edits HERE.
LV Disco Selectors 45 – Fresco Edits – Tracklist
1. Dr. Dwarf – It's too late [FRESCOEDITS-07]
2. Róisín Murphy – Ancora Ancora Ancora (Severino & Nico De Ceglia Remix)
3. Bruno Belissimo – Funk Rimini – Disco Eccezionale (Marvin & Guy riviera Mix)
4. FrescoEdits – Dall'amore [FRESCOEDITS-08] – unreleased
5.Midnight Magic – Beam Me Up 6. TT Edit Series 09-01 Paul Older – Bye
7. Loleatta Holloway – Mama Don't Papa Won't
8. FrescoEdits – Sparring [FRESCOEDITS-08] – unreleased
9. Kiwi – We Are Here (Original Mix) [Toy Tonics]
10. SAULT – I Just Want to Dance
11. LRS- A part of [FRESCOEDITS 07]
Like what you hear? To help support LV Online buy us a coffee via Ko-FI. Click HERE
Tags:
disco
,
Fresco Edits