Hifi Sean on remixing Loleatta Holloway and Fire Island, McHifi and working with Bootsy Collins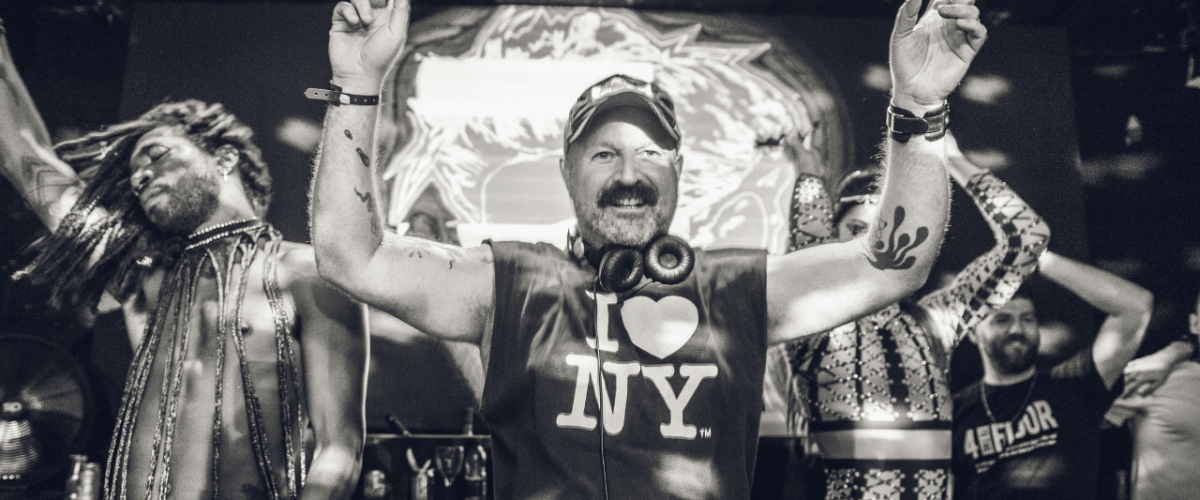 Hifi Sean on remixing Loleatta Holloway and Fire Island, McHifi and working with Bootsy Collins
Hifi Sean has been a regular on the pages of LV online of the last couple of years. One of the things we love about him, apart from a shared passion for Prince, is that he always conjures up some fascinating projects which stand out from the rest of what is happening out there.
His latest project see's him unleash an absolute killer with the upcoming vinyl release of his remix package for Fire Island Featuring Loleatta Holloway – Shout To The Top. After getting his hands on the one-off acapella for the track from Fire Island's Terry Farley and Pete Heller he set about restoring the vocal to it's former glory from the Dat and conjuring up brand new remixes from scratch. It's a wonderful project which has developed into one of the most hyped releases of the year so far. Hifi Sean has succeeded in creating three killer mixes which give the track a whole new lease of life brining it to the attention of a whole new generation. We reviewed it a few days ago and you can check out that review HERE.
It's always a pleasure catching up with Sean and we had a good chat about his work on the project, his recent rediscovery of a lost track remix of a track he'd worked on with the legendary Bootsy Collins and his McHifi project's hugely anticipated upcoming album.
Sean also put together an absolute screamer of a mix for us, check it out below and please give it a share over on Soundcloud. You can also check the full tracklist at the bottom of this interview.
Hi there Sean,
It's a pleasure to speak to you again.
We last spoke back at the very end of 2019; it's obviously been a tumultuous time since then. How have you found the last year? Have you found it a period where you have been able to create?
I think like everyone the first month of the pandemic was more a month of shock and disbelief like we were living out some kind of 70's BBC2 documentary drama unfolding everyday. As time went on I started to connect remotely with some other writers and producers and I've been writing with them mainly for their own material. Then I started to concentrate on my project with David McAlmont 'McHifi', again remotely, we started writing more material for our debut album and after a couple of weeks not only had we finished everything for that first album but we had also written half of a second album.
I decided to mix the debut 'McHifi' album myself so I bought some more needed equipment and I have spent the last few months slowly mixing , tweaking and finessing the sonics of the album and working hand in hand with an amazing mastering engineer to take it to the last stages. The ironic thing is today while I write this I am waiting to put the final mastering touches on it and then the album is done.
This is not a DJ or club based project but more a freestyle electronic soul odyssey based around great songs but presented in an interesting and challenging style. Some of the tracks also have full live orchestration.
Your latest release see's you going to work on a 90's classic Fire Island ft Loleatta Holloway – Shout To The Top. What was it that made you decide to bring it back and what can you tell us about your remixes of the track?
It all came from me playing the original in my DJ sets a lot and also adding it to my fave tracks I chose on Ana Matronic's Dance Devotion show.
Terry Farley told me recently that Pete Heller found the vocal on a dusty old DAT tape and would I be interested in working on it, that turned into a lockdown #1 muse for me where I spent days trying to work out the BPM of the vocal as there was no record of what tempo it was and it fluctuated between BPMs due to being recorded on tape.
It was in equal parts science and musicology.
What was it like working with such a rare vocal from Loleatta Holloway?
I mean Loleatta is one of the most sampled voices in the house and disco scene. How many DJs have you heard drop those speeches from Stand Up or Crash Goes Love over a DJ set. But to realise I was one of the only people sitting here with a full vocal from her to edit how I wished was so exciting. I have worked with some amazing soul singers over the years but the power on that actual voice in the acapella was unreal.
The only issue I had was that there was parts of the vocal where there was SMPTE bleed running through (Google it for the younger ones out there ha ha).
It was obviously running next to the vocal track on the master tape and also there were parts with an audible click track too. So a lot of editing and filtering was done over days to save the vocal and get myself a full acapella to work with.
The next issue, as I mentioned above, was the BPM as it was recorded on tape and also with live machines running with the SMPTE so there are always fluctuations. To cut a long story short it was a lot of work ….but worth every single minute of it to end up with what I had to play with.
Pete Heller and Terry Farley who were Fire Island are obviously both scene legends, how well did you know them before you decided to remix Shout To The Top?
Terry is a good friend and he reached out to me when they found the tape and I jumped at the chance, I have known Terry from way back in the acid house days when he did a remix of my band The Soup Dragon's track I'm Free which we released back then.
He also DJ'd at our album release party at the Milk Bar on the infamous night we partied till dawn and ended up in front of millions on GMTV with Lorraine Kelly a bit 'over happy' as our manager put it at the time. At the party he forgot to tell us a car was picking us up at 6am to take us all to the TV studio. It turned up at the flat we were staying during a 6am chill out session.
If you had to pick one favourite track from each artist, Fire Island and Loleatta Holloway other than Shout To The Top, what would the be and why?
Loleatta Holloway – Bring It On Up
Proper 70's soul 7" goodness …I adore this track, the vocal, the production the lot. It's got a real Ike & Tina vibe but with Loleatta's amazing vocal. This 45 is a real prized possession of mine.
Fire Island – In Your Bones
I still play the shit out of this to this day which says a lot .
Shout To The Top was originally recorded by Paul Weller's Style Council. Have you ever met Paul on your many musical travels?
I was in a second hand vintage clothes shop in Soho once and we were both searching through some old tee shirts on the same rack and I thought that guy is trying trying a little too hard to look like Paul Weller.
The 90's when this track was born was obviously a very different time for clubbing? You were travelling all over the globe with the Soup Dragons at the time as well as living in New York. Do you have a favourite clubbing anecdote from when you were clubbing in the 90's.
I think the one above about being told at 6am at a chill out party that we were about to be picked up by a car to go to ITV studios to be on GMTV and be interviewed by Lorraine Kelly and her co-presenter. We had to  try to work out which 2 members of the band were in any fit state not to scare the nation on a Monday morning .
When you were living in New York what were your favourite clubs and why?
I never lived there full time but I was based for a long time and made an album there too at electric Lady Studios. I was there on and off for about 5 years and I had an apartment there and realised I was there more than actually being back in Glasgow.
I used to love Jacqui 60's in the Meat Packing District and also Save The Robots which was a naughty after-hours that never seemed to end in a basement venue in East Village. Limelight was fun too but the best was obviously Sound Factory which I used to frequent.
You recently came across a lost acetate from your time with the Soup Dragons in the 90's when you recorded a track with funk legend Bootsy Collins? What can you tell us about your memories of that session and the edit of the track you have just released and where can we find it?
Its on my label 'Plastique Recordings' Bandcamp page you can grab it here: https://plastiquerecordings.bandcamp.com/
I went to Cincinnati around '94 to record with Bootsy as we had met a few years previously when we did a tour together with Deee-Lite who had Bootsy's Rubber Band band as their backing band.
On that session we recorded an album track called Muthafunka then our label got London DJ's Innersphere to do a live dub which never saw the light of day at the time. It turned up again during a lockdown clear out when I found the acetate which was made as a DJ test and I had hidden it inside another 12" so as not to lose it (one of those ones.)
I ripped it to digital and thought that it would be good to get it out there for all to hear as it's rather unique and way, way ahead of the curve for even 1994.
Which track other than your own are you most looking forward to playing in a DJ set once all the clubs open up again? 
Persies 008 – Cantoria
I am obsessed with this track and have never had the chance to play it out ….YET !
What can you tell us about the mix that you did for our Selectors series? What vibe were you going for and what are some of the key tracks for you?
I did the mix really early one morning at 8am and I feel it has that curve to it where it slowly builds like the day. It begins, dreamy lush and drifting and gets more solid in structure as it moves along. A bit like my average day ha ha !
It's just a bunch of songs I love that I reached out for and felt right to be put next to each other.
Which other artists DJ mixes do you find yourself coming back to time and again and do you have a favourite that you gravitate towards?
I obviously love The Blessed Madonna weekly show as Marea always manages to introduce you to something new that always thrills and educates and also my fellow Glaswegians Optimo. The range of their mix series never tires.
Also another DJ and my friend who I ran the Record Playerz party with for many wonderful years at Glasgow Art School, HUSH. He's a true selector straight from the heart.
His 'Music Please' show on Subcity Radio is one for you to indulge yourself in.
The Blessed Madonna: https://www.mixcloud.com/TheBlessedMadonna
Optimo Espacio: https://www.mixcloud.com/Optimo_Espacio
DJ Hush – Music, Please: https://www.subcity.org/shows/musicplease/episodes
What are your musical plans for the rest of 2021, do you have any more releases planned and do you have any gigs in the pipeline where we can come and see you in action?
As I said above we are just finishing the final stages of the McHifi album my project with David McAlmont which is really one of the best albums I have ever been involved in making. I'm very proud of it. It has taken me to the edge mentally but it will be worth every grey hair. It's not a club record in relation to me as a DJ but more a song based production odyssey. It was amazing and refreshing to get back to sound and song being the objective in the writing and not predominately the beats, although there are some killer grooves on it.
Also I've got a few more clubified Hifi Sean tracks bubbling away and a few nice remixes lined up which are coming out in the coming months too.
As for live DJ stuff I have a few bookings coming in now like the Birmingham Disco Festival on July 3rd with a real lush line up.
Things will get back to abnormal and we can all dance and collectively enjoy music again …. I cannot bloody wait.
For more info please check:
Hi Fi Sean Facebook: https://www.facebook.com/hifisean
Hi Fi Sean Instagram: https://instagram.com/hifisean
Hifi Sean Twitter: https://twitter.com/HifiSean
Plastique Recordings Bandcamp: https://plastiquerecordings.bandcamp.com
LV Selectors 20 – Hifi Sean – Tracklist
Groove Armada Ft. Roseau – We're free (Ashley Beedle mix)
House Gospel Choir – God is trying (Kaytronik Speak dub)
Roberta Flack – Uh Uh Oh Oh (Steve Silk Hurley mix)
Sattam & Lee Wilson – Remember to love
Rissa Garcia – Love is lifting me
Jimpster Ft. Greg Paulus – Soul Spectral
ScruScru Ft. Nazini – Midsommar
Fray Bentos – Atom refunk
Hugo – True Colours
Cajmere Ft. Dajae – Brighter days
Red Axes – Mumbai Syndrome
Unknown Artist – Deep Beats Vol. 4
Mike Dunn – Strut Cho Phunky Stuff
Fire Island Ft. Loleatta Holloway – Shout to the top (Hifi Sean mix)
Tags:
Bootsy Collins
,
Fire Island
,
Hifi Sean
,
loleatta holloway
,
Pete Heller
,
Terry Farley
,
The Soup Dragons