LV Premier – Dirtyelements & Drunkdrivers – Never Give Up (De Gama Re – Built) [Samosa Records]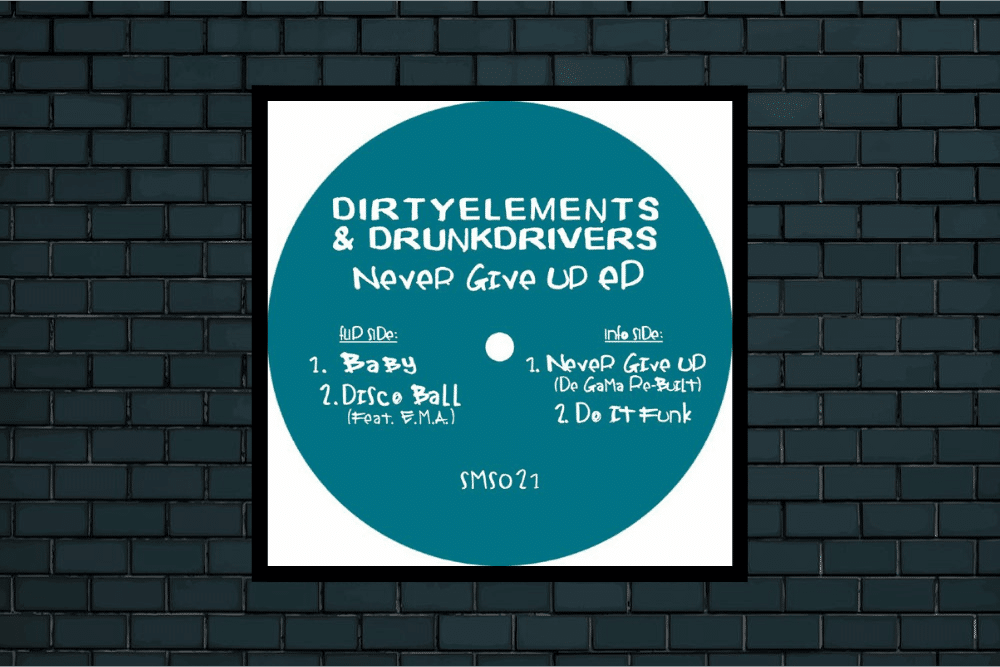 LV Premier – Dirtyelements & Drunkdrivers – Never Give Up (De Gama Re – Built) [Samosa Records]
Like what you hear? To help support LV Online buy us a coffee via Ko-FI. Click HERE
Dirtyelements and Drunkdrivers have built up a strong relationship with Samosa Records featuring on their Italian Disco Machine EP and remixing for their sister label Daje Funk. Now the label have brought them back for a full artist EP and it's a bit of a scorcher.
Featuring four tracks of funk and jazz fuelled groove heavy disco this is a real statement of intent for this coalition of Italian producers.
The EP opens with the throbbing bass driven groover Baby with it's big breakdowns and crowd raising vocal. This one will sound spectacular on a big club system as it hooks the crowd in.
Next up Disco ball is a brass heavy monster with it's DNA coming straight from 70's crime series soundctracks. Wah guitars, shakers and a throbber of a bassline all combine perfectly here before dropping into its funky earworm of a synth break.
Our premier today is the De Gama re build of Never Give Up. Here co-label boss De Gama has tightened up this thumping sax led club gem giving it an essential club makeover. It's really all about the sax which drifts from it's smoke filled Jazz club origins and merges perfectly with the chugging disco bassline for an unmissable musical moment.
Finally Do It Funk does exactly as it says on the tin, coupling tight brass lines with funky bass licks. It's another track that shows the long promised Jazz Funk renaissance is very much with us now in 2021.
Outstanding EP.
Grab the 12″ now via: https://www.juno.co.uk/products/dirtyelements-drunkdrivers-never-give-up-ep/816591-01/
Love this? Check out our disco playlists HERE
For more info on the release check:
Drunkdrivers Facebook: https://www.facebook.com/drunkdrivers1/
Drunkdrivers Soundcloud: https://soundcloud.com/drunk-drivers
Drunkdrivers Instagram: https://www.instagram.com/drunkdrivers_music
Dirtyelements Facebook: https://www.facebook.com/dirtyelementsmusic/
Dirtyelements Soundcloud: https://soundcloud.com/dirtyelements
Samosa Records Facebook: https://www.facebook.com/samosa.records/
Samosa Records Soundcloud: https://soundcloud.com/samosarecords
Samosa Records Instagram: https://www.instagram.com/samosa.records
Samosa Records Twitter: https://twitter.com/samosarecords
Tags:
De Gama
,
Dirtyelements
,
disco
,
Drunkdrivers
,
FUNK
,
Jazz Funk
,
Samosa Records