Intr0beatz chats about his What I'm Sayin EP on Moment Cinetique, his career, turntablism, Iceland and drops LV Selectors 63 for us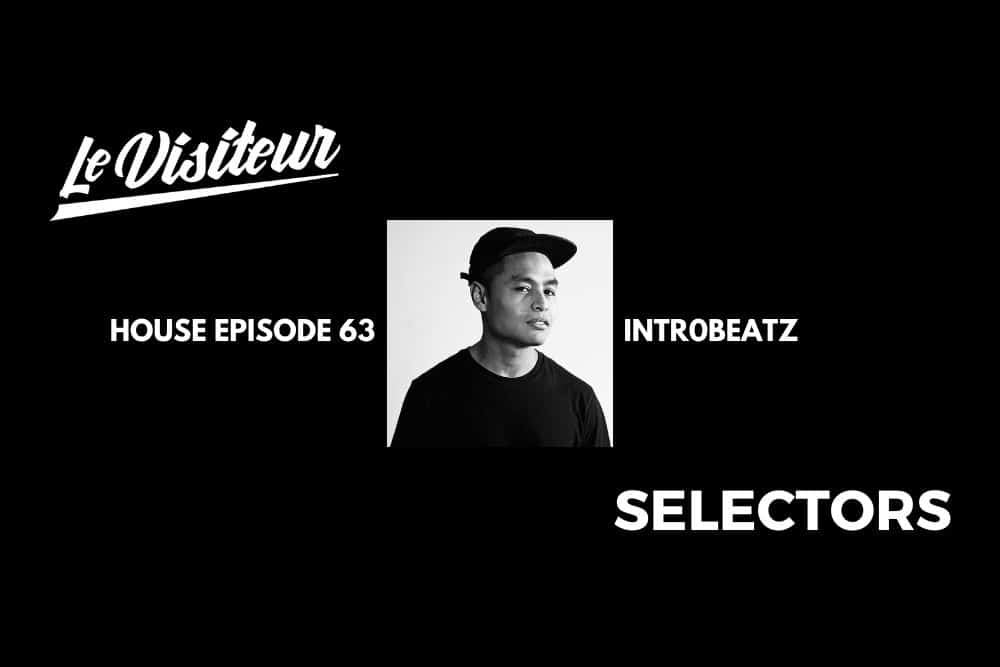 Intr0beatz is an artist who has popped up time and again here on Le Visiteur and quite rightfully so. He has crafted a discography brimming with quality house music and well beyond. His latest release see's him line up again with Moment Cinetique, a label with whom he has a strong history. The resultant EP 'What I'm Sayin' is another gem.
We spoke to him about his career, living in Iceland, his favourite jams and he also stepped back up to the Le Visiteur decks and as always he has created a brilliant mix for us. Check it all out below.
Grab his All I'm Sayin EP via: https://www.traxsource.com/title/1886592/what-im-sayin
Hi there Arsaell,
Thanks for speaking to us today.
It's been a while since we last spoke, how have things been in Iceland over the last few years, did Covid slow down your musical output and career plans? And have you had any major life moments recently?
Things have gotten a bit interesting since covid, for sure. I have never looked at making music as a career. It´s more like a hobby for me with benefits. So when the pandemic hit my it didn't affect my music that much, not as bad as for my buddies out there who only get income from travelling and playing all around the world. The interesting part of it all and my major life moment that happened was that I got engaged and then a year later we had our daughter. That's the main reason why I haven't been making as much music like I used to. But all for the right reasons.
How did you first get involved in music?
The art of djing is my first love, from when I was 12 years old. Playing all kinds of sounds. Jungle then drum&Bass, techno and house, breakbeat and then hiphop. I got my first MPC when I was 17. Produced a lot of hip hop until I was 30 and from that point it was all house with few hip hop beats in between.
Your first musical breakthrough was as a turntablist, can you tell us some of the tracks which really excited you and sparked your career back then?
Turntablism was a huge thing back then all over the world and Iceland had a great scene of people who all spent hours upon hours practicing in their bedroom for the next competition. I even had the chance to compete in some international competitions but that's another story.
It's hard to mention just few tracks that were big around that time as there where so many. For me, definitely anything produced by Dj Premier. His drum programming was just perfect for beat juggling but also so many others production that worked well for turntablism.
I think the releases that really inspired me to produce back then was Mobb Deep's The Infamous and then a track by Crooklyn Dodgers
Mobb Deep – Drink Away The Pain
Crooklyn Dodgers
Do you still have a love of record digging and do you still practice your turntablist skills every now and then?
Oh yes! That's one of the things I really miss about travelling. Going to the local record stores or markets and digging for old records.
I don't beat juggle much, but I do scratch once in a while. I'm super rusty though but it still feels like something I need to brush off in between producing music.
What are some of your favorite musical memories from the early days of your career?
Just being with my old friends, digging for records. Bringing them back to our studio and brainstorm on how to flip them into our next track. So many great memories and moments. Shout out to my Forgotten Lores famlily!
You have a love of old school and vintage samplers which ones have you used in your own production career?
I started on an MPC 2000xl. Almost all my production before house is made on that machine and later EMU SP-1200. Today I have so many samplers/drum machines that its getting to the point of being more of an issue. I don't use them all at the same time. Just feels good to have options I guess..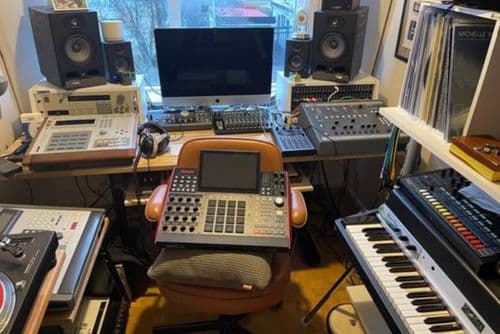 Please can you give us three tracks from your discography which you would say are quintessentially Intr0beatz? 
Its very hard to pick out and explain what it is that makes up my sound as I always try to improve myself with each production. But I guess these 3 all contain elements that I tend to include in my production.
Fly Like Love
One of my earliest releases that got peoples attention. Chopped and re arranged rhodes sample with some dusty simple drums and some soulful vocals. In my opinion, a very typical intr0beatz production from that era.
Trials & Tribulations
This one contains all the elements that like to use. Chopped up samples and loops, synth bass, live Rhodes and a lot of drum / percussion elements.
24/7
I chose this one because I think its just a great vibe. Punchy knockin drums with some loose hats under some sample chops.
How would you describe your latest release the 'What I'm Sayin EP' which is out now on Moment Cinetique and can you give us a bit of history about the release?
All these tracks kinda fell behind all my other releases for some reason and I re-discovered them maybe a year ago when I was running through all my projects. What Im Sayin is the oldest. Think I made in my kitchen in 2016 while I was slow cooking some stuff and had the laptop and a small midi keyboard next to the stove.
Piano Cat and Let's Keep It Movin where both made in 2019.
I always wanted to make a piano driven track. I think my aim was more like a classic house sounding track but ended up the way Piano Cat sounds. More like a hybrid between classic and modern sounding house music.
Let's Keep It Movin is just one of those sample chopped, filtered tracks that I tend to make, cant explain it better then that..
Do you have a specific production process that you follow when you are creating an EP?
Not really. I just make a bunch of tracks and put them all in a folder. When it's time to send demos I try to group tracks together that make sense and send them as ep's and sometimes I just send a gang of music to labels and they select what they like. Sometimes the labels select tracks that I would never think of grouping but somehow end up sounding really good together. I never work with themes for an ep. I don't want to feel like I'm in a box so doing it this way makes it more free for me.
Moment Cinetique is one of our favourite labels, do you have a stand out track by one of the other artists on the label which always pops up in your DJ sets?
I'm pretty sure that For Clair by Freudenthaler is the most played track in my sets.
You also run the Cosmic Angles label. What can you tell us about the ethos of the label?
To be fully honest I never had a full thought behind the label. I just wanted to release unsigned music by myself. But like the name Cosmic Angles suggests, all the tracks contain some kind of cosmic elements to them. Something that gives you some kind of above ground vibes. Sounds weird but it´s basically a vibe that I try to find in every tune I buy and play out in my sets. I think it comes from all the fusion jazz I grew up on through my dad.
What can you tell us about the mix that you have put together for us and what are some of your favourite tracks on it?
This mix is just a vibe I was feeling. I love to take people on a journey and play different styles together. I'm not so much into playing just one style of music.
All these tracks I think highly of but I think I have to mention Intimate FR by my brother Marlon George. He has been one of my favourite producers for the past 3 years at least. Doesn't release that much but when he does, I always feel like I need to step up my game. King of minimal in my opinion!
If you had to define your sound right now in 2022 how would you describe it?
I would just say that I'm doing the same shit, but just on a updated level. I feel like I hear sounds a bit clearer so I think my mixes have become a bit better and that always a think I worry about when I'm finishing a track So I guess I'm just doing what I've been doing but it's less stressfull .
How would you describe the scene right now in Iceland?
Without sounding too harsh, I think there is just no house scene anymore since Covid happened. At least not a house scene that I relate to. There used to be more people producing house few years ago, really good house actually. The club scene has also changed but I think in the end, Its also me that has changed and is probably the reason I feel this way. Don't get me wrong, there is tons or good electronic music production in Iceland and good techno.
Check out this playlist on spotify. All produced by Icelandic artists!
What can we expect from Intr0beatz in the next 12 months?
I have no idea. Our daughter is our main focus now so everything else happens when it happens. But I have few things going on that I can't speak about right now but will hopefully come to light sooner than later.
And finally, please can you give us 4 tips for a great day out in Reykjavik? A place to buy records, a place to eat, a place to drink and a place to dance.
Lucky Records is the only place to dig for records. Everything from new releases to very old records.
Very close to Lucky Records is a food hall, Hlemmur Mathöll.
Good selections of different styles of food.
Kaffibarinn for house music and Prikið for hiphop!
For more info on Intr0beatz and Moment Cinetique check:
Intr0beatz Facebook: https://www.facebook.com/intr0beatz
Intr0beatz Soundcloud: https://soundcloud.com/intr0beatz
Intr0beatz Instagram: https://www.instagram.com/intr0beatz/
Moment Cinetique Facebook: https://www.facebook.com/momentcinetique/
Moment Cinetique Soundcloud: https://soundcloud.com/momentcinetique
Moment Cinetique Instagram: https://www.instagram.com/momentcinetique/
Moment Cinetique Twitter: https://twitter.com/momentcinetique
Love this check out more on Intr0beatz here.
LV Selectors 63 – Intr0beatz – Tracklist
1. Obscene – Intr0beatz
2. Symmetry – Lebedev
3. On The Good Foot – Demarkus Lewis
4. Mandolin – Intr0beatz
5. Want Me Back(Jimpster Peak Time Deepness) – Mistura
6. Underwolrds Gods – ZuluMafia
7. Groove Control – Hox Sotu
8. Future Unpolished – Intr0beatz
9. Go Downtown – Mr. V
10. Intimate FR – Marlon George
11. Follow The Melody(Forteba Remix) – Mag Day Chuk
12. Lets Keep It Movin – Intr0beatz
13. Piano Cat – Intr0beatz
14. What Im Saying – Intr0beatz
Tags:
Intr0Beatz
,
Moment Cinetique