James Curd talks about new single Psychedelic Freak, his label Pronto, growing up in Chicago, living in Australia and his most influential releases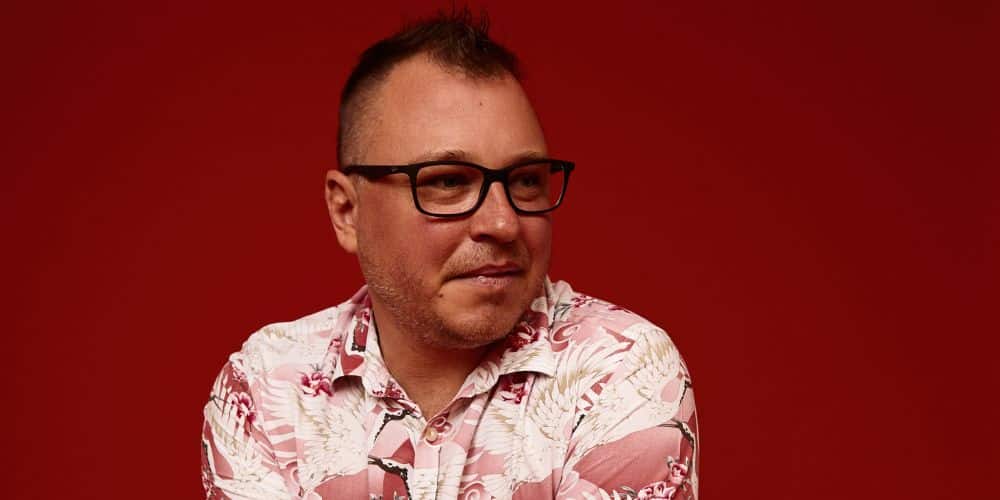 An interview with the Insider
Virtually born into the Chicago house scene James Curd has taken all the learnings and energy from that incredible scene and built a hugely successful career over the last three decades. From his first dabblings with going to raves in the early 90's and starting his DJ journey at the tender age of 15 he has become a worldwide recognised name both for his own productions and also for his alterego the Greenskeepers who literally coined the term G-Swing which embodied a whole microscene in the 00's. Indeed Low & Sweet was a cult party favourite in Edinburgh where I was based at the time.
James has been an omnipresent name on the scene since the 90's with numerous labels as well as his own productions. His latest label is Pronto, which see's him release on both vinyl and digital with string of seriously talented remixers getting in on the action. His latest own release on Pronto is Psychedelic Freak from which release we premiered the Drop Out Orchestra remix a few days ago HERE.
We also asked James to step up to the Le Visiteur decks to put together a mix for our Selectors series which he promptly smashed out of the park. Check out more on the mix, including the full tracklist HERE.
James spoke to the insider in length about his career, Chicago, Living in Australia and of course the label and the new single. Check it all out below.
Thanks for talking to us James. Where are you today and what are you up to?
I just got back from picking a Christmas tree with my family. It's a tradition. We go to a tree farm and pick out a real tree every year. Now I'm in my studio. I just finished making a radio edit of a new release coming up on Yousef's label Circus!
Where is it, you are from exactly?
I grew up 30 minutes west of Chicago in a town called Glen Ellyn.
Paint us a picture of where you grew up a little?
My childhood had a very John Hughes vibe. If you have seen the films Lucas or The Breakfast Club, you can kinda get the picture. I was a skateboarder long before it was so widely accepted. I had cheerleader older sisters. I was an outsider in high school and felt way more at home when friends and I used to go downtown to skate. There was a club called Medusa's that had a half pipe and we used to go every weekend. This was my introduction to house music and the culture around it. It was a blast!
What was the music scene like there?
It was really amazing in the early 90's. I was going to loft parties and raves. It was full of all walks of life all getting along and loving the music. It was one of those things where you would take a moment to look around and know you were at the most interesting and progressive thing going on in the city that night, and a few nights maybe the world.
What kind of tracks were you into in your early days?
Cajual Records and Relief Records were a big favourite. I would buy all of those on sight. It was always about house music for me. I was lucky to have Gramaphone records to go to and buy music on a weekly basis.
Were you stepping out as a DJ quite young?
The first time I Dj'ed to a crowd I was 15 years old. It was a 3-day rave festival called "Further".
Where did you play in those early years?  
When I was 15, I played mostly raves in Chicago and around the mid-west. My first ever time playing in a club was at Smart Bar when I was only 17. When I was 19 (and not legally allowed in the club) I played a club called "Tunnel" where I was a resident with Diz & Gene Farris. When I was 21, I was a resident at Red No Five alongside Derrick Carter. So that would have been from 1993 – 1999.
Who are the DJs from back then that you were into?
Derrick Carter, Mark Farina, Diz, Miles Meada, Justin Long, Traxx, Mystic Bill, Gene Farris, JDub, Dj Heather, Carl Craig, Jeff Mills, Dimitri From Paris, Cajmere. Mainly Chicago and Detroit!
Where are you based these days exactly?
I'm in Adelaide, Australia. I met my wife in Melbourne, and we hit it off. After we met, I would fly her out to various parts of the world I was playing in. Then she moved to Chicago for almost 2 years. When it came time to think about starting a family we decided on Australia.
What makes you stay where you are today? What do you love about your environment?
I miss Chicago but Australia has figured out a lot of things. The standard of living for everyone here is much higher. Healthcare, gun control, minimum wage, education and more. Adelaide is a great home base for me and Chicago is still there when I go back to visit.
What is it you like about the music scene where you are?
Australia has a great music scene but that is mostly Melbourne and Sydney. Adelaide basically does not have one. There are a group of kids doing a collective called "Spin Lizzy" that are doing fun parties. You can't blame Adelaide though. Everything they know about house music and its culture they learned from watching boiler room and instagram. They have never been immersed in the culture with diversity let alone during a time when it was being created in real time. I don't live in Adelaide for the music scene, and I've been lucky to be a part of the scene in Chicago and traveled the world Djing. It does make it hard here though because I know what I'm missing.
What do you dislike about the scene there?
The few things that do happen are very small minded. It's a small town and they are all trying to create something and figure out where they fit in here. The problem is they don't think about it on a global scale or even nationally. It's not serious or creative.
It is like going to a Chicago Deep Dish pizza restaurant in Australia when the owner never made a trip out to Chicago to actually taste Deep Dish in real life. They just loved the idea and found a recipe online and opened a restaurant. It's the same with music in Adelaide. The culture here is not a recipe to create a new style exclusive to Adelaide and what they have is just an idea of what they think it should be based off of watching YouTube.
So much amazing music coming out of Australia right now though in the kind nujazz, neo soul vein. Particularly in Melbourne. Why and how do you think is happening?
Melbourne focuses on quality. There are small jazz bars. They have a population that wants to push their musical boundaries. There is a club called "The Music Room" in Melbourne that only holds 80 people and has an amazing sound system with Dj's playing vinyl only sets. These are things that happen in proper, diverse, global cities. When artists are free to experiment on a live scene it encourages innovation in the studio as well.
How is the thirst for House music in Australia? Is it a thing or is that more in USA and European markets in your opinion?
Melbourne and Sydney have a healthy small scene but it's nothing like the states or in Europe. It's easy to tell by who Australia chooses to bring over, tour and put on festivals. The biggest house artist here are playing more commercial house music.
Do you miss being based in the USA at times?
I miss being based in the states for Dj'ing big time! Being based in Chicago I was able to hit cities all over the states on a regular basis. Being in Australia makes it hard to pop over and play cities just for a night.
Do you play out much on your local scene and where?
I don't play house in Adelaide. I play more often in Melbourne and Sydney. I get more opportunities to DJ overseas than I do in Adelaide. There is a super fun bar called Cry Baby that I play at on Fridays, I think it's the most fun you can have on a Friday night here. I play more of a Greenskeepers vibe and play 60's and 70's rock and party jams.
Love to talk about your production history. When was it you first started to make music?
I started making music when I was 18. I had a summer job and saved up to buy an MPC2000. There was not a whole lot to do over Chicago winters so I bunkered down and learned the MPC inside and out!
What lead you to that point?
Just all the years of Djing and I always had ideas. At 19 when I was playing at Tunnel, and I really got into a routine of working at a record store called Supreme all day. Then going home and working on music until I had to DJ at the club. A lot of times I would get right back into working on music after the club when I got home too. I was obsessed.
What was your first ever release?
It was called "Testing & Balancing" on a great French label Basenotic. I was on the release alongside Jovonn!
You have released on many important labels over the years. Can you give us your three most significant releases in your opinion?
1 Greenskeepers – "What's Your Man Got To Do With Gan?"
This release on Classic Records really put me on the map. I made the song entirely on the MPC2000. I started touring internationally once that hit the shelves.
2 Greenskeepers "Lotion"
This release on OM had such a viral success before viral was a thing. It was featured in Grey's Anatomy and 15 years later just featured in the new Jackass Forever film. It was a departure from house music but helped push me to write actual songs with bandmates.
3 James Curd feat. JDub "We Just Won't Stop"
After years of touring and working in the studio with bandmates this release was a big confidence booster. It came out on DFA and I went out to New York and did the final mix and finishing touches with James Murphy.
What do you feel has been your most notable release to date?
I would say "Taken All This Time" on Exploited. It's a full album of previously released songs and a few new ones.
Which one of your releases do you think slipped under the radar?
House wise I would say my collaboration with Marcellus Pittman "Shafty Riptide" & "Corners"
I also have a band project called "Favored Nations" we did an album called "The Great Unknown". It is a project with my friends Morgan Phalen (who also writes and sings with JUSTICE & Kavinsky) and Sidwho? (Who plays in the Empire Of The Sun live band). It was co-produced by Joey Waronker and he also played drums for the record.
Who are the artists from the past who inspire the music that you make?
Too many to list! I think on a nightly basis I go into the studio and pull inspiration anywhere from Alan Parsons, LCD Sound System, Metro Area, Cajmere, Pepe Bradock, Chez Damier, Derrick Carter, Steely Dan… the list goes on and on!
Is there an album from back in time that is your go-to to listen to make you feel good?
I can really listen to Tribe Called Quest – Midnight Marauders album straight through anytime!
Who do you think is making great music right now?
Adelphi Music Factory, Tour-Maubourg, Make A Dance, Art Of Tones, Boston Bun, Neal Francis, Crackazat, Jonasclean, Geto Mark, ANOTR, Nenor.
What kind of stuff might we hope to hear in a James Curd set today?
Good old fashioned home cooking Chicago house.
Can you give us three of your current faves/ hot tunes in your bag/ on your stick?
Mr. G – U Feel Mi (Kai Alce's New Feel)
Jonasclean – Pov
Fidde – I only See Things I Don't Have
It's no secret that the music world has some challenges right now. What are your views on vinyl. Is it a necessary part of your release packages?
I think vinyl is an extra step in quality control. There is no risk in uploading a new digital track everyday if you want. When it comes to vinyl you are really making an investment. If you have to pay a designer to layout printable covers, pay for masters, cutting, pressing, shipping I think there is a lot more on the line to make sure the music is good. I'm lucky to be doing my label PRONTO with Prime Distribution and almost every release is also on vinyl.
What do you think is the future of vinyl?
The more and more things are becoming so disposable, vinyl has increased in value. Even if it is only sentimental value. Djing with records is more fun. Watching a DJ play records is way more interesting. Playing records is the difference between just being a selector or having a skill like mastering an instrument. Vinyl will always be around, and I think people will appreciate having a collection even more as time goes by.
As a producer who has been about for some time, would you say that you have embraced the digital revolution in music?
There are amazing things about all times of progress. You have to roll with the times. I moved from vinyl to CD's to USB. From DAT to burning CD's to exporting WAV files. I embrace forward progress no matter what the format or media is.
What do you think is the biggest challenge the industry faces today?
It seems like the industry is healthy. I would say the biggest challenge in my eyes is to shine a light on new interesting artist instead of seeing the same line up at every festival around the world. The music is definitely becoming stale and predictable.
What can you tell us about your label Pronto? What are some of the releases you have had?
From about 2000 – 2010 I used to release vinyl with my label Greenskeepers Music. It's been 12 years and I missed the whole process of making vinyl. So Pronto, is a new focus for me. It's an outlet for me to make a song and then get remixes by my current favourite producers. The first release was a collaboration I did with Marcellus Pittman called "Corners." The next one was with Grammy and Oscar winner Marius De Vries who has had an amazing career. It was called "Auditory Gates" I got remixes from Jacques Renault and Oliver Dollar for that release. That brings us up to date with Psychedelic Freak!
What are your plans for Pronto?
I have new songs coming up with remixes by…Adelphi Music Factory, Make A Dance, Derrick Carter, Boston Bun, Art Of Tones, K'Alexi, The Mekanism, Frivolous Jackson and more!
On to your new release. Psychedelic Freak. Is there a meaning in this title?
In classic Chicago style the vocal chops by Likasto have "Freak" in them. The whole song is driving but has dreamy elements with delay and verb splashed through-out. The song really wrote itself and at the end the name of it seemed to fit perfect.
Can you talk us through the EP a little?
I have made a lot of music for Grand Theft Auto 4 & 5. This song was originally started for something for Rockstar. As the song developed it was moving closer to something that I would play in my DJ sets rather than meant for a game. So I finished it and called on Tour-Maubourg, Drop Out Orchestra and Ten Fingerz to do some remixes.
You have some heavyweight remixes on board. Do you have a fave remix or is that a ridiculous question?
I like them all for different reasons. My favourite is Tour-Maubourg because I'm such a fan of his music overall. His mix fits right into my DJ sets.
What can you tell us about Megan the Stallion? Love this mix!
I grabbed the acapella just to have fun and drop in my DJ sets. I realized her original was in the same key as Psychedelic Freak. I dragged it into my Mushroom Mix version, and it had a great vibe. From there I gave it some structure and I think it will sound great in the club!
What other projects are you working on that you can share?
I'm scoring and music supervising two feature films at the start of 2023. This will be my 7th and 8th film score! I have a few new songs with Drama that I'm really excited about. I also started a new project with my old Greenskeepers buddy Mark Share. That project is full of amazing guest artists. I have some new collaborations with Gettoblaster and Junior Sanchez too!
What are next ambitions as an artist?
I think it's always been the same! Keep pushing myself and my sound. Focus on releasing music on my favourite labels.
You have spent a lot of your life dedicated to music. If you didn't follow this path, what other career do you think you would have been in?
I legit had no plan B. I was in school studying physics when I left to do music full time. I have not looked back! I guess I would give a shot at script writing if I had to choose today
Have you got some gig dates that you would like to drop here?
I have some shows in Australia at the start of 2023. I'm also doing some shows in the states in July. It's a bit far out still but I'm playing San Diego July 14th, Next Door in Honolulu July 20th. I'll be in Chicago and LA for a few gigs in July too!
For more info on James Curd check:
James Curd Facebook: https://www.facebook.com/jamescurdmusic/
James Curd Soundcloud: https://soundcloud.com/jamescurd
James Curd Instagram: https://www.instagram.com/jamescurd/
James Curd Twitter: https://twitter.com/jamescurdmusic
Love this? Check out more from James Curd HERE
Tags:
James Curd
,
Pronto
,
Pronto Records