Jerk Boy's Top 16 House Bumpers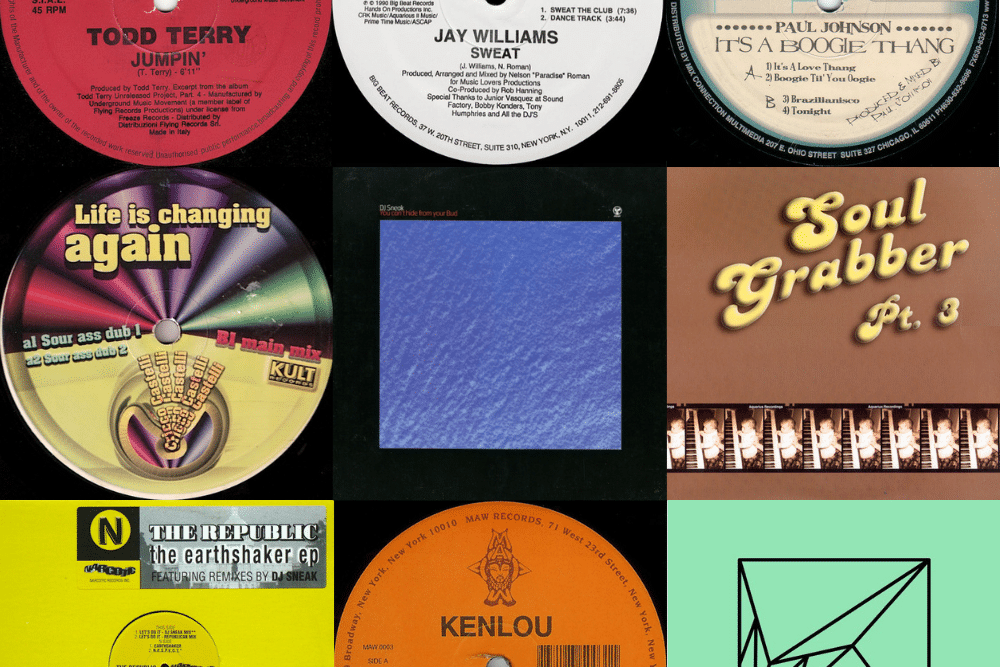 Jerk Boy's Top 16 House Bumpers
Like what you hear? To help support LV Online buy us a coffee via Ko-FI. Click HERE
Jerk boy has been on stellar form over the last 18 months with his excellent SoSilly Edits vinyl releases regularly turning heads around the LV HQ. His latest release see's him team up with House legend Mike Dunn for an absolute bumper of a House track 'Keep it on' via Refuge Recordings, who it's safe to say have been unleashing some serious heat of late.
With it's throbber of a bassline, Spacey synths and that brilliant vocal courtesy of Mike Dunn this is a 2021 scorcher through and through. Jerk Boy has taken all the hallmarks of what has been brilliant about house music over the last thirty years and sprinkled that contemporary production magic all over it.
Having checked out and bought a considerable amount of Jerk Boys back catalogue as well as listening to a pile of his mixes I can attest to the fact that this is a producer with both quality taste in music and a real knowledge.
To celebrate the release we asked Jerk Boy to put together a list of some of his favourite house bumpers that he has spun in his sets over the years. It's safe to say that he didn't disappoint. From scene legends like Black Science Orchestra, DJ Sneak, Masters at Work, Todd Terry, Paul Johnson and Cajmere right through to one of the scenes current hottest production teams Dam Swindle it's a packed list of tracks that you all need to own. Now I'll hand you over to Jerk Boy to tell us about the list!
Grab Jerk Boy (feat Mike Dunn) – Keep It On Via: https://www.traxsource.com/title/1654795/keep-it-on-feat-mike-dunn
Jerk Boy's Top 16 House bumpers
What is considered a house bumper? I guess that's different for everyone. For me personally it's big drums, big bass and maybe a big sampled hook.  Here's my top 16, the guys only wanted my top ten. I narrowed 50+ tracks down to my top 16 which was hard!
Native Soul featuring Trey Washington – A New Day (The Black Science Mississippi Black Sunday Mix)
First off the block is this Black Science Orchestra Remix of Native Soul featuring Trey Washington – A New Day. I'm a massive fan of everything on Jus Trax and pretty much anything Ashley Beedle has done. Released in 1998 the drums are really heavy and super punching in the club, when the gospel vocal starts to come in you can just feel that something bad ass is going to happen.. when the bass line drops it's a groove like no other! producers are still trying to make records like this 23 years later.
Jay Williams – Sweat (Dripping Dub)
The first time I heard this version was only like 4 -5 years ago. I never owned the original release but I had a re-release that had new remixes and unfortunately this dub wasn't on there, and I was walking home one night from a gig and walked past this club called Freda's in Sydney where I live and this bassline was coming out of there that blew my head off. I was freaking out and I knew the DJ that was playing at the time I couldn't be bothered to try and blag my way in just to ask him what track It was and just sent him a text while I stood out front. Shout out to Anno for this absolute heater.
R.B.M. – The Boy (Ralph's Hard House Mix)
All the elements I look for in a bumper, good solid drum's and bassline, this is a fun record to play. It has fun moments and kind of tuff edgy moments, I've always loved the rollercoaster ride that this record takes me on.
DJ Sneak – U Can't Hide From Your Bud
An obvious classic sampling Teddy Pendergrass. The bars sneak sample on this are so good.
Nothing else to say here, a bumping heater that I will never stop playing.
Cajmere ft. Brighter Days (Underground Goodies Mix)
Again another obvious monster. I've had so many big memories playing this track, dancing to this track and seeing some proper weird shit to this track on dancefloors at big bush raves in the middle of the Australia outback. I have the videos! Absolutely cooked times ?
Paul Johnson – It's A Love Thang
Paul Johnson (RIP) is one of my all-time inspirations for making house music so hits throughout his career, I could make a list of bumper's entirely made up of his catalogue. This one is a particular favourite sampling another favourite First Choice – Love Thang.
The Republic – Earthshaker
Giddy up! the Al Wilson Earthquake hook is huge and heavy! The first time I heard this was when I bought Derrick Carters Mixmag DJ mix compilation, I bought the vinyl compilation then searched endlessly till I tracked a copy for the 12".
Divine Soul – Shake That Ass (Black And White Dub)
This is a total garage work out the drums are heavy and shuffle really well, the bassline takes you into the Garage territory without going too far down the rabbit hole, not that that would be a bad thing! Certified bumper.
Todd Terry – Jumpin'
Nothing to say here. Classic if you don't know, just listen! I could happily play this along with Todd's – bounce to the beat back and forth endlessly.
Paul Jacobs – Soul Grabber Pt. 3 
This is a really stompy track! Early time, peak time or wind down I can play this any time and any where.
Constipated Monkey's – Cro Magnon What about (our love)
The Jackey Beavers's "Mr. Bump Man sample is done so well. A great example of Romero, Nunez and Morillo combo that is a timeless masterpiece.
Masters at Work – The Bounce
Bounce and wobble. The first time I heard this track was when Armand Van Helden played at the original sublime club in Sydney on Pitt St before moving to Home Nightclub back in 99' or 98', that was also the first time I heard Horny by Mousse T before it had vocals, oh what a night!
Dam Swindle – Howsmusic
Clyde Alexander & Sanction – Got to Get Your Love such a bumper from 40 years ago that I play regularly in my disco sets and Dam Swindle nailed this for a house rendition without butchering it ?
Beatamines & David Jach – Swaggin
Vernon Burch – Get Up has been sampled so many times that it got tiresome, but Beatamines & David Jach managed to make a jam with such a small part! Big props and still in my sets when it's time for a lighter side.
Atmosfear – Dancing In Outer Space (MAW Lunar Mix Part 1)
This is mean jazz stepper, MAW turned this one out and I have stopped playing it since it was released. They haven't strayed too far from the Atmospheres original version and the classic MAW drums compliment it perfectly
Cricco Castelli – Life Is Changing
A classic that will never get old The Crusaders's "My Lady" sample so cleverly done. I have a few versions that tried to emulate the same energy that Cricco created. I have a Trouble Men edit that is cool and a little punchier in the drums that gives it that raw French house vibe, but I always find myself going back to the original.
Grab Jerk Boy (feat Mike Dunn) – Keep It On Via: https://www.traxsource.com/title/1654795/keep-it-on-feat-mike-dunn
For more info check
Jerk Boy Facebook: https://www.facebook.com/jerkboymusic/
Jerk Boy Soundcloud: https://soundcloud.com/jerk-boy
Jerk Boy Instagram: https://www.instagram.com/jerkboymusic/
Refuge Recordings Facebook: https://www.facebook.com/refugeaus
Refuge Recordings Soundcloud: https://soundcloud.com/refugeaus
Refuge Recordings instagram: https://www.instagram.com/refugeaus/
Refuge Recordings Twitter: https://twitter.com/refugeaus
Love this? Check out more from Jerk Boy here
Tags:
Beatamines
,
black science orchestra
,
Cajemere
,
Cricco Castelli
,
Dam Swindle
,
David Jach
,
Divine Soul
,
Dj Sneak
,
house music
,
Jay Williams
,
Jerk Boy
,
masters at work
,
Mike Dunn
,
Paul Jacobs
,
paul johnson
,
Refuge Recordings
,
Th Republic
,
todd terry