The Sound Of Midnight Riot Podcast's 7 & 8 – With host Jaegerossa and guest mixes from Moodena & Black Hawks Of Panama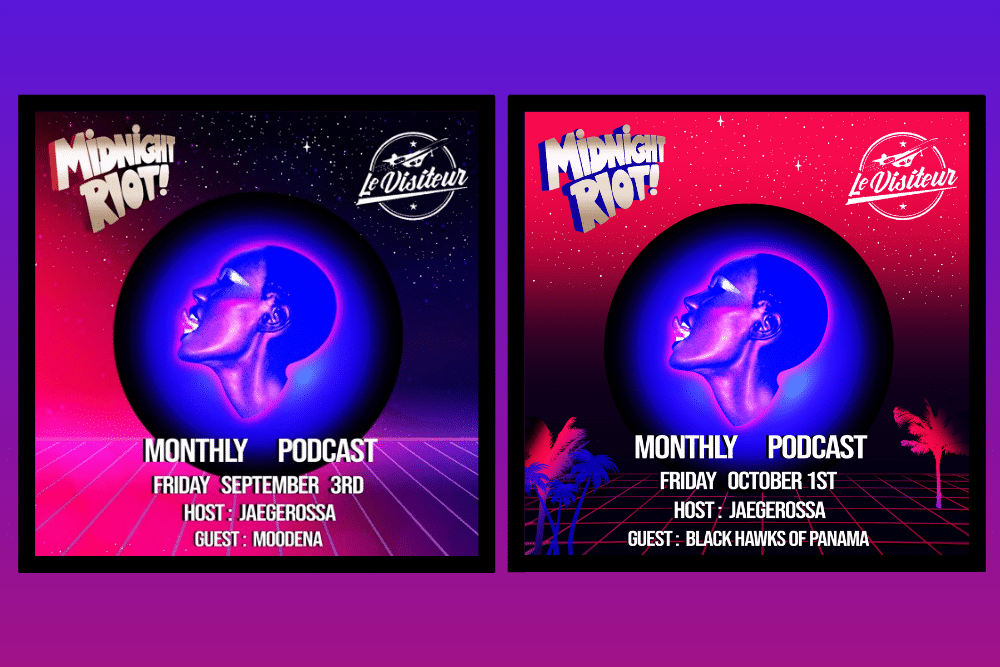 The Sound Of Midnight Riot Podcast's 7 & 8 – With host Jaegerossa and guest mixes from Moodena & Black Hawks Of Panama
Like what you hear? To help support LV Online buy us a coffee via Ko-FI. Click HERE
Time to catch up on the last two editions of the now utterly essential Midnight Riot Podcast which you can check monthly here on Le Visiteur Online, across the Midnight Riot Channels, via Apple Podcasts, Alexa and anywhere else you happen to source your podcasts from.
September featured none other than the co-head honcho of the fabulous Tropical Disco Records Moodena on the guest mix while the hot-off-the press October edition features the equally hot right now Black Hawks of Panama.
All together four hours of disco and house goodness. Check them out here and please give them a share over on Soundcloud and help us spread the MR love.
Full tracklists for both shows are below x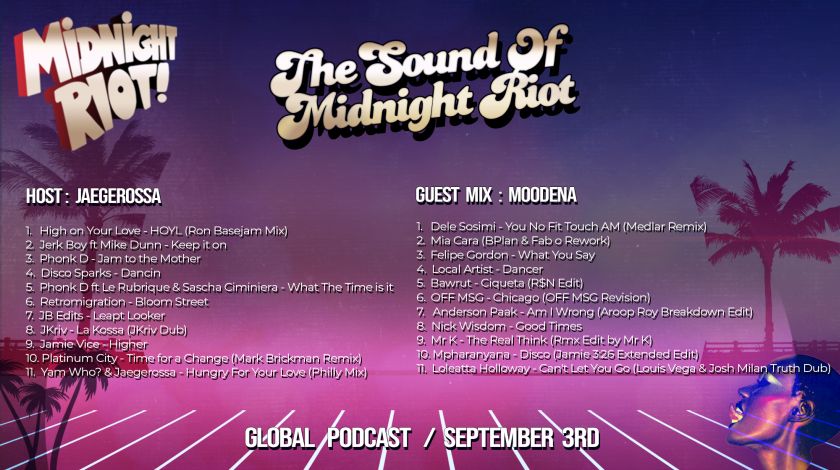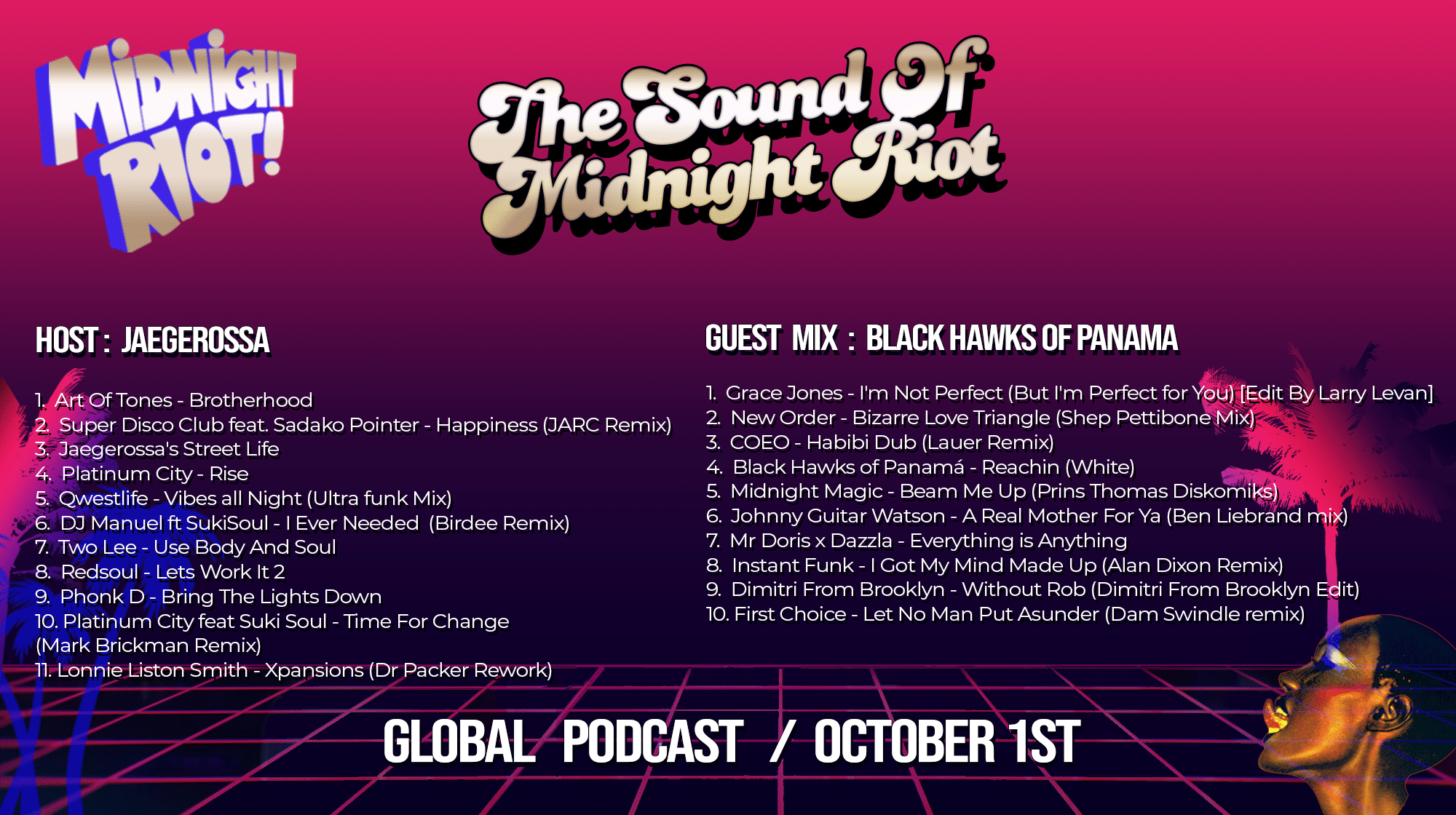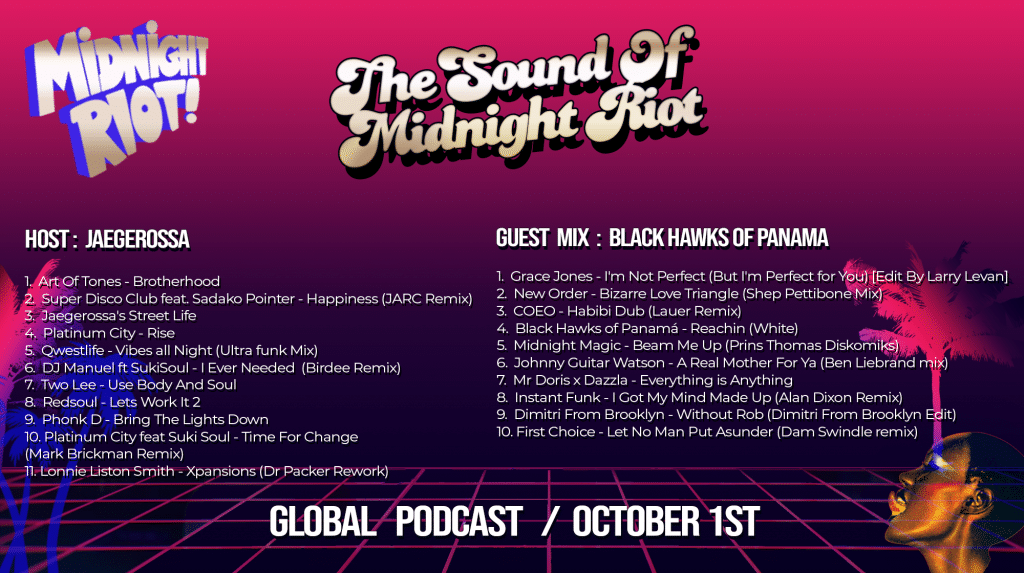 For more info please check:
Jaegerossa Facebook: https://www.facebook.com/jaegerossa
Jaegerossa Soundcloud: https://soundcloud.com/phil-rose-1973
Jaegerossa Instagram: https://www.instagram.com/jaegerossa1411
Moodena Facebook: https://www.facebook.com/MOODENA909
Moodena Soundcloud: https://soundcloud.com/moodena
Moodena Instagam: https://www.instagram.com/moodena909/
Black Hawks of Panama Facebook: https://www.facebook.com/blackhawksofpanama
Black Hawks of Panama Instagram: https://www.instagram.com/blackhawksofpanama
Midnight Riot Facebook: https://www.facebook.com/MidnightRiotRecords/
Midnight Riot Soundcloud: https://soundcloud.com/midnight-riot-records
Midnight Riot Instagram: https://www.instagram.com/midnightriotrecords/
Midnight Riot Twitter: https://twitter.com/MidnightRiotRec
Tags:
Black Hawks of Panama
,
Jaegerossa
,
Midnight Riot
,
Moodena