Jonna Talks Lumberjacks In Hell, City Fly, Soulphiction and new single Jus Move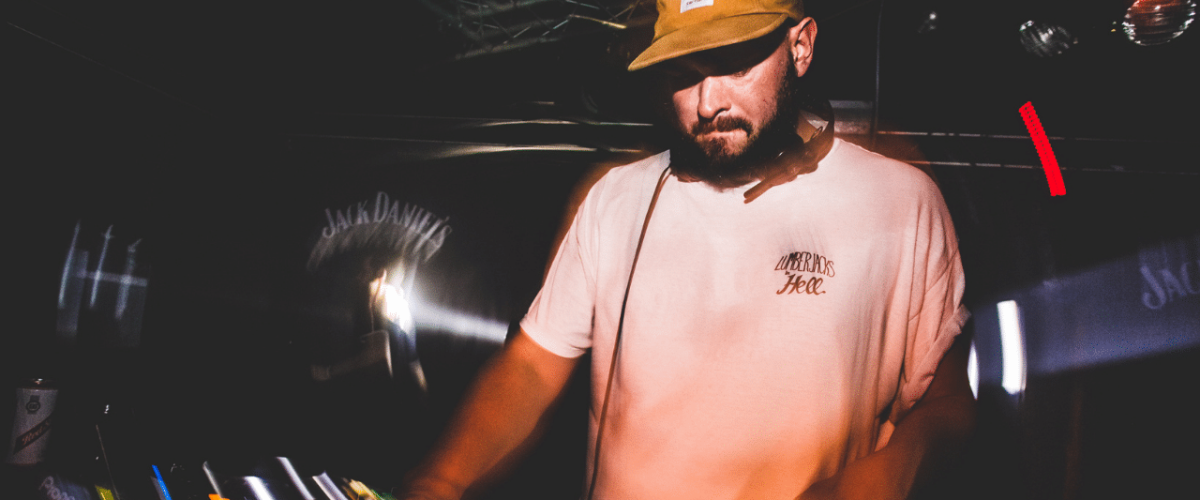 Jonna Talks Lumberjacks In Hell, City Fly, Soulphiction and new single Jus Move
Jonna is an artist who lives and breathes house music. As one of the heads behind the well loved City Fly parties and the label which followed on from them he was a well know face on Leicester's club scene before making his presence felt across the globe via series of very classy releases for the likes of Thatmanmonkz Shadeleaf, The Groove Stage and Lumberjacks In Hell.
We always love receiving new tracks from Jonna as they are always at the very tip of underground house music and packed with that club feeling which comes from spending many hours learning how to work a crowd as a DJ.
We were hugely pleased when Jonna announced his latest hook up with one of our favourite labels Lumberjacks In Hell and boy did they deliver. The result Jus Move featuring Javonntte is stunning slice of deep house and comes with mixes from two of the greats Marcellus Pittman and Soulphiction, one of his final remixes.
To celebrate the release Jonna put together a really classy deep house mix for us, again showing those DJ skills to full effect. Check it out below and please give it a share over on Soundcloud and help us spread the love. You can also check out more on the mix HERE
We spoke to Jonna about his career, Lumberjacks In Hell, Soulphiction and lots more check it all out below.
Hi there Jonna,
Many thanks for speaking to us today.
Firstly, please can you give us some background on what was it that led you to a career in the music industry?
Hey John, Thanks for having me. I've always been a fan of music since an early age and started putting on club events in my late teens, that progressed into the city fly record label and music production.
What are your earliest memories of house music?
I used to listen to Pete Tong growing up on BBC national radio, I particularly remember him introducing me to the likes of Armand van Helden, Daft Punk & Basement Jaxx at an early age all of whom particularly caught my ear.
Can you remember the first ever House record that you bought? 
Paul Johnson – Down
It was a huge tune at the time, even went top 5 in the UK charts I seem to remember. It was one of the first releases on defected back in the late 90's.
What was the music scene like in Leicester pre Covid? Is there a great record shop? A great club? A great radio station?
There's a small be committed club community in Leicester with a few events doing the business but we've lacked a dedicated underground venue for a few years now since the closing of Sophbeck. Record shop wise there's 'Out of Joint' which is run by the Grade 10 crew who have been going from strength to strength since opening a few years ago. In regard to radio, there's Radio2Funky who launched on 95FM about a year ago in the local area & www.radio2funky.co.uk on the web, I do a monthly city fly show which airs live every first Thursday of the month too.
You were one of the heads behind the City Fly scene in Leicester, what can you tell us about that?
Myself, Ash (The Last Trip To Gandahar), J'Shez, Darran P & Tonks started City Fly parties back in 2004 mainly as a platform for us to DJ and bring artists we were feeling to Leicester. We had a monthly residency for 8-years at Sophbeck where we'd mainly bring our label artists from all around the world to play. There were so many great nights to remember and we had regulars like Kez YM, Pablo Valentino, Lay-Far, Red Rack'em to name a few across the years. People would travel from all over the country to the events and we had dedicated local following too which was really the backbone to the record label.
Who are your greatest influences as a producer?
Thatmanmonkz – For Bae
Scott gave me my first ever release on Shadeleaf Music, so he'll always hold a special place in my heart. He's a super gifted music producer too!
The Last Trip To Gandhar – Over Paradise
Ash is part of our City Fly crew and has been a big inspiration and help to me over the years. He's taught me lots of useful production techniques.
Moodymann – The Day We Lost Soul
KDJ is the master of this sound…. what else needs to be said?
Please can you tell us about your latest release 'Jus Move' on Lumberjacks in Hell?
I hadn't made any music for a long time before lockdown and I had burst of energy in the studio, the track came about my experimenting with some chops from the intro to an old spiritual jazz tune which ended up turning into a pretty dope rhythm track. I've been speaking to Javonntte for some time now after his release on City Fly and he seemed the perfect vocalist to finish it off and he completely nailed it. Marcel Vogel at Lumberjacks in Hell is always my first port of call to send demos to, it's a label I've aspired to be on for a long time so naturally I'm over the moon to have it released with them.
The release features one of the final remixes by Soulphiction who recently passed. His incredible talent lit up the electronic world. What are your memories of working with Michel and what did he bring to the track?
I've been on Michels case for a number of years for a remix or release, so I was over the moon when he finally agreed to work with me on this one. I wasn't aware of his illness at the time of him working on the remix, it wasn't until he was due to record a DJ mix for my radio show that he revealed he was ill and going into chemo which was an utter shock. Unfortunately, that was the last time I heard from him and although we never met personally, I'm deeply saddened by his death. Regarding his remix, he's made great use off all the elements and added his typical Soulphiction blueprint. He told me he played it at a BBQ with friends and it went down well with the ladies.
You have quite a long term working relationship with Lumberjacks in Hell, what can you tell us about that and what is it that attracts you to the label?
My relationship with LIH happened quite organically, I remember listening to one of Marcels DJ Mixes a lot when I was out in Thailand a few years ago. I hit him up for a track ID on and we got talking and ended up sending him some demos. We had initially planned to release on his other label Intimate Friends but with that on a hiatus we turned our attention to LIH and first released 'Everyday' on 'The Sounds Of Lumberjacks In Hell'. We also have another release coming after 'Jus Move' too.
What for you are the key aspects of making a track? Are there any must do Jonna tips that you can share with our readers to make the process less daunting?
Firstly, make music for yourself, if people end up liking it too then that's a bonus. Don't be put off if you feel you're not getting the right results. 99% the stuff I make is rubbish but when you get the 1% right that is what matters. Music is a very personal thing and quite daunting to share but it's important to get honest feedback and a mentor to help you progress, don't be afraid to ask for help.
Which artists do you think are really inspiring in the house scene at the moment with their approach to making music?
Kai Alce, Stefan Ringer, Soulphiction (RIP), Javonntte have been a few of my favourite house producers for some years now. All are consistently good and offer something unique every time.
Please can you give us three tracks from your discography which you would say are quintessentially Jonna? 
Through The Night
My first release on Shadeleaf Music with my man Erik Rico on Vocals. There's a couple of dope Kai Alce Remixes and a Luke Soloman Edit too.
Henry Western
Collab with my boy Samwell. A track we made whilst drinking Henry Western Cider. Lady B added some cool vocals too. It was released on my City Fly label and BBC6 Music used to play it too.
Everyday
Released on 'The Sounds of Lumberjacks in Hell' on BBE. 2 of my favourite labels together in which I'm still over the moon to be a part of.
Where do you see yourself going in the next five years with your musical career?
I love to travel & tour so once the world opens back up again to spread my vibes across the world and reach new destinations and parties. I'm hoping to make up for lost time.
What are you personally most looking forward to as the electronic music world slowly starts to open up again in 2021?
The feeling of seeing friends and sharing musical experiences with people. I'm sure there's going to be some pretty epic times ahead and a newfound appreciation for what has been taken away from us for so long.
What else can we expect from Jonna in 2021?
Another 12 on Lumberjacks In Hell, I'm currently planning another Fly Family album and a 10 years of City Fly 12 Inch
Grab Jonna's Jus Move EP from: https://www.juno.co.uk/products/jonna-javonntte-jus-move-soulphiction-marcellus-pittman/807810-01/
For more info please check:
Jonna Facebook: https://www.facebook.com/jonna.iliffe
Jonna Soundcloud: https://soundcloud.com/city-fly
Jonna Instagram: https://www.instagram.com/jonnailiffe/
Lumberjacks in Hell Facebook: https://www.facebook.com/Lumberjacks.in.Hell/
Lumberjacks In Hell Soundcloud: https://soundcloud.com/marcelvogel
Lumberjacks in Hell Instagram: https://www.instagram.com/lumberjacksinhell
Marcel Vogel Twitter: https://twitter.com/MarcelVogel
Tags:
city fly
,
Deep House
,
Jonna
,
last trip to gandahar
,
lumberjacks in hell
,
Marcellus Pitman
,
soulphiction