Kameelah Waheed Talks New Single America The Beautiful, Philadelphia, Ashley Beedle, Bunny Sigler, Hip Hop & More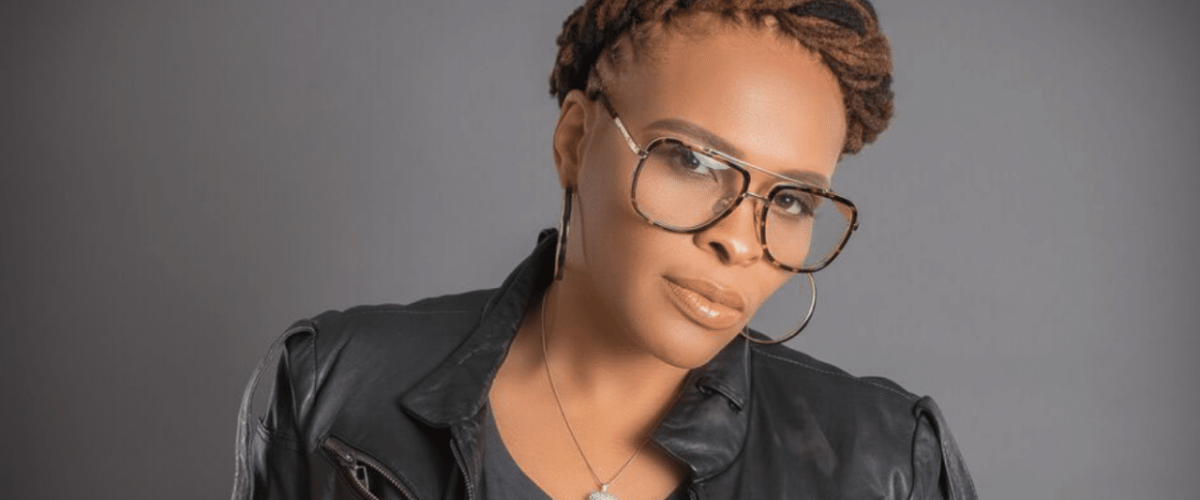 Kameelah Waheed Talks New Single America The Beautiful, Philadelphia, Ashley Beedle, Bunny Sigler, Hip Hop & More
Like what you hear? To help support LV Online buy us a coffee via Ko-FI. Click HERE
An interview by the Insider for Le Visiteur
Kameelah Waheed has an incredible single America The Beautiful landing on August 13th via UK label Ramrock Red with a further Bruise mix incoming via F*CLR. It's a stunning track which if there is any justice will burn brightly for the rest of 2021 and well beyond. Hailing from Philly but currently based in NJ Kameelah has already had a hugely impressive musical career writing for the likes of Bunny Sigler and Frankie Smith, appearing with Gov't Cheaze and releasing with BBE.
America The Beautiful might well be her finest moment to date. Incoming with Bruise and North Street West, featuring Ashley Beedle, Jo Wallace and Darren Morris, remixes the release is a shoe in for one of the best tracks of 2021.
The Insider spoke to Kameelah for the Le Visiteur touching on all corners of her musical upbringing and her resulting career. It's a fascinating interview from a woman who lives and breaths music.
It is a pleasure to talk to you Kameelah thank you for taking the time. How are things for the good people of Philadelphia right now?
It is lovely! the Covid numbers do not seem to be rising at this time. Although I have resided in Philadelphia and my family is from Philadelphia, I currently live in Camden NJ.
Have you been working on music over the 18 months? Is this how you kept motivated during the lockdown?
I had days of feeling motivated and days of feeling exhausted from being sucked into the news updates and then the anxiety of living through a pandemic, but I found balance and was able to finally build a home studio, I started learning how to record my own vocals, wrote a few songs, did some collaborations with quite a few UK artists, and started a podcast.
Tell us about the music scene in Philly pre covid?
Philly has always been a hot bed for great music. There were the spoken word spots, the open mics and local bands all through the city. Venues like the TLA and Camden's BB&T Pavilion is where some of the major acts would come to perform. You could catch jazz at the waterfront for free, the Caribbean Music Festival was always good, the Mann Music Amphitheatre hosted a lot of the seasoned acts such as Frankie Beverly and Maze, Daryl Hall & John Oates and live Orchestra shows. There was the World Café Live, The City Winery, Silk City, The Underground and so many more. The Philly musicians are talented and my musician buddies were always being called on the road by major acts.
Does it look like the live music venues and live scene in the USA are beginning to recover?
It's a slow roll out, there was the Covid-19 relief grants that some are still waiting on, some have shut down permanently. Gratefully, some of the bigger venues have started doing events. The people are hungry for it.
I would love to rewind and talk about your musical beginnings. Were you born and raised in Philadelphia?
I was born and raised in Camden, NJ. I did some of my schooling in Philadelphia.
What was the music that got played in your home as a kid?
As a really young child my mother would play The O'Jays' Ship Ahoy album back-to-back, Marvin Gaye and The Spinners. Then things changed and unfortunately there was a 7-year span where music was banned from my home. After that ran its course my older sister who I shared a bedroom wall with would listen to The Quiet Storm on WDAS and play quite a bit of funk and soul on her record player: Parliament and the Funkadelics, Mint Condition, Cameo, Chaka Khan etc. My mom would play a lot of African and Caribbean music such as Miriam Makeba and Bob Marley. Then when I was able to buy my own records, I would go to Sound of Market or Funk'O Mart downtown Philly on Saturday mornings to buy new music. My first purchase was a 45-inch of Square Biz by Teena Marie.
Was Hip Hop a big thing for you?
Huge! I loved hip-hop. I remember the day I was introduced to it. A group of us was playing basketball and this teenager walked up to us and said he was from New York and asked if we ever heard somebody rap. We were like what's that and he just started spitting and our jaws dropped and ever since then I've been hooked. When groups like Tribe called Quest and De La Soul came out, I knew this would be a long-lasting love affair.
Who were the artists you were into growing up?
Roxanne Shante, MC Lyte, RUN DMC, Native Tongues, but I also liked groups like Hall and Oates. Around my high school years, I discovered house music. I liked Adeva, Master's at Work, Inner City and Ten City
What was the first step you took into music and when was that?
I had a neighbour who had a rap crew and they were looking for a girl to be part of the crew so I joined and they took me to a home basement studio from what they told me it was the start up studio for the Roots. That was mid to late 90's.
What style/ genre of music was it that you first launched into?
Hip-hop was first. It's what everyone did from the neighbourhood. I met my first hip-hop partner through my younger sister and we formed a conscious hip-hop group we named Ill Relation. House music was next. I would sneak into clubs and hear this strange music with all this bass and drums and gospel. At the same time MTV opened me up to rock, then I learned about punk and absolutely loved Bad Brains and was like I need to do that so I co-founded a hip-hop rock group named Gov't Cheaze. Currently I am half of a house music production duo named Ke'Wah.
Philadelphia has no shortage of talent; the city is known worldwide for its unique sound of soul. What do you think it is about the city that has produced so much good music? What's in the water?
It's brotherly love in the water. I think the tri-state area of Philadelphia-New York-New Jersey is a migrated area so you get a great mixture of experiences and culture. Philly sits in the middle of it all, the southern soul Baptist gospel that travelled up north and integrated with the lights and fast pace of the cities formed something unique.
Producer, writer, performer. What came first? What would you say is your strongest area? Or are they all part of the whole that is Kameelah?
Being a writer was definitely first. I remember writing my first song at 10 years old. I didn't know I was writing a song I was just getting tunes and words out of my head, then I was forced into performing with a dance company my mom signed me up for. I was terrible. Producing is the newer of all three. My strongest area is writing but I do believe all parts align into the whole of the creative me.
You have written music for the likes of Bunny Sigler of Philadelphia International and Frankie Smith of Double Dutch Bus fame. Tell us a little about those projects.
I met Bunny at Larry Gold's studio in Philadelphia. Everybody either recorded there, rehearsed there or just hung out. He was looking for some writers and I was in the right place at the right time and then we found out we shared some cousins. Larry connected it and Heather Lowery and I wrote the lyrics to the song Can I. Frankie Smith and I were introduced by a mutual colleague. At the time he was looking for some young writers so we connected.
You performed with Gov't Cheaze. What was your involvement there?
I was the co-founder of the band along with John Morgan who lives in Switzerland now. I was the only female and the lead MC. We wrote the first batch of songs together and then other writers and musicians came aboard. I also managed the band and booked our gigs.
As a woman in Hip Hop, what are the challenges in a part of the music scene that is so predominantly male?
There can be times when you may not be taken seriously, I've had business meetings that turned into unwanted advances. At the end of the day, you have to be able to stand your ground as to who you are and what you are willing and not willing to do.
You released on BBE. Tell us a little about that and how you hooked up with Pete?
I got the BBE situation as part of a Larry Gold Production titled Don Cello and Friends. It was a compilation which involved what he called Classic Philly Soul artists. I was invited to be part of the project. It was an honour to be on the same release as Gerald Levert, Bahamadia, Mcfadden and Whitehead, Black Thought, Kindred, Questlove and others. Larry produced the tracks and Peter took it from there.
What was the connection with Jo Wallace of Ramrock and your 'Holding On' release? How did you guys get together?
While on a vacation in Europe, I hooked up with Barry King. He was one of the DJ's that was back and forth from London and the states back when Philly was producing hit artist after hit artist. He played a lot of Philly Soul music in London and would play the song Traveling I had on BBE via the compilation. I hit him up when I got in London, I played him some new tunes and about a month later he called and said he let Jo Wallace and Ashley Beedle hear it and they wanted to chat.
On America The Beautiful you deliver some powerful spoken word lyrics. You wrote these with Kelly Murray. What was the writing process? How did it all begin?
We have been writing together for some years now. On this particular song Kelly sent a loop, I sat on it for a while. I usually go back to ideas when inspired. In the midst of the pandemic, I was inspired to write the America lyrics and they worked well with the previous loop. I laid down an idea, because of my live band background I wanted to add live music so we went all out and everything was played over live except the drum track. D-Moet helped arrange the instruments, cleaned it up and we were like okay this could be something. I was excited and asked Jo and Ashley to take a listen, they loved it and wanted to see if they could get some up-and-coming remixers on it. Ashley Beedle, Jo Wallace and Darren Morris did one remix and Christian Campbell of Bruise did the other remix.
It's like listening to a female Gil Scott Heron as he talked about social issues in his music. What is the key message in America The Beautiful that we should take from it?
America is beautiful America is Great because of its diversity, BUT until we can accept the diversity and face our past, we will always struggle.
I'd love to know more about the musicians on this project. You got some immense talent working with you on this right?
Yes indeed! I was honoured and blessed with their talent and their willingness to jump right in especially during lock down. Gabriel Guma who travelled with Lauryn Hill laid the guitar tracks. He is so talented and humble. He sent so many versions of the guitar it was like being in a candy shop, Rah Sungee played with Bad Brains, Kindred and a slew of others, he sent the bass and I'll just say he's different! Both Gabriel and Rah played with Gov't Cheaze. Rah linked me up with Dominque Thomas who has played with the likes of Jill Scott. He laid some percussion along with David Romero who was on tour with Diana Ross, he also played with Earth Wind and Fire. Chris Greive of Scotland who played with the Royal Philharmonic Orchestra added horns. D Moet the arranger of the original version is a heavy hip-hop producer with projects like Hate Me Now by Nas under his belt.
The North Street Remixes are incredible. Have you been a fan of Ashley Beedle over the years? How much of an impact does an artist like Ash have over in Philadelphia?
Honestly, I knew his work but didn't connect the name with it but Kelly knew him and is a fan, she basically told me yeah, he's the real deal. The house heads in Philly, Jersey and New York have danced to his remixes since the classic New Jersey Deep. I hear he may be dropping a new Black Science Orchestra project so we anxiously await.
You have some hot pick production squads remixing your track. Are you aware of quite how much Bruise are taking the UK by storm?
No, I wasn't aware, I just knew when I checked them out online I really, really liked what I heard. It was the big sound Ke'Wah had been looking for. When we got the mix back, I felt butterflies and was like okay this is good!
What other projects are you working on?
Ke'Wah is in the process of producing a house music EP I have some other things coming down the pipe with Ramrock and F*CLR. I'm featured on some house tracks from other producers and remixers I also host two podcasts Alternative Brown and Rap Lyrics for Class
What should we look out for Kameelah in the future?
Look out for more music, visuals, and showcases.
Thank you for taking the time to answer these questions. Wishing you great success with this brilliant release!
Thank you kindly!!!
Grab America The Beautiful from: https://ramrock.bandcamp.com/album/rrr018-kameelah-waheed-america-the-beautiful-ep-original-north-street-west-remixes
For more info please check:
Kameelah Waheed Facebook: https://www.facebook.com/kameelah.waheed
Kameelah Waheed Instagram: https://www.instagram.com/kameelahwaheed/
Kameelah Waheed Twitter: https://twitter.com/KameelahWaheed
Ramrock Records Facebook: https://www.facebook.com/RamrockRecords
Ramrock Records Soundcloud: https://soundcloud.com/ramrockrecords
Ramrock Records Instagram: https://www.instagram.com/ramrockrecords/
Ramrock Records Twitter: https://twitter.com/RamrockRecords
Tags:
ashley beedle
,
Bruise
,
Kameelah Waheed
,
North Street West
,
Ramrock Records