Kathy Sledge talks about new single Could It Be You, Sister Sledge, Nile Rodgers & Chic, Zaire 74, Roger Sanchez, Horse Meat Disco, Family Room, Billie Holiday and more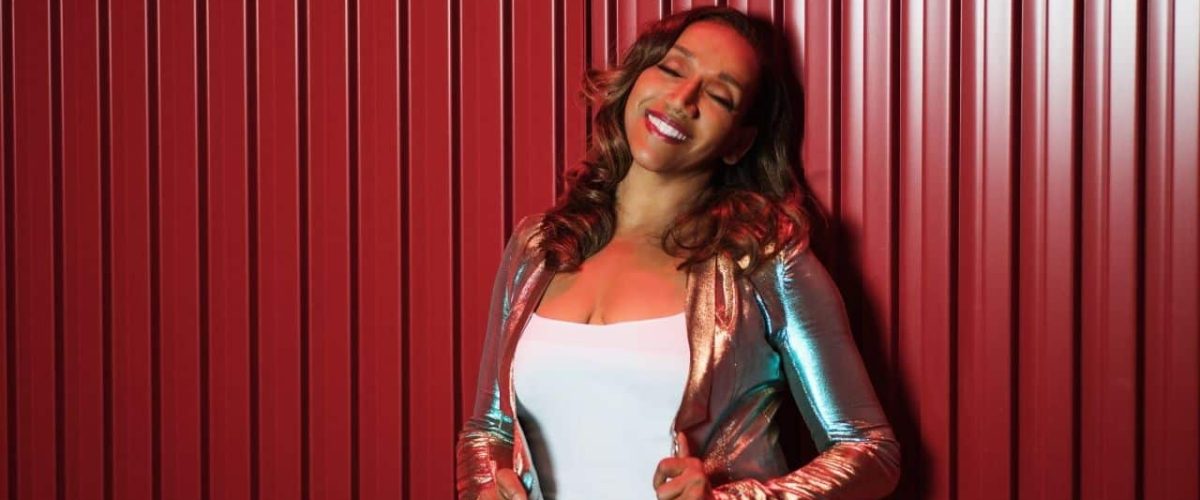 Kathy Sledge talks about new single Could It Be You, Sister Sledge, Nile Rodgers & Chic, Zaire 74, Roger Sanchez, Horse Meat Disco, Family Room, Billie Holliday and more
Like what you hear? To help support LV Online buy us a coffee via Ko-FI. Click HERE
Today I'm speaking to Kathy Sledge who found international fame in the 70's and 80's with Sister Sledge.
Kathy has had a truly incredible career which spans six decades now from childhood stardom to solo success she has travelled the world whilst creating some of dance music's best recognised tracks. With super hits including We Are Family, Lost in Music, He's The Greatest Dancer and Thinking Of You she had brought joy to millions all over the globe. With a brand new audience continuing to discover those tracks Kathy continues to keep busy branching out into TV production and creating music shows.
With a brand new track Kathy Sledge & Operation Funk Could It Be You? Arriving this week on Point Blank Records Kathy continues to inspire. I caught up with her to discuss the release and her incredible career talking about Sister Sledge, working with Nile Rodgers and Bernard Edwards, recording with Horsemeat Disco, Roger Sanchez and some of the new projects that she is working on.
You can stream and Download Could It Be You via: https://ffm.to/rrkx93n
It's a fantastic interview so let's get into it.
Hi Kathy,
Many thanks for speaking to Le Visiteur today.
How are things in Philadelphia just now? Is the city's rhythm coming back after the last couple of years?
Yeah, we are certainly coming back like the rest of the world, slowly but surely. And when you think about it, in retrospect, it's kind of like a Twilight Zone kind of a nightmare, what we all have been through. But I think we all appreciate each other much more. So Philadelphia is just as appreciative as any other city right now. We're happy to be coming back.
Philadelphia is of course a city with an incredible pedigree and it's own musical sound. What is Philly like in 2022 as hub for artists and venues?
Philadelphia is killing it right now. I mean, of course, I'm sure you've seen the Oscars and the Grammys, and Questlove, who is also like a very cool person and a friend, you know, he just totally swept the award with his documentary Summer of Soul. And the same with Will Smith with King Richard. But all of these folks are out of Philadelphia, Jazmine Sullivan, we're of course known for the Philadelphia sound, Gamble and Huff which will always be legendary. What Motown is to Detroit, that is what of course the Philadelphia sound is to Philadelphia.
But now this whole resurgence, and this whole, embracing new artists, I love it. And you know, being an artist that grew up in Philadelphia, and being able to always reinvent, that's how I like to put it. You know, I'm watching closely, and I have had different conversations with some musicians here about doing some new stuff. But at the end of the day, I'm very proud to be from the city musically. Definitely.
Sister Sledge
Fantastic. So you have had a truly incredible career with your first international hit coming when you were only 13 with 'Mama Never Told Me'. What was it like to be thrown into the limelight at such a young age?
Ah, that's a good way to put it "thrown in". You know, it's funny, on a serious note I never felt thrown in because I love it so much. It's just recently someone just posted when I was around 13 or 14 and the Zaire Africa concert with Muhammad Ali and George Foreman. And I was still having a good time that I never felt like work to me. I love singing. I love performing. I've been doing it all my life. So I never felt like it was something that I had to do. I felt like it was something that I loved to do. And I was blessed to be able to say, especially now, this is the work that I love. It doesn't feel like work to me. Never will. I don't think
So was your musical diet at home when you were growing up? Do you have any artists who you would say were really influential in how you approached your own career?
Oh, definitely always as a songwriter Stevie Wonder, because I am a songwriter. And the early Stevie Wonder I would always just grow up to listening to songs like Superwoman, which still to this day is one of his, to me, greatest like masterpieces. You are the sunshine of my life, all those songs. And then of course, early Motown, I think as a songwriter, and it's interesting, because I didn't even realize I was a songwriter then because I wasn't around six or seven years old, listening to songs I love or maybe 10 with songs of Key Life. But I think as artists, I would always watch groups like the Jackson Five coming from a band with siblings, and they always influenced me. You know what young little black girl didn't have a crush on Michael Jackson, they were like our Beatles. So of course the Jacksons always influenced me as a kid and as far as girl groups, LaBelle, Patti LaBelle and LaBelle vocally.
And I think visually more which is interesting with Sister Sledge, you know, I would like to say groups like the Supremes is of course Diana Ross and the Supremes all that Motown stuff. But then when we did finally start doing like our own thing on stage as sisters, we never ever patterned ourselves, as far as the choreography, from some of the girl groups we were watch. We were never wore gowns. If you think about Sister Sledge, we wore spandex pants. And one reason for that is especially, personally speaking, I love to dance, especially being up front and doing a lot of the leads. I love to move, I love to dance, I love to, you know, be able to perform and not feel inhibited in a gown. So Sister Sledge, because of that, we would take ballet classes, actually, at the height of our career. We were doing full on choreography. And later when we were awarded the VH1, at the Millennium so that was 20 years ago, but still, we were awarded and I remember at the time Destiny's Child, Beyonce, they gave the award. In the speech, they said that we were the first girl group to ever do choreography like that. And I never realized that. So now I do incorporate that in my show. I show a lot of people that weren't really, you know, especially newer listeners that we have, I kind of show what we brought to the feast as artists in the music industry. We were the first girl band to kind of do full on dancing. And then after, of course, there was the Spice Girls, and En Vogue and TLC you know. So I think dancing and choreography is what Sister Sledge, the Sledge Sisters brought to the music industry as far as performance. I'm very proud of that. And I think that's one reason why I incorporate that in my shows now.
Sister Sledge would go on to release some 10 studio albums across the years. Looking back over your cannon of work do you have a personal favorite track that you would recommend anyone looking for an introduction to group should listen to first?
I love Thinking of you. And you know what's so crazy about that particular album, and a lot of people know this now, but I was not allowed to hear the song until it was time to record it. So it's very organic, the spontaneity, it was hard to do that then. I mean, I did it because I listened to the producers all the time. And I always look at producers as if they are directors in a movie. They have a vision, they know exactly what they want. And in this case, the late Bernard Edwards, whom I miss dearly, and of course, Nile Rodgers, who's phenomenon, those guys had a vision, and I wasn't allowed as a lead singer to hear any of the vocals or the songs, so in hearing them, and learning them, as well as at the same time recording them. I think the magic now, in retrospect, is the spontaneity and the organic vibe we created in the studio, is still new.
And that's why I'm never surprised when I see that a song like Thinking of you, like here in the United States, throughout the pandemic, it became like this new record, where over there where you guys are, you know, it's always been as big as We Are Family. But it's new to people here. And now it's become the song, like a theme song throughout the pandemic. So I find myself thinking about the recording aspect of it, it might be a little frustrating then, but I get it now. And I see that it's always new. I think that has a lot to do with it. So Thinking Of You hands down. It's my favorite song to sing. And it's also my favorite song to perform.
Yeah, it's like a happy love song. It's really interesting how now it is a new record here. And so now I'm actually literally working on an up close and personal Thinking of you tour here in the US. As well I'm looking forward to Indigo 02. I love crowds in the UK. It's like a second home to me.
It must be a wonderful feeling after so many years that that song is still feeling so fresh?
It is you know, I think that's the magic again of how we recorded it. Back then I was as goofy 16 year old braces. To this day, Nile Rodgers and I laugh about this. I kind of would follow him around the studio and ask him Do you think people are even gonna play this record? And he was so confident he'd go yeah, yeah, you know, it's almost I guess that would shut me up and go, yeah, babe, it's going to be a hit. I had no idea, but they knew. And there was this very serious note, this very calm sense of confidence that Nile Rodgers to this day still has, and Bernard had, you know. And as the producers I'd follow their lead, and I get it, you know, so I think that is why that song, still to this day, has a newness to this and a longevity. It's just the magic of the recording of it. To me, it's like a perfect storm kind of a song because everything was right, as far as the lyrics, and the delivery that I'm very happy with now. Then it was again, I was learning it as I was doing it. But now I hear it, I see it, I get it. And I think that explains why people still embrace it and keep embracing it.
Brilliant. So you obviously toured extensively with your sisters throughout the 70's and 80's, what was that like as you were growing up and you're on tour with your sisters all the time and in each others pockets.
Can I be real? I love my sisters, you know we had madness, everyone knows that. But honestly, it felt like one long day. That can be good and that can be bad. The monotony of the one long day vibe, because you were in one town and you're never able to really explore that town and you're off to the next one. But the excitement was always real and always different and always new. It's still to this day, I feel that whenever I perform people asked, Do you ever get tired of singing We Are Family? Like never because honestly, it's always the first time for someone in that audience at that time.
So touring with my sisters, I think there were a lot of sacrifices parallel to the Jacksons. And in fact I'm talking to different networks about the biopic about We Are Family, the story behind. There were a lot heartstring moments. They were also a lot of frustrating moments because, you know, we had to sacrifice a lot at the time. I was 16, so, you know, there were no high school proms, couldn't get on the track and field team, which I loved. We weren't allowed to be on certain teams, everything was a sacrifice. But look, in exchange, we had a chance to do what we love and take it to the height of our potential with our career. So it was frustrating at different times, but at the same time, it was always a party.
Nile Rodgers and Bernard Edwards brought their magical touch to your work helping you create many evergreen classics. What do you think it was that made their partnership with Sister Sledge so incredibly powerful at that moment?
I think timing, I think, you know, Nile and Bernard were like the hottest thing then. And so the story goes, we were this obscure group on a list and they chose to work with us. And they were offered to work with the Rolling Stones, and they turned the Rolling Stones down. They turned that record company down who actually wanted him to work with the Rolling Stones. Because they were so hot, they felt wow, let's take you over to Mick Jagger and this is going to be amazing. And Nile tells a story "well, no", they said, "if we do a record with Mick Jagger it's gonna be huge. But give us some obscure act that no one knows. And then we can actually prove ourselves as great producers." And that's exactly how it happened.
So with all that said, I think the genius in Nile and Bernard was the major vision of the project. They knew exactly what they wanted. And I think in working with them, the word that jumps out the most is trust. You know, at 16 years old, I really trusted what they were doing, because I knew that they had a vision.
Brilliant. So you have become a club icon both with your work as Sister Sledge and in your own right as a solo performer. Did you manage to go out clubbing much during the disco hay-day and if so what were your favourite spots?
Never I didn't go out.
Did you not?
That was like going to work to me. I am the club. You know it's funny. In a serious note, my sisters nicknamed me Killjoy. But here's the thing, in retrospect when I think about it, to me when I would do concerts upfront with my sisters. When I say up front, I realized that now we were always a group. But I realized the pressures of being upfront singing the lead. And I didn't realize it then because it was always fun. And it still is, but even as I performed by myself, but I think there's a lot that you carry, when you are delivering that record that lead all of that stuff. And so after a show, I'd be kind of exhausted. And I remember this, my sisters, like we'd be on the bus on our way back to the hotel." Oh, let's go", whatever. "Let's go", especially Joni and Kim. Kim, who's very religious now, she would always want to party after the show. And I would be like, "Yeah, let's do it". Then I get to my room. I order some room service. I get nice and cozy, and they call me up. And "I'm gonna stay here and chill". And I was like, oh, you're just a killjoy. So I actually adopted that nickname through the years in the early days with my sisters, but I'm proud of it now. Because I think the balance, and I'm still that to this day.
Clubbing to me, I do like to stay on top of what is hot musically. I love venturing out and working with not just new producers, but different genres of music with producers. I'm tapping on my songwriting more and more. So the party side of me, I don't do as much I balance it in a different way.
Were there any other artists who you really loved during that disco period, that sort of Sister Sledge, Chic era,
You know, that's what's so unique about Sister sledge. We would tour with artists like Chic and then we would jump out and open for Rick James on a funk tour. And I've totally loved the funk tour with Rick James. Very unique person Rick James. We hear the Rick James stories but he was the utmost gentleman to us, you know, we toured with my grandmother, so he was very sweet to us.
But yeah, we would do the funk tours and then we would go and do the classical concerts, and then we would go and do the disco tours. And because of that and I think it has a lot to do with We are family, it's such a mainstay, kind of a household name kind of a song. And so there were different genres of music in different concerts but everyone knew it. And everyone sung along. I mean, they would sing along at a funk concert just as much as they would with a Chic concert. So I think because of that, I'm very particular to this day, about making sure that I always explore dance music, but not get pigeonholed in one and hands down my favorite act touring, I would have to say Nile Rogers, you know what I have to say Chic. Then of course look at Nile, he's done so much different kinds of music. You know, a lot of people don't know this, but even the whole Like A Virgin album with Madonna. You know, my sisters and I were in New York at the time, and he called us up. He's like, can you come and do background on Material Girl? So we jumped in to do things like that. So I think the creativity of Nile is who I would say I'd like doing dance concerts with, or Disco if we call it that.
Great. So you were obviously incredibly successful with Sister Sledge but were there ever any doubts and if so did you have a backup plan?
There are loads of doubts all the time, like anything we don't know, do we? But I had no idea to this day that I'd be sitting like, years and years and years later talking about We Are Family, you know, because remember I was asking, do you think it'll get airplay when I recorded it. And there was backup plan, and all the sisters went through university. My major in college was recreation therapy and then I went on into fitness. Whenever I was not performing as a hobby, I love fitness. And so I would get certified with the most reputable certifications and I would teach. Sometimes I would teach the band on the road and the crew and my sisters. And so you know, those are my passions, but I never looked at it as a backup. Because I was blessed and that's a word I will use to be able to have success at a young age of 13. I didn't have to really think that much of that. I knew that it was important to always have the education come first.
So one of the shows that you did was Zaire 74, and you mentioned this earlier on, was the 3 day concert to promote the Rumble In the Jungle. What was it like to experience such in incredible cultural event at the age of just 14, and how did it impact on you as a person at the time?
Yeah, it was everything you would imagine it to be, you know, not only just to be able to be in that stadium with 80,000 people at 13 years old. Also the stage that, you know, the artists that I was able to share the stage with, like The Godfather of Soul, James Brown "What!" you know and there was James Brown and Bill Withers and the Pointer Sisters and The Spinners. And then it was a world cultural event, so Johnny Pacheco and Miriam Makeba. And so you know, it was a melting pot of cultures. And I think my eyes are just wide open. I was like a deer in the headlights just like watching everything, every artist. Absorbing all of their showmanship at that young age. You know, it was like a kid in Candyland, actually. And I still can flashback and remember things like yesterday from that Zaire tour.
But then I think later in life, another hugely exciting concert that I did was I was a surprise at one of Prince's very last concerts. He invited Nile to perform with him at the Essence Jazz Festival. But he said to Nile and I want Kathy to surprise the audience with We Are Family. So I was this total surprise. And it's on YouTube if people want to check this out. But I was the surprise, but when I came out, because I kind of surprised the audience, just by singing the first note, you could feel this rush. It kind of felt like, and I don't want to sound like I'm bragging, but it felt like The Matrix. I felt this whole huge rush and the surprise was on me. To this day, it was very heartwarming, the rush that I felt from the audience, I was surprising them but the way it was embraced was a huge surprise to me. And I can honestly give the credit to Prince more than anyone because he was such a visionary. And I believe he knew that that's why I had to be a surprise with a song with the impact of we are family. But that's one of my most exciting moments to be able to share the stage with Nile, with Prince and some of the other artists that were in the festival.
Fantastic. I'm a huge Prince fan. So I can appreciate that.
I think my first introduction to Kathy Sledge as a solo artist was with your cover of Stevie Wonder's Another Star which was remixed by Roger Sanchez and Joe T Vanelli which went on to become a worldwide club hit. What are your memories of how that single came about?
I can tell you exactly. You know, we had this very young manager at the time who we have since lost and when I say we, Roger Sanchez and myself in the dance community. His name was Marts, M.A.R.T.S, Marts was brilliant and he was 30 when he passed. But Marts was the one who came up with this idea, he was like, and I remember him saying it. When he suggested I do a remake of Stevie Wonder. I'm like, "I'm not going anywhere near a Stevie Wonder record. No one does a remake of Stevie". And he's like, "if anyone can effing do Stevie Wonder you can". And I was like, "Okay, let's try this". That was the beginning of Another Star and we chose Another Star. I had done it years ago with my sisters on an album that really didn't make much noise. But I believe what really made that record work was the marriage of the delivery that I did with Roger Sanchez, because I think all the rhythms that he added to it, the Latin rhythms underneath and they were very stirring And I think that's what drove that record to the place that it ended up. But I was hugely, and still to this day, flattered to be able to do a Stevie Wonder remake and that it made sense, after all. But that was the beginning of that. It came from management to record it. I actually didn't want to in the beginning because I felt like you just don't do a Stevie Wonder song. He's epic. You don't do a remake. So I'm very flattered that it did go where it ended up. I actually open it with a lot of shows. I do a lot of dance records that have gone on to do since the family days too.
Brand New Single: Operation Funk & Kathy Sledge – Could It Be You
So coming right back up to date you have just released a single Could It Be You with Operation Funk on Point Blank Recordings, what is the vibe of that single and how did that all come about?
I absolutely love this story. Again, organic. And I think some of the, to me biggest success stories are usually organic and not planned. I was in the UK. And Kwame, who's a good friend of mine, of course, from D'influence, he brought this idea to me. We weren't even going to record he just said, come out and check out the studio. And that's where I met the guys and love their energy. And we just turned on the mic. And they showed me a track. I mean, literally, I was just kind of having a tour of the studio and it was like, Oh, I hear this kind of groove thing here. And then we just started collab-ing you know and what we came up with that collaboration, I think it's a very smooth, spontaneous record that I really like.
Again, it seems like most of the things that happen to turn out to be very successful for me are exactly that. There's just spontaneity, just like We Are Family. And just like Thinking Of You, and now this record Could Be You. So I'm excited to see what can happen.
When you are pitched a musical project now what do you look for before you agree to work on a song?
I have to really like the song. In my early days, even though We Are Family was a massive album, it really went all the way with everything. But as a songwriter, and that's when I really was tapping on my songwriting. I wasn't allowed to write on that project. I get it now, because everything worked. But I do like to write, and the track is what really inspires me. If I hear a track that I love, nine times out of ten you hear something that works with it right away. And in this case with that song, I heard the track and started humming something that really grooved with it, that worked well. But that's usually what inspires me 'the track'.
Its funny, because I'm writing with Jam and Lewis now too. They sent me some songs like before the pandemic, like four years ago, and I kind of put them to bed, I wrote to some of the tracks, and then I started revisiting and I started playing them for people. And just like with them, I think it's the same thing. The track that inspires me,
What were the Horse Meat Disco guys like to work with? You did a couple of brilliant tracks with him the year before last.
I love those guys. It's funny, because in that case, they sent me Falling Deep In Love. And it's funny because the version that they sent me was very, very raw. But I trusted the guys, I only wrote some background ideas, background vocals. Because I said, "You know what, I think I can hear what they're hearing here. I don't even think I need to write to it". Because they actually welcomed me to change it if I wanted to write some of the lyrics. I did write some of the vocal arrangements and ideas. But now in hearing the song, I can hear it, I can hear the skeleton of it. I felt like the skeleton of the song was always there. And now I love that track. I love what some of the remixers have done with it. So yeah, it's a good song. Later, I did write 'Jump Into The Light' with them. And that case, which was very different for me, we would just sit and listen to the track, like maybe four of us in a room, and we would just jot down our ideas together. And that was a new way of writing for me. But I enjoyed it
Family Room
During the Covid lockdowns you co-produced the Family Room interactive series, a mother and daughter talk show which is still running now. What has it been like to work with your daughter Kristen Gabrielle on that series?
I love working with my daughter. I had a lot of working with family experience. So I'm very careful with it because I would clash heads sometimes with the sisters. But with Kristen, I'm careful. You know, I think the most important thing is you always respect each other. When you work, you listen to each other's ideas. She is brilliant with her ideas, and especially with her vision for marketing. Now we're talking to networks with Family Room, very excited about it. It was a very interesting thing, every now and then I think about there should be biopic about family room. Because you know, we were all scared at the very beginning of this thing, it was heavy. But Kristen and I said let's turn on the camera. We were already pitching the show before the pandemic or thinking of pitching it. And we brought all this love in this room, right in this phone and a global family room.
We get letters now from people who have met through the family room or who have met up in different meetups in different cities. And we even did a live one in New York around Christmas time, and it sold out. It was a small cozy house, but we did it because we plan to do more of that. And we're watching this thing grow. And to me, I feel like it's all at the end of the day about We Are Family. I mean, it's all what We Are Family stands for. So I love working with her and I love her at the helm of it with me.
I guess she couldn't ask for a better expert than you for working with family.
She's a little frustrated because you know, she moved in right before the pandemic she moved from LA back to the East Coast. And so you know, we all came together. But now she's like, "I'm not going to sit on the couch with you for the rest of my life". She just moved out again. And now we'll just do it a different locations. You know, she's outside of New York. We'll just make it work, especially when we bring in network and we'll just meet up at the studio. That's fair.
Definitely meet in the middle somewhere. Perfect. Yeah.
So you've also been working on The Brighter Side of Day: A Tribute to Billie Holiday. What was it that drew you to the work of Billie Holiday, how would you describe the show and are there any plans to tour it in Europe?
It's funny because I just posted. I'm doing a very special jazz show here in the United States at the end of this month. I am now in the studio with, and I'm hyped about this, the legendary Stanley Clarke. Oh my gosh, I love him. And we wrote a song together, and a beautiful, beautiful song. And he has told me which I am hugely flattered that he thinks I am one of the greatest jazz voices. And I'm like, "Wow, that's pretty cool coming from Stanley Clarke". But what it's made me do is Brighter Side of Day was something that I birthed. I made up this whole concept. I had been offered a part is to play Billie Holiday off Broadway and the script bothered me a lot. I mean, we know the story. I always feel like Billie Holiday's spirit always comes back to people who portray her. And I know that sounds kind of crazy. But I always feel like she wasn't finished yet. And I always feel like she was so strong that she lived in the wrong era. And I felt like it Billie that in this day and time, it'd be a different story. So that's where a Brighter Side of Day came from the Brighter Side of Lady Day.
And I wrote this concert, if you will, of what it would be like if you could step back in time in the 40s and there's Billie Holiday, and Louis Jordan and the Tympani Five, and Louie Armstrong. And they're all on the same stage. And I actually use Alicia Keys horn section, they play the part of Louis Jordan and the Tympani Five. And some renowned musicians band called Somebody Tell Joe. At the end of the day, we get to bring back these great artists, and we do the songs and there's Billy and like a bright light in the middle of all of this. And I just feel like here is a way to see Billy in such a way that she'd be so proud. And, of course, it's the blues, because you cannot do Billie without the blues. And from that, you know, it's funny, I started producing live concerts and Brighter Side of Day is one of them. But with all that said, I think I'm at a place in my life, where now I'm producing a show about my sisters and me concert series, where I get to invite other artists, and we all end up like a VH1 diva, so we get to sing We Are Family, my creative juices are flowing more than they ever have now, and I'm excited about that.
Do you think you'll develop more jazz music? Is that something that you think you might venture more into?
You know, as we speak, I definitely am. And I get a lot of requests to do jazz. In fact, I have one colleague that said, you know, you really need to do like a residency of jazz in Vegas. And I'm like," I don't know if I can stay in one place that long". But I love jazz music. And I'm very excited to see where this road may lead me as well. And one thing I want to say to all of my supporters, family and friends out there. That I will never deviate too much from the dance music too, because it's what I am as well. And I know a lot of artists, sometimes they just go a whole different road. I think for as long as I am singing, I will always be on a stage somewhere singing We Are Family as well and Thinking Of You. Because you know, I have one friend that said to me like "I don't get it, like where else where I ever go if I want to hear the songs?" So I will always do that as well, but I am excited about writing with different writers like jam and Lewis and Stanley Clarke and the Funk Cartel. I mean, you know, I just feel like wherever that track inspires me, I love to write, I love to perform
Great, well, I'm glad you're not stepping away from Dance music. But I do look forward to seeing what you're going to come up with on the jazzier end and the Bluesier end as well.
So looking back over your whole career is there anything that you would do differently?
Yeah, I would have left the group sooner, hands down. You know, it's funny, but you know, I am working on a biopic. You know, you're reading a lot of things now, because they're starting tosurface. But for 20 years, I was sued, and I was not allowed to say I was from Sister Sledge. And it's really sad, but at the end of the day, you know, it doesn't mean that we're now, we're not family. It doesn't mean that at all. What it means, honestly, is that there are a lot of challenges that come when you are under a magnifying glass as a family. Think about we were 16 and 17 and 18 and we were put on this platform to be like the Waltons. You know, there were a lot of challenges, there were a lot of dynamics, like all families have them. And I love being on the platform and being the spokesperson about that because I think it's very healthy for families to be able to see that it's not always amazingly incredible, and we are close all the time. And I think the challenges that we had when we are under a magnifying glass. You know, I always say we were that family that brought the world together through a song as a family, at the expense of almost losing our own. And so I wouldn't say that we lost our own, but I will say that it has been quite a ride. And I like to clear that up in a lot of interviews, sometimes people say "oh, they're always fighting". That's not the case. I think all families have their differences,  and in our case, we were under a magnifying glass. And that's a huge challenge. Stay tuned, because I do think that some of the platforms that I'm starting to take like family room will see more and more things that represent what We Are Family is all about.
I think that brings me on to my next question. So We Are Family has become more than just a song. You are also a Board Member with Nile Rodgers We are Family Foundation. What can you tell our readers about your philanthropic work?
Well, you know, I think it comes along with the territory with a song like we are family. You know, Nancy Hunt, who of course, is the founder with Nile Rodgers, the We are Family foundation, asked me to come on board on the board of directors. And now I'm on the emeritus board of directors, if you Google, wearefamilyfoundation.org/. It's an amazing platform. And the initiative is to help grow some of the incredible dreams and goals and ideas that new, we call them global team leaders, they start in their teens. And they actually bring these kids in from all over the world and help them realize their dreams. And some of them have been incredible initiatives, what they've done. So We Are Family foundation, I'm proud to be a part of that.
I'm also a goodwill ambassador for Antigua. This is why I feel like We Are Family is such a household name, that it brings a lot of people to the party, so to speak. And it has created a platform for me to do a lot of philanthropic work. And I just saw somewhere I think on a meme, believe or not, on Instagram, a person saying that is really what we're here for. Like, every day, we're reaching and finding our purpose. And I think at this place in my life, a lot of us know our passion, you obviously have a passion for journalism, I have a passion for music. But sometimes I think it takes a lifetime to realize our purpose. And giving the opportunity of being a voice on that song has opened a lot of doors for me to be able to give back in the philanthropic way.
What if anything do you still want to achieve in your career?
I feel like sometimes the adversities of what I went through with not being able to use my brand for a very long time, in retrospect has been a tremendous blessing to me. I know it sounds crazy to say, but it has made me reach deep, and become innovative and creative in so many other ways. So sometimes I feel like I'm just getting started with some things, you know. And I will always feel proud that I am a voice on a song that really did bring the world together, and still does. But I feel like there's more to come. And especially with Family Room, the platform that we're building there, and the music, I cannot leave out the music, I'm doing music that I've always wanted to do now. And I think that has become one of the incentives for me to do more and more music. I feel like well, I'm doing songs I love to sing and write. That's where I am right now. So I'm kind of just getting started with some things I love.
Well, that's very good to hear. We look forward to that, definitely!
So, a final question. What else can we expect from Kathy sledge in 2022?
Ah, pull up a chair. We should start all over. I've been more and more into producing shows like Family Room for the television, or internet. But then for live concerts, it started with Billie Holiday's Brighter Side of Day, I think growing up on stage has helped me to understand exactly what works best. And what moves the crowd, so to speak. So there's a difference and so now I'm doing some up close and personal concerts, because I've always wanted to. As well as. and that's where the Billie Holiday stuff comes into. But as well as producing live festivals, we just did a run last summe. What's so cool about that is now I get to use film with the original sisters in the choreography that kind of matches the film and I'm seeing kids, I'm seeing a generation in the crowd that love the music but didn't understand what we brought to the feast. And I get a chance to do that in producing these, like what we're going to do the Indigo club at the O2. So I'm exploring all of those things. You'll see much more of that now, producing shows like My Sisters and Me concert series and the music. And I'm very hyped about the music I've learned. And I hope that I leave this for artists and new artists. I think there's a saying that Les Brown said "do not become what people say you are". And I think sometimes artists sometimes feel like they have to stay in a box. And I feel like as long as you're doing great stuff, then explore and do more. And that's what I look forward to in the upcoming year.
Brilliant. Sounds like you're going to be busy.
Yeah I'm going to be busy.
Thanks. That was a brilliant interview. Thanks so much for taking the time out to do it.
Thank you.
Bye
For more info please check:
Kathy Sledge Facebook: https://www.facebook.com/profile.php?id=100058187887438
Kathy Sledge Instagram: https://www.instagram.com/kathysledge/
Kathy Sledge Twitter: https://twitter.com/KathySledge
Kathy Sledge Web: https://www.kathysledge.com/
Love this Check out our interview with Disco Legend Nicky Siano HERE.