Lanowa talks about new EP 'My Fantasy', his studio, Crooked Man and his Disco Selectors Mix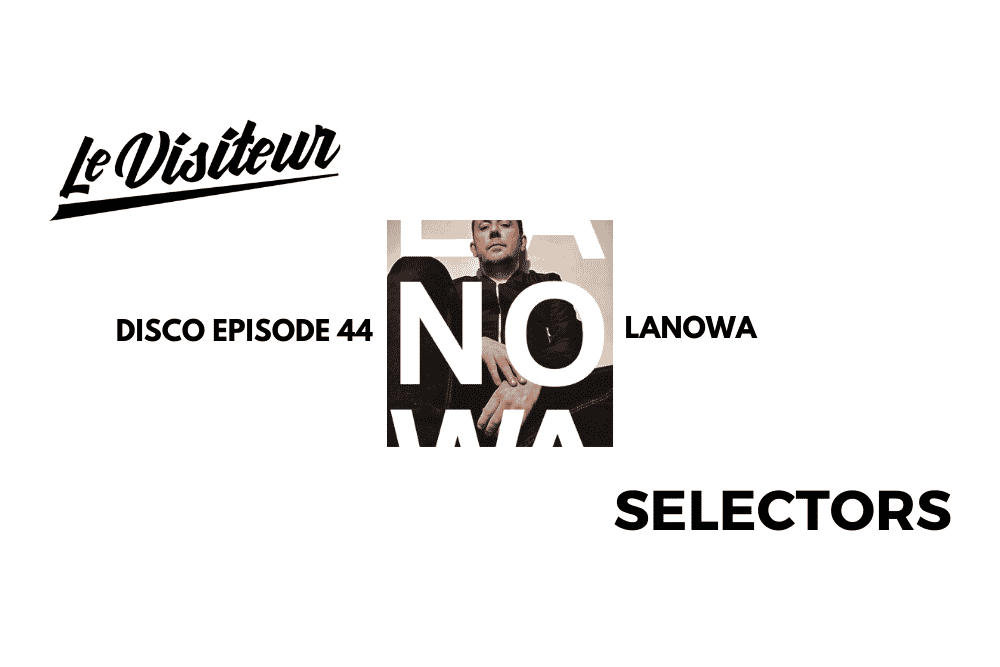 Lanowa talks about new EP 'My Fantasy', his studio, Crooked Man and his Disco Selectors Mix
We were blown away by the recent Lanowa single My Fantasy which landed in our inbox a couple of weeks back. It's incoming at the start of July on Citizens of Vice and features three divine remixes by Crooked Man. It's an EP which touches on everything from Balearic house to percussion heavy deep house. From the sundown to the dancefloor it covers all bases. We hosted the premier of Crooked Man's Remix 1 which you can check below, it's very special indeed.
You can check out more on the EP via: linktr.ee/citizensofvice
On the back of the release we asked Lanowa along to put together a guest mix for our Selectors series and he has created very classy mix for us touching on all corners of the Disco universe in the process. Check it out below and please give it a share over on Soundcloud.
We also spoke to Lanowa about the EP, his studio, the mix, his hometown scene and his influences.
The Interview
Who is Lanowa
Hi. I'm Lanowa, a house/nu-Disco producer from Nottingham, UK. I have released 4 solo E.P.s under Citizens of Vice as well as various remixes, and have also produced tracks for Paper recordings as well as Bill Brewster and Damian Harris (Midfield General). Along with these two legends, I have also had DJ support from the likes of Sean Johnston, Horsemeat Disco, SlothBoogie, Joyce Muniz, Lars Behrenroth, Christian Homan etc. I wasted the last decade or so writing bad trip-hop before falling into house music.
Please tell us in your own words about your latest release My Fantasy?
My Fantasy is one of those tracks that fell in to place really quickly and was pretty much finished in 48 hours. I'm trying to avoid sampling as much as I can so learnt to play Bass during lockdown and I also play the acoustic guitar solo on this track.  As cliched as it sounds, I try to steer my tracks towards a sunset beach bar feel and I'm fairly sure this one nails it. To me, it just has that perfect summer vibe to it.
Warren (Citizens of Vice Label manager) loved the track and rescheduled a few things we had lined up so that we could put it out as an EP with remixes. We weren't expecting 3 from Crooked Man so that was a fantastic surprise. Each one he produced has a very different feel but are all absolutely awesome!
Grab My Fantasy via: https://www.junodownload.com/products/lanowa-my-fantasy/5579967-02/
Who are your greatest influences as a producer?
My greatest influencer has been Simon Mills (Bent, Napoleon, Somethin' Sanctified) who I've been best friends with since I was 16. He taught me everything I know about making music and DJing.
Andrew Weatherall – Nothing more needs to be said about Andrew. his musical legacy says it all today it is this track from Espiritu which was recently on the Heavenly remixes release.
Double Header here featuring 2 producers on one track, Bent and Ashley Beedle. Both brilliant both still making ace music under multiple names. Tough choice between Magic Love and Always so toss of a coin and we have selected Always
Crooked Man – Massive fans of everything he has done. Another who feels no need to foolow the crowd and does his own thing regardless of trends. His latest remixes for Roisin have been ace. So suffice to say when he said he'd remix My Fantasy we were overjoyed. Also had a sneak listen to some new solo material and it is magnificent. This track is just genius
'take It All away' just joyous
Please tell us about the electronic scene where you are based. Which artists from your local scene past and present have inspired and encouraged you and what parties that you love going to have helped your musical evolution?
Again, I'd have to say I've had some great nights with Simon and Nail from Bent (watching them play live or DJing) as well as DIY in Nottingham. The Jam Cafe in Nottingham is something of a treasure trove of weird and wonderful tunes and fantastic nights out.
Your Studio: Please can you tell us about your studio. What is your production set up?  What is your indispensable piece of equipment or plugin that you use for your sound? What is next on your studio shopping list and please can you give us your three favourite studio tips for up-and-coming producers?
To be honest, my setup is fairly minimalist compared with most. It's mostly guitars, percussion instruments, Midi controllers, a Behringer TD-3 and an old PC running Ableton.
Ableton Push Controller 2 is on the shopping list as well as a new PC.
My indispensable plugin is the TrickyClav2 – It's the funkiest thing out there and has loads of variations and really fun to play. I also love the built in Simpler instrument in Ableton which lets me chop up a bongo pattern and automatically assigns each hit to a pad on the Korg nanoPad2 so that I can create my own bongo patterns. Bongos are essential in pretty much everything I do.
Studio tips:
This maybe sounds weird but if I'm making something disco, I try to get in the party mood when producing it. This involves alcohol, strobes and disco lighting as well as dancing around whilst working the controllers or playing bass. Get on your feet and feel it!
If it's not flowing it's probably not worth pursuing. Move on to something else and come back to it another time. If it's still no good, ditch it.
I try to do as little EQ-ing and post production as possible. I have a pair of Adam T7Vs and if a track sounds good on them then I'm happy.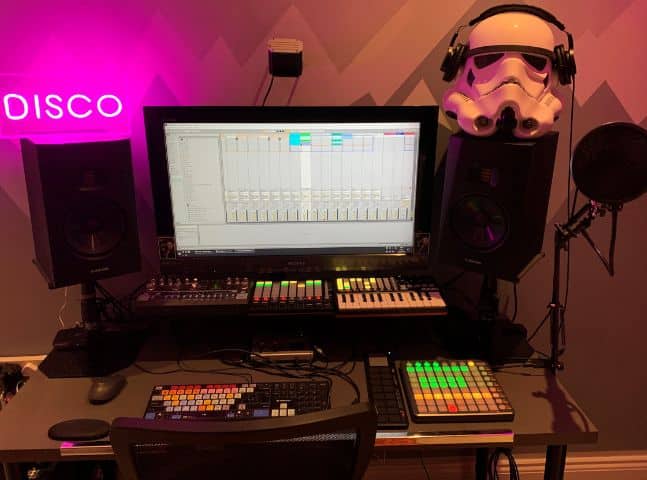 What can you tell us about the theme of the mix you have done for us and what are some of the key tracks for you?
The theme of the mix is strictly disco. It was really fun to put together and has a beautiful and positive vibe that flows throughout.
How does the style of mix here compare to how you would approach a live DJ set?
I'm not strictly a DJ but more of a producer but live Djing is something i'm hoping to get into.
Which other artists DJ mixes do you find yourself coming back to time and again and do you have a favourite that you gravitate towards? 
To be totally honest i don't really gravitate towards DJ mixes at home. There are some ace radio shows that are unmissable from the likes of Ross Allen, Rocky's new Harlem River Drive is always a lesson in music. Coleen Cosmo Murphys Balearic Breakfast, Ashley Beedle's Heavy Disco, Gilles Peterson and of course Luke Una. This one from Luke is pretty special
What else can we expect from Lanowa in the next 12 months?
I've got a 4 track EP out in later this summer called "Cloud 9". The title track is something I'm incredibly proud of and as a whole, I feel the EP is the best I've produced so far.
I've also done a couple of remixes for Damian Harris (Midfield General) which should be out soon as well as an exclusive track for Bill Brewster on his Late Night Tales: After Dark 4 compilation.
I'm currently on the lookout for a singer for a few tracks that I've written so hopefully will have another EP out with them towards the end of the year.
For more info please check: 
Lanowa Soundcloud: https://soundcloud.com/user-668517702
Lanowa Twitter: https://twitter.com/Lanowa1
Citizens of Vice Facebook: https://www.facebook.com/Citizensofvice/
Citizens of Vice Soundcloud: https://soundcloud.com/citizensofvice
Citizens of Vice Instagram: https://www.instagram.com/citizens_of_vice/
Citizens of Vice Tiwtter: https://twitter.com/citizensofvice
Like this? Check out more from Citizens of Vice here.
LV Disco Selectors 44 – Lanowa – Tracklist
More Amour – Solar Flair
Cho and Random Impetus – Brother Sister (Ray Mang remix)
Nathalie Duchene – Praia
Dutchican Soul – Love Talk
Lanowa – Cloud 9
Yam Who & LaRae Starr – Taste Of Bitter Love (extended Disco mix)
Lanowa – My Fantasy (Crooked Fantasy Chapter 1)
Fray Bentos – Body Down
Bodie Lee – Keep On Dancing
Das Komplex – Pillow Stories
Lanowa – My Fantasy (Extended Edit)
Like what you hear? To help support LV Online buy us a coffee via Ko-FI. Click HERE